It was the morning before Canada Day 2016, and James Regan needed somewhere to live. A distinguished, even handsome man of sixty-two, with silver hair and a trim moustache, Regan presented himself at the ­Chestnut Park Real Estate office, a luxury brokerage in the heart of Summerhill, one of Toronto's most desirable neighbourhoods. Smartly dressed, he approached the receptionist and inquired about renting an apartment.
Listen to an audio version of this story

For more Walrus audio, subscribe to AMI-audio podcasts on iTunes.
His taste was exquisite. He had recently moved out of an opulent rental that he'd outfitted with close to $17,000 in furniture—a striking double-pedestal banded dining-room table set made of yew wood by England's Bevan Funnell, two ­Regency armchairs, and a pair of chinoiserie cherry-wood nightstands. He drank good French wine and had his eye on an Audi A4. He seemingly knew everyone—judges, lawyers, politicians, NHL players and executives. He presented himself as a ­devout Catholic, a family man devoted to his son, ­Brandon, and ­Brandon's mother. Claiming to run a thriving consultancy, he hobnobbed at the city's most exclusive social clubs, hotels, and events.
Regan was met in the boardroom by Robin Ennis, one of Chestnut Park's realtors. The client was in a hurry: he needed an apartment immediately. As it happened, Ennis was looking to rent out the top floor of her own home, a spectacular detached Victorian on Avenue Road, just a few blocks away from Chestnut Park—Ennis herself lived on the main floor. She showed Regan the upstairs apartment, and he agreed to sign for the $2,500 monthly lease, so long as they could finalize it right away. But, before Ennis could draw up the agreement, she told Regan, she needed a bank draft for the first and last months' rent, a credit report, and a criminal background check.
Regan showed up at 290 Avenue Road the next morning, Canada Day—­without the certified cheque and bona fides. ­Instead, Regan brought his art. In a mellifluous voice, he told Ennis that he had some valuable paintings—Canadian pastorals in the style of A. Y. Jackson—that he was hoping to store in the rental unit ahead of the move. Ennis hesitated. But he seemed so respectable, which is why, when she was called away to another ­real estate offer, she gave Regan the keys.
And so, on the day we celebrate our ­independence, Robin Ennis became the latest Canadian to lose hers to James ­Regan. When Ennis pressed Regan about the background checks and the rent money, he assured her that all would be sorted out early next week. But, by then, Regan had changed tack, telling Ennis that they'd be dealing with the matter before the Landlord and Tenant Board (LTB), the tribunal established under the Residential Tenancies Act to mediate rental disputes. Ennis was stunned. Regan added darkly, "You have no idea who you're dealing with."
She'd soon learn. The day before ­Regan arrived at Chestnut Park, a judge had ­ordered his removal from the luxury ­Toronto apartment he'd been occupying for nearly eight months—and for which he had never paid a cent in rent. But, in what had become a recurring ritual, Regan had dragged the proceedings through the justice system with frivolous adjournments, stays, motions, and appeals, whose ­only purpose was to buy him more time. He buried his opponents under a mountain of paperwork.
Regan is a man at war—with landlords, car dealers, courts, hotels, clubs, and civic institutions. He is at war with the NHL and the Catholic Church. He is at war with law, at war with facts, at war with human nature. He's even at war with gravity—as his cons come crashing down, he refuses to do anything but pretend to rise. One of the great Canadian swindlers, he's drifted penniless into the upper class on audacity, legal chicanery, and empty talk. More importantly, he is at war with himself, convinced, against mounting evidence, that he is good.
James Francis Regan was born on ­January 22, 1954, in the small seaside town of Bathurst, New Brunswick, on the picturesque Bay of Chaleur. His ­father worked at the Smurfit-Stone paper mill, a major employer in the town. One of four children, he was an altar boy. At Bathurst High School, Regan was an excellent student, and from time to time, he played ­hockey for the local team. ­After graduating, he studied at the University of New Brunswick, earning a bachelor of education. Long before he met Brandon's mother, he was married to another woman. The two lived ­together briefly in Halifax before they separated. After she died, three ­decades later, Regan began referring to himself as a widower.
His own bizarre LinkedIn pages—he has three, all of which feature the enthusiastic use of capitals typical of eighteenth-­century pamphleteering—record the decades-long professional lacunae that followed. He reports having worked at ­Manulife ­Financial in Halifax for ten months in 1981, describing his role as "MANAGER OF NEW AND EXISTING BUSINESS AND MAINTAIN RAPPORT WITH BROKER NETWORK AND STAY OUT OF HOT WATER!" He then says he moved to ­Transamerica Occidental Life ­Insurance Company, where for two years and nine months, he worked to "MAINTAIN INTEGRITY IN THE MARKETPLACE." The description of his 1986 project—"Catholic Archdiocease [sic]"—reads simply: "Big Khoona!!" Then he vanished for thirteen years before resurfacing, in 1999, in the employ of the National Hockey League Players' ­Association, where he allegedly held a job he describes as "pretty lucrative." In 2007, he became the president and CEO of James F. Regan and Associates Inc. in Toronto, which appears to be some sort of sports ­advisory, mediation, and alternative dispute-resolution firm. Regan refers to himself as "HARD WORKING, HONEST, KIND, ­SINCERE, COMPASSIONATE AND A SENSE OF HUMOUR WHEN NEEDED."
About twenty years ago, Regan worked briefly as a supply teacher at St. Michael's College School. Whatever happened there led to Regan being banned from school property forever. Then, in 1998, Regan—now calling himself "a former school teacher"—published an essay in Total Hockey: The Official Encyclopedia of the National Hockey League. Regan's contribution, "The Bathurst Papermakers," is a charming history of his hometown's amateur hockey team, which is named in honour of the men who, like his ­father, made their living at the pulp-and-paper mill. The essay builds to the story of the team's 1971 run for the national championship, the Hardy Cup, and it doubles as a glimpse into the motivations of the man who wrote it.
In order to triumph over their ­wealthier neighbours, and eventually the ­entire country, the Papermakers played a ­"fiercely competitive" brand of hockey. After a humiliating early defeat against a more talented team from Ontario, the Papermakers settled on a new take-no-prisoners approach: "go to the body." The brutal style worked, but, Regan writes, "reporters criticized the Papermakers for rough play," and "official protests were made to the tournament executive." The scrapes continued off the ice, as each side pleaded its case to the governing authorities. Eventually, the protest failed and the Papermakers prevailed, winning the Hardy Cup.
But, as with all things Regan, his Total Hockey piece isn't entirely what it seems. Regan delivered an essay so rambling and inscrutable that the editor of the ­anthology had to rewrite it under Regan's byline. Even his origin story, in other words, is a sham. The strategy used by the Papermakers, however, is one that Regan has adapted for his own grifting: apply blunt-force sophistry to a situation, and if you get caught, win the appeal. When we think of ­classic con men, we often think of charmers, smooth talkers who can fleece us with a phrase. Regan isn't that. He works his marks not with a light touch but with discipline and sang-froid. When he bothers to make a show of paying for something, he writes a cheque, then stops payment. If he doesn't get what he wants, he ­lashes out, then rides out the repercussions. Approximately ten years ago, Regan ­returned home to ­Bathurst triumphant, pulling into town in a green BMW. He seemed to be thriving out in Ontario. After a round of golf for which he didn't pay, he strolled into the clubhouse and bought the entire bar a round of drinks before skipping town on the bill.
Regan's son, Brandon, was born in 1992 and raised by his mother, a woman James Regan has referred to in letters to everyone but her as his "­Trinidadian Princess" or "the pride of the Caribbean." Brandon took his mother's last name. ­Father and son have never lived together. In fact, Brandon's ­mother wouldn't even allow Regan to know their address. On the exceptionally rare occasions when he and Brandon's mother met, Regan ­derided her for being "a black" and raising their son "among the blacks" in west Scarborough, a ­Toronto working-class neighbourhood. ­Regan fumed when he saw Brandon's friends, and warned him that if he kept "hanging out with the black kids," he'd end up in jail. On the infrequent ­occasions when Brandon spent time with his ­estranged father, Regan would often arrive with a large bag of gifts for his son—Nike shoes, jerseys, shirts.
But, when Brandon pulled out the items, he'd find that they weren't in their ­original packaging. Often, electronic security tags were still pinned to them. ­Brandon liked basketball, so Regan would take him to the Air Canada Centre to see Raptors games during the Vince Carter years. ­Brandon would follow his father as he moved from scalper to scalper, ­negotiating. Often they'd score a pair of tickets, but only after the game started; if they didn't, they'd watch from outside the stadium on a public television screen. When ­Brandon complained that he was hungry, Regan would take him to a food court and park him at a table while he went from counter to counter, appealing to manager after manager. Brandon was never allowed to be around his father when he settled a bill. In fact, he never saw his dad pay for anything. Even when he was still a boy, it began to dawn on him that his father was a con artist.
The only time Brandon ever spent a night in the same house as his father was when ­Brandon was ten and Regan announced that he was taking his son to a cottage for the weekend. He picked Brandon up in a Ford Escape his son had never seen before and would never see again. On their way to the ­cottage—who owned it ­Brandon couldn't say, but it wasn't his father—their car ran out of fuel just as they sputtered into a gas station. ­Regan had no money. Brandon watched as his father signed a piece of paper promising to return to pay for the gas. Before arriving at the cottage, Regan tried to rent a boat but was turned down. When they finally ­arrived at the cabin, there was nothing to eat except for some canned preserves. Regan took Brandon to the water, where they talked. He impressed upon his son that the only way he would ever enjoy the same opportunities afforded to white children would be to get an education.
After that weekend, Regan vanished for a year or two. Brandon stopped speaking to his father after he saw a 2008 bulletin from the Toronto Police Service's 53 Division indicating that Regan was wanted in connection with a sexual assault. "I may never know nor fully understand the mind and life of my estranged biological father," he told me.
By November 2014, Regan was living in an expansive waterside condominium on Toronto's Lake Shore Boulevard, in a building called Newport Beach. His landlord was Lucy Chik, a long-haul flight attendant who owned the property with her mother. Regan had answered her ­classified ad in the Globe and Mail. When she showed him the apartment, he promised to provide her with ten post-dated cheques. The day his first month's rent of $1,700 was about to go through, he stopped payment on it. He lost his key and had the locks changed so that Lucy couldn't get in. He forged her signature to give himself access to a free guest suite, and sent Lucy a $4,500 ­estimate for a paint job using an invoice from an actual company; the owner later claimed the invoice had been forged.
It was a cute scam, but he had more tricks in his repertoire. He tried shaking down Mark Saunders, Toronto's police chief. Complaining of persecution by security staff at various local hotels, he asked Saunders for "a certified cheque in the amount of $3,500 made payable to me for FULL AND FINAL ­RESTITUTION"—before adding that he had "enjoyed [their] discussion on Black ­History Month." He sent a threatening letter to Gary Bettman, the commissioner of the NHL, complaining about the "significant financial losses" he and his family had ­suffered at the hands of the league—­losses I've never seen any evidence of. "I am a PROUD CANADIAN," he wrote, "and have a PASSION for OUR NATIONAL SPORT which you and your 'AMERICAN' influence have taken ownership of and we as willing CANADIANS sit back and ­passively STROKE your little 'CIRCUMSIZED ­JEWISH' EGO!!!"
He would go to car dealerships and ­enter into purchase agreements, then ask for a service car while the paperwork went through. That dodge could get Regan a free ride for a week. There's no evidence that his consultancy and mediation firm is anything more than a business card. The only legitimate sources of income I can confirm are the Basic Needs social ­assistance allowance ­Regan receives from the City of Toronto, and his federal pension, which together add up to $434.90 per month. He once wrote to Service ­Canada saying that his pension cheque had been lost in the mail. When it sent him a replacement cheque, he cashed both. But he had low-key scams, too, such as fishing letters addressed to Hudson's Bay customers out of mailboxes; if they qualified for a discount, he'd scratch out their name and write his in.
As Chik learned, Regan is sociopathically fearless. On New Year's Day—three months after she had sent him an eviction notice—he walked into Terry Finlay's furniture store in Rosedale. Finlay found ­Regan articulate and well dressed. Regan said he was in the legal profession and had bought a pricey condo in Newport Beach for which he was looking to acquire some furniture; something in the request led Finlay to assume that ­Regan had been through a messy divorce. Regan said he would have his secretary write Finlay some post-­dated cheques from his account at the Industrial and Commercial Bank of China for the nearly $17,000 in furniture he picked out.
When Finlay delivered the furniture to Regan's nearly empty apartment, there was nothing but a sleeping bag and a ­mattress in the bedroom. Finlay helped Regan hang his paintings and get his TV working. When the deposit cheque came back with a stop payment, Finlay went to the police at 53 Division. He claims they told him that they knew Regan, but that they simply couldn't do anything. He'd written Finlay cheques, so it would be hard to prove that he'd tried to defraud him.
Chik's eviction process dragged on, just as Regan knew it would. He was, after all, a master disrupter. He had made himself unwelcome at private clubs and hotels, schools, banks, and the library system. The Toronto Lawn Tennis Club ­circulated a ­special announcement to its members warning them to be on the lookout for him. At least four other clubs banned him from their properties for such transgressions as pretending to have his golf clubs stolen and then, by one account, making off with the replacement set the club ­offered him for the day. He was banned for a year from the entire Toronto Public Library because of nineteen separate incidents in six branches during which he had been racist or abusive. He fought the ban for at least six months, sending appeal after ­appeal, ­writing that he had been the victim of ­slander and innuendo.
When he claimed to have been harassed by security at Toronto's Royal York Hotel, he fired back to the general manager: "FALSE AND SLADEROUS [sic] information has surfaced of my character." When he was kicked out of the Park Hyatt Toronto, he appealed directly to the chief of police: "­Perhaps you and your wife and your son can join … [Brandon] and I to talk POLICING at the Park HYATT …. The Luncheon menu has been wonderful in the 30 years that I have frequented the HOTEL." When he was booted from the Sheraton Hotel, a police ­officer told hotel security that there were 128 police entries about Regan on file. His name appears in relation to twenty-nine different criminal-court matters in the city of ­Toronto alone. Regan would go on to be banned from every single Service Canada location for a year because of his "aggressive and disruptive behaviour" at its office on St. Clair Avenue.
Yet still he managed to weasel his way into some fairly exclusive rooms: he attended a $300 Ireland Fund of Canada luncheon, a $1,000-per-plate event celebrating Ontario premier Kathleen Wynne—even the Canadian Journalism Foundation Awards, which I myself still can't score a ticket to.
After the many frivolous motions that Regan brought against Chik, the LTB ­finally ordered his eviction. But Regan then appealed to Divisional Court, triggering an automatic stay. He always eventually loses, but at a glacial pace. By the time he finally lost his Divisional Court appeal and was ­ordered to leave Chik's apartment, he owed her $35,907. He never paid her a dime. He used the credit card of the son of a ­previous tenant to hire movers to bring his stolen belongings to a new rental on Old Mill Trail that cost $3,200 per month, almost twice as much as Chik's. The day he left her apartment, he had no money in his bank account. He spent eight months at the Old Mill flat, which he claimed was overrun with mould—he then sought damages for the alleged harm it had done to his health. He tried to trick a respirologist into diagnosing him with a lung disease so he could bring the test results to court. When the doctor asked him to spit into a cup, he refused and offered a urine sample instead. His lungs were fine. He hired an engineering firm, Haddad Geotechnical, to produce a comprehensive report on the apartment—at a cost of $4,500. He never paid for it. He appealed to the city to intervene, then threatened to sue Mayor John Tory personally when it wouldn't. Eventually, he was again evicted for never ­having paid a cent in rent, and he moved on to Robin Ennis's apartment on Avenue Road the very next day.
Regan began unsettling ­Ennis's life immediately. He started misrepresenting himself to Ennis's colleagues, purporting to be in business with her and her property manager, Domenic. When she confronted him about it, Regan drew a finger across his throat. He wrote to Domenic, "My behaviour and graciousness in dealings with all of you has been commendable, in light of your aggressive and volatile conduct!" Regan continued, "Any further slanderous comments of this nature ­related to my good character will result in legal ­action against you personally!" To be able to argue that the apartment was deficient, he claimed that the air conditioner wasn't working and then destroyed it by opening all the windows in the middle of a scorching summer, forcing it to run ­continuously until the compressor gave out. "There are no screens on the windows," he wrote to Domenic, "and I hope I am not a victim of Zikavox!!"
On August 1, 2016, Regan pulled a garbage man off the street and asked him to look at the air conditioner. Regan wrote up a letter using the garbage man's name, but asserted he was a city inspector whose professional opinion was that the air conditioner was in a state of disrepair. The garbage man gave the letter an idle glance and signed it. Regan then tried to use the forged evidence at the LTB to offset rent arrears. The acting general supervisor of Solid Waste Management Services had to write Ennis to apologize.
Ennis was so frustrated by Regan's ­imperviousness to the justice system that she went to the only institution left that she thought could help: the media. So she called the CBC. On September 8, 2016, two months after he had moved in, Regan and Ennis finally went before the LTB. Regan caught wind of the fact that there were reporters on his trail and requested that the matter be heard privately. The tribunal ­denied his request. Regan then asked for an adjournment, claiming that he hadn't received the notice of the hearing—which he was at that moment attending—in the mail. The matter was adjourned until ­October: he had bought himself another free month. But, as he came out the front doors, he was met by a CBC news crew. "Why haven't you paid your rent, sir?" the CBC's ­Trevor Dunn asked him. As usual, Regan was ­impeccably attired—for this occasion, he sported a blue plaid ­blazer and matching tie. "­Because the legal opinions that I've been given are indicating that there's a breach of the landlord's ­responsibility," he said, referring to the air conditioner.
"Are you going to pay Ms. Ennis at any time?" Dunn asked.
"Well, I've been instructed by the ­Real Estate Council of Ontario to take formalized proceedings against her. We're following the process. I don't even know whether—her allegations are all so fabricated and delusionary. Until we get some substantial, concrete evidence that's factual and makes sense, what can I say?"
Lucy Chik, Regan's previous landlord, was at home when she saw the story on CBC television. She made a note of ­Ennis's address, and on September 24, she went to warn her about Regan so that, as she told me, Ennis would be prepared for the "nightmare." When she arrived at 290 Avenue Road, Regan happened to be returning home, his two leather shoulder bags full of paperwork. He intercepted her on the front lawn. "Mr. Regan, where's the money that the judge ordered you to pay me?" Chik asked. "You have no shame!"
"If you ever come here again, I'll kill you," Regan snapped. "I'm calling the cops."
"Go ahead—call the cops," Chik said. When she turned away, he attacked her. He kicked her hard on her right thigh and punched her lower back, and she fell onto the lawn. As she lay there, she noticed what nice shoes Regan was wearing.
Chik called 911. Regan rushed back into the apartment he didn't pay for, opened the door a crack to peek out and see what was happening, and then closed it again. The ambulance arrived within twenty minutes, but the police took more than an hour to respond. After forty-five minutes had passed, Chik's blood pressure had risen so high that she had to be taken to the hospital. From her bed at Toronto General, she finally gave her statement to an officer from 53 Division. After a few days, Regan hadn't been arrested, so Chik went to 53 Division to ask why. It was 53 Division, after all, that in 2008 had issued the bulletin about Regan being wanted for sexual assault. An officer there told her to forget about it. "His lawyer will rip you apart," the officer told her. "You'll ­regret it." And besides, he argued, she ­wanted Regan to face charges only because she was seeking revenge for the tens of thousands of dollars Regan owed her. Chik was shocked. Two months later, Regan still hadn't been arrested.
Confidence men can sell you ­only those lies that you're already prepared to believe. They are emissaries of our own optimism, bearing the promise that the world is as decent as we'd hoped. In 1848, a dapper and genteel fellow named ­William Thompson took to the streets of New York with a simple ruse. After some pleasant conversation, Thompson would ask a stranger, "Have you confidence in me to trust me with your watch until tomorrow?" His marks didn't believe in just him but also in the premise behind his question—that cities weren't Hobbesian jungles but the sort of places where you could entrust your timepiece to a stranger. When he was ­arrested, a reporter for the New York ­Herald christened him "The Confidence Man."
Confidence men are different from mere hustlers, whose tricks—such as pickpocketing—do all the work. Con men tailor their frauds to create a theatre of legitimacy. Bernie Madoff convinced thousands of savvy investors that he had intuited the secrets of the American financial system and could—against all common sense—deliver consistent, impossibly high returns. The balding, brown-eyed Frenchman ­Frédéric Bourdin could convince a mother from Texas that he was her teenage, blue-eyed son, three years missing and presumed dead.
What makes Regan unique, perhaps, is his seemingly genuine concern for his own reputation. When he's accused of defrauding someone, stealing their furniture, cars, or rent, he fires back that the accusation is SLANDEROUS and has CAUSED ­DAMAGES. His confidence trick, then, isn't just that he's good for it—but that he's good. His sense of dignity flows from himself into his victims, who are altogether unprepared to believe that a meticulously groomed white man is anything other than an honest gentleman.
Regan was so assured of his goodness that he brought a motion against ­Robin ­Ennis, claiming she'd defamed him. I tagged along with Ennis and her ­property manager, Domenic, when the matter was heard before the LTB on November 8, 2016, the day of the American election. Regan had, by this point, already been ordered to vacate Ennis's apartment, but he had, as usual, appealed to Divisional Court and so been granted a stay. We walked ­upstairs into the tribunal. Ennis is funny and ­impatient and has developed a violent reaction to Regan's hijinks, often ­completely losing her cool. Domenic is the sort of robust Italian I grew up around, competent and immovable. We took our seats in the tribunal room, which looked like the Kingdom Hall of a downmarket cult, with filthy carpets patterned to camouflage stains, plastic seats, and fluorescent overhead lights and dropped ceilings, into which someone had jammed microphones so that they hung down from the panels above where the parties plead their cases.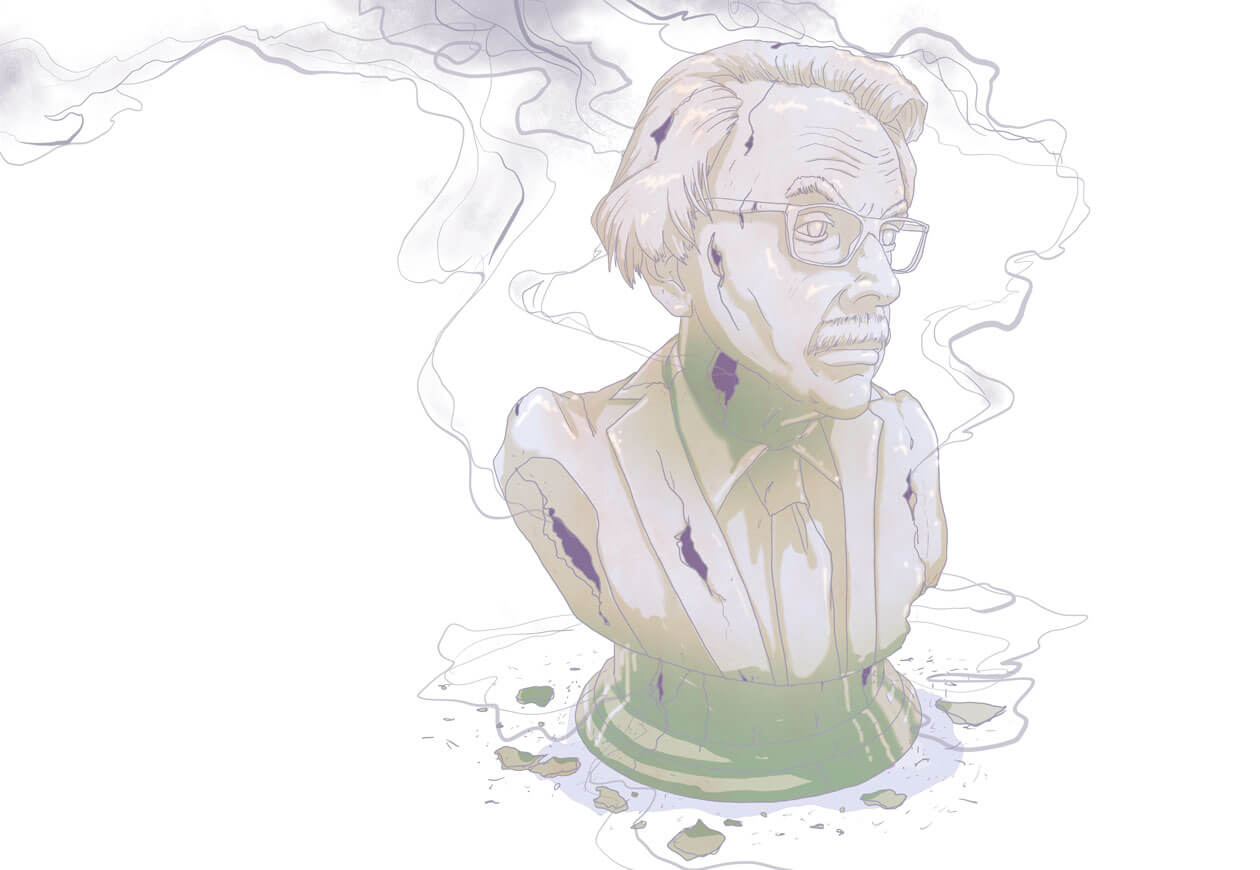 And then Regan walked in. He was positively soigné, in grey slacks, a striped blue Oxford shirt, a grey tie to go with his pants, a blue blazer with a matching ­pocket square, a sharp overcoat, and not one but two leather shoulder bags brimming with paperwork. Against the shabbiness of the tribunal room, he radiated not just style or wealth but real authority. He turned to a coat rack all but hidden at the back and hung up his overcoat—it was the only one on the rack. It felt as if we were in his office.
But, as Regan walked to the front of the room, where I was sitting, I finally got a good look at his clothes, and they weren't quite as polished as they seemed at first glance. His blazer was a little busted, more like a structured sweater than a proper ­jacket, and it hung awkwardly off his shoulders. His pants were too baggy, and his cuffs had been let down but hadn't been hemmed.
Regan had spotted me making notes and locked onto me with a predatory stare. ­He realized that, just as it had been for the original con man William Thompson, the press was an existential threat. Regan has learned to stickhandle everyone except journalists. His cons have been machine-tooled to weaponize the justice system's own sense of fair play and the safeguards of due process. He represents himself but always claims to have a lawyer who can't make his hearings, so he is allowed adjournment after adjournment. He ­appeals all his evictions and is granted stays—he has learned that he doesn't need to succeed in order to win a year's rent. Since we don't have debtors' prisons, he can fight an endless war of attrition because he's immune to costs. When he's ordered to pay tens of thousands of dollars in arrears, he simply refuses—and his landlords are helpless. He beats up one of his former victims when she tries to warn his current one, yet he somehow remains free. Regan is the superbug produced by our legal hygiene, the crook cooked up by our civic decency. The journalist, however, can do what the courts cannot: expose his improprieties as evidence of bad faith in order to warn future victims.
The tribunal member, a fiercely intelligent woman named Esi Codjoe, called Regan and Ennis. Regan unpacked the contents of his bags—leaning piles of paperwork soon covered every inch of the table before him. When Codjoe asked Regan whether he had served Ennis with the appropriate paperwork, he opened his mouth and began to speak.
His language is unlike anything I've ever heard—a pleonastic stream of legalese, which, if you're not listening ­closely, can be hard to identify as the total and ­utter bullshit that it is. The words come so fast and sesquipedalian that they ­escape faithful transcription. It is the grammar of stalling, but it races right at you. At one point, he turned his back on the council member and pointed at me scribbling madly away, shouting: "Slanderous, defamatory comments go on record and results in damages!" When Codjoe tried to keep Regan on point, he barked at her: "You're being indignant, madam! You're overstepping your boundary! We're trying to accommodate the process, and it's not your position—"
"I'm going to cut you off here—"
"No, I'm going to cut you off here!" Regan bellowed. "We're putting you on notice!" Codjoe asked whether Regan had served Ennis with the application they were hearing. Ennis hadn't received anything. Regan suggested that she must have tampered with her own mail. They spent fifteen minutes trying to determine whether Regan had put the papers in the mailbox or in the shared foyer. "We've been inundated with so much paper," he whined, pointing at the towers on his desk. Domenic, who was speaking for Ennis, calmly said, "We haven't been served with anything."
When Codjoe delivered her decision, she referred to Regan as "the tenant," as is customary. This infuriated him. "Call me Mr. Regan." She very pointedly continued to call him the tenant. He very pointedly insisted on being called Mr. Regan. "In life, you earn respect," he growled. She dismissed his application. "I've been played here! I've been insulted! I don't want to be accused in the CBC that I'm a person being seen to supersede process. I want to follow the rules!" When I got home that night, I watched as another bullying fraud snuck his way into a tenancy, this one at 1600 Pennsylvania Avenue in Washington, DC.
The final battle between Regan and Ennis took place a week later, at ­Toronto's Osgoode Hall. Divisional Court would hear Regan's appeal of the eviction order. While the LTB had been a shambles, Osgoode Hall was breathtaking, with a heavenly blue light that filtered through stained-glass ceilings into a marble atrium. When Regan arrived, he was wearing much the same outfit he'd worn the week before, yet he suddenly looked shabby against the marble work.
We rose as Justice Julie Thorburn, who bears an uncanny resemblance to Susan Sontag, entered the courtroom. Ennis had hired two young lawyers to represent her at Divisional Court—Michael Kholodenko and Adam Freud. The night before, Regan had written the court to apprise it of the fact that he wouldn't be able to attend the hearing because he'd scheduled a sports mediation for the same day. The court office ordered him to show up. As we sat down, Regan rose and asked Justice Thorburn for an adjournment. Ennis turned to me and said, "If we don't win today, I'm burning the house down." Regan said that he had representation but that his lawyer hadn't been able to make it to court on such short notice. He seemed insulted, adding, "I've put the counsel on notice and have ­reported them to the Law Society."
So Justice Thorburn asked for his lawyer's name. The question caused Regan to stammer. He offered the name of one lawyer, Howard Levitt, and then another, Allan Blott.
"I'm trying to be patient," Justice ­Thorburn said. She wanted to know which man was his lawyer—Levitt or Blott. Regan decided on Levitt.
"Is he your counsel?" Justice Thorburn asked.
"Well, I spoke to him today."
"Is he your lawyer or not?"
Not—Regan double-reversed and ­settled on Blott. He was playing the shell game, but with his attorney as the pea. ­Justice ­Thorburn ordered the court to call Blott and then declared a recess.
When we returned that afternoon, ­Regan had already set up his paperwork. There was more of it than ever, spread across the fine oak barrister's desk and the bench ­behind it. Then Blott arrived—a burly, distinguished middle-aged man wearing a look of utter bafflement. As we waited for Justice Thorburn to make it back to the courtroom, Regan circulated a document to Ennis's lawyers and then to Blott. It was a photocopy of a stop payment on a $5,000 cheque Regan had written to Blott. "What is this?" Blott asked, before pushing it away incredulously. When Justice ­Thorburn returned and settled back in her seat, she asked if he was Regan's lawyer.
"I'm here to confirm," said Blott, "that I am not retained by Mr. Regan." According to Blott, Regan had stormed into his office the evening before. He had talked at Blott for a few minutes, griping about his troubled tenancy. Blott had told ­Regan that he didn't even practise tenancy law. "I made it abundantly clear I wasn't ­taking this matter and that I wasn't retained." Blott then pointed at the photocopied stop payment and said, "I have no idea what it is." He had never accepted a cheque from Regan. "This is all subterfuge to mislead not just me but this court."
Justice Thorburn decided that Blott wasn't Regan's lawyer and dismissed him. Blott let out a laugh, stunned by it all. ­Regan muttered and moved more of his paperwork onto the desk at which Blott had been sitting. Now Regan was alone to make his case, and Justice Thorburn asked him to begin. "There's no evidence before me," she said.
"I can get it. I've ordered it." He started rifling through his papers, and they scattered and fell to the ground. Regan's voice began to crack as he searched for something in his paperwork. "The problem with self-represented litigants like me…" I had to look up at his face to realize he was crying, his face red and swelling. Regan wept as he told the judge that he had a son and that his son was ashamed of him. "The only thing you have left in life," he said through his tears, "is your reputation."
Justice Thorburn cut in, reminding him to confine his remarks to submissions that would convince her of his appeal. Regan looked up, and his sobbing shut cleanly off like water from a tap. In a deadpan tone, he asked, "Well, what do you think so far?"
The day before his eviction, winter ­arrived out of nowhere, and Regan still hadn't found a new place to live. He ­normally swung from rental to rental as if from vine to vine, but the new Google search results associated with his name must have been making that next vine elusive.
When the director of communications at 53 Division finally, after ten days, responded to my questions about the ­Toronto police's handling of Lucy Chik's assault, and about why Regan had never been arrested for it, he sounded somewhat ­annoyed. "There is an investigation going on into an allegation of assault. You end by saying why are we showing Regan 'lenience.'" he said. "How you've reached that conclusion is a matter for you."
Two hours after we got off the phone, a detective called Chik to tell her Regan was going to be arrested. By the afternoon, the director of communications had issued a press release requesting the public's assistance in locating Regan, who was "­wanted in an assault investigation" related to an incident that had occurred eight weeks before. As night fell, no one knew where Regan was. The CBC reported on the police press release. From wherever he was hiding, Regan ­texted Domenic: "I need your assistance."
The next morning, Regan turned himself in to police. He sent Domenic a ­series of texts: "I am simply overwhelmed this ­morning. Please protect my personal ­belongs Domenic. … Please help. Thank you. I am overwhelmed at the conduct of the TPS [Toronto Police Service]. I am a pretty Good person, I thought! … I ­promise to fulfill my obligations to both you and Ms. Ennis. I am an Honorable person! I am ­respectful of everyone! I wanted so much to maintain a low 'under the radar' approach to life! Help, thank you."
Then the sheriff arrived to change the locks on Regan's apartment. He had to take down the beautiful wreath hanging on the front door to make room for the eviction notice. Because Regan now had no fixed address and no one would come forward to act as his surety, he was remanded to jail. When I walked into the apartment, I could see clear signs that he had been trying to make a run for it. A dozen garment bags were stacked like cordage in the kitchen. The closets lay open and empty. He'd unhung his paintings and rolled his carpets up. There was a stack of CDs: Duke Ellington, ­Leonard Cohen, Van Morrison, and one that sent a sharp pang through me—Happy ­Holidays: 25 Christmas Favourites. He was a reader and had biographies of Hazel ­McCallion and Don Cherry and a book called ­Living the Good Life: Your Guide to Health and Success. Upstairs, he'd made his bed, but had been using a sleeping bag as a ­duvet. There was almost nothing in his fridge and nothing in the cabinets except for Kraft Dinner. On the counter were some empty bottles of pretty good French wine.
And then I came to the room with his paperwork—boxes upon boxes of it piled on and around the yew-wood table he'd stolen. And, in the centre of the table, amid all the printouts and photocopies, was an exquisite flower arrangement. He'd said at court that he had had two visitors, but Ennis, who lived beneath him, had never heard anyone upstairs but Regan. The flowers were just for him. The water in the vase was fresh, clear as if from a holy font. He must have changed it right before he fled. Without Regan, they would die, and I almost pitied them—waxy birds of paradise, fat pink roses, carnations, and yellow lilies, some of which were almost perceptibly blooming in real time, like ­human lips opening onto a sentence. I had to touch them to know they were fake.
This article originally appeared in the June 2017 issue under the headline "Grifter."
Update: In September 2017, James Regan was acquitted of the assault charge against his former landlord Lucy Chik after an Ontario court judge found inconsistencies in her testimony.