In Kyiv, outside St. Michael's Golden-Domed Monastery, there is a long blue wall bearing photographs of thousands and thousands of Ukrainians: the faces of soldiers, police officers, and volunteers who have died—some since Russia invaded Ukraine in February 2022 and some from when the war truly started in 2014. One day last spring, near the end of the wall in front of the monastery's bell tower, a young man sat with a large lute-style instrument called a bandura in his lap. Beside him stood his instructor with some sheet music. The young man was the latest in a long line of bards known as kobzars. These wandering musicians have sung Ukrainian folk music for hundreds of years.
The man's dulcet tones filled the town square as he sang a song called "Oh, the Red Viburnum in the Meadow," made iconic by the Sich Riflemen in the early twentieth century. "Oh, in the meadow a red viburnum has bent down low / For some reason, our glorious Ukraine is in sorrow / And we'll take that red viburnum and we will raise it up," the song goes, according to one translation. "And we shall cheer for glorious Ukraine, hey-hey."
The song was banned for much of the twentieth century, when Ukraine was under Soviet rule, because of its associations with revolution. A couple months after last year's invasion, Pink Floyd released a modernized version to raise money for the war effort. Songs like this one are among the quota of music boosted by the Ukrainian government on the radio. Much Russian music has been banned from the local airwaves.
Nearby, a collection of burnt-out tanks and military vehicles lay in Mykhailivska Square, or St. Michael's Square, in front of the monastery. The Ukrainian government had brought them from the front lines for the public to see up close. Passersby stopped and gawked—still able to smell burning chemicals caked to the metal. Many posed for selfies in front of the tanks, while an adventurous young boy scaled his way to the top of one of the wrecks.
Since the invasion began on February 24, 2022, over 8 million fleeing Ukrainians have been recorded in the fastest-growing flow of refugees witnessed in Europe since the Second World War, according to the United Nations Refugee Agency (UNHCR). Many Ukrainians have found refuge in neighbouring countries, while others have gone further to places like Canada. But sizeable numbers have also returned to Ukraine. By May 2022, according to the UNHCR, the lines at border crossings to get back into Ukraine had grown longer than those to leave. One report from the International Organization for Migration estimated that, as of January 2023, more than 5.5 million people who had left their place of residence since the invasion began have returned, while approximately 5.3 million remain displaced within Ukraine. Unpredictable attacks on cities across the country have intensified since October, keeping many residents living in a state of perpetual fear, not helped by blaring air raid sirens on a daily basis. But, for some, the pull to go home, to return to the familiar, is stronger than the risk.
For many returning to the country, or for those fleeing the fighting in the east, the western city of Lviv has become a hub. It is considered a relatively safe corner, though it, too, has been targeted with cruise missiles. On a sunny day late last spring, the contrasting moods were evident. On one side of an intersection in the old town was a wall of imitation flowers woven into the wire fence, alongside photos of Ukrainian men, women, and children who have died in the war. Across the street, an electric cover band called String Mockingbird took advantage of the warm day to try to boost morale with some iconic Ukrainian songs, including Kalush Orchestra's "Stefania," made famous by the band's Eurovision victory days earlier. A large crowd gathered and threw change in the band's open instrument case—an emotional experience for people who, just weeks earlier, did not know if their country would stand in the face of Russian aggression.
Russia's intent was to shatter Ukraine; what the invasion did was galvanize its citizens. Last year, on the third Thursday of May—Vyshyvanka Day—Ukrainians spilled out onto the streets of Lviv and across the country, wearing traditional embroidered shirts and dresses called vyshyvankas. Men, women, children, and even teenagers posed in the streets, taking photos to post on social media for all the world to see: Ukrainians were still there. In Lviv, Goodz, a designer vyshyvanka store, was cramped, with a flow of people filing in and out. Olya Mruwka minded the store for her mother and was thrilled to see the interest. But, she told me, this clothing revival did not start in 2022.
"During the hard times, under Stalin, Ukrainians were sent to Siberia, and they took with them their vyshyvanka," Mruwka said. "It was like a symbol of Ukraine. Old grannies have made vyshyvanka for many centuries. This is a kind of Ukrainian identity. And in Soviet times, a lot of years, vyshyvanka were discriminated against. You were told it was village wear and it was not popular." She pointed to the Maidan Revolution of 2013/14—also known as the Revolution of Dignity, which saw a bloody series of protests last for months and a pro-Russia president overthrown in Ukraine—as the spark for the revival of interest in the vyshyvanka, both in Ukraine and abroad.
Traditional vyshyvanka bears embroidered symbols of a person's home, with each region having different stitch patterns associated with it. But in an attempt to make the attire more universally appealing, designers have ventured away from typical colours, designs, and even materials: some of the shirts have cut-outs of sheer tulle. Clothing featuring the tryzub, the country's national trident emblem, or symbols of the Ukrainian war effort has become common. Tattoos demonstrating national pride have come into vogue. A war that is also playing out online has made being fiercely Ukrainian cool.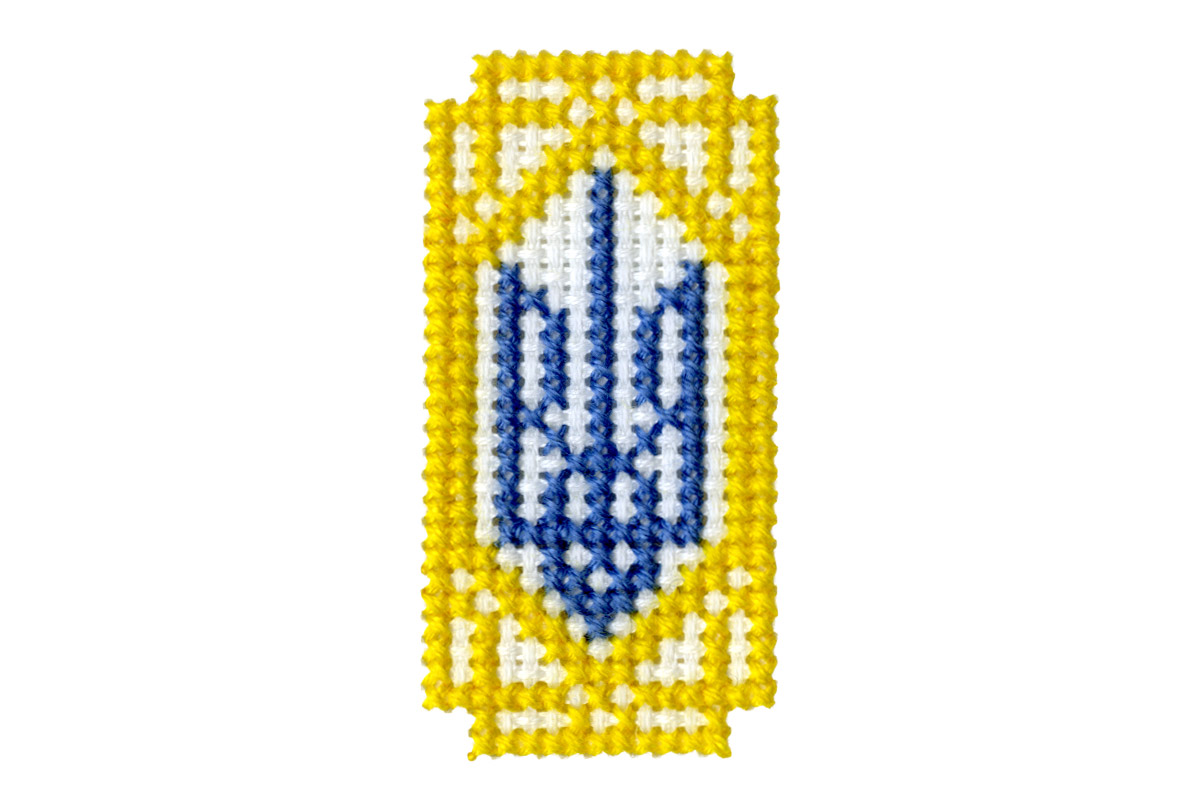 Since the invasion, many Ukrainians, both at home and abroad, have been dealing with warring sentiments: unity and division, pride and guilt, bravery and fear, alongside some of the most difficult but natural inclinations of conflict, like hatred and vengeance. Beneath the surface of all these emotions is a Ukrainian cultural revolution against the backdrop of a country fighting for its very right to exist in the face of an attempted genocide.
The fight against the urge to let hatred win can be seen playing out on the front lines—but also in homes, in institutions, and in art. Artist Mykhailo Skop set up shop in an old stone walk-up in central Lviv, a municipal art centre that's been transformed into a co-working space open to any artist displaced by the conflict. On a projector screen, photos of a peaceful Mariupol are shown to the sound of its destruction by bombing; tape draws an "X" across the display to symbolize how residents stuck tape across their windows to try and keep the glass from shattering if bombs fell nearby. Skop, who works under the name #NEIVANMADE and is an illustrator for board games, has been using his digital illustration skills for war art since the invasion.
"I remember that one of the [first] news stories was about this hero, some strange man who was called by journalists the Ghost of Kyiv," he recalls. A rumour quickly swirled that this Ghost of Kyiv, said to be a Ukrainian fighter pilot, had shot down forty Russian aircraft. The story energized Ukrainians in some of the darkest early days of the conflict, but it didn't take long for the myth to be debunked by the Air Force of the Armed Forces of Ukraine itself. "Truthfully, I think we all knew this was a mythological hero," Skop says. "I understood that it was my job to tell [everyone] about this man. I, and many other illustrators, understood the same: that we needed to create somebody who could stand for us in these terrible times." Some of the pieces Skop drew in the first days of the invasion showed an incarnation of the Ghost of Kyiv. He posted the art on social media, where it was widely shared.
This glorification of heroes is an old tradition in Ukraine, with roots in the country's centuries-long battle for independence, which was not fully realized until 1991. The words "Slava Ukraini"—which translates to "Glory to Ukraine"—have become a rallying cry during this war, but the phrase is often answered by the response "Heroyam Slava," or "Glory to the Heroes." The call and response appear to have originated around the early twentieth century in groups of Ukrainians supporting national independence. Ukrainian independence movements over the centuries hold many heroes—chronicled in folk stories and sung about in songs—including Cossack fighters who fought for Ukraine beginning in the sixteenth century and Volodymyr the Great, who, around the turn of the eleventh century, led the Kyivan Rus', the first East Slavic state, which at the time covered parts of modern-day Ukraine.
For Skop, the Ghost of Kyiv is just one of the many symbols of heroism and hope that have emerged since the invasion began. "I believe that images have a power that can speak with any person from any country, across different languages, different religions, and across cultures," he says. Artworks like Skop's, as well as memes, have engaged the world in an unprecedented way. Take the recording of a defiant Ukrainian soldier stationed on Snake Island in the Black Sea who radioed a threatening Russian warship to "go fuck yourself." An illustration inspired by the event was made into a government-issued collector's stamp and printed on merchandise sold around the world.
But some of the artwork is less about defiance. One of Skop's pieces has been made into a poster: it shows a woman with wings holding the scales of justice in one hand and a sword in the other. A child clings to the woman's leg as she prepares to execute a Russian who lies on the ground at her feet. The words "UKRAINIAN JUSTICE" are scrawled at the top. "Justice is needed," Skop says. "We need to have judgment for these bad people because they come to our land and they killed and raped our men, women, and children. Maybe this child was raped, I don't know. It is a symbol."
Justice is something the country is broadly yearning for, especially after revelations of the horrors—rape, torture, executions—committed by Russian soldiers in the towns of Irpin, Bucha, Lyman, and undoubtedly others. The invasion hadn't marked three months before a Ukrainian court found Russian soldier Vadim Shishimarin, a twenty-one-year-old sergeant, guilty in the first war crimes trial and sentenced him to life in prison. Inside the courtroom, Kateryna Shelipova, the widow of the civilian man Shishimarin was charged with killing, demanded to know why he and his fellow Russians had come to Ukraine. Shishimarin's only response was that he was following orders.
Those ultimately responsible for these crimes may never face this kind of justice, though the International Criminal Court has also issued a warrant for the arrest of Russian president Vladimir Putin. But in the southern city of Kherson, residents are not just waiting for justice but rather trying to paint over pain with strength. A mural shows a young girl wiping away the symbol from Russia's coat of arms. The words next to her feet read, "Russia here NEVER!" It's a retaliation against the billboards that Russian forces had erected during their occupation of the city and that had slogans such as "Russia is here forever."
The Soviet era suppressed the Ukrainian language. However, surveys suggest that the use of Ukrainian in the country, even in communities where both Ukrainian and Russian have been spoken often, has surged since the invasion. It's a trend that has been reflected in diaspora communities as well. In 2022, Duolingo's biggest trend was a spike in the number of people, with more than 1.3 million around the world, taking online lessons in the Ukrainian language.
Both Olga Shmelova, thirty-six, and Alina Sidletska, forty-two, have experienced a Russian invasion of Ukraine. In 2014, Shmelova left Crimea a few months after Russia annexed the Ukrainian peninsula. Sidletska, who refused to take a Russian passport, left the next summer. Shmelova moved around the world, to Winnipeg, and Sidletska restarted her life in Kyiv. In the following years, the two women's long-distance friendship developed into something more. In late 2021, the couple tried to get a visa for Sidletska so that the two could marry in Canada, as same-sex marriage is still not recognized in Ukraine, but their request was rejected. They began planning a wedding in Denmark. But on February 24, Russia invaded Ukraine once again, which meant that, suddenly, Sidletska was eligible to secure a Canadian visa. About three weeks after the invasion, she was on a plane bound for Winnipeg. They applied for a marriage licence their first week reunited.
Their ceremony—in a Winnipeg living room, around a month after the invasion began—was understated, with only three people in attendance. The simple affair was all they could have dreamed of: they were together, and they were safe. "There was no mood for celebration anyway, let's be honest, in the background of the war," Sidletska says.
Sidletska has had to hide much in her life. Growing up in the Soviet Union under atheistic government policies, she was covertly baptized in a small village, she recalls. At home, her parents spoke Ukrainian, but it was a language she was made to feel ashamed of speaking in public. As an adult, she was scared about coming out to her friends, because gay rights were, and still are, a new frontier in Ukraine. "I had to hide everything I had," she says. But perhaps, she adds, this conflict has helped bring some of the hiding to an end. "It seems like, strangely, due to this war, people are having this moment of glory. I don't know how to explain that. It's a strange, controversial feeling. But in this tragedy, people can finally reveal themselves and feel proud to be Ukrainian." She might not have to worry as much about her own safety now, but she worries every day about getting messages from friends and family who are still in danger.
Shmelova escaped to Canada after the annexation of Crimea and so has not experienced the stress of bombs falling around her. She feels she has to earn her right to continue calling herself Ukrainian. "When I arrived in Canada, I was always ashamed saying where I was from, because Ukraine was always considered this third-world country, a poor country, corruption and all that," Shmelova says. "But now I take pride. So that has been a huge shift in identity. Because I do identify myself as [Ukrainian], even though I'm not there."
Sidletska says it is not just her fellow citizens, perhaps, who are rediscovering what it means to be Ukrainian but also the world that is seeing the strength the country has always held. "Ukraine has always been very free spirited. Maybe it didn't always look that way, but it has always been there, [in] all these revolutions that we've come through," she says. "This spirit needed freedom, and it seems, right now, all the world can see why."
On the grounds of the Manitoba legislature in Winnipeg's downtown, two monuments were erected to commemorate Ukrainian history—a reminder of how intertwined these two countries and identities are in the province. One of the statues, titled Bitter Memories of Childhood, is of a gaunt girl clutching a handful of wheat. It is a replica of the statue that stands on the grounds of Kyiv's Holodomor Museum to commemorate the last genocide perpetrated against the Ukrainian people by the Kremlin, when policies were imposed on the Ukrainian Soviet Socialist Republic to worsen a famine that resulted in an estimated 3.9 million deaths in the early 1930s. The monument of the girl may be more broadly recognized, but the large moustachioed bronze man sitting next to her—the nineteenth-century poet Taras Shevchenko—is someone likely well known mostly among Ukrainians.
One of the founders of modern Ukrainian literature, Shevchenko was instrumental in solidifying Ukrainian identity. He was born in 1814 in a peasant family in the Russian Empire in what is now Ukraine, and his name is now synonymous with the Ukrainian independence movement. His most notable work is Kobzar. Shevchenko often wrote of breaking chains, and his work explored how Ukrainian people should shake off the shackles imposed by their imperialist overseers and escape their feudal society. He wrote of the immense pain of watching generation after generation go off to fight in wars not of their making, and of the heaviness of waiting to see if a loved one would return from battle. He wrote of the need to always conceal the Ukrainian identity and that loving Ukraine was in some ways an immense burden—but also the ultimate purpose.
Shevchenko is commemorated across Canada; a museum is dedicated to him in Toronto. And he is immortalized in more than a thousand monuments across Ukraine. In central Lviv, children climb up one such monument and slide down its glossy sides. In the heart of Kyiv, Shevchenko's statue, normally displayed proudly across from the university that bears his name, has been covered with sandbags and boarded up in an attempt to shield it in case of an attack. Shevchenko's writings speak to Ukrainians across generations, and many of the things he wrote about, such as the wider pain of being separated from one's family in war, echo especially loudly now.
Roman Hasko, a thirty-six-year-old senior lieutenant in the Army of the Armed Forces of Ukraine, heads a medical unit serving on the front lines of the current conflict. Last May, based in a small village outside the eastern city of Kramatorsk in the Donbas region, Hasko's unit was on break from the action, staying in an uninhabited family home—a level of luxury they hadn't seen in a long time. "We're trying to make order around us and make even this war life as civilized as possible," he says. "The first thing we did when we came to this house: we had showers, we washed our stuff, washed our clothes, because we understand that tomorrow it might be impossible."
Hasko wanted to give his unit a ­reminder of who they are, he says, and what they're fighting to go back to. "It's very simple to be wild in war," he says. "It's very simple to forget about who you are, where you're from, and what you want and want back after this. It's very simple because you have a gun, you have power. You can kill." Instead, he ­encouraged his unit to build. At one point, the soldiers came across an ­elderly woman who'd been fighting against the wildlife that was eating her garden. The soldiers built her a fence to protect her vegetables—a simple act but one of building the country they want.
Despite not being a lifelong soldier, Hasko says this is something he'd long known he would have to do. He knew he'd have to take up that immortal cause Shevchenko wrote about and fight for Ukraine. As a university student, he rallied in the late-2004 peaceful protests of the Orange Revolution, which saw the overturning of what were largely seen as corrupt election results. He marched in the Maidan Revolution in 2014. The country's commitment to freedom and democracy has now landed Hasko in a bloody war.
"I have prepared for this war all my life," he says. "As I grew up, I began to understand that there will be a day when we will fight for our freedom and independence—true independence. Not the legal independence of 1991 but ­real independence from Russia. Because no one in Moscow wants to give us a chance for free life in the free world as an equal nation." Even early on, he could see how Ukrainian culture had begun advancing in response to this conflict. "This war just made us go faster," Hasko says. "­Finally, we understand what problems we can have because we continue to speak in Russian, the problems we will have with the Russian church, the problems we have because we preserve Russian culture, even Russian street names. So this break is very radical. ­Before, it was a soft break, now it's a very hard break."
As he shuts off the lights and climbs into his sleeping bag, his face is lit up by his phone, and the laugh of a girl fills the room. He giggles with her. This is how Hasko watches his young daughters grow up—through videos of them playing in a park hundreds of kilometres away on the far side of the country.
---
I'm Meredith (@redpeacoat), the senior designer at The Walrus. Here's how I made the art for @SarahLawrynuik's story on Ukraine's cultural revolution and what it means to me. https://t.co/5f3VTd5DrV

— The Walrus (@thewalrus) July 21, 2023
Being Ukrainian Canadian is not the same as being Ukrainian. They are different identities. I want to feel a connection to the country and culture my family left behind even though that connection may be superficial in hard times like these. But I try, through history and art.

— The Walrus (@thewalrus) July 21, 2023
My grandparents and great-grandparents were the ones who came to Manitoba from western Ukraine in the early 1900s. I like to think that the prairie landscape reminded them of home. pic.twitter.com/ENaScT4Rbf

— The Walrus (@thewalrus) July 21, 2023
My family is very far removed from Ukraine as it is now. We don't know the names of any distant relatives still living there or speak the language anymore. Only a few traditions remain.

— The Walrus (@thewalrus) July 21, 2023
When I read an early draft of Sarah's article, I knew I wanted to make something by hand. Embroidery has a long history in Ukraine, and, like a lot of people, I had spent time cross-stitching during the pandemic.

— The Walrus (@thewalrus) July 21, 2023
I first learned how to do it in elementary school so it was easy to pick up again—a simple stitch, corner to corner, building an image with hundreds of little Xs on aida cloth (I am not yet brave enough to try using linen). pic.twitter.com/viFTBj1hiJ

— The Walrus (@thewalrus) July 21, 2023
Last year, I bought a book from @UkrMuseumCA's Toronto branch of vintage embroidery patterns. I chose one and got to work, stitching in the evenings for a week. Google Translate tells me this pattern was meant to decorate goods in the "modern house." pic.twitter.com/pEKU2e00sk

— The Walrus (@thewalrus) July 21, 2023
I wanted to capture the mood of the article: hopeful and proud in a time of war. I found a press photo of a bust of Taras Shevchenko, a poet whose name, Sarah writes, is "synonymous with the Ukrainian independence movement."

— The Walrus (@thewalrus) July 21, 2023
Behind him, I made a flag out of blue sky and yellow thread. To me, it's an image that symbolizes home—to my great-grandparents and to the people there now, fighting for their future. https://t.co/5f3VTd5DrV

— The Walrus (@thewalrus) July 21, 2023