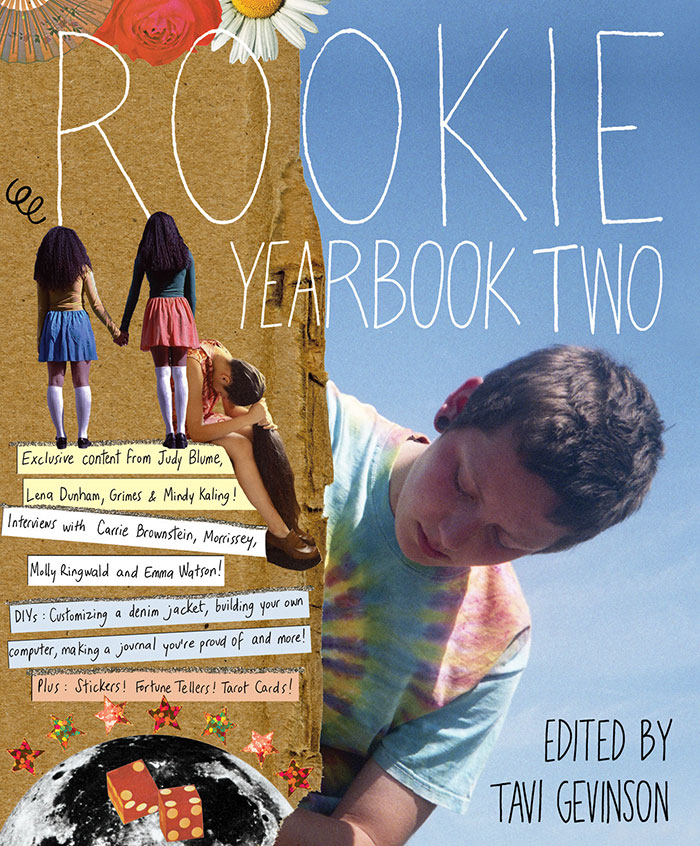 Drawn & Quarterly
In the lower desert of southern California, in a small town called Niland (population 1,006), there is a hill made of straw and dirt and adobe clay, painted in a dozen layers of chromatic rainbow. Fifty feet tall and 150 feet in breadth, it is known as Salvation Mountain.
The structure was built by a man named Leonard Knight, as a tribute to God, in the 1970s. For decades Knight took care of it, until dementia rendered him unable to do so. Today the monument is nurtured by a community of strangers—curious tourists, committed locals—who donate their paint and their time so that Salvation Mountain stands eternal.
In October, at a theatre in Manhattan, images of the hill played across a screen during a New Yorker Festival interview with Tavi Gevinson. The photos came from a 2011 Rookie feature called "Daydream Nation," the subheading of which called it "Secret magic in the middle of the desert." Gevinson, the seventeen-year-old founding editor of lauded online teen magazine Rookie, told the sold-out audience that she likes the idea of a secret place, separate from the rest of the world.
For the beaming young women in the audience, many of them dressed in grunge band t-shirts and/or flower crowns, that's what Rookie is. Salvation—a handmade mountain in California, a record, an iPod, a new city, new friends ( IRL optional) or a website that weaves all of these things together—is the fiercest reverie of the dreaming, scheming teenage girl. (I say this from experience.)
The mind of the dreaming, scheming teenage girl is what Rookie cares about. Though its readership is certainly not limited to this demographic (I am twenty-seven and read it all the time), Rookie doesn't bend to accommodate outside audiences, nor does it bend to accommodate outside ideals. In her 2012 TED Talk, it took Gevinson less than a minute to say "I'm a feminist." Shortly thereafter: "I think the question of what makes a strong female character often goes misinterpreted, and instead we get these two-dimensional superwomen who maybe have one quality that gets played up a lot…The problem with this is that then people expect women to be that easy to understand."
Rookie overturns the myth of the two-dimensional superwoman. It doesn't assume that young women want one thing or another—a thoughtful hardcover book or a sleek digital space; recipes and craft ideas or interviews with punk singers. Rookie gives its readers everything, then lets them rummage through the options.
The second annual Rookie "yearbook"—an anthology of the website's greatest hits—came out around the same time as
Gevinson's New Yorker Fest interview. Designed with artful judiciousness by Montreal's Drawn & Quarterly, the 352-page book contains pieces such as "Secret Wounds" (about self harm), "How to Get Rejected From College" (on enduring disappointment), "It Takes A Lot to Laugh" (on surviving racism through humour), "Mad Love" (which critiques the appeal of tortured romance), "The Great Unknown" (on overcoming doubt), and "No More Nice Girls" (which I'd have torn out and taped to my purple bedroom wall had this book been for sale ten years ago). Inside, curated play lists pair The Velvet Underground with Justin Timberlake, Beach House with Joy Division, and Rihanna with PJ Harvey.
Thicker than a bible, Yearbook Two is a testament to the importance of strong, authentic communities for young women online. But it also offers something tangible and gorgeous that one can keep on a bookshelf and flip through for future reference. The book, like the website, is guided by monthly themes such as Freedom, Drama, Mythology, and Attention. (In the yearbook, each theme opens with a page designed by Canadian artist Sonja Ahlers.) Rookie's website operates on a three-times-per-day publishing schedule—one post after school, one around dinnertime, and one before bed. This works not just for its readers, but for many of its young contributors, including Gevinson, who is still in high school. Rookie looks after its own.
"I'm pretty sure Tavi never stops thinking, making, and doing," says Tracy Hurren, managing editor of Drawn & Quarterly, and the designer of Yearbook Two. "There are thousands of images in the book, and each one, right down to the way it's cut out and its exact colour shade, was very well considered." To make the book, Gevinson travelled to Montreal carrying suitcases full of ornaments and images she wanted worked into the design, things that might complement the year's best writing and photographs in some way—clippings, fabrics, objets d'art, and pieces of jewelry, including a moon necklace given to her by Stevie Nicks. From there, Hurren and Gevinson worked together to construct the book in just two months. (This timeframe seems astonishingly short given the meticulous detail within, though Hurren notes Yearbook One was finished in six weeks.) "It was important to [Gevinson] to not have serious articles back-to-back or two photo shoots in a row," says Hurren. "If a section got too dark or too light, we'd rearrange the articles to try and balance things out. We tried to keep the book just as boundless as Rookie's readers."
Yearbook Two includes writing by and interviews with Judy Blume, Lena Dunham, Mindy Kaling, and Carrie Brownstein, as well as an epically endearing interview with Morrissey that surprised everyone—especially the music press—when it was initially published. In it, Morrissey tells writer Amy Rose Spiegel that "Life is a very serious business for the simple reason that nobody dies laughing," and, "As a teenager I found life to be inevitably disgusting, and I could see no humanity in the human race." The book skips the after-school-special platitudes and cuts right to the chase, pairing these alongside arresting art, tarot cards, a Make-Your-Own-Shrine craft project, and a "Cootie Catcher" designed by Canadian artist Ginette Lapalme. There are also four pages of drawings by Canadian musician (and former D&Q intern) Grimes, excerpted from her sketchbook.
In a recent Guardian piece about young heroines, Hermione Hoby wrote that thanks to prominent young women such as Gevinson, as well as sixteen-year-old pop singer Lorde and sixteen-year-old activist Malala Yousafzai, society might begin to rethink the way it regards teen idols. "Figures such as Tavi and Lorde—girls publicly admired for their convictions and the boldness of their actions—might help us all reclaim 'girlhood' as a state of strength," wrote Hoby.
During the Q&A that followed Gevinson's interview with Lizzie Widdicombe, audience members filled the aisles en masse, waiting to ask their questions. Many began by telling her how Rookie had helped them gain confidence or overcome antagonism. Others wondered what her future plans were for the site—when she used the word "empire" in her response, the only person who laughed was a middle-aged man. Other audience members wanted to be the ones offering encouragement. "I'm glad you're trying to find a balance," said one. "That's what I'm doing, too."
In the aforementioned "No More Nice Girls," Rookie contributor Sady Doyle writes "The image of girlhood that we're taught and sold is pink, it's happy, and it's nonthreatening…But actual girlhood (as any girl knows) isn't really like that. There are sharp angles, corners, and shadows, and to erase those from the picture creates an unrealistic ideal that no real person can ever live up to—plus, it leaves a lot of the interesting stuff out."
The trove of "stuff" that gets left out is Gevinson and co.'s upper hand. May Rookie—like Salvation Mountain, its community of dreaming, scheming strangers and our teenage dreams of finding it—never crumble.