Mifrah Abid's eight-year-old son, Moosa, loves The Avengers. He's obsessed with his Iron Man action figure and can talk at length about its many suits. Her twelve-year-old daughter, Tooba, meanwhile, went through a Roblox phase, playing a video game that's all the rage with kids her age. But, early in the pandemic, when everyone was spending more time together at home, Abid went looking for something the whole family could enjoy. "[Millennial parents] don't know about new toys," said Abid, who lives in Kitchener, Ontario, and is host and producer of the interview podcast Across Her Table, which focuses on women with immigrant roots. "We were like, 'Let's go back to what we know.'" She thought back to her own childhood, to those old games the family played while crowded around the table—Monopoly, Pictionary, Uno. She decided to try to introduce them to her kids. Now Moosa and Tooba love them too.
It was a similar story for Robert Lee and his two daughters. Allie is six, Annie is four, and they both love all things Paw Patrol, Peppa Pig, and Baby Shark. But, for Christmas two years ago, their mother bought them a Lite-Brite and a Spirograph—simple art toys invented back in the '60s that she remembered from her own early years. These weren't the toys that Lee's daughters typically saw in the YouTube videos they watched. They didn't have flashy advertising campaigns or tie-in television shows, meaning the kids would never think to ask for them on their own. But Allie and Annie loved playing with them all the same.
Kids get older, and fads come and go. But some toys persist, almost stubbornly—artifacts passing from one generation to the next. In the toy business, these products are considered "classics." It's an amorphous category filled with all sorts of games and toys that have just a few things in common: namely, they are survivors in an industry where trends rule all. The Rubik's Cube is, in many ways, the perfect example of a classic toy. More than 450 million are estimated to have been sold since 1978, with up to tens of millions of units still moving in a year. Etch A Sketch (180 million sold since 1960), Lego, Potato Head, Barbie, and, of course, Play-Doh are classics too. These toys are instantly recognizable but rarely advertised. They're often low tech or analog. In fact, in a world full of screens, their tactility is increasingly part of the draw. Often, classic toys encourage what academics say is high-quality play, like problem solving or imaginative thinking. And, as some experts have found, such toys are highly nostalgic—conjuring warm, fuzzy memories in the parents who do the buying. This is how toys turn into tradition.
In 2016, Jane Eva Baxter published an article in the International Journal of Play that considered the role of nostalgia in keeping two particular items alive: the rotary-style Fisher-Price Chatter Telephone and wearable Mickey Mouse ears. Toys, she wrote, are often thought of as tools of preparation. It's the reason parents buy Lego (to encourage creativity and cognitive thinking) or dolls (to simulate caregiving). It's why most daycares and kindergarten classes have colourful blocks with the alphabet printed on the sides: to teach, to set kids up for future success.
But learning and development can't be the only reason certain toys stick around, wrote Baxter, who is chair of the anthropology department at Chicago's DePaul University and an archaeologist and historian of childhood. After all, here were two items—a rotary phone and mouse ears—that have persisted despite having no clear connection with the present. "The emotional connection adults have to this iconic toy has kept it in the marketplace despite the fact that a rotary-dial landline phone is technologically irrelevant for children today," Baxter wrote. The same could be said of Mickey Mouse ears. The toy hasn't appeared on TV as much in recent years, is no longer featured prominently in Disney's theme parks, and is based on a character who is "increasingly peripheral to the Disney brand."
Speaking from her home in Chicago, Baxter explains that parents, not toy producers, were the ones driving these sales. "There is this nostalgic element of either wanting to share something from their own childhood or give something that they felt they lacked in their childhood, because they think it will be good," Baxter says. Especially now, in a largely digital world, there is something about these analog toys "that parents see as desirable for their children [and] that we find desirable for ourselves." In fact, when Fisher-Price tried to modernize its iconic toy phone by removing the rotary dial, there was a consumer revolt, and sales fell. Nostalgia, Baxter concluded, is what keeps certain toys alive.
If you're Toronto-based Spin Master, one of the largest toy makers in the world, nostalgia is also good for business. Founded in 1994 by two recent graduates from Western University, Spin Master quickly made a name for itself creating playground fads. One early success was 1997's Air Hogs, a pump-powered, hand-thrown plane that could fly the length of a football field on nothing more than pressurized air. Then there was Bakugan, a 2007 mania centred on battling creatures from another dimension (think a mash-up of Pokémon, Transformers, and Yu-Gi-Oh), which involved an anime series, collectible trading cards, transforming toys, and a board game.
And, of course, there's Paw Patrol. Created in 2013, Spin Master's star franchise follows the adventures of a group of rescue dogs and their leader, a human boy named Ryder. Paw Patrol has spanned nine TV seasons, a Hollywood film (the second is now on the way), and, most importantly, a sprawling line of toys, merchandise, and games. The brand practically prints money for Spin Master, which today is worth around $4.4 billion and has 2,000 employees spread across nearly twenty countries.
But the company learned an important lesson from Bakugan, which had generated more than $1 billion in toy sales by 2014, before its popularity started to wane: what goes up eventually comes down, especially when it comes to fickle young audiences. That's where the classic toys come in. Having one of these brands in your portfolio is every sales department's dream. They practically sell themselves.
Beginning in 2013, Spin Master went on a spree of acquiring classic toy brands. It started with the century-old British construction toy Meccano (also known as Erector), which allows kids to build models by joining metal strips and plates with nuts and bolts. Then, in 2015, the company paid more than $50 million (US) for Cardinal Industries, one of the oldest manufacturers of chess sets and other traditional board games in the US. It bought Etch A Sketch in 2016. Plush maker Gund, founded in 1898, was snatched up for nearly $80 million (US) in 2018. And, three years later, Spin Master closed on Rubik's Cube for about $50 million (US). Spin Master, like a Hungry Hungry Hippo, has been gobbling up many of the oldest and most-loved toys in North America with gusto and learning lessons along the way about what products stand the test of time.
Most toys burn hot, bright, and fast, making Paw Patrol's nine-year reign something of an anomaly. But, eventually, even Paw Patrol will fade. So why is it that some toys don't? Many companies are trying to figure out the answer to this question, because as great as it is to invent the must-have toy of the season, it's even better to create one that kids will be playing with 100 years from now.
In a Connecticut classroom, a wooden-block monolith rises from the floor. The tower is flanked by two small children on a mission to make it taller. But there's a problem: there are no more long blocks left on the shelf. The children have used them all. One of the boys looks around, and after a moment of deep thought, a look of recognition spreads across his face. You can almost see the light bulb flash. He takes two smaller blocks and connects them together. Now, "this is a long one," the boy says, triumphant. Problem solved; the tower grows.
The precocious boys were being filmed by researchers at Eastern Connecticut State University's Center for Early Childhood Education. They were part of a long-term study of preschool children called TIMPANI, or Toys That Inspire Mindful Play and Nurture Imagination. From 2010 to 2019, TIMPANI researchers put kids together in rooms and observed how they interacted—with toys and with one another. A generation of kids built whimsical Duplo houses and elaborate marble runs. They pretended to run stores, bakeries, and ice cream shops, with all the requisite props. Simple toys proved especially popular, the researchers found, and those old-timey blocks, cars, people, and shapes seemed to yield the most imaginative play. Julia DeLapp, the centre's director, says that while there's been lots of research on how children play and how play affects a child's development, less attention has been paid to the toys themselves. What kinds of toys encourage the most creativity, imagination, problem solving, or collaboration? What, specifically, makes a kid gravitate toward one toy over another? DeLapp and her colleagues had their suspicions, but they decided to test them out—and for good reason. "I think that children's earliest experiences with play influence them for the rest of their lives," she says.
Each year, Eastern used its findings to crown a "TIMPANI Toy of the Year," and it probably won't come as a surprise that many are certifiable classics: Hot Wheels, Duplo bricks, Tinkertoys. "The reason they're still around is because they are fabulous toys. They allow children to use their imagination. They're very open ended," says DeLapp. The study consistently found that construction toys (like Lego or Tinkertoy) and replica toys (fire trucks, stuffed animals, and dolls) produced the most imaginative and creative play. The less restrictive and more flexible the toy, the better. In one example, the researchers found that a wooden cash register encouraged children to talk about buying and selling items, whereas an electronic one with lights and sounds encouraged them to press buttons instead—more entertainment than engagement. "The more open ended a toy is, the more room there is for children to make it anything they want [it] to be," says DeLapp. "The beauty of simple toys is that they don't do anything for a child. And so it's up to the child to figure out what to do."
Many of the items on TIMPANI's list can also be found in the National Toy Hall of Fame, a shrine to fun housed at the Strong National Museum of Play in Rochester, New York. Though not academically rigorous by any means, the hall of fame has inducted seventy-seven toys since its creation in 1998. In its first year, it welcomed Play-Doh, Monopoly, Etch A Sketch, Barbie, Erector set, Lego, and Tinkertoy. Later years have added Mr. Potato Head, Slinky, Tonka trucks, and Rubik's Cube. All were chosen based on a mix of popularity, longevity, and the quality of play. But the hall of fame has also inducted a handful of items that aren't toys in the commercial sense: objects like "stick," "ball," "sand," and "cardboard box." All parents know that kids love boxes. "You can go in it, you could go on it, you can draw on it, you can cut it apart. It could be anything. It affords a lot of different types of play," says Barry Kudrowitz, a professor at the University of Minnesota. He has taught toy design for eleven years and is the author of a forthcoming book about play and innovation.
Kudrowitz says that, much like the humble box, the toys and games we most often think of as classics are the ones kids can figure out on their own, regardless of the cultural or social contexts around them. Imagine a time traveller encountering a Rubik's Cube for the first time. "The size of it is going to say, 'Pick me up,' because it's designed to fit exactly in your hand," he says. It doesn't take much to realize the cube moves and to notice the different colours on each of the squares. "It's only a few steps before you start making a game out of it and realize that there's a challenge to it," he explains. It's similar to how it doesn't take much to infer the relationship between a basketball and a hoop or what happens when you turn the knobs of an Etch A Sketch. The constraints guide the player, but there's enough freedom and challenge to keep them coming back. It's no wonder the robot WALL-E, in Pixar's eponymous 2008 film, could figure out how to play with a Rubik's Cube some 800 years after humans left Earth behind.
Of course, a Rubik's Cube is also more than just a well-designed puzzle; in Kudrowitz's words, it's the embodiment of what is now a classic play pattern: challenge play. Other patterns include replica play, co-operative play, competitive play, pretend play, construction play, creative play, or nurturing play—there's no single, agreed-upon classification—but what's important is that these ways of engaging with the world haven't really changed much over time. A Nerf ball gets a certain amount of its power from its tactility, design, and marketing—but also from the fact that humans, all over the world, have been playing with balls since time immemorial. Or consider the act of jumping rope; Egyptians were using vines for skipping games in 1600 BCE.
"I don't think that's going to go away ever," says Kudrowitz of the Rubik's Cube. "And that's why it's classic."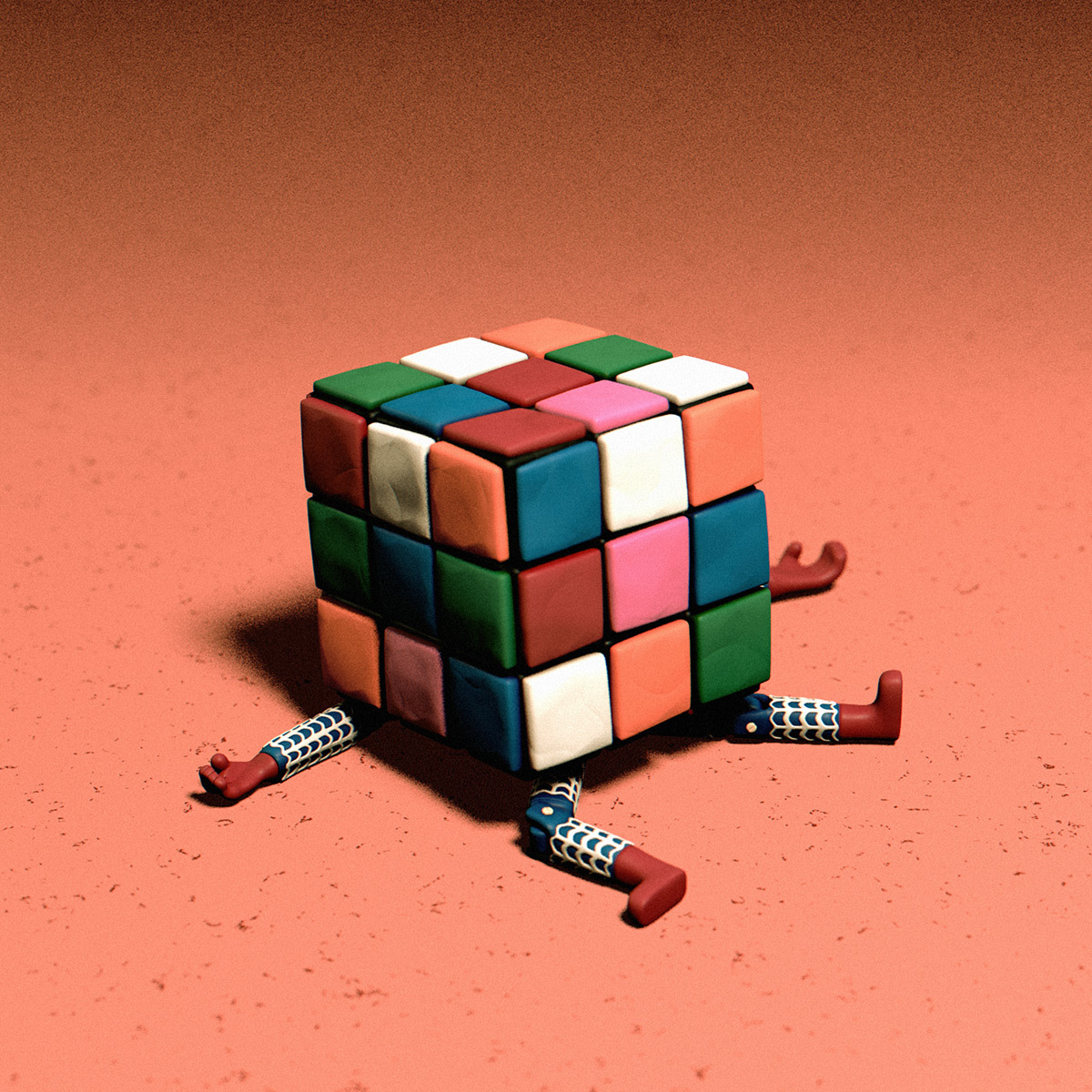 Ben Varadi was about ten when he saw a Rubik's Cube for the first time. Hungarian designer Ernő Rubik invented his special cube in 1974, and by the time Varadi encountered it, in the '80s, it was already a hit. The Spin Master co-founder grew up in north Toronto and spent hours each week at a store called The Toy Man while his mom ran errands nearby. Shelf by shelf, he would study every item, and he remembers the small, colourful cube catching his eye. After Varadi grew up and entered the toy business himself, he saw first-hand how those childhood impressions stick with a person and help keep classic toys like Rubik's Cube alive.
"With a new toy, you've got to tell the story and hope that someone gets excited about that story on day one, right? Because they've never seen it. They've never heard of it. They don't know what it is. They don't know what it does," Varadi says. But there's something transportive, even transcendent, about encountering a toy you played with as a kid. "I don't think we realize the power of a classic," he continues, "because a classic speaks to us in ways we don't even understand."
Spin Master has stiff competition in the industry, as two of the biggest players, Hasbro and Mattel, are practically classic incarnate. Both rose to prominence in the early to mid-twentieth century and possess deep catalogues of legacy toys (Easy-Bake Oven, Jenga, and Potato Head for Hasbro; Fisher-Price, Hot Wheels, and Barbie for Mattel). For a comparatively young company like Spin Master, acquisitions are the only way to keep up. When Spin Master considers an acquisition, long-term margins and profitability are significant factors, as is the time it will take to pay off the investment. "The life cycle in toys is often two or three years. And [as a company] you don't want to buy things that are only going to be around two or three years," says Chris Beardall, a twenty-year Spin Master veteran and its chief commercial officer.
Spin Master, like many publicly traded companies, doesn't disclose revenue or sales for individual brands or items. But, based on its public financial filings, sales in the activities, games, puzzles, and plush category—where many of its classics are counted—have more than doubled since 2015.
One of the standouts in the category is a relative newcomer called Kinetic Sand. When Beardall first saw the toy, around 2005, it didn't seem especially consequential. Created by a pair of Swedish inventors in 1994, the toy is exactly what it sounds like: a pail of material that feels just like wet sand you'd play with at the beach. Kids can make castles and shapes; they can build and destroy. Unlike real sand, though, Kinetic Sand never dries out and is easy to clean—but so what? "I didn't think it would work," Beardall recalls. "It just didn't make sense to me that we were going to sell this interesting sand to kids in lieu of Play-Doh."
Kids seemed to love it all the same, and in 2007, Spin Master gave it a shot. It licensed the rights and initially sold the product under the name Moon Sand. "It was a big hit," Beardall says. Moon Sand took home a prize at that year's Toy of the Year Awards, and, eventually, Beardall came around. Rebranded in recent years as Kinetic Sand, the toy remains a hot seller and a frequent highlight in Spin Master's quarterly reports. In twenty years, Beardall says, it will be recognized as a classic, right next to Play-Doh on store shelves. Parents will see it, remember having played with it as children, and buy it for their kids.
That familial relationship isn't incidental. For the toys that survive, it's key. "Nobody's like, 'Do you want to use the washing machine my grandmother used?' No!" says Baxter, the childhood archaeologist. But childhood is a powerful and potent time in one's life—something we tend to idealize the older we get. Unlike grandma's washing machine, Baxter says, there's an "inherent conservatism" in children's toys that makes them an incredibly useful vehicle for passing along memories and family histories. In her journal article, Baxter even included a picture of her nephew playing with a Fisher-Price Chatter Telephone she gave him as a gift. "Why did I do that? Because I had one, and I loved my Chatterbox phone as a little kid," Baxter says. It's harder to convince a child to care for a toy you never cared for yourself.
Of course, the window when kids will actually play with what adults give them is terribly small. By the time a child is ten, "they already know what they want," Baxter says. But, until that happens, adults have unparalleled power to influence play. When a child sees something that adults fancy—consider the way a room will "oooh" in unison when a Tonka truck is unwrapped—they are likelier to become excited about it too. And, when that child grows up, they are more likely to share that experience with their own kids. For a toy to last generations, it has to be a vehicle in more than just the literal sense.
Joan Ramsay has been in the toy business for more than twenty years—long enough to see many attempts to revive and reimagine old toys. "I couldn't begin to count the number of times My Little Pony's come back," says Ramsay, who's held senior positions at Hasbro Canada and the video game company THQ and now heads analysis of the Canadian toy industry for the NPD Group, a market-research firm. "When there's a new group of kids every four years, it's new to those children. It's brilliant. If you've got something that works, why not?"
But popularity in the past doesn't always spell success in the future, and the reality is that every toy on a store shelf faces stiff competition in an increasingly crowded market. Analyst Chris Byrne says that more than half of the products on offer in the toy industry are new every year—a figure that's unprecedented in other businesses.
So toy makers have to get creative to keep consumers buying. Licensing is a common—and often successful—way companies take old toys or games and make them feel new again. "That little square that we've all stepped on—for Lego, that hasn't changed. But then they add topical licences to keep it fresh," Ramsay says. Think of the Lego versions of Star Wars' R2-D2 or Minecraft-themed play sets. "That provides the newness, if you will, that keeps people coming back to buy Lego again and again and again."
But this approach, too, is effective only for so long. Toys tied to characters or brands can be hard to sustain, because those things are often associated with the specific culture or era in which they're created. Byrne points to Pound Puppies, which were initially sold in the '80s, a time when adoption figured prominently in the cultural conversation. But that no longer resonates with kids the same way. Or consider Care Bears, Cabbage Patch Kids, Strawberry Shortcake, and Polly Pocket: all rode a bygone trend of sweetness and cuteness that doesn't have the same cachet today. "People are finding an audience for these," says Byrne of these revivals, but "they haven't become the phenomena they once were." Without a newfound well of cultural relevance—the kind that My Little Pony found in 2010 with its animated TV revival—it's even harder to stand apart from all the other plush toys on store shelves.
Even nostalgia for some of the most successful toys runs the risk of losing its sheen as our connection with the past frays. Baxter thinks that, after a few generations, even something as timeless as a Rubik's Cube may struggle to stay relevant without the stories we tell to keep it alive—stories that will inevitably be replaced by memories of newer, more potent toys. "Eventually, that's going to break down," she says. "Even the object isn't going to be able to hold that intangible chain together."
So what does stand the test of time? Ask Byrne and he'll tell you the toys that never get old are the ones that consistently light up a child's imagination; that let them explore, express themselves, and be creative; that survive cultural and societal shifts alike. Something timeless, Byrne says, like . . . He-Man.
He-Man?
Yes, the blonde, buff hero—an icon of '80s machismo—has been updated and reimagined for a new generation. He-Man and his friends, the Masters of the Universe, still have adventures and wage war against the evil Skeletor, who is intent on conquering Castle Grayskull, the source of He-Man's power. But, unlike in the original series, the spotlight now equally shines on the powerful women who fight by He-Man's side, and Black heroes are also finally front and centre. Netflix released a pair of new animated series in 2021 that embodied this new approach. Masters of the Universe: Revelation, written by Kevin Smith, was a more mature take aimed at adults who watched He-Man growing up, featuring a high-profile cast of familiar names, including Mark Hamill, Sarah Michelle Gellar, Henry Rollins, and Alicia Silverstone. The rebooted He-Man and the Masters of the Universe, meanwhile, was aimed at kids, like the original. Both arrived with a new line of toys.
The return of He-Man raises a crucial, confounding question: How does a toy make the transition from fad to future classic? Rubik's Cube was considered a temporary blip when it launched, after all. It's tempting to think it's just a matter of time. But time merely gives us the perspective to see, after the hype has gone, what was there all along. A Rubik's Cube is a magic trick, a math equation, a cultural phenomenon—but its longevity suggests a kind of play that's ancient and instinctive: the human reflex to match like with like. In this respect, it's no different from the stick, the ball, the cardboard box.
So, yes, in that context, He-Man's inclusion in the pantheon of classics might sound strange. But what's timeless about He-Man, as Byrne explains, is actually something deeply, enduringly human. It's a personified idea that gets to the heart of childhood: "the desire to have agency over your actions and to have power. And it's not necessarily aggressive power," he says. "When you're five and your whole life is, 'Eat your peas, do your homework, get in the minivan, change your clothes, do all of this,' how cool to be somebody who can just say, 'BY THE POWER OF GRAYSKULL' and turn into something enormously powerful? That's so cool!" And it's a feeling kids will have forever.