"The ravens are nature's tattletales," Bob Henderson tells me as we drive through the winter-parched foothills west of Sundre, Alberta. In December 2008, while leading a photographer through the area, he and his wife, Doreen, noticed a black cloud of birds farther up the road. They knew that another horse had been gunned down.
Now, a year later, he stops his Suzuki Crossover where the skeletal frame of a horse still lies off the road, picked clean by scavengers, as dry and grey as the clear-cut forests in the distance. Then he leads me to the other side of the road, where a coyote dropped the horse's tail.
Some 300 free-ranging horses, possible descendants of domesticated animals used for logging a century ago, live in these foothills. Since 2002, at least thirty of them have been murdered with breathtaking cruelty. At each new killing, "Doreen bawls her eyes out," says Bob, a retired Calgary police officer who with his wife co-founded the Wild Horses of Alberta Society after seeing a news report about one of the first horse slayings. "I get angry that someone would have so much contempt for nature."
Horseplay
Killing horses is un-American—so get a Canadian to do it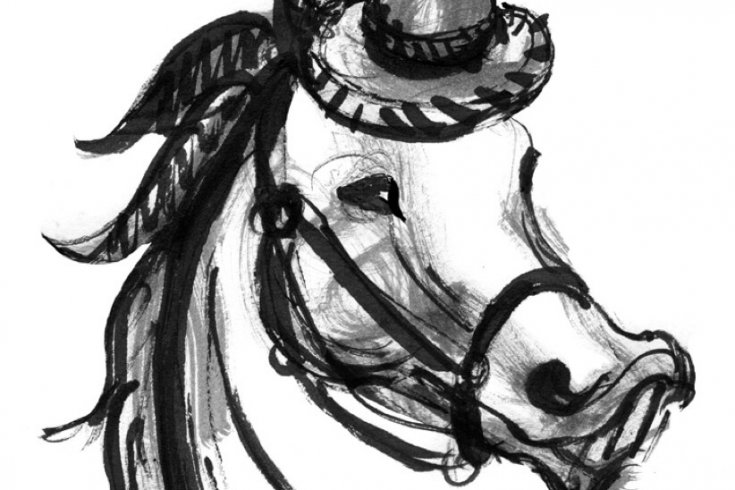 In 2006, the United States banned horse slaughter, shutting down a tiny industry that mostly exported meat to Europe and Asia. Washington's beef-eating lawmakers weren't shy about their favouritism: "Everyone knows who Mr. Ed, Secretariat and Silver are," said Representative John Sweeney. "I dare anyone to name a list of famous cattle or chickens." But the issue went beyond celebrity equines: horse killing was apparently a matter of American identity. "The brutal slaughter of horses for consumption by wealthy diners in Europe and Japan cuts against our moral and cultural fibre. It's just plain un-American," testified wealthy Texas oilman T. Boone Pickens, using an epithet that would be echoed widely. More recently, New York Times writer William C. Rhoden called horse slaughter "a breach of the American covenant between horses and humans." However, killing horses doesn't appear to be un-Canadian. In 2008, cbc reported that Canada's horse slaughter and meat export business had grown by 75 percent since the US ban.
One of the more savage shootings took place in April 2009, when two colts and a pregnant mare were sprayed with gunfire. One colt was left to die slowly on his back. The slaughtered mare was found with the legs of her unborn foal poking out of her birth canal, not far from the Mountain Aire Lodge, a motel and sprawling campground owned by the Mustard Seed, a Christian street ministry that works with Calgary's homeless population.
As we drive down a snow-streaked logging road, Doreen points, with noticeable pleasure, to a bay stallion through a thicket of pine. Six brown and bay "wildies," including a yearling and a foal, trot out onto the road ahead of us. Their coats, while long, are as glossy and neatly groomed as those of stabled pets. The animals stop and give us a quick once-over; then the boss mare leads them back into the woods. "The stallions put themselves between the danger and the herd," Doreen explains. "He's saying, 'Stand back. Keep away.'" The stallion leaves sight. "The horses normally hang around longer," says Bob. "They're worried about their young."
These horses are treated neither as wildlife nor as domesticated animals, but as strays. Their origin in the region is up for debate; the Hendersons cite an 1808 diary entry by explorer David Thompson that suggests they are related to the Spanish mustangs brought to North America in the sixteenth century. To the Alberta government, however, they are feral—an "introduced species" as foreign to the territory as the white men they helped transport here. Still, they are protected under the Criminal Code by legislation meant for livestock. "No one has the right to shoot these horses," says Corporal David Heaslip, a livestock investigator for the RCMP. "This behaviour has no part in the way we Albertans value our surroundings."
While domesticated horses are cherished as part of the province's frontier legacy, the cultural significance of wild horses has been overlooked, according to the Hendersons, by the business people who exploit the region for lumber, natural grass, and cattle grazing. "Everything has to have a monetary value," says Doreen. "The horses are just a nuisance." Corporal Heaslip, however, dismisses any suggestion that local industry is criminally involved. "These people are not the biggest fans of the horses," he says, "but they would not take it to another level of indiscriminate shooting."
In the absence of plausible suspects or motives, only conspiracy theories remain. "It might be a group of good old boys who think they're doing society a favour by killing off these 'pests,'" offers Doreen. "Some people just hate the wild horses," adds Bob, incredulously.
The murders persisted throughout 2009, despite WHOAS' best efforts, including a $25,000 reward, raised through donations, for information leading to an arrest. A Crime Stoppers re-enactment aired in August was followed within a month by a thirtieth dead horse. It was as if the killer or killers were taunting the RCMP.
Then, early this year, the Sundre rcmp detachment, acting on tips, made four arrests in connection with the killing of the pregnant mare. The accused include a thirteen-year-old boy who cannot be identified under the Youth Criminal Justice Act; Gary Cape, a thirty-five-year-old Calgarian; and Earl Anderson, forty, and Jason Nixon, twenty-nine, both of whom have been associated with the Mountain Aire Lodge.
Anderson was a one-time resident and staff member at the resort. Nixon was its managing director, and the son of Pat Nixon, who founded the Mustard Seed mission in 1984. Nixon has also been charged with assaulting a witness, and uttering threats after a run-in with a Fish and Wildlife officer investigating the case. "There's no responsible connection between the Mustard Seed society and these individuals, even though they stay there," says Heaslip. "We don't want to dirty up the Mustard Seed name."
The Hendersons, who gave a presentation on the horses to a 4-H club the day they learned of the arrests, are relieved. "The message here is that you will be held accountable for your actions," says Bob, who heard rumours about Nixon's involvement and believes the suspects are responsible for more than one killing. "I wouldn't want to be in their shoes," adds Doreen.
In the meantime, the murders have stopped. No one is shooting now that people, and not just the ravens, are tattling.
This appeared in the June 2010 issue.