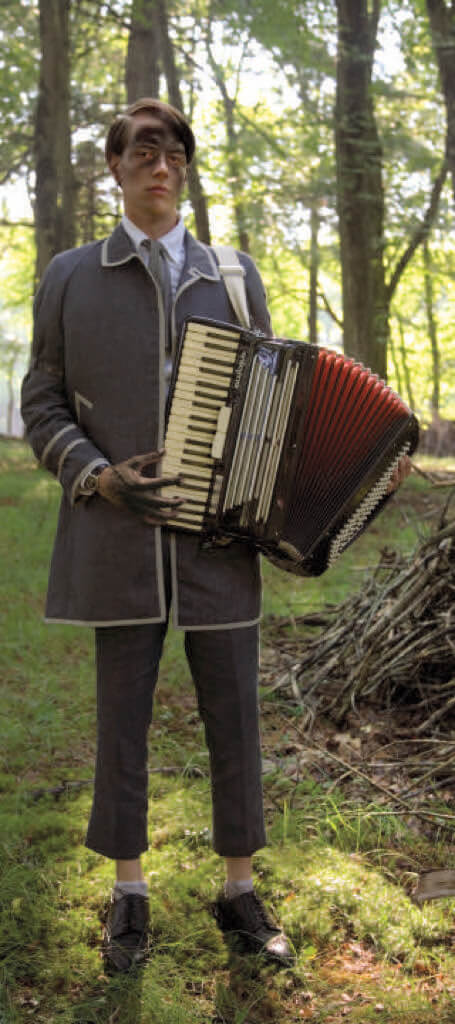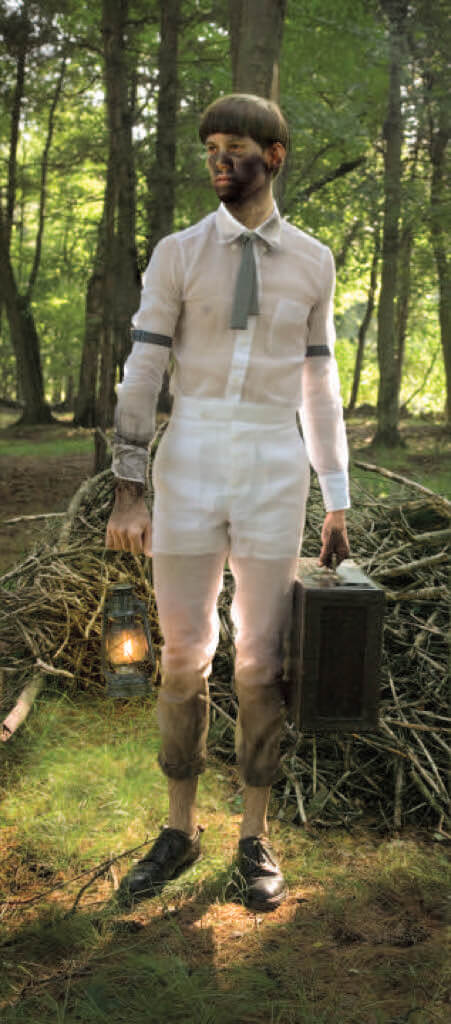 On a commercial stretch of Manhattan's Hudson Street, where cars race for the Holland Tunnel and leave swirling garbage in their wake, I have trouble tracking down the menswear boutique operated by fashion designer Thom Browne. But before long, I spot a touch of flesh across the street—a flash of bare ankle between sockless shoe and grey dress pant hemmed halfway between knee and foot. It's a crisp afternoon, and the tall young man wearing the pants, paired with a snug grey cardigan with varsity stripes around one arm, is walking briskly. There's no mistaking the look—it's signature Thom Browne. When I see him go for a door, I step into the street, dodge the traffic, and follow.
Inside, it's another world: a quiet masculine den crossed with a 1960s office building—terrazzo floors, a heavy wooden desk, brass lamps, and no-nonsense rolling racks for the clothes. Speech reverberates off hard blue-grey walls. Milling about the store are a handful of other guys, all dressed in tightly cropped pants matched with super-slim jackets or sweaters. In the middle of it all stands Browne himself, expecting me. With an athletic build and a haircut an army recruiter would love, Browne's compact frame is wrapped in an immaculate grey suit consisting of a jacket that's snug across the shoulders, short in the arms, and ungenerous in length, and pants that rise up to his navel (and yes, they're hemmed well above his sockless ankles too). Underneath the jacket, he wears a wrinkled white shirt with a slinky, skinny grey tie tucked neatly into a V-neck cardigan. The look is at once overgrown schoolboy and mid-century salesman—and it just might be the hottest new thing in men's fashion.
The forty-one-year-old Browne is in the business of saving the men's suit from its own stuffy image. At a time when it seems everybody from pop stars to bankers has taken to wearing jeans and T-shirts, Browne says the suit can be "anti-establishment" because it runs contrary to today's accepted convention of dressing down. "You are so much more unique when you dress this way because you're not like everyone else in khakis and polos or jeans and T-shirts," he tells me later, perched on an ottoman in the rearmost section of his store, where he attends to clients who come calling for his creations. "[My customer] is anybody who's very confident and very independent in how they live their lives. It's not somebody who looks at the fashion magazines and wants to wear the latest and the greatest. It's someone who is really his own person, who is not so fussy, who likes to have a good time, and who doesn't get preoccupied with stupid little things."
In fact, to be absolutely clear about the rock'n'roll undercurrents running through his clothing, Browne showcased his spring 2006 collection during a concert held at the unlikeliest of venues—the menswear section of Bergdorf Goodman, one of North America's most exclusive specialty stores. For the occasion, he called upon two of his favourite indie bands, Soft and My Best Fiend, dressed them up in a range of his wares (the luckiest musicians got suit shorts and knee socks), and asked them to simply do what they do best—rock out. "I love seeing young musicians and people like that wearing the clothing, because they are the types of guys I'm thinking of when I think of my clothing," says Browne. "They're the guys who probably in the past gravitated toward jeans and T-shirts because they never had this option. But they are also the guys who take the chances in regard to how they are and how they present themselves."
Rockers aside, the buyers at Bergdorf were among the first members of the establishment to take Browne seriously. He launched his inaugural ready-to-wear collection in 2003, and in 2004 it was carried by only two stores: Bergdorf and Colette, the avant-garde hipster boutique in Paris. But other temples of fashion, including Barneys New York and Harvey Nichols in London, followed suit, and now sixteen choosy stores sell his goods worldwide.
Browne's aesthetic arrived seemingly out of nowhere. Unlike most contemporary fashion designers, he never attended design school, has no real formal training, and indeed has no background in the craft of making clothes. "My school was basically on the streets," he says. "I've always worn jackets, trousers, and suits because that's what I'm most comfortable in. But I was always looking for a younger version of it."
Browne was born and raised in Allentown, Pennsylvania, as one of seven children in an upper-middle-class family. "My parents were attorneys, and everybody else in my family became some type of professional," he says. "We all grew up in Brooks Brothers navy jackets and khakis and flannels and things like that—very good all-American clothes." When it came time to leave home for school, he enrolled in the business program at the Catholic university Notre Dame in Indiana. After graduation, figuring that he didn't want to dive headfirst into business, he moved to Los Angeles and took a run at becoming an actor. A few years later he moved to New York, where a friend helped him land a job working in Giorgio Armani's showroom. From there he skipped to Club Monaco and worked his way up through the design department. But he wasn't happy—he still couldn't find clothes he wanted to wear.
The breakthrough moment came in 2001 when Browne designed five suits for himself with the cuts that have become his trademark and wore them every day as he went about his business in Manhattan. "I wanted to see if people liked it," he says. "The reaction was really good. People were asking me where I got them." Those inquiries led to a few commissions, and Browne began seeing clients in his apartment. When business picked up, he established a small showroom in the city's Meatpacking District. Since then, things have taken off. In 2006, Browne moved to his present 2,500-square-foot boutique on Hudson Street, just months after the Council of Fashion Designers of America named him menswear designer of the year.
Besides the short and slim cuts, Browne is also steadfastly committed to quality. To study one of his jackets up close is to see craftsmanship of the highest order—flawlessly formed shoulders, pronounced yet meticulous stitching along narrow lapels, and functioning buttonholes lined with grosgrain ribbon at the cuffs. Browne's secret weapon for producing such garments? An extremely experienced tailor whose name he keeps to himself. "I wanted [the suits] to be really, really beautifully hand-done, and [for that] you need somebody who has been doing it for a long time," he says, pointing out that none of his garments are sewn by his own hand. "I work with an older Italian man who has been doing this for sixty years. I know exactly what I want, and he's one of the rare, really good hand tailors who is actually open to doing new things."
And, whoever he is, it's a good thing Browne's tailor is receptive to experimentation, not just taking hems in a few extra inches. Because with all that quality, Browne likes to blend in a little subversion. His spring 2007 collection is a case in point. The choice of materials ranges from the unconventional (grey wool overlaid with a Swiss dot sheer, an overcoat made out of aluminum window screening) to the downright bizarre (a jacket covered with downy white feathers that might have belonged at one time to an albino ostrich, sheer pants that show off a wearer's boxer shorts, suit jackets with detachable bustles that plump up the rear vents).
"The materials he uses are really interesting, and he combines things in unexpected ways," says Brooke Hodge, curator of architecture and design at the Museum of Contemporary Art, Los Angeles. She is impressed with one jacket in particular, where Browne used a football jersey mesh over a white cotton piqué—a rare example of athletic clothing going formal. As a guest curator at the Cooper-Hewitt National Design Museum in New York, Hodge selected Browne's work for inclusion in the institution's current National Design Triennial, a move that may surprise museum-goers who are used to seeing exhibitions focused predominantly on women's clothing. "Menswear hardly ever gets shown in exhibitions because you're always dealing with the same components," she explains. "With a woman's outfit, you have more surface so there's more room for innovation." Browne's genius lies in the fact that he's figured out how to take classic men's garments in new directions without transforming them into pieces that are unrecognizable.
Even with his most conventional offerings—the slim, short suits in worsted wool that make up the core of his business—Browne likes to see a few rumples mixed in to play down the perfection of the tailoring. That's why you'll never see him button the tips of his collar and why his henchmen wear wrinkled shirts and scuffed shoes. Although it's calculated, the look is meant to be casual and confident. "There's nothing worse than seeing somebody who looks too perfectly pressed and like they spend too much time on themselves," he says. "Clothes are made to be worn. [A wrinkled shirt] gives the suit a really confident, easy feeling, which makes it cooler. The suit is very seriously made, so the last thing you want is for it to look too serious." In other words, even though you may have just dropped $3,800 US on one of his creations, the idea is that your outfit should still look as though you've just thrown it all together.
Yes, $3,800 (and up). To be fair, the prices are driven by the high-end materials and meticulous tailoring—aspects that Browne says he's not willing to compromise on. But the reality is that although he may visualize indie rockers when he's designing, few of them will actually get to wear his suits. Instead, the people buying his wares tend to be young, stylish professionals and, quite unexpectedly, the odd card-carrying member of the establishment. A story in the New York Times reported that even Ronald O. Perelman, a sixty-four-year-old businessman featured on the Forbes list of the 400 richest Americans, owns four Thom Browne suits. And just in case the contradiction wasn't already apparent, that same story named perennial hipster David Bowie as another customer. Defining the typical Thom Browne buyer, it seems, is a nearly impossible task.
Equally surprising is the fact that many of Browne's customers, after being drawn to his signature look, are having their pants hemmed long enough to cover their ankles. An insecure designer might worry that such alterations were watering down his creations, but not Browne. "What's most interesting to me," he says, "is that they know that's what they want, as opposed to asking me 'How should I have it done?' If you ask me, I'll tell you you should have it short. But that's what I find truly refreshing in guys—when they do know what they want."