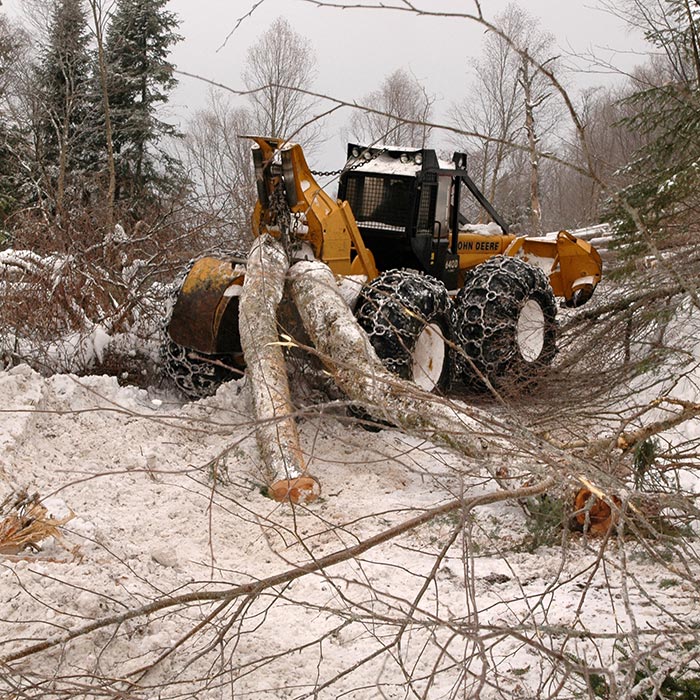 Abitibi-Consolidated's Camp Vermillon, in the Mauricie region of central Quebec, is one of the largest of the province's 200-odd logging camps. The 150 men who work the site will tell you that they've come a long way from their profession's roots. These days, they're not loggers so much as mechanics, drivers, and machine operators. Wages average $23 per hour, and twelve-hour shifts go on nearly year-round, pausing only for two months beginning in mid-March, when the winter thaw makes the land too soft and wet for machines to manoeuvre. Much of the logging life is spent alone, especially for those who are trucking. Yves Marion, a logger for thirty-five years, agrees that the work is more solitary than it used to be: "There is no opportunity for conversation or playing my violin."
Marion's violin speaks to the traditional, romantic image of the Canadian logger—the rugged individualist who communes with nature and his fellow man. Logging began to move away from this ideal with the advent of the chainsaw in the 1920s, the watershed moment of a technological shift that saw trees cut down in far greater numbers than ever before. This change, combined with the Depression, put thousands of traditional loggers out of work by the 1940s. Since then, the technology has become even more advanced and expensive: a $500,000 feller-buncher is capable of chopping down more than 2,000 trees per day.
Almost all of the men at Camp Vermillon used chainsaws when they first started out, and most of their grandfathers were loggers before the chainsaw became an everyday tool. They take great pride in their profession and its traditions, though few want their sons to follow in their footsteps. Although camp conditions have improved dramatically over the years, loggers still work in remote regions and see their families only on weekends.
Yet the lure of life in the forest remains. The landscape has a silent, isolated quality that verges, even amid the big machines, on the serene. Asked what drew him to work in the woods, thirty-nine-year veteran Jean Paquin did not hesitate to respond: "C'est la liberté."