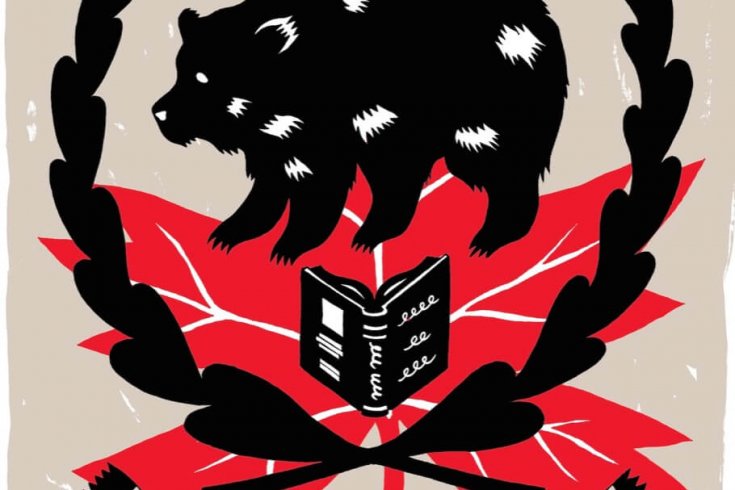 It's November, book-prize time, and the cheques are gently raining down. Some Canadians would argue that we have too many book prizes; the Writers' Trust alone gives out eleven awards. But they're all so damn competitive and based on merit. Who wants more meaning or literary excellence? It's time for a more inclusive, friendly, artisanal book award. A prize open to anyone who can type, or blog, or call his agent. Hence, The Grizzly Prize.
Arriving at the name was not easy. We already have The Giller (glamorous and prestigious), The Griffin Poetry Prize (generous and fun), and the Governor General's Literary Awards (pedigreed, dignified). And the Writers' Trust great literary dinner party. Our new prize name should subtly evoke all of these. Not The Grifter or The Booger—those would be déclassé. But something close. Something that begins with a G. A friend in publishing suggested The Groveller. And that does feel literary. For a while, I liked The Grey Goose (excellent sponsorship options). But a furry, unpredictable predator seemed more writerly. Yes, The Grizzly evokes the power, the majesty, and the fierce, lumbering territorial nature of our national literature.
Why another book prize? Because these awards—along with the busy scribblings of the authors themselves, of course—have helped make Canadian literature a visible brand, which is the best possible thing to be. Canadian literature has become our Lexus, our ikea, our Belgian truffle. Writing and publishing fiction in Canada used to be viewed as a harmless sort of hobby, like crafting wooden lawn whirligigs with movable parts. It's only in the last fifty years that the writing of a novel in Canada has become a respectable, grown-up profession. And only the upper echelons of Atwoods and Gowdys and Munros actually prosper from publishing their made-up stories. But it's time to celebrate other kinds of books: books that have flocked covers, for instance, or very short books by famous people, or paperbacks that fold back nicely and yet stay dry in the tub. And let us also recognize worthy, boring books that do not rob us of sleep. These are the kind of reader-driven books that The Grizzly will honour.
The mandate of The Grizzly, which will announce its first winner in January 2006, is: (a) to not hurt or cause envy among writers; (b) to be inclusive—any book, including pop-up books and those with plaid hacky-sacks attached, is eligible; (c) to provide two free drink tickets and thirty shrimps per person at the buffet dinner; and (d) to promote books that are not pretentious and are easy to read.
I am very excited about our first short list: Acrylic Nail Designs by Shari-Lynn Wilson (Fun-Bo Books), a history of the rise of the Western nail salon; Loving Mutt, a collection of prose poems and haiku by Shania Twain (Tundra 'n' Lightning Books); and Dick My Ear, an autobiographical rap song "bookerized" by the Winnipeg recording artist Frosted Flake. Astonishingly, none of these books is over ninety pages, although Loving Mutt can be a demanding read at times.
As I have yet to find my Jack Rabinovitch—the generous patron of The Giller Prize who now has the support of Scotiabank, which has brought the value of the award up to $40,000—I have bankrolled these awards through my own corporation, Custom Blurbs. This year, The Grizzly winner will receive $2,500, a Starbucks thermal mug (grande), and a poached salmon wrapped in phyllo pastry. My local dry cleaners has also donated a certificate for a year of free dry cleaning—a boon to any writer, as we know! And, of course, apart from the cash bar, the winners will not have to pay for their dinner.
In order to maintain the national profile of this event, each year the prize will take place in a different non-urban community. Maple Creek, Saskatchewan, has offered to host next year's Grizzly at the Commercial Hotel. Corner Brook, Newfoundland, has a legion hall that can accommodate 225, and the custodian has agreed to "keep the Christmas lights up." Pond Inlet has a heated Quonset hut and an excellent sound system. We're accepting bids.
The inaugural Grizzly will take place in the Function Room at Sizzzlers, a steak and seafood establishment ("Our seafood is never off") just south of Barrie, Ontario. Everyone who can read or write is welcome (I'm working on subsidies for the illiterate). The dress code is "computer casual," but remember—no shirt, no shoes, no shrimp! Please rsvp Cindy at 703-sizzzle and let her know you're coming. The Grizzly at Sizzzlers should definitely create buzzz!
Security at The Grizzly celebration will be a special focus, to prevent self-injury and attack. In the past, writers excluded from The Giller have suffered debilitating envy and feelings of worthlessness. There has been concern that shortlisted authors may even be open to attack from rogue marginalized writers, starved for attention. This is the hook of The Grizzly, if you will: that writing is truly unpredictable and dangerous. Readers tend to assume that writers are all harmless misfits on the prowl for free buffets. But they can also turn aggressive. Poets, for instance, can move very quickly when they choose to. We must honour and protect the "beast" in our writers—hence, The Grizzly.
The success of any awards event depends on all those small, elegant touches—The Giller invitees receive a red rose. For The Grizzly, we will be mailing out printed invitations accompanied by navy velour Seagram's bags full of multicoloured gummi bears. These will be hand-delivered by government postal carriers. The bags will include other gifts donated by my good friends in direct mail—complimentary packets of lens cleaners, greeting cards (with envelopes) from charitable organizations, and, for the ladies, free panty liners.
Due to time pressure, this year's jury was a bit of scramble, after Burton Cummings had to drop out. I had to eliminate former Winnipeg mayor Glen Murray, who insisted that the award go to Who Has Seen the Wind by W.O. Mitchell. Mitchell is dead and his choice smacked of regionalism. So I have prevailed upon my mother, Olive Jackson, to serve on the jury. At ninety-four, she is an eclectic reader, favouring books with large type and not too heavy to hold. Type size, font, and number of pages are important criteria overlooked by other book competitions.
Our second jury member this fall is Ronnie Nyms, former editor of Tack: The Journal for Horsebreeders. Mr. Nyms is the author of a self-published novella, Bland House, set in East End, Saskatchewan. It is a portrait of a rural family destroyed by the new international tariffs on flaxseed. The third jury member is Sass Jordan, a Canadian Idol judge, who was available.
I've encouraged our jury to avoid books that are too long, too complicated, or too sad. In this way, we hope not to overlap with the nominees of The Scotiabank Giller Prize. I understand that one of this year's Giller-nominated novels, The Time In Between by David Bergen, is rather sad. Another short listed title is Alligator by Lisa Moore. Giving a Grizzly to a book called Alligator just doesn't sound right. Luck by Joan Barfoot sounds like a title deliberately calculated to win a prize, so that one's out. Camilla Gibb's Sweetness in the Belly happens in Ethiopia and sounds complicated. As for A Wall of Light by Edeet Ravel—well, the title makes no sense.
I'm tired of realism, too. Last year's Giller winner, Runaway by Alice Munro, had a tendency to be rather unpredictable and "realistic." "Like life," some reviewers sniffed. So much fiction these days describes unpleasant things that happen to people as a result of greed, pride, and bad judgment. Must everything be sad?
One really has to be up to snuff to read such books. But not all readers are up to snuff! Some would prefer a mediocre, ill-thought-out book, with a patina of respectability bestowed on it by a prize. Of course, our existing prizes have often recognized these qualities. But this is the sort of book The Grizzly will strive to honour. So, remember, if you're over eighteen and you can touch type, you're already on our long list! Come out to Sizzzlers in January and celebrate books that anyone can write!