The Walrus continues to be recognized for its investigative journalism. At the CAJ 2022 conference in Montreal, the organization won in the Written Feature category.
"We are delighted to see continued recognition for The Walrus's long-form, investigative journalism on important issues," said editor-in-chief, Jessica Johnson. "Congratulations to writer Nicholas Hune-Brown for his commitment to bringing this story to a wide audience."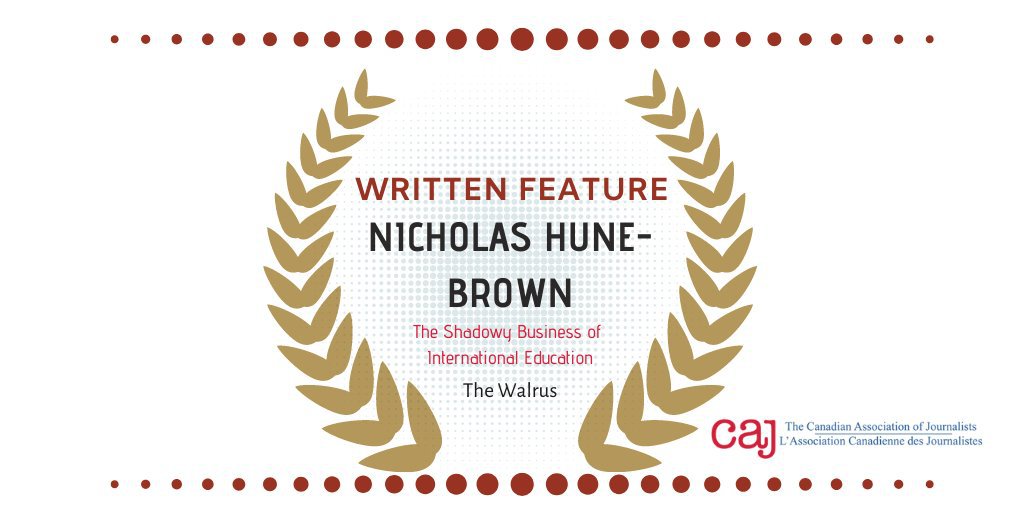 The Canadian Association of Journalists (CAJ) is an independent, non-profit organization that provides advocacy and professional development for journalists across Canada. The CAJ's annual awards recognizes the best in Canadian journalism with a focus on investigative work.
The CAJ awards continues The Walrus's run of recognition, with wins at the Canadian Online Publishing Awards and nominations at both the 2022 National Magazine Awards and the Digital Publishing Awards. Nicholas Hune-Brown's story was also awarded the 2022 Canadian Hillman Prize for Journalism earlier this year.
The Walrus congratulates all the contributors and staff who worked on the winning and nominated stories.
LIST of WINNERS and FINALISTS:
Written Feature
Nicholas Hune-Brown
"The Shadowy Business of International Education"
Freelance / The Walrus
JHR / CAJ Award For Human Rights Reporting
Jane Gerster
"The Dark Side of the RCMP"
Freelancer / The Walrus
Social Media:
Facebook: /thewalrus
Twitter: @thewalrus
Instagram: @thewalrus
LinkedIn: /the-walrus
For more information, contact:
Monita Mohan, Marketing Manager, The Walrus at monita@thewalrus.ca
About The Walrus
The Walrus provokes new thinking and sparks conversation on matters vital to Canadians. As a registered charity, we publish independent, fact-based journalism in The Walrus and at thewalrus.ca; we produce national, ideas-focused events, including our flagship series The Walrus Talks; and we train emerging professionals in publishing and nonprofit management. The Walrus is invested in the idea that a healthy society relies on informed citizens.