Geoff believed he had discussed "cutting the cord" with Laura, but when the UPS man delivered the brown boxes with their lopsided smiley-face logos, she had no recollection of previously asking her questions. Will they be able to watch the local news? Will it be possible to record programs? By the time they subscribe to all the channels of their cable package, how will they have saved any money? Then Indie, their youngest, reclaimed her old room for two months to recover from a failed relationship, and Geoff moved the partially unpacked boxes to his workshop. There they stayed—not the best of arrangements because they needed to be displaced whenever he had some fix-it job. Laura must have seen them too: the workshop competed for space with the laundry area. But she never mentioned the boxes. Geoff couldn't decide whether this was due to her patience—which, as the children could all attest, had its limits—or if she was punishing him with silence. Then, when Laura's employer authorized an all-day retreat for her department later that spring, Geoff found fresh determination and wrote on the kitchen calendar, "L. Retreat/G. Sat. Dish." Geoff, who never records a dentist appointment before the reminder call.
"Be careful," she says in the garage. They are both still fresh from their showers; they've kissed goodbye; Geoff is not yet fully awake. "Please. Get Donald to help you with the ladder." Donald and Skye, their neighbours, got their own satellite dish a while back. Geoff promises he'll be careful, but he's already decided on a plan. He has determined that the dish needs to be mounted on the chimney of the living-room fireplace, which he can access by going through one of the attic's two dormer windows. When Laura's car has turned out of view, he gets to it. He could use a second cup of coffee but promises himself a break once he's carried up all the boxes.
The completion of a simple task seems to energize Geoff. He takes his refilled mug upstairs and notices all the bins and items that have collected in the attic like that expanse of trash turning circles in the Pacific. Much of it belongs to the children, who by now should be prepared to either store these leftovers in their own places or finally cut ties to these things left behind long before college. He shifts containers into clusters of individual responsibility: Thalia, Aiden, Indie. Laura's pile turns out to be smaller than Geoff's, a fact that surprises him. Hers would have been even smaller had he not assigned her several boxes of household goods, technically speaking a shared responsibility.
In a box of Christmas ornaments with sentimental value (but ill-suited for Laura's recent monochromatic decoration scheme), Geoff finds a packet of letters. At first, he assumes they are Christmas cards dropped in by mistake. Very likely, Laura searched for them in January, gave up, and eventually forgot these orphans. What a laugh it will be, he thinks, when he hands them over in the evening and says, "Guess where I found these?" As he begins to lay them aside, he notices that the one on top is postmarked June 7, 1978—three days before their wedding.
Dear Laura, (or should I say Dear Miss Macrae so that I can have the pleasure of starting my next letter Dear Mrs.—?) I just had to write immediately. In fact, I'm sitting in the airport, waiting for my plane to board, using the pen you lent me, the one I neglected to return. Impertinent of me, that the first thing I did with it was write down the return address on the envelope sticking out of your handbag. Fortune smiled on me when she set me down at the table next to yours. I hope you, too, enjoyed our conversation.
The letter goes on about thunderstorms expected around Calgary and a Time article about hospice care. It ends with a plain Marcus, not a name Geoff can place. Geoff turns the envelope in his other hand. It was sent to Laura's parents' old address; Drew and Mary must have passed it along with all the other cards that she'd been sent around the wedding. The return address is in Okotoks, Alberta.
The next letter in the bundle—same return address—was sent to the West End condominium where they lived for two years until they bought this house in Coquitlam, which then felt like a distant suburb. Geoff flips through the eight remaining envelopes, all addressed in the same hand. He's curious to know what else Marcus had to say, but it's time he got back to work.
Much of what's left of the morning is taken up by mounting the dish. He installs the arm and tests the two servomotors. The thumb-sized joystick on the remote control and the click-whirr-click of the motors remind him of the model airplane he put together with all three children when they were between five and fourteen—almost too late for Thalia, but she got into it when he handed her the instructions. That plane, too, should still be in the attic somewhere.
The dish is heavier than its size would suggest, and even with his feet still on the attic floor, Geoff overbalances twice and nearly drops it. After that, he tries to move at all times with deliberation, sure of his footing before he shifts his weight. The only incident occurs when, after leaning into the window to pick up the dish and bring it outside, Geoff nicks a corner off one chimney brick and scrapes the knuckles of his right hand. For a few moments, he envisions the worst.
Geoff's blood sugar is low enough at this point to make any additional work unwise. He decides on a quick sandwich break and another coffee. This will be his third cup of the day, in defiance of indications that the second was less effective than the first. To compensate, he simply packs more grounds into the filter.
According to the manual, the dish now needs to be grounded and cable run to three outlets: rec room, family room, and master bedroom. He's never noticed this before, but the cable outlets are positioned almost directly above one another and, with a little luck, this means threading will be easy. Separate cables for each outlet, the instructions say, will provide better quality than a single cable with branches, but the manual is silent on the process of getting wiring through walls and floors. As for grounding, the manual suggests water pipes; though the idea of a lightning strike travelling through the same system that feeds the showers and sinks is unsettling. He turns to Marcus's letters rather than make too quick a decision.
April 20, 1980. Dear Laura, That little bistro could not have been more perfect! Do you bring all your conquests there for a tête-à-tête?
Geoff reads the line again.
I shouldn't have used up so much of our time talking about my personal life, but you do have the most attentive manner, and I guess I really needed to unload. Your Jeffrey and future children are fortunate indeed.
It's true: Laura listens well and says just enough at the right times. Geoff has even seen her do this for a man verging on tears and, at the time, thought nothing of it. Still, he senses an undertone in Marcus's gratitude.
I'm taking your advice, listening more to Dorothy, reading between the lines, as you put it, and doing my best to respond more appropriately. Oh, but I wish you could be next to me, whispering the right words in my ear.
The next letter, dated five years later, contains no hint that Laura and Marcus met up in the meantime. Maybe Marcus is someone she met through work, a regional-sales manager who only visits the West Coast once a year. Laura had moved into the low echelons of management at Babies-and-Tots by the time Thalia was born—she'd insisted on a desk job—but she was still responsible for fighting brush fires at franchises.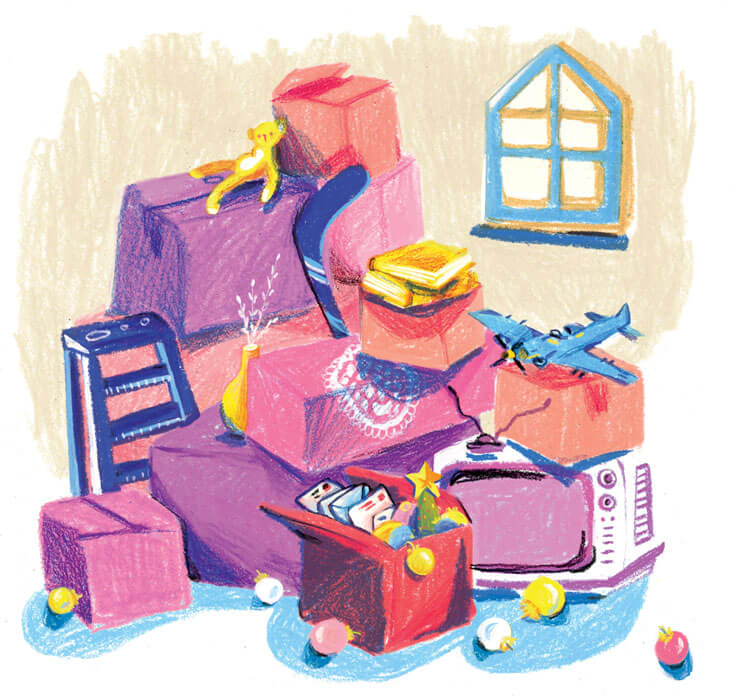 Dear Laura, I was so relieved to get your note. What a scare! The management insisted on not charging me for the meal, by the way. These days, I guess they worry about lawsuits—even nice restaurants must suffer from bad publicity—but I heard you tell the host that you didn't think it was the food. No, you absolutely did not spoil my day. These things can't be helped, and anyway, I had the most wonderful time before you took sick. Glad to hear you're fine, now.
Thank you for the picture of you with your family. Jeffrey looks like (and sounds like) a man I could happily be friends with. He has kind eyes. There's really no need, you know, to apologize every time you bring him into the conversation. Next time, if there is a next time, I must remember to bring along a picture of Dottie.
By the way, without Jeffrey in the picture I'd have guessed Thalia is an image of you at that age. Something that brings me back to the photo time and again is to imagine it is you side by side with your younger self.
Geoff knows the picture Marcus means. Laura had sold him on the idea of a personalized Christmas card the previous year and, with her usual good planning, got them an early appointment with a photographer. He'd carried one of the prints in his wallet for several years. Geoff glances back at the date. They would have been expecting Aiden by September.
Geoff lays down the letter and turns to the instructions. He decides to drill a hole for the cable in the dormer window's frame: if he fastens it on the inside, he won't have to make any holes in the shingles, and the short run of cable from the chimney will hardly show. He can patch the hole later.
While he's out on the roof, he sees Donald pruning the hedge between their properties, but Geoff has no time to talk, and luckily Donald never notices him. Inside again, he consults his home-handyman book on running cables in walls, and it becomes clear that this is a much larger job than he bargained for: he decides to run a single cable along baseboards and down inconspicuous corners.
He drills up from the walk-in closet next to the master bedroom into the attic, hoping to minimize debris. Still, as plaster and wood dust trickle onto Laura's clothes and shoes, he makes a note to clean up before she gets home. Laura said she wasn't sure if there would be a social hour after the workshop, but she didn't think she'd stay long even if there was. "Subject to change, of course," she added—a joke dating back to their second honeymoon, on board a cruise ship, where every day's schedule ended with "All Listed Events Subject to Change."
Geoff feeds all the cable down into the closet, a slow process, and he feels rushed. If only the instructions were clearer or houses came with detailed plans. The ceiling in the passage between the garage and the main entry hall is even more prone to crumbling. As he drills between this passage and the family room, he hits something metallic and backs out immediately. Sure enough, there is an outlet in the family-room wall, just about where his drill would have come through. Measure twice, drill once. An image of Laura coming home to find him on the floor drives Geoff in search of something to soothe his nerves.
The letters Marcus sent over the next few years are short and primarily cover family life. His first child, Alicia, is born a few months after their Aiden. There are still tremors in his marriage, but he hopes their focus on the children will settle those at last. "Now here's a chance at a closer bond between our families: in the ripeness of time we might play matchmaker between your Aiden and our Alicia." A son, Jordan, is born to Marcus and Dorothy in 1989, followed a little more than a year later by the birth of Indie to the Delisles. This time, there is no talk of matchmaking.
Geoff notes the time and reluctantly leaves the letters to inspect the rec room, below the family room. It has a tiled ceiling, which was there when they bought the place, although they did eventually paint it. A picture of the five of them sitting on drop sheets, wearing well-spattered overalls and having lunch among the paint cans, hangs on the wall. "Le déjeuner sur l'herbe," Laura had said as she started the camera timer. "Or whatever the French is for 'concrete floor.'"
In the photograph, she looks happy, but there isn't a photograph where Laura doesn't look her best. Geoff stares at the picture, parsing the body language: he and Laura are bracketing the two eldest, but Indie is on the other side of her mother. Laura has an arm around Indie and is looking toward Thalia and Aiden, who are turned toward her just a little. Would she have preferred, even then, to be with Marcus?
There is no rec-room television set—subject to change—so Geoff leaves a length of cable rolled up in the ceiling.
The signal on the family-room set is disappointing, but the dish position still needs to be fine-tuned: another trip to the attic and he has the remote control. If nothing else gets completed today, Geoff intends to have the TV turned to the foodie channel that oddly excites Laura despite her preference for conventional cuisine. As he passes through the kitchen to pick up the manual, he notices the bundle of letters lying openly on the table beside it. Geoff sticks them in the tool box, which he now carries with him at all times.
After a small amount of fiddling, the signal slots in, but the food channel is not where it should be. A few moments of despair later, Geoff settles for the Women's Network. He can't remember if he's ever seen Laura watch the channel, but at least it will show he's not putting himself first.
It's now a little past four, and Geoff's remaining task is to connect the bedroom set. The only problem is that the bed is on the same wall as the cable, and the television is consequently as far as possible from the obvious point of entry. Geoff briefly considers turning the furniture around but thinks better of it. He measures out a length of cable to run along the baseboard and, having checked and rechecked for electrical hazards, drills into the closet. Cleanup is done by five. He'd like to complete a survey of the channels, perhaps fine-tune the dish some more, but there are still letters to be read.
Dear Laura, I'm writing this the first chance I've had since you left. It was so good of you to come all this way for the service, so very much more than I could have expected.
Alicia will certainly not soon forget. She keeps asking if the nice lady from the chapel will visit again soon. It started the day after. I think she understands that Mommy isn't coming home anymore and she's begun casting about for someone else to fill the role. I certainly am not ready for that and won't be for a long time, if ever.
It's not dated, but the postmark is legible enough for Geoff to be sure it's from 1992. He can't remember Laura going to Alberta that year or telling him that she was going to a memorial service. Of course, she was regional manager then. She still travelled for work on occasion, but for shorter periods. She could simply have told him she'd be away for a day or two. Would Laura have done that? Laura, so committed to telling their children no white lies, not even about the source of their Christmas presents?
November 1999. Dear Laura, it was good to hear from you. It has been a while, and I take the blame for that. At times, it must have felt as if you were writing to a ghost. Maybe you were.
We're travelling out your way over the holidays for a ski vacation in Whistler. Jordan is a snowboarder now because that's what his friends do, but Alicia is showing real form on downhill, so I'd like to bring her to a world-class facility, as your provincial government calls everything that side of the Rockies. I'm hoping to reprise that dinner with drinks at the grill. I can't remember its name, but I know exactly where it is. Any chance you and Jeffrey would spend a few days there? If you do, you know where to find me in the evening.
Geoff remembers a conference for franchisees that Laura organized at Whistler. He thinks he can date the dinner that Marcus is referencing to 1995—he knows because Aiden's ninth birthday fell on the Saturday of the event. Laura almost decided not to go for that reason, but Geoff persuaded her. He took responsibility for the party with all Aiden's friends at Barefoot Jack's, one of those places that take care of most of the arrangements, and said they'd celebrate as a family on Sunday, just the five of them. The kids' party went off well, he'd thought, although he was barely awake when Laura called later that evening, sounding wistful about missing it all.
She had told him the conference would wind down before midday, but there would be paperwork and she wouldn't be home before five. Geoff had planned dinner at White Spot for seven—enough time for Laura to change, maybe take a shower, before they left.
On that Sunday, Geoff didn't begin to worry until six. When he called Laura's cell, the message service came on. In movies, the phone is always the one thing that survives the crash intact, and the partner gets to hear their own cheery messages played back to them. Geoff, pacing the living room with its view of the driveway, wondered at one point where to find out about accidents on the Sea-to-Sky Highway. He settled on a call to the hotel.
The receptionist put him through to an event planner, who told him the workshop had ended at noon. All guests had checked out. No, there was no record of a Laura Delisle staying there. Geoff had him check again, under Macrae, her professional name, the one on all her diplomas.
That, too, drew a blank, but after a few minutes on hold, the events planner came back with the original conference booking. The primary contact was listed as Laura Macrae. "Ah. It appears Mrs. Macrae didn't stay with us," he said.
Thalia came in not long afterward to ask if he'd heard from Mom yet. Geoff was still listing all the innocent causes of delay he could think of when the garage door began to rumble.
Laura's explanations were all happily accepted at the time. There had been construction on the road down to Squamish and more construction just above Lions Bay. They'd always set an example by never using their cellphones while driving, and there had not been a good place to pull over until she got into town—by that point, it made more sense to keep moving. "I'm sorry," she said. "Of course you worried."
Geoff comes to the last letter in the bundle.
Dear Laura, I just wanted to leave you with an address in case you ever decide to take up contact again. Of course, I understand your decision to end, or as you put it, "tie up with a ribbon," our occasional connection.
The move to Minneapolis was not difficult as moves go, but I feel for Jordan: I know what it would have done to me to move so far away when I was fourteen. But he'll soon find new friends. Alicia, though, couldn't face the move and, as she was about to leave for college anyhow, I have allowed her to stay with her grandparents. We talk on the phone every evening.
One thing: I won't be travelling to the coast anytime soon. My job here keeps me at my desk, and any leisure trips will be to see Alicia. That may come as a relief to you.
I fervently hope that you and Geoff keep what you have, also with your children and, someday, grandchildren. God bless you, Laura. Words can't express what that chance meeting in a coffee shop has meant for me.
The postmark is ambiguous, either June 7 or July 6, 2003.
The family-room television is showing Oprah with someone vaguely familiar, and Geoff neither feels nor hears the garage door opening. It is only when the car door slams that he realizes he's surrounded by Marcus's letters, and for long seconds, until he hears Laura call, he fails to gather them up from the couch and check for strays. "I'm here," he calls back. When she looks in, he's just closing the tool chest.
"Oh, you did it!" she says after a hug. "Did it take long?"
"Longer than expected. There are still bits left to do. I hope you don't mind. How was the workshop?"
"Exhausting," she says. "But never mind. What do you want to do for supper? I'm in no condition to go out again."
The letters stay in the toolbox for just over half a year, but then the run of cable from the dish to the window frame comes loose in a storm and bangs accusingly all night. The next morning, Laura insists on coming up to the attic with Geoff to ensure he fastens himself securely with a rope belayed on a joist—rope she feeds grudgingly as he ventures out. Wind has evaporated some of the residual moisture on the roof, and what remains is frozen in thin patches, as invisible as road ice.
When he comes back to the window, Laura reflexively reaches out as if she can lift him through but, at the last moment, backs up. "I'm going to make us some hot chocolate," she says, not moving. "Do you want to take a warm shower first?"
Geoff says he'll be okay. "Go ahead. I'll be down soon."
As she turns to go, Geoff sees her notice the bin where he found the letters. "Are those the old Christmas decorations?" she says, almost without skipping a beat. "I've been meaning to look through those, maybe give them to the thrift store. You okay with me doing that?"
She reaches down, and Geoff, still a little numb with cold, reacts just quickly enough. "I can do that," he says. "No trouble. You go ahead and get the chocolate started. I'll put them in the office." When he hears her busy in the kitchen, he sticks the letters from his toolbox back where he'd found them.
It's the following October when Laura tells him she's finally sorted through the ornaments and divided them into a smaller bin to keep and a box to give away. Over the previous eleven months, they've planted and harvested; been on a trip to Ontario to celebrate their eldest grandchild's tenth birthday; and picked out, but not yet hung, wallpaper for the sewing room, formerly Thalia's bedroom. In recent weeks, Geoff has noticed sporadic bursts coming from the shredder in Laura's office. "You can take that one up again anytime," she says, motioning to the bin. "But no hurry—it's not in my way."
In the attic, the heat of summer still lingers. Geoff checks on the cable and reminds himself again to seal the hole. He trudges around the accumulated boxes—he hasn't yet reminded the children to pick up their old things. He's dithering because he knows what he'll find. Finally, in what looks like no more than an afterthought, Geoff places Laura's container on top of a stack of two others and pulls away the lid. It's mostly empty; its contents are orderly. The letters aren't there.
He takes one last look before telling himself a line that's been rising in him for some time: the absence of evidence is not proof. Downstairs, Laura is humming a tune he recognizes but can't name. It's time Geoff left the attic and joined her.