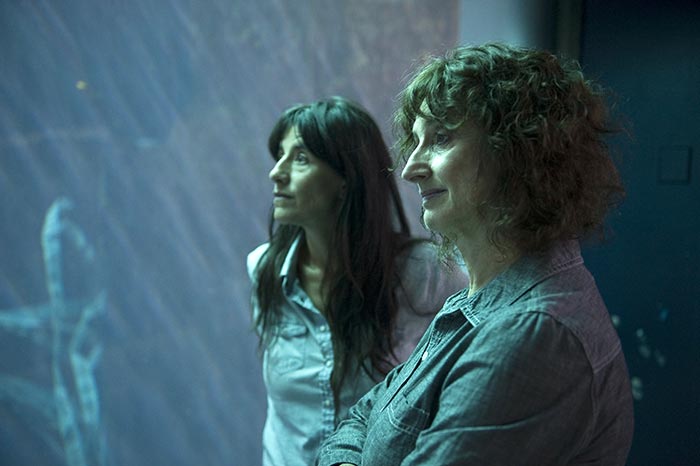 Vic + flo ont vu un ours (Vic + Flo Saw a Bear), the new film from Quebec director Denis Côté, coming out this fall, is morbid, unpredictable, and brilliant. It follows two turbulent ex-convicts, sixty-one-year-old Victoria and her younger lover, Florence, squatting in an abandoned sugar shack that belongs to Victoria's dying uncle, who spends much of the film sitting silently in his corner like a decommissioned scarecrow.
In February at the Berlin International Film Festival, the film won the Alfred Bauer Prize, given to works that open new perspectives on cinematic art. Côté is among a handful of leading international directors, including Argentina's Lisandro Alonso and Portugal's Pedro Costa, who make world-class films using ultra-low-budget realist techniques. With colloquial language, strikingly naturalistic acting, and relentless long takes, their work depicts lives on the margins. Style-wise, Côté's nearest Canadian cousin is the Mexican-born Toronto auteur Nicolás Pereda.
The Heart of the Sky, now in post-production, is Pereda's eighth feature and the first set in Canada. The film, co-directed by his wife, Andrea Bussmann, portrays a Hungarian Roma family living in a kind of purgatory in a Toronto high-rise, where most of the inhabitants are Roma asylum seekers awaiting approval from the Immigration and Refugee Board of Canada. The situation is intense, frightening, and ultimately transitory: those who receive status move elsewhere; those who don't get swiftly deported.
Côté and Pereda make character-driven films that take economic immobility as a fact of life—which, for many Canadians, it is. Canadian film has a long tradition of kitchen-sink realism, and while the two directors' works share some of that DNA, they approach their material with a refreshing lack of sentimentality. They tell stories about familial ties, strained but enduring relationships, survival, and self-reliance. Poverty serves as the context but never the subject.
While nascent Hollywood trafficked in fantasy, Canada's early film industry offered a cinema of ordinary life. The National Film Board, created in 1939, reflected the ideals of its first commissioner, John Grierson, a soft socialist whose commitment to documentary cinema (a term he coined in 1926) cannot be overstated.
One of the most iconic NFB docs is 1962's September Five at Saint-Henri, a half-hour tribute to a Montreal working-class community, directed by the beloved novelist, depressive, and separatist militant Hubert Aquin. The film juxtaposes the sparse marshalling yards with the bustling streets; the sad old man downing a half-pint in a single gulp versus the chipper teens with pompadours sipping Cokes at the juke joint. The unnamed subjects rarely speak. Rather, they stand as silent embodiments of their place and moment. This slice-of-life realism became an NFB mainstay: The Children of Fogo Island tells the story of rural kids for whom the rocky Newfoundland shoreline is the ultimate playground; meanwhile, Pour la suite du monde is a paean to the antiquated folk tradition of whale hunting in the St. Lawrence River.
In the '70s, as narrative cinema moved in, the obsession with realism persisted. Donald Shebib's Goin' Down the Road follows two Nova Scotians who seek their fortune in Toronto, a city of rock 'n' roll, sexual possibility, gruelling labour, and grimy flophouses; and Claude Jutra's classic Mon oncle Antoine recreates a hamlet in Quebec's asbestos region in the '40s, as the simple pleasures of rural life carry on amid the fumes of industry and the exploitation of the anglophone elite.
These films are subtly ideological: their concern for the present masks an underlying nostalgia for the days before men descended mine shafts or abandoned their hometowns. In Mon oncle Antoine, a grizzled, hard-nosed man leaves his family for the open air of the logging camps because he can no longer stand to work in the mines; and in Goin' Down the Road the cruelty of the big city forces the characters into their own acts of big city cruelty. (For all of its artistic merits, the film feels too much like a warning about the perils of urbanization.)
In the past ten years, this realist tradition has faced competition from a slicker brand of indie cinema, in which poverty is a self-imposed condition for beautiful young losers. The man-child protagonist of Deborah Chow's The High Cost of Living sells recreational pharmaceuticals, parties like a freshman, and sleeps in a locker room of an apartment where beer bottles adorn the windowsills. In Sook-Yin Lee's hipster rom com, Year of the Carnivore, the scruffy heartthrob tells his father that he is renouncing work to write music full time. ("Your music is not paying the bills," his dad insists. His response? "I have no overhead.")
These films are set in fabled Canadian neighbourhoods, portrayed in selective ways. Bruce McDonald's indie rock love story This Movie Is Broken showcases Toronto's Kensington Market as a playground for the young, fashionably broke late brunch crowd. In Les amours imaginaires, Montreal's Xavier Dolan sets his tale of aimless bohemian heartache among the boutique shops of a reimagined Mile End, where vacant storefronts and scrappy Hasidic bakeries are conspicuously absent.
Despite such omissions, these movies reflect a genuine reality in today's economy, which encourages creative labour but doesn't always remunerate it. The ambitions of millennials—my tech-savvy, debt-burdened generation—are withering on the vine of a lousy economy, a predicament that deserves deeper scrutiny than it has received. Still, indie cinema's romantic obsession with Generation Y obscures a fundamental truth: being an underemployed twentysomething isn't much fun. What's more, these movies make the stakes seem lower than they are.
Slacker cinema gives the sense that the characters' paralysis will come to an end as soon as they learn to get up early and knot a tie. Gen Y endless-summer narratives lend themselves to charming alt cinema aesthetics, but they are hardly representative of the way most people experience poverty.
Pereda's films show a different reality, each with an unnamed crisis at its centre. His 2009 sophomore, Juntos (Together), depicts a quietly unhappy couple in a Mexico City apartment where the appliances are constantly on the fritz; and 2010's Verano de Goliat (Summer of Goliath) portrays a small town in rural Mexico where the atmosphere is thick with humidity and loss.
His characters include squabbling, co-dependent lovers; aimless men booted from the army; municipal politicians who walk around in baggy jeans with grass stains on their butts; and young rascals who drink stolen booze and assail one another with sticks and insults. The filmmaking feels meandering and elliptical. Pereda takes as much interest in moments of awkward silence as he does in dialogue, and he sometimes places his camera behind doorposts or patches of foliage, reminding you that you're an interloper.
"I don't want to make films about issues, films that demand the audience go out and change something," he says. He leaves that work to scholars, whose job is to trace the converging forces behind social problems. When asked about the pervasive aura of tragedy that engulfs the mountain town in Summer of Goliath, he answers that backstories are not his concern.
The Heart of the Sky is ostensibly fictitious, but the Hungarian Roma actors actually live in the building, and Pereda, with his vigilant, omnipresent camera, is always looking to capture documentary material. The community he depicts is caught between Hungary's grinding poverty, chronic unemployment, and neo-Nazi violence, and a Canadian refugee system that rarely accepts claimants from European countries.
Still, his interests are mainly quotidian: family meals, and pickup soccer games that spill out into the building's narrow hallway. He envisions The Heart of the Sky as a meditation on how people whose futures have been put on hold still go about the business of living. "The most interesting thing to me is what they do in their daily lives when they have these heavy weights on their shoulders," he says.
Côté is equally forthright. "You're talking to someone who is not nostalgic about anything," he says over Skype from Montreal. "When I'm filming, I ask myself, 'What can I do to avoid a flashback? ' I'm only really obsessed with the present."
For him, the present is rural, post-industrial Quebec. His 2009 docu-fiction hybrid, Carcasses, depicts the life of an eccentric junkyard owner whose backyard is cluttered with the bodies of outmoded cars; and his 2010 masterpiece, Curling, concerns a reclusive man and his twelve-year-old daughter, who live in a remote, snow-covered swath of country where someone is dumping bodies. Both films exhibit the stripped-down aesthetic that earned their director the nickname Denis "As Is" Côté. He likes boxy ranch houses with colourless aluminum siding, empty Formica tabletops, and bare walls.
"I don't want to create a stylized universe," he says. "I want to create a psychological universe." His films deal with hermetic, morally ambiguous characters who go to extraordinary lengths to defend their autonomy, despite their limited means. (Jean-François, the main character in Curling, is a custodian at a bowling alley who loves his daughter fiercely, although his overprotective parenting borders on abuse.)
In Vic + Flo Saw a Bear, the characters make a beleaguered but viable life in their sugar shack home. They buy groceries with money found behind the washing machine and commute to town in a rickety golf cart. Meanwhile, there are sinister forces at play: a woman from Flo's past with roving eyes and one hell of a score to settle brings the story to its sadistic final act. Still, the focus is Vic and Flo's banter, which reveals an easy rapport and lurking insecurities; as well as their evolving friendship with Guillaume, the hunky parole officer who arrives unannounced, asks officious questions, and doesn't realize when they're taking the piss out of him in return.
This may seem like peripheral subject matter for a film that touches on crime, destitution, and violence, but for Côté, as with Pereda, it's the little things that count. When you strip away the artsy fantasies, the finger wagging, and the sentimentality—when you strip away anything connected to the sociology or aesthetics of poverty—you are left with the brute reality of the present moment. This is what their films are about. The characters don't revel in their impoverishment; they simply live with it. They are not conduits for the directors' nostalgia; nor are they young bohemians whose gritty but decadent lives are somehow figured as romantic.
At the centre of Pereda's love story Together is an after dinner scene in which the two lead characters, Luisa and Gabino, pass a cigarette back and forth over a table littered with tinfoil and takeout containers. Her eyes well up slowly, and he tries half-heartedly to console her by resting a hand on the back of her neck. In preparation, Pereda told the actors to think of something upsetting from their own lives. Whatever they envisioned is not revealed; the entire nine-minute sequence contains almost no dialogue. The scene is vintage Pereda: vividly realized, affecting, and evasive. "We don't always have access to explanations for the world we live in," he says. One does not need to understand life's difficulties to know that they are real.
This appeared in the September 2013 issue.