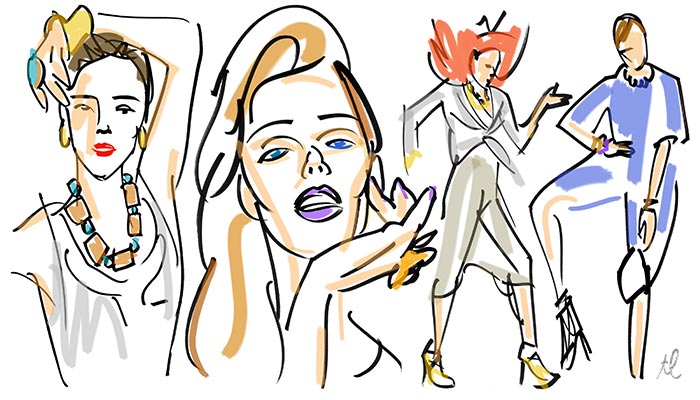 In 2012, Canadian model Coco Rocha took to her Tumblr blog in a bluster. She had recently posed for the cover of Elle Brasil in a sheer patterned dress layered over a bodysuit. When the issue was released, however, the image had been Photoshopped to make her appear nude beneath the see-through garment. "My wishes and contract were ignored," she wrote. By her own admission, she has one of the thickest contracts in the business. "I don't do nudes, I don't do semi-nudes, I don't do cigarette shots," she told the New York Times. A practising Jehovah's Witness from Richmond, BC, she refuses (among other things) to pose with religious or government symbols, or to simulate sex on-camera.
In an industry where the best careers have the lifespan of drugstore mascara, hers is a rare story of mega-success. She has appeared in campaigns for exclusive clothiers such as Balenciaga and Lanvin, along with mass retailers like Gap and Diesel, and has earned coveted spots on the covers of Vogue and Harper's Bazaar. Models.com lists her as the fifteenth-highest "money girl" in the world, with earning clout just south of veterans Heidi Klum and Kate Moss.
At twenty-four, even as her runway presence wanes, her pop culture cachet continues to rise. She appears as a coach on the modelling reality show The Face and runs various social media feeds, with over half a million followers on Twitter alone. According to Elle Canada editor-in-chief Noreen Flanagan, "Only a handful of models have managed to carefully craft and manage their career and brand. Coco certainly seems grateful for her breaks and the privileges she has been given, but I sense a genuine willingness to change the status quo." The speed and scope of Rocha's success is all the more remarkable for this opposition: she is both the face of the industry and one of its most outspoken critics.
Fashion's cultural significance, in particular its relationship with women consumers, is inextricable from economics. It sells us clothes, along with an idealized vision of femininity, and models embody this: track them, it's said, and you will see the evolution of the female ideal. But whether clothed or nude, large or small, white or black or Asian, they remain vessels, conveying an edict of beauty that comes from outside. So when Rocha writes on Tumblr that "every model has a right to set rules for how she is portrayed" and the Internet goes nuts with support, it is significant. Are the power dynamics changing?
In the cultural imagination, models have played one of two roles, mannequin and celebrity. Witness the icy, corseted what's-her-names of the '50s giving way to Twiggy and Jean Shrimpton, whose pubescent quirkiness encapsulated the rebellious energy of the '60s youthquake. The late '80s and early '90s saw the rise of the "supers" (Naomi Campbell, Linda Evangelista, Claudia Schiffer, et al.) whose on- and off-camera dramatics were so campily captivating they became more interesting than the clothes. Theirs was a femininity of excess—Amazonian, imperious, sexual, and brash—and their dominance echoed women's economic and political ascent.
This souped-up brand of glamour was a poor fit for the minimal, ascetic designs that emerged in the post-grunge '90s. As new markets opened up worldwide, fashion tapped developing countries for labour and consumers. Accordingly, the models of the millennium came from eastern Europe, seemingly by the dozen, with pristine features and thick glottal accents, as unremarkable as they were efficient. Unlike the supers, these alien baby dolls did not overwhelm the clothes. They evoked the increasingly global gist of fashion, but with their infantile appearance and reputation for obedience they also mirrored the regression of female power at the dawn of the Bush era, as lawmakers rolled back gains in women's rights.
Then in 2007, amid this insipid sameness, the eighteen-year-old Rocha Irish-danced down the runway at a Jean Paul Gaultier show, clad in traditional tartan, scissoring her legs while keeping her torso eerily still, her angular features fixed in an expression both innocent and furious. Her appearance was the indelible image of the season, and Vogue heralded it as the "Coco moment," praising her display of personality. At the time, this suggested a one-off quirk, a mere marketing gambit passed off as idiosyncrasy. In May of that year, she appeared on the cover of Vogue alongside other women billed as personalities: Agyness Deyn (haircut), Hilary Rhoda (eyebrows), Doutzen Kroes (breasts). By this weak logic, Rocha was the girl who could dance a jig.
The Coco moment has turned into a good half decade, meaningful because the Irish dancing now seems like the least remarkable thing about her. She has emerged as a genuine object of contradiction: a middle-class kid with a performance art name; a devout Christian with a punk-tinged designer wardrobe; an ultra-slim sylph beloved by both Karl Lagerfeld and the editors of Jezebel, the snarky feminist pop culture website. In 2010, she wrote a blog post about eating disorders and the dangerous message of Photoshopped images, and in 2012 she joined the advisory board of the Model Alliance, which teaches young hopefuls how to negotiate their contracts and form unions.
All of this—the religion, the politics—adds a compelling tension to her work. In magazines and on billboards, her amazing rhombus of a face, with the sharp, winged cheekbones and the big, straight-across eyes, possesses the elegance of a cubist statue. Seen on video, though, she tends toward self-effacement; she fidgets and has a nervous giggle. When she calls herself a dork, as she did throughout her talking head segments on The Face, we believe her; this year, she accepted a gig as tech columnist for PC Magazine. She is at once the high standard of impossible beauty and the gawky, overly earnest student council president.
More strikingly, she disrupts stale stereotypes. She is known as "the queen of posing," and in a posture she returns to often, her hand rests somewhere on her face while her mouth pops into an O, highlighting her upper lip's distinctive curve. It's a play on an old editorial gimmick, the breathless, girlish gasp: oh my! But her eyes are a little too round, her mouth a little too open, and the exaggeration lends a tongue-in-cheek quality. The pose makes a commentary about modelling that still manages to be fashion—a subtle, hyper-feminized drag.
Rocha's rise coincided with a tumultuous period. After the financial crisis that began in late 2007, the worldwide market for luxury goods slid into a steep decline, and traditional design centres such as Italy required billion-dollar-plus bailouts to stay afloat. Simultaneously, the Internet gave birth to a new style culture that allowed consumers unprecedented power. Popular websites such as eBay and Etsy undermined retailers' influence and enabled small designers to reach broad audiences. Through online forums, blogs, Twitter, and YouTube, style fans traded ideas and formed communities (for instance, the Independent Fashion Bloggers network, which hosts biannual conferences and "Tweetups," and had over 50,000 registered members at this writing).
Combined, this had a dramatic effect on the industry. Magazine sales flagged, and major advertisers decamped to popular consumer-made websites. In 2010, Reuters reported that 40 percent of the media reps who attended New York Fashion Week were bloggers. Under further pressure from dwindling sales in the luxury market, the industry embraced populism. The past decade saw the birth of collaborations between high fashion and mass retailers (Lanvin for H&M, and Zac Posen for Target), as well as the appearance of "real women" (read: non-professional models) in runway shows and ad campaigns.
In this democratized climate, what significance does a model have? As an avatar of ideal beauty, she seems passé, a relic from a time when remote design houses and fur-swathed editors, not girls with smart phones and HootSuite accounts, determined the trends. You can see the model's shrinking relevance with a quick scan of any newsstand. In the 2000s, magazines such as Vogue boosted sales by evicting professional models from their covers, replacing them first with movie stars, then figures from television and music—an ever-intensifying attempt at accessible feminine glamour.
Changes within the profession have also narrowed the gap between model and consumer. In 2007, the Council of Fashion Designers of America initiated a voluntary campaign to discourage designers from using girls younger than sixteen during New York Fashion Week. Meanwhile, the governments of Italy and Spain announced that they would be banning underweight models from their runway shows. Crystal Renn, whose measurements have swung from emaciated to plus sized, has done standard runway shows and appeared in high-fashion editorials. Women of colour, notably Jourdan Dunn, have agitated for greater diversity on the catwalk, with some success. All of these initiatives have empowered models and demystified their work. They appear at once more formidable and more ordinary than ever before.
Another factor in the Coco moment's endurance is the arrival of a new wave of feminist-minded consumers with a playful, self-aware relationship to style. In contrast to the Naomi Wolf feminism of the '90s, which read female beauty standards, consumer culture, and pornography as symptoms of patriarchal oppression, the new generation focuses on women's individual agency. During an interview with DuJour magazine, Rocha addressed her contract, echoing the popular rhetoric of choice: "Coco can still be Coco," she said. "It's just I have my clothes on. And I don't have a cigarette in my hand, and I'm not making out with a guy. And if you want to do that, I don't judge." Nudity is not wrong, she suggests, just wrong for her—a surprising bit of relativism from a position informed by Christian modesty. "My good friends do Victoria's Secret," she added. "I just don't."
In steering the conversation away from what women should do with their bodies, she has an ally in Lena Dunham, another self-conscious twentysomething who works best while performing, then disrupting feminine clichés. Her HBO series, Girls, which premiered the same month the infamous Elle Brasil cover hit newsstands, immediately put the actress under scrutiny for her decision to appear nude onscreen. Dunham, who is in her own words "not-super-thin," shoots herself from unflattering angles, documentary style, reflecting her desire to question traditional ideas of beauty. Crucially, as the show's creator she does not require her young female co-stars to follow suit. "People who want to be nude should be nude," she told radio host Howard Stern. When he asked, why you and not the others? she answered, "I don't want to be like a fifty-seven-year-old creepy man producer and pressure anyone into it."
Comparing Rocha to Dunham may seem like a stretch: the impeccably lovely Christian model and the scruffy art world heroine; the girl who won't show cleavage and the one who strips down on the regular. But if her concealed body makes a counterpoint to Dunham's nude one, the difference is only superficial. As with Dunham, how Rocha has navigated her career illustrates a larger shift in the conversation about women's bodies, beauty, and power.
Neither mannequin nor celebrity, she demands control over the female image, in part to display the warped gender logic lurking behind it, the same logic that reductively divided models into nobodies or Naomis in the first place. Unable to fit her in the conventional rubric, the press sometimes calls her a "role model," unaware that this is another bogus cliché, at odds with what makes her exciting. To be a role model means to serve others, but Rocha makes it clear that when she keeps her clothes on, she does so to serve herself.
This appeared in the September 2013 issue.