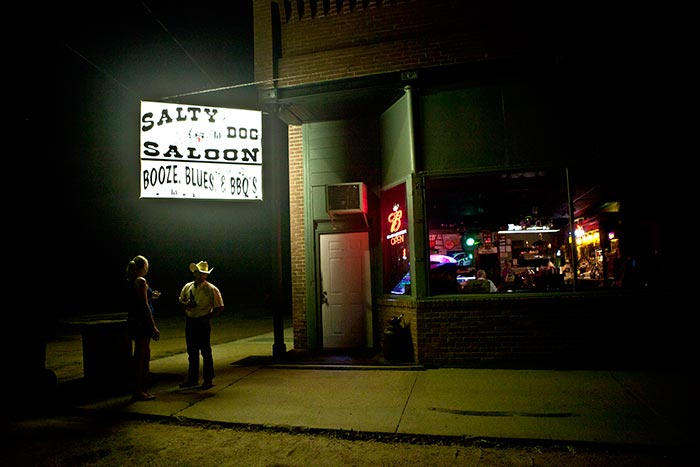 Steele City is one of those tiny, out-of-the-way places (population sixty-one, plus an influx of Harley-Davidson enthusiasts each June) that watches history from the fifty-yard line. The Oregon and Overland Trails passed through here, and Wild Bill Hickok killed his first man at the local Rock Creek Pony Express station. The first farmer to take advantage of the Homestead Act of 1862 lived nearby, and the geographic centre of the contiguous United States lies ninety minutes away, in neighbouring Kansas.
Today Steele City finds itself watching another historic moment unfold, from its vantage point on the Little Blue River: the controversial expansion of pipelines throughout North America. Over 32,325 kilometres of pipeline already criss-cross Nebraska, and two high-profile segments converge here. West of town, the Rockies Express compressor station pushes natural gas along one of the largest pipelines ever built in the US; a kilometre to the east, TransCanada's Keystone network carries some 590,000 barrels of crude oil a day. If Washington ultimately gives its approval to the Calgary-based company, the proposed Keystone XL will terminate at Steele City, its thirty-six-inch pipe funnelling an additional 830,000 barrels daily from the Hardisty Terminal in Alberta.
While Keystone XL remains a matter of speculation and debate, the topic is less charged at the Salty Dog Saloon, Steele City's de facto gathering place. On a Thursday evening in May, as Jefferson County farmers rush to plant their corn and soybeans after the wet spring, Rick Barnts orders a Budweiser with tomato juice at the bar. "If you look at a pipeline map, we're the pivot point," explains the sixty-year-old gun dealer and village councillor. "That's done us some good." Like her customers, Margo D'Angelo-Compton, who has owned the Salty Dog for twenty-eight of her fifty-three years, does not have strong opinions about the environmental impact of pipeline construction. Her concerns are more pragmatic: "It makes a difference of being able to buy new tables and chairs. Or repairing an air conditioning system that wasn't working right. It makes a big difference for a small town."
What the Fluff?
The politics of marshmallows

Sara Guindon
The Fluffernutter sandwich, made of Marshmallow Fluff and peanut butter, is a New England staple. In 2006, when Massachusetts senator Jarrett Barrios tried to limit the nutritionally poor lunch option in schools, state representative Kathi-Anne Reinstein responded to public outrage with a bill to sanctify the Fluffernutter as the official state sandwich, in an affair known as Fluffgate. While both proposals were eventually dropped, the controversy turned Massachusetts' inaugural What the Fluff? festival into a triumphal celebration of local fluff over nutritional substance. Fittingly, the marshmallow has stood as a symbol of irrational temptation in American psychology since the '70s, when a Stanford researcher famously challenged children to leave one untouched for fifteen minutes, in exchange for a second treat. Only 30 percent could resist; the rest gave in to gooey temptation and were left empty handed at the end of the experiment.
—Sarah Boivin
When TransCanada built Keystone in 2010, executives from Omaha would hold meetings over lunch at the Salty Dog, and the company later contributed $10,000 (US) toward the town hall—the first of several community donations it has made. Kinder Morgan, REX, and Trailblazer also operate in the area. "Pipelines," says Rabbit Harvey, another sixty-year-old regular, "are what keep this town going." A local farmhand, the West Virginia native once worked for Sheehan Pipe Line, the nation's oldest pipeline construction company and one of three firms that would build Keystone XL.
"A lot of these people complaining about TransCanada," he continues, "they'd be tree huggers if we had trees in Nebraska. Hell, this isn't going to be another Exxon Valdez." Quips aside, he is making the larger point that rural America is full of environmental risks, most of which do not attract major media attention or lead to protests at the White House. Unlike modern pipelines, seemingly bucolic silos can lack proper ventilation and backup systems; explosions and groundwater contamination from fermenting corn or sugar beets are not unheard of here. And with Union Pacific running more than fifty trains a day through town—125 cars each, loaded with coal and, less often, carrying radioactive and other hazardous cargo—there are dangers more visible and consequential. "For me, a white train is a bigger concern," Rick adds. "You're talking thousands of years if there's an accident."
Rick was born next door to the Salty Dog, in a hospital once nationally renowned for its osteopathic physician. "This place is so full of history, you wouldn't believe it," he says proudly. Much has changed in six decades; his hometown has lost its doctor, its school, its grain elevator, and more than 70 percent of its population. Not that he minds: "I'm glad there ain't a lot of people." But Steele City's size, its defining and endearing quality, is also its greatest challenge—and a more pressing matter than a hypothetical oil spill.
The community's relationship with pipelines requires a certain cognitive dissonance. Rick, Rabbit, and Margo are sensitive about Keystone XL crossing the Sandhills several hours north, but they are comfortable with the same project passing through here. They boast about the purity of their spring-fed drinking water, which has attracted people to the area for millennia and fills a horse trough outside the bar, but they are nonplussed by the possibility of its contamination. Even a recent spill in nearby Nemaha County has not changed their views. The construction of Keystone XL will help keep their town alive a little longer. "Never had any problems here yet," Rabbit concludes. "As far as we're concerned, let 'em do it."
A short distance away, the Keystone pumping station sits atop one of the bare grassland hills that define a Willa Cather landscape. At dusk, the white and metallic arches of pipe, humming like a swiftly moving freeway, appear as a softly illuminated crown. Steele City does not have a grocery store or even a gas station, but the Salty Dog serves a decent enchilada and has beer on tap. And as long as the pump does its work on the rolling prairie without incident, the annual throng of motorcyclists will remain bigger news here than Alberta crude.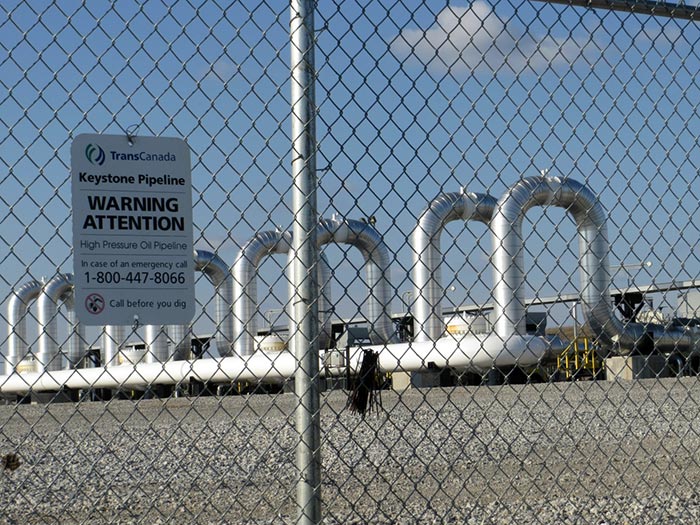 This appeared in the September 2013 issue.