Adrian Edgar was just eight days old when he arrived in New Brunswick for the very first time—too late to claim being a tenth-generation New Brunswicker by birth but young enough that the Atlantic salt air worked its alchemy, embedding in him a deep sense of belonging. Of course, Edgar, now in his late thirties, can't remember that first visit, but it launched a rhythm that shaped his life: summer vacations were spent floating on the waves off New Brunswick's coast, and through the other seasons, there was the countdown to his return.
The year he was fifteen, Edgar spent time at the public library near his home, in London, Ontario, doing research. "This was before the internet. Long before Facebook or Twitter or Grindr . . . . If you wanted to know if you'd like kissing someone of the same gender, you couldn't google it," he said a couple of years ago in his speech as grand marshal of Fierté Fredericton Pride. "If we had a question like that, we went to the library and looked it up in physical books." Sitting at a long wooden table, reading Leaves of Grass by Walt Whitman (thought to be among the first poets in North America to describe homosexual love), Edgar began to realize he was queer—and the implications of that. "The status quo then was terrifying. Gay marriage wasn't legal. Too many gay men and trans women were dying of AIDS or random acts of violence or suicide," Edgar continued. "The status quo then was a world that didn't seem to want me in it. I had to choose to accept that or to resist."
Listen to an audio version of this story

For more audio from The Walrus, subscribe to AMI-audio podcasts on iTunes.
By the time Edgar began to study medicine at McMaster University, in 2007, he had decided firmly on the latter. As an undergraduate, he spent one formative term working at a medical clinic on the Thailand-Myanmar border; the clinic saw scores of people who had been assaulted and raped, but politically motivated restrictions prevented its doctors from providing them with abortions. They were allowed to treat patients who had attempted to terminate pregnancies themselves, a policy that brought a stream of horrors through the door.
"We just had so many women come in who had been so violated and had hurt themselves so violently just to try to take back some control of their body," Edgar recalled in one of several telephone interviews earlier this year (pandemic restrictions prevented us from meeting in person). He spent a semester learning how to remove sticks, wires, and other objects from vaginas and uteruses—items that patients hoped would end their unwanted pregnancies. "You do that and then you never, as a physician, will ever consider a world in which barriers to abortion are anything but harmful."
He had no idea, back then, that the next time he'd slam up against such barriers would be in the place he'd fallen in love with while growing up.
New Brunswick is the only province or territory in Canada that still has a regulation on the books designed to restrict access to abortion.
New Brunswick is the only province or territory in Canada that still has a regulation on the books designed to restrict access to abortion. Unlike most other jurisdictions, New Brunswick covers abortion services—which, medically speaking, are generally low-risk and straightforward—only if they are provided in hospitals, although there are just three in the province that routinely perform them. (In other provinces, though there are barriers to access, insured abortions can be obtained in a variety of outpatient settings, including doctors' offices, community clinics, and hospitals.) No hospitals offer ready access to abortions in two of New Brunswick's largest cities: Fredericton, the capital, and Saint John. Individuals seeking to terminate a pregnancy often endure uncomfortable waits, undertake lengthy travel, and pay associated expenses to have the procedure. None of the three hospitals will perform a routine second-trimester abortion, meaning those who cannot secure an appointment in the earliest weeks of their pregnancy or who do not learn they are pregnant until after fourteen weeks must leave the province for the procedure. All of these measures, taken together, have the effect of discouraging abortions in New Brunswick; those who seek them anyhow often have guilt, shame, and difficult experiences navigating barriers that were designed to stymie their choice.
Now a physician with expertise in abortion, Edgar has spent the last seven years battling this long-held status quo. In 2014, to help combat New Brunswick's restrictions, Edgar and his wife, Valerya Edelman, moved to Fredericton to provide health care for underserviced patients and save the only clinic in the province (and one of the only two in Canada east of Quebec) that offers abortion services outside of hospital. Edgar is the only full-time physician on staff, and Edelman manages the clinic's operations; patients are covered for all other health care services under provincial medicare as usual, but they must pay for abortion services out of pocket. Since Edelman and Edgar's arrival, they have met with any provincial official they could, attempting to demonstrate that abortions performed outside of hospitals are safe, cost-effective, and—in a province whose hospital system is already under enormous strain—necessary. These efforts have shifted some attitudes, but not among those with the power to actually change policy.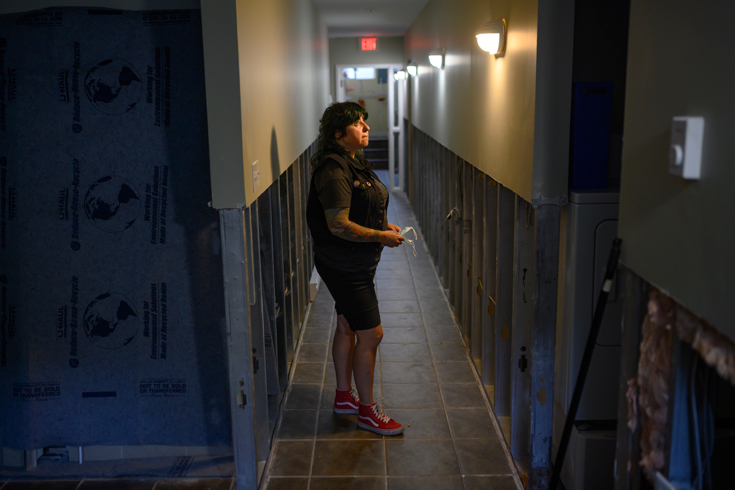 It is easy to assume that accessing abortion care is no longer a problem in Canada. The procedure was partially decriminalized just over fifty years ago and fully decriminalized in 1988, and although the provinces and territories administer health care, federal legislation requires that they make medically necessary services available "without financial or other barriers."
But, in New Brunswick, the decades-old battle for access is still being waged. Patients, advocates, and even local obstetricians have been lobbying the province to allow medicare coverage for clinic-based abortions and bring access in line with other provinces. The federal government has pressured provinces since 1995, citing the Canada Health Act, which requires coverage of medically necessary services—including abortions—regardless of where a physician performs them. For two consecutive years, federal health minister Patty Hajdu has tried to emphasize this obligation by holding back $140,000 in transfer payments to New Brunswick; the number represents a small fraction of the $860 million health transfer payment the province received in 2020 but is intended to symbolize the cost of the clinic-based abortions it refused to cover. (Hajdu did not agree to an interview for this story.) Blaine Higgs, the province's Progressive Conservative premier, has publicly invited anyone who disagrees with New Brunswick's clinic-funding ban to challenge the province in court. Hajdu, like other federal health ministers before her, has stopped short of pursuing such a course.
But, earlier this year, the Canadian Civil Liberties Association did take up that challenge: in June, the nonprofit human rights group, backed by Toronto-based law firm Torys LLP, was given a green light by the Court of Queen's Bench of New Brunswick to proceed with a constitutional challenge of the province's abortion policies. When arguments are presented, likely next year, the CCLA will argue that the province is in violation of two sections of the Charter of Rights and Freedoms: Section 7, which guarantees rights to life, liberty, and security of the person; and Section 15, which guarantees equal rights and protection without discrimination. "Pregnancy discrimination is sex discrimination," the CCLA's statement of claim reads, noting that "the right to reproductive freedom is central to a person's autonomy and dignity."
When Edelman and Edgar decided to move to New Brunswick to fight for expanded abortion access, they understood that providing care would involve challenges. "If New Brunswick is the one province where the most barriers to abortion exist, it is the province I want to work in," Edgar says. "That's where, as a country and as a profession, medical people need to stand up and see the consequences of this slippery slope." Edelman laughs wearily at the memory of how eager she was. "I was bright eyed and bushy tailed. People did warn me that New Brunswick feels like a small town, that people will talk about you, that you don't have much anonymity in a small province like this," she says. "They said it's really difficult to make any change. And people are not supportive of abortion providers."
Edgar's faith in the system is now much more fragile, and his clinic is in tatters, but he is hopeful that the CCLA suit will finally force a change. "It is accepted here that abortion access will be less than in the rest of the country. People in health care have been working on the issue for decades, and the province has never changed its policy," Edgar says. "I figured it would be an uphill battle."
The steep grade of it was just not something he had a sense of.
A bortion has always been a charged subject, though its controversial roots run particularly deep in New Brunswick. Canada was not yet formed as a country when, in 1810, New Brunswick passed legislation (modelled after English law) to criminalize the procedure. It took more than twenty-five years for neighbouring jurisdictions to follow suit, but Prince Edward Island, Newfoundland, and what was then Upper Canada all criminalized abortions in the mid-1800s. When Canada's first criminal code was enacted, in 1892, terminating a pregnancy became illegal across the country.
While abortions in some limited situations were technically decriminalized across Canada in 1969, the circumstances under which they were allowed were still highly restrictive. Patients were required to submit requests to therapeutic abortion committees of three doctors, which were supposed to assess whether an abortion ought to be granted, but few hospitals ever established these committees: according to the Abortion Rights Coalition of Canada, in 1982, only about one-third of Canada's hospitals had them. In New Brunswick, the government amended the province's Medical Services Payment Act to ban clinic-based abortions: a physician could be found guilty of professional misconduct—and lose their medical licence—if they performed an abortion outside of a hospital.
In the mid-1980s, physician and pro-choice advocate Henry Morgentaler began expressing interest in providing abortions in New Brunswick. Morgentaler, a Toronto-based doctor who had previously practised and provided abortion services in Montreal, was on a cross-country tear to dismantle barriers to abortion by opening private clinics across several cities and provinces and challenging anti-abortion laws in the courts. New Brunswick's legislation had been revised with Morgentaler in mind, in the hope of preventing him from operating in the province—ultimately, it turned out, to no avail. In a historic 1988 win for Morgentaler in the Supreme Court of Canada, the country's abortion restrictions were declared unconstitutional: a violation of the right to life, liberty, and security of the person.
That decision, which made abortions legal at any stage of pregnancy, certainly did not open the floodgates to access. A few days later, British Columbia's then premier said abortions wouldn't be funded, and the following year, New Brunswick and Nova Scotia enacted legislation to prevent doctors from being paid to perform abortions. (The BC decision was later found to be unconstitutional.) New Brunswick also drafted a new regulation that required anyone seeking an abortion to get the approval of two doctors and to have the procedure done by a specialist at an approved hospital. Its beloved premier at the time, Frank McKenna, vowed to spar with Morgentaler if the doctor dared to persevere. "If Mr. Morgentaler tries to open a clinic in the province of New Brunswick," McKenna said, "he's going to get the fight of his life."
It was not an idle promise. Morgentaler broke ground in Fredericton, building what was at the time the only private abortion clinic east of Montreal. Maclean's reported that Morgentaler performed his first five abortions there on the twenty-fifth anniversary of the decriminalization of abortions in Canada. Those procedures launched a two-decade battle with the New Brunswick government that played out across two acts. In the first, Morgentaler challenged the rule that restricted abortions to hospitals; the Court of Queen's Bench agreed, deciding that the legislation amounted to an overstep of provincial powers with the aim of "suppressing or punishing what [it] perceives to be the socially undesirable conduct of abortion." The court also noted that the rule was not ensuring the highest-quality health care for women. (New Brunswick appealed, forcing Morgentaler to spend more time and money in court, but the province eventually lost.)
Morgentaler's win was bolstered by then federal health minister Diane Marleau when, in 1995, she sent a letter instructing the provinces to fund abortions, including those performed at private clinics. By this point, New Brunswick had amended its Medical Services Payment Act to state that doctors who performed abortions outside of hospital could not be paid under provincial medicare coverage. (Those who performed vasectomies, though, were not subject to the same restriction.) If the province's power brokers could not stop people from having abortions at the Morgentaler Clinic, they would at least force them to pay out of pocket for the perceived transgression.
This decision diverged from the direction of most other provinces as they implemented abortion policies, though it was not a surprise. New Brunswick has for years had one of the oldest populations in Canada, second only to Newfoundland. Statistics Canada surveys also show that the province is overwhelmingly Christian—around 85 percent of New Brunswickers identify as Christian and almost half of those as Catholic. While many Christians and Catholics are pro-choice, these demographic indicators help contextualize why several leaders from both the Liberal and the Conservative parties have refused to open abortion access despite judicial and federal direction to do so.
The ban on funding clinic-based abortions sent Morgentaler, who thought the province was offside, back to court. His second suit against New Brunswick, which he announced he'd be pursuing in 2002, tested the constitutionality of the policy. The lawsuit was plagued with delays, including time spent considering the argument mounted by the province in 2007 over whether Morgentaler was entitled to bring a suit at all when he had not personally been denied an abortion. The debate was volleyed through the court until, in 2009, Morgentaler was given the green light to sue. When he died, in 2013, the case, still before the courts, died with him. By then, Morgentaler's Fredericton clinic had performed thousands of safe abortions, including many for which it never charged patients—at up to $750, the procedure was often unaffordable. Still, the province showed no signs of softening.
"It just got imprinted on minds here that [abortion] was bad . . . and they've never let go of it," says Simone Leibovitch. Morgentaler's sister-in-law, she managed the Fredericton clinic for a decade and was at the helm when, in 2014, the decision was made to close it. "At some point, you just get worn out."
Edgar got his first insights into how constrained abortion services were in New Brunswick long before he opened his practice. As a recent medical graduate, he made the trip east to locum at a community health centre in Saint John and volunteered at Fredericton's Morgentaler Clinic. At that time, it offered first- and second-trimester abortions once per week, when a doctor drove in from out of town; no local physician would perform the procedure. While the barriers to access rankled Edgar, he had his sights set elsewhere.
After his stint in Saint John, Edgar settled into an interdisciplinary practice treating folks in Vancouver's Downtown Eastside. He treated people contending with substance use disorders, HIV, hepatitis, homelessness, and trauma and provided abortion services when patients needed them. The young physician was also building a life with his partner, Edelman, a social worker who shared his commitment to providing health care for marginalized people.
It was Edelman who, in 2014, came across an interview of Leibovitch on Facebook and summoned Edgar to see it. The Fredericton Morgentaler Clinic was closing, and activists had launched a crowdfunding campaign to buy the building in the hope of attracting a new doctor to perform abortions — a desperate, last-ditch effort to avoid a clawback of already-limited sexual health services. Edelman and Edgar were nervous but loved the idea of a relocation, which would bring them closer to Edgar's family, and they saw an opportunity to expand on the values that informed their medical and community work.
By the time the pair arrived in Fredericton, later that year, the Morgentaler Clinic had been dormant for a few months. With Edelman's help, Edgar opened up a full family practice, which they named Clinic 554 after its Brunswick Street address. One day per week, Edgar would focus on reproductive health care, including abortion procedures; the rest of the time, he would treat babies with earaches, seniors with diabetes, cancer patients, and whoever else walked through the door. (Thousands did —Edgar's clinic has seen more than 3,000 patients.) While patients would have to pay out of pocket for abortions, provincial medicare covered the rest of his services, the same as for any other family doctor.
To Leibovitch, the scenario could not have appeared more perfect. "When I was manager of the [Morgentaler] clinic, we thought, 'Wouldn't it be amazing if we could get a family doc in here?' It just made so much sense." Obstetricians were also grateful for Edgar's presence and began consulting him on complex abortion cases. In some instances, they also referred patients who required second-trimester abortions to Clinic 554.
It wasn't long before Edelman and Edgar realized just how big the deficits for some health care services and communities were. Care for transgender patients was sorely lacking; accessing what little there was pushed a troubling amount of work onto patients themselves. Edgar began to offer specialized trans care without requiring patients to have a referral from another doctor or a psychologist. (Edgar himself realized he is trans when he was in his early twenties; he transitioned when he was twenty-five.) Patients drove from across the province and elsewhere in the Maritimes to see him.
The clinic became a beacon for gender nonconforming people, allowing community groups to hold their meetings in its waiting room —literally creating space for the queer community in Fredericton to grow. "Clinic 554 kind of brought people out and enabled people. It's been a real community centre," says Karen Pearlston, a reproductive justice advocate and a law professor at the University of New Brunswick. A lesbian woman who was out while living in Toronto, Pearlston said she felt uncomfortable when she initially moved to Fredericton, which did not seem queer-friendly at the time. "I found myself in a homophobic and misogynistic environment. I didn't know a lot of queer or trans people except those who were deeply unhappy because they couldn't get services," she says. "Clinic 554 changed so much of that." Outside, Edelman had part of the building painted in rainbow colours. Through the clinic's security cameras, she often watched as patients snapped grinning selfies documenting their first gender-affirming treatment.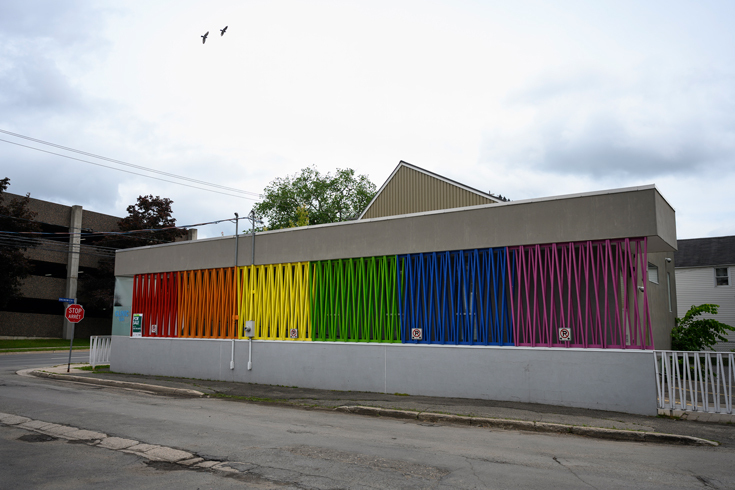 Edgar took on the work of increasing awareness of trans-inclusive care among other physicians in the province, offering training to other doctors. In 2016, he was part of a team that was instrumental in convincing the province to provide medicare coverage for gender-affirming surgery. (New Brunswick was the last province in Canada to do so.)
Where progress on abortion care was concerned, though, success was more elusive. Considering the long controversy surrounding it in New Brunswick, some weren't surprised.
"This has been an issue that we've struggled with since the late 1980s," says Jeff Steeves, president of the New Brunswick Medical Society, which issued its first public position in favour of non-hospital abortions just last year. Physicians in the province, Steeves says, can opt out of providing any treatment for a patient on moral or religious grounds. It is well-known in the province's medical community that some physicians still do not prescribe birth control and have reservations about being associated with those who administer abortions. "It's not as if people are jumping up and down and calling the people who provide these services heroes."
When Edgar hung out his shingle at Clinic 554, in 2015, there was reasonable optimism that abortion access was truly on the verge of opening up. Brian Gallant, the newly elected Liberal premier, was just thirty-two —he would have nary a memory of a time when abortions were not legal in Canada. He was also in step with prime minister Justin Trudeau's insistence that everyone representing the party vote pro-choice, and Gallant campaigned on the promise that his government would "swiftly act to define all barriers to these rights and make sure that we eliminate them."
Buoyed and prepared to make their case for change, Edelman and two nurses secured a meeting with the provincial minister of health. They discussed study results that show abortions in clinics actually carry lower infection risks and rates of complications compared with hospital-based procedures, and they presented letters of support from the National Abortion Federation and even the department of obstetrics and gynecology at Fredericton's Doctor Everett Chalmers Hospital. "We are completely in support of Dr. Adrian Edgar's application to have the pregnancy terminations performed at his clinic funded by the government," wrote doctor Petr Landau on behalf of the department. "If for no other reason [than] that  .  .  .  finally women in Fredericton will be able to access the services unimpeded like they can in other parts of the country outside of New Brunswick."
The meeting ended on such an encouraging note that Edelman and Edgar treated themselves to dinner out. "Me and Adrian went for sushi afterward and there was a bit of a celebration," Edelman says. But nothing changed. "We followed up and were told something very vague, like the government was going to go in a different direction—something that didn't really mean anything."
While it did not change funding regulations, the Gallant government did forge more progress on abortion access than any government before it. The regulation that required people seeking an abortion to have two doctors' approval was struck down in 2014. At the same time, the third hospital was added to the province's list of those "approved" to offer abortion care—though this did not substantially increase access since it was in Moncton, which already had a hospital that routinely provided abortions.
It's troubling that two of the three approved sites are in the same city while most of the province's urban centres have none, says Lianne Yoshida, an abortion provider and co-director of the Nova Scotia Women's Choice Clinic, in Halifax. For a couple of years, Yoshida travelled to the Morgentaler Clinic in Fredericton to fill in when the doctor there needed time away. She also teaches at Dalhousie University; she uses a map of the Maritimes with dots representing abortion access points to show where the service is available in the region. "When you see the map of New Brunswick, the dots are kind of all in one area," Yoshida says. "And then there's the rest of New Brunswick. There's nothing there."
The Gallant government received little scrutiny over that decision, perhaps because it grabbed headlines by becoming the first in Canada to make Mifegymiso, known as the abortion pill, available for free. The move won the province national applause from pro-choice advocates, but it was not without its difficulties: few doctors in the province had been trained to prescribe the pill at the time of the announcement, some were slow to learn, and pharmacists were initially prohibited from stocking it. Although the medication was technically free, it was still quite tough to access. That led to criticism and questions about whether the government was genuinely trying to increase access or just aiming to appear to do so.
It also helped distract from delays inside the government's closed-door conversations about increasing hospital-based access to surgical abortions, which (despite the name) are typically faster, more effective, and less painful than the medication version. "It wasn't as simple as saying, 'Every hospital can perform this,'" says Katie Davey, who was a policy adviser to Gallant at the time. She was tasked with learning about the barriers to abortion access in New Brunswick and figuring out how the government could knock them down.
At first, it seemed that the most obvious means of easing access to surgical abortions would simply be to allow more hospitals to provide them. But a series of roadblocks stunted that effort. "New Brunswick's infrastructure is crumbling and hospitals are at capacity," Davey says. "What were we going to kick out to add this in?" In Fredericton, there was no space in the building to add abortion services. While the nearby Oromocto hospital likely had space, there was no public transit access. Another hospital, according to Davey, was leased to the government with terms that precluded, among other things, abortion services.
It didn't help matters that physicians in many areas expressed a reluctance to perform abortions, some on religious or moral grounds and others due to concerns over their inexperience with the procedure. But some were willing, and enabling them would have helped, Davey acknowledges. The government balked after its civil service advisers warned that funding clinic-based abortions would be tantamount to sanctioning private health care.
Whether the civil service truly believed that or simply knew it was an effective strategy to block change is unclear. "The folks that were giving advice on this did a very good job of spinning this as doing private care," Davey says. "It's a department of health that has spent the last forty years fighting providing abortion services . . . . Public service is excellent at many things. Major culture shifts isn't one of them." Even the small steps the Gallant government took were hotly contested by the bureaucracy, Davey says. But the failure to improve access to surgical abortions is something Davey says she regrets. "If I'm being honest, I would say this is one of the things we probably wished we would have done."
The cost savings alone ought to have been considered in a province where the health care system is under extreme pressure. While trying to provide health care in two languages for its bilingual population, New Brunswick has some of the country's longest wait times for routine procedures such as hip replacements (an average of 272 days compared with the national average of 182 days). For a new knee in Fredericton, the wait is between 461 and 737 days. (The national average is, again, 182.) Not even the argument for savings was enough to bring about change.
It wasn't just the provincial government that declined to support Edgar's work. Early on, he got a very direct message that other doctors in Fredericton also disapproved. Family doctors in Fredericton are required to join what is known as a "call group" when they open a practice; the call groups have a rotation system that allows physicians to cover one another during vacations, evenings off, and when patients are admitted to hospital. (In Fredericton and other parts of New Brunswick, family doctors are expected to care for their patients if they're admitted; call groups help alleviate the conflict of being required in two places at once.)
When he arrived in New Brunswick, Edgar interviewed with several call groups. The one he initially chose to join asked him to leave shortly thereafter, he says, because some members were worried they might be called upon to treat a woman who had had an abortion and was experiencing complications. After that, others declined to take him on. (A number of doctors with knowledge of the situation, including some from that call group, declined to comment for this story or did not respond to interview requests.) Edgar would have liked the camaraderie of colleagues to help him learn the ropes. "If you're new to a practice setting, there's lots of little processes you're supposed to be aware of," Edgar says. Not many people were willing to help him, he says, and those who were often lent a hand only when they felt that nobody else would know. "It was very difficult."
Support for access to abortion, though often held quietly, has long divided physicians in New Brunswick. Jo Ann Majerovich is a physician who used to work at the University of New Brunswick's Sexual Health Centre. She frequently encountered patients whose anti-choice doctors refused to prescribe birth control and others whose doctors would not help them access abortions. "I used to have secretaries of other family doctors call me when they knew the physician they were working for wouldn't [refer for abortion services]," she says. "I saw women who weren't able to navigate obstacles that were put in place . . . forced to continue with an unintended pregnancy."
In 2008, Majerovich filed a human rights complaint with the New Brunswick Human Rights Commission, in part to try to tackle the barriers to abortion access. At the time, she did not publicly identify herself as the complainant, a decision she was relieved to have made when a group of physicians she was meeting with happened to discuss the case. "A senior physician who everyone considers a mentor said we would be branded" if they associated with whoever filed the complaint, Majerovich remembers.
Majerovich's complaint was ultimately rejected because she herself had not been denied access to an abortion. She agreed to be interviewed for this story in part because she believes it is time for change, having watched Edgar be marginalized by the same system she failed to alter.
In spite of the fact that Clinic 554's waiting room was often full and medical students cycled through the practice, the clinic could not dig itself out of financial precarity. That was partly due to the fact that, in keeping with Morgentaler's policy, Edgar refused to deny abortion services to anyone, regardless of their capacity to pay—most of the cost of unfunded abortions came out of his own pocket.
A physician's practice is not unlike a retail business in that a steady stream of sales—or billings—is required to keep the lights on, inventory on the shelves, and staff paid. To help defray building and operating costs, many doctors choose to work in shared offices. While many donations came in from the community, as the sole physician in his practice, Edgar was wholly responsible for covering the costs generated by Clinic 554. That requirement was constantly at odds with his commitment to treating marginalized patients with complex health care needs. Appointments with trans folks and people with HIV, substance use disorders, trauma, or mental health needs were not the quick, in-and-out checkups that the fee-for-service billing model rewards. "Those visits aren't the same as treating an earache," Edgar says. "You have to have more time to hear people, to make sure they feel cared for. Otherwise, you continue to perpetuate the higher rates of self-harm and suicide you see in those communities."
Colleagues from obstetrics and gynecology—Edgar's closest allies in the local medical community—tried to lobby in support of his patients. In a letter to the minister of health last August, Christa Mullaly, then the chief of obstetrics and gynecology at the Fredericton hospital, implored the minister on behalf of her department to fund surgical abortions at Clinic 554. "Our own department has accessed Dr. Edgar's expertise for complex abortion cases," she wrote. "Most physicians enter medicine to help people, but Dr. Edgar literally saves lives by supporting these patients and the LGBTQ+ community in New Brunswick. He is known for the pro-bono work that he simply cannot sustain." In a last-ditch effort, the New Brunswick Medical Society also issued a public statement in support of the clinic.
Despite all of that and the deepening need for Clinic 554's services, Edelman and Edgar found themselves out on an island. "I get the sense that physicians would lose a lot of social capital if they . . . came to work at the clinic," Edelman says. "I understand now, living in New Brunswick, that there is this thing where people can be shunned professionally. It's a small community."
Sara Davidson, a medical director of River Stone Recovery Centre, in Fredericton, has lived in the city for twenty years and describes coming up against a "conservative overlay" among doctors and bureaucrats that makes providing innovative care difficult. "More than once, we've heard, 'Things just aren't done that way here. It's just not done,'" she says, adding, "The great thing about living here is that it's like living in the 1950s in that it's really nice and everyone knows everyone. But it's also like living in the 1950s in that controversial or forward-looking health care for people is not as available. That includes abortion services or . . . sexual health services."
Yoshida, the Halifax abortion provider, says the resistance to providing abortion services in New Brunswick makes her "so sad and angry. We are all supposed to be professionals. There are always going to be public groups that are going to be very vocal about their opinions on abortions, but it's very disappointing when other physicians are."
The current premier, Blaine Higgs, was reelected last September with a Progressive Conservative majority. He has attended the annual "March for Life" anti-abortion rally in Fredericton on at least two occasions. Speaking before the crowd in 2017, Higgs, then leader of the opposition and backed by several MLAs, including the man he eventually made health minister, applauded attendees. "I'm proud of each and every one of you for being here. I'm proud of the conviction, which I share," Higgs said.
Higgs has implied in local media interviews that abortion clinics "are not what we value as a society" and insisted that access to abortion in the province is not an issue. "We're meeting the Canada health rules and the Canada Health Act," he said last year. (Higgs did not respond to multiple interview requests.) Despite increasing federal pressure, the prospect of the CCLA lawsuit, and pandemic conditions that pushed hospitals to capacity limits repeatedly during the past year, New Brunswick did not waver in its refusal to fund clinic-based abortions—even temporarily, to relieve pressure on hospitals or lower possible COVID-19 exposures.
Last winter, Higgs whipped his party to vote against a Liberal motion calling for an amendment that would allow funding for surgical abortions at Clinic 554. It was introduced by Liberal MLA Isabelle Thériault, who, the CBC reported, pointedly asked the nine sitting female PC MLAs to support it. "Women, sisters, we need you now," Thériault pleaded. "I hope that the women here who have gone into politics did it to advance the cause of women. Otherwise, what are we doing here?" Despite Thériault's pitch, the PC MLAs voted unanimously against the motion.
Whether the province is in violation of federal health rules will not feature prominently in the CCLA's case: the case law is divided on whether the federal government can take on that issue in court. Instead, lawyers will focus on whether New Brunswick's restrictions amount to a violation of the Charter. Kerri Froc, an expert on women's constitutional rights at the University of New Brunswick who has advised the CCLA, believes the case is strong. Her sense was underscored in June, when Tracey DeWare, chief justice of the Court of Queen's Bench of New Brunswick, granted the non-profit group not only the go-ahead to proceed but $5,000 in damages to be paid by the province. (New Brunswick challenged whether the CCLA ought to be allowed to bring the suit and argued that a pregnant woman seeking an abortion would be more appropriate to take it on.)
"That speaks volumes about what the judge thought of the government's case (not much)," Froc wrote in an email reacting to the decision. In an earlier interview, she expressed optimism that the CCLA case may be the beginning of the end for New Brunswick's restrictive policy. "There are rights to [reproductive health services]. There is no question that this is unconstitutional," she said. "I think the government was banking on this never coming to pass."
For Edelman and Edgar, the case may be too late. Last fall, as the CCLA was drafting its statement of claim, they made the difficult decision to drastically scale back services at Clinic 554. Edgar had hoped that they might sway the Conservative government by promoting the savings that would result from funding abortions at the clinic. "They wouldn't even meet with us," says Edelman. "It was like, Okay, how do we do this for another four years?"
The family practice, including trans care, at Clinic 554 is now closed; while the building remains unsold, Edgar is still providing abortions, IUDs, and pap tests one day per week. The other four, he has found work at the Canadian Armed Forces base in Oromocto, just outside of Fredericton. Edgar is also working with PEI to provide health care to transgender patients there.
The wait list for primary care physicians in New Brunswick has more than 40,000 people on it. Edgar's decision to shutter most services was not taken kindly by patients or critics, who have lambasted him for abandoning a much-needed practice and the government for failing to support him adequately. Some say he could have moved to a smaller building, stopped doing abortions, and prioritized the majority of his patients instead of a fight over principles. Edgar agrees that might have helped him keep the doors open, but not without fuelling inequities. "That's how the status quo persists, when people accept it and then become a part of it and then perpetuate it," he says. "That's not ever been my approach."
Edgar's goal is to remain in New Brunswick, though the terms of how that may work are unclear. "Being here feels like home . . . like it's part of my DNA," he says. "It's where I want to have my family.
"All of the patients that I worked with were so full of gratitude and so kind, respectful, generous, and helpful. I don't want to paint New Brunswick wrong. The majority of people I worked with . . . are so happy to have us here."
Why hasn't public policy shifted to reflect that? The answer, in the estimation of several New Brunswickers interviewed for this story, lies somewhere in the notion that elected politicians in the province, including a long succession of premiers, haven't necessarily reflected their constituents.
"It demonstrates the value of diverse representation," says Davey, the policy adviser. "The premiers . . . are all white men and had pre-dominantly similar caucuses. New Brunswick has never elected a person of colour. It has its record number of women elected right now"—which is both true and, because the figure is less than 30 percent of elected representatives, a good illustration of her concern. "When you have the same type of people making decisions, especially decisions like this, that have absolutely nothing to do with them, you get the same outcome."
Layered on top of that is New Brunswick's cultural reverence for tradition and discipline, plus the general lack of diversity and dynamism in the region, which is not known for a propensity to change. "It's a part of this thing Atlantic Canada sometimes gets a bad rap for, which is 'We've always done it this way, so why change now?'" Davey says.
For her part, Majerovich believes that politicians in the province have simply grown more accustomed to answering to one another than to their constituents. "There was no political will to change this regulation," she says. "Women in New Brunswick aren't treated like women in the rest of Canada."