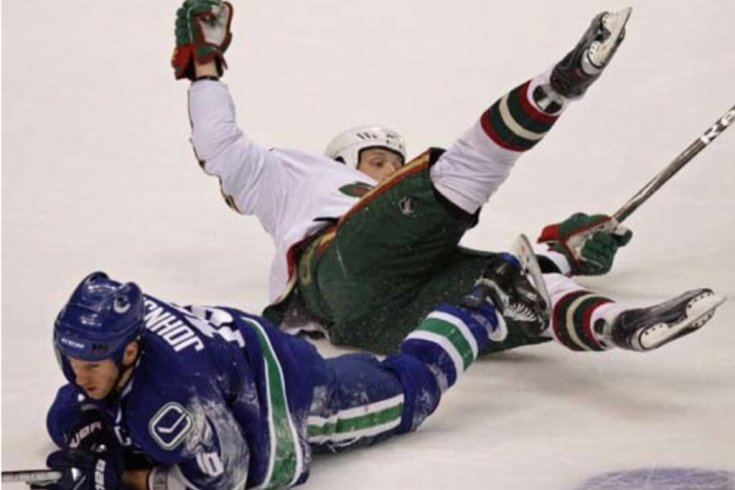 Back in the '80s, each September and again before the playoffs in April, an arcane custom known as the office pool would get under way across Canada. Among the more ardent participants in this competitive rite, which saw men and women gathering in smoke-filled rooms to divvy up NHL players for imaginary teams, was my dad, a math teacher at Our Lady of the Angels School in Fort Saskatchewan, Alberta. Every year on draft day, he would return home with a precisely marked chart in his briefcase, showing who had drafted whom and when. He would then hand the document to the school's chief statistician: me.
My dad and I both played hockey, but I may have sensed, watching his old-timers' games from the stands, that I didn't have NHL-calibre genes. Like him, I was a natural at math, which made it just as exciting to snatch the Edmonton Sun off the frigid concrete porch after its 6 a.m. Tuesday thump, flip to the stats page, and start tabulating. The pool formula was simple, even for a seven-year-old: player one's points plus player two's points, and so forth. The winning tactic, I soon realized, was just as clear: land the first overall pick, grab the Oilers' Wayne Gretzky, and try not to screw up the rest. If you wanted to study your way to victory, the best you could do was research which scrub would line up on Gretzky's left wing.
Luck and instinct were key for NHL general mangers in those days, too. A particularly poindextrous GM might consult plus/minus figures, but that was the extent of his statistical reach. Since then, though, a data revolution has arrived at hockey's door, led by stats geeks armed with "advanced" metrics that purport to show the game behind the game. Their esoteric innovations—things like Corsi numbers, Desjardins NHLes, and zone starts—have given us new tools to measure today's high-scoring Gretzkys, but also, for the first time, to account for the unsung dirty work traditionally done by the game's scrubs: its checking wingers, its defensive defencemen.
Not surprisingly, some traditionalists are wary of the new nerdery. Hockey, they insist, is about playing the game. (Pools, they imply, were an abomination legislated by Trudeau.) They deride the new stats and point to their guts as they argue their claims. Last spring on Hockey Night in Canada, for example, cbc's kaleidoscopic caveman, Don Cherry, and his gentle-geek foil, Ron MacLean, did a segment on the Corsi number. As MacLean explained, the Corsi was developed during the late '90s, when Jim Corsi, an nhl goaltender turned goalie coach, began counting the number of shots attempted on a player's net while he was on the ice versus those directed at his opponent's. For many fans, it has replaced plus/minus as the best way to measure the game's overall flow.
His summary finished, MacLean told Cherry that the worst player in the league, by this measure, was Ryan Johnson, then with the Vancouver Canucks. Over footage of Johnson courageously blocking shots, Cherry dismissed the "stupid" stat and its proponents, thundering that every NHL coach would be glad to have Johnson on his team, and in his day players had one number, the one on their backs, and on the rant went. Never mind that numbers also revealed Johnson's Corsi to be low because he typically started in the defensive zone: the bully had the dweebs in his sights.
Yet despite my perch on the dweeb tree, I'm sympathetic to Cherry's perspective. The game he inherited from his father, an electrician, then played as a defenceman on the NHL's margins, was visceral at its core. Cherry wasn't a skills guy. He made it on guts and a decent head for the sport. Small wonder that he has dedicated his broadcasting career to staking out turf for the game's less luminous talents. And smaller wonder still that he went into bully mode when those statistics came up. They seemed to threaten his guts.
What Cherry missed, I think, is that the stat-crunching nerds and the scrubs share a plight: they come at the game from its fringes. As a kid, I was awed by Gretzky, but I now know his talents were otherworldly. Then I developed as a person and a fan, and came to appreciate players with subtler assets—ones as unsung as my own. This season, my favourite Oiler was Dustin Penner, a smart-spoken Mennonite who entered the league undrafted. His main champions are those in the stats brigade, who can quantify his mastery of the scrub arts: positioning, puck control, defensive awareness. He's merely good as a scorer, but his Corsi is consistently strong. He was dealt before this year's trade deadline for a marginal return, underappreciated to the last.
Advanced statistics aren't perfect, but they make something important of the Johnsons and Penners, a goal you'd think Cherry would be on board with. The league leaders in Corsi, as of this writing, included a third line of whodats named Clarke MacArthur, Tim Jackman, and Mason Raymond. These are the Don Cherry all-stars: players who dig in the corners, pick up the right man, and never, ever wave their sticks lazily on D. They do the low-key work that Cherry, at his best, identifies and explains superbly.
Cherry, being Cherry, won't change his mind about stats, and that's fine. Hockey's house has many mansions. Like him, I arrived at mine through my dad, and I'm a better fan for it. To know, through data, the worth of all parts of the game—that speaks to me of maturity.
Every Dog Has Its Day
Rising grooming costs may have upended the traditional dog show hierarchy
Over 135 years, the Westminster Kennel Club dog show has become the most prestigious canine competition in the world—and the most expensive for participants. According to reports by the Wall Street Journal and Fox Business, owning a Westminster-bound dog is now comparable to owning a professional racehorse: between hiring trainers to live with the animal and "dog taxis" to cart them around New York, as well as special food, spa visits, and promotion before events, some owners shell out as much as $1 million (US) on their furry hopefuls. The results have been unexpected: inflated expenditures have coincided with an increase in victories for the proverbial underdog. In 2006, a bull terrier named Rufus became the first of his angular-looking breed to win Best in Show since 1919, while the next year an English springer spaniel named Diamond Jim took top honours—an upset against tony breeders, given Jim's working-class roots as a therapy dog for Alzheimer's patients. Since then, a beagle, a ten-year-old Sussex spaniel (the oldest Westminster winner ever), and a goofy Scottish deerhound named Hickory have emerged victorious. Apparently, hundreds of hours of training, combined with hundreds of thousands of dollars, have given the scruffier breeds a leg up.
—Chris Berube
This appeared in the June 2011 issue.