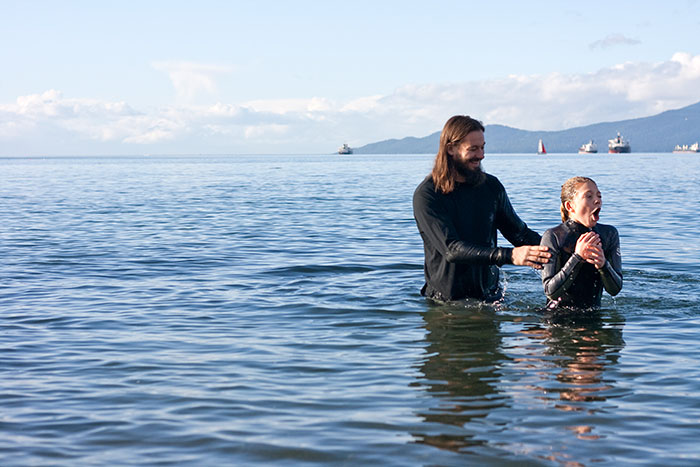 On Sunday mornings at the Charles Dickens School gym in East Vancouver, a two-metre-tall wooden cross stands below the basketball net. Rows of folding chairs fill up with college-age students, young families, and the occasional grey-haired coffee sipper. Then the house band fires up, a bass drum pounds out the beat of gospel-themed rock, and Pastor Kris Martens ambles in on guitar and takes his place behind a music stand pulpit. He carefully strums along with the soaring ballads; his sermonizing is blunt, fervent, and often funny. "If you hear anything at Reality, we want you to hear Jesus," he says.
Tall with long hair, Martens is the lead pastor of Reality, a "church plant," one of a growing number of start-up congregations that worship in Vancouver's libraries, cinemas, community centres, and schools. Armed with a bachelor's in missiology and a master's in business administration, he left British Columbia's Sunshine Coast—and his home church, Christ the King—to settle with his wife and six children in Vancouver's gritty but increasingly gentrifying Downtown Eastside. There, he discovered a bohemian and "very questioning" community—just the right milieu to jump-start Reality, a Mennonite Brethren plant.
"Who I am and how I understand the Gospel and the story of Jesus is very compatible with East Van," he explains. "I have a desire to engage with that." He engages with his flock by forming clubs like the Reality-based outdoors group RECreate, and Bible study gatherings like Men's Fight Club: Discipleship the Dudes. Any day of the week, the Minister of Fraser Street may invite a lonesome soul home to share prayers over pizza. And, like a good salesperson, he's not afraid to hear no for an answer. "Our job is to love our neighbours," he says, "including those who don't love us."
The Afterlife of Churches
Skateboarding as a form of secular worship

Ryan Snook
In The Catechism of Positive Religion: Or, Summary Exposition of the Universal Religion and System of Positive Polity: Theory of the Future of Man, nineteenth-century French philosopher Auguste Comte predicted the decline of religiosity, and outlined a system of secular worship to reconcile reason and ritual. But what would he think of Skaterham, the Victorian Gothic chapel–cum–skate park? Amid a widespread decline in church attendance, the former Caterham army barracks chapel was deconsecrated in the late '90s and converted to its current form in 2002. Instead of sitting in pews, its 6,000 or so members zoom down ramps, half-pipes, and quarter-pipes, and launch themselves into a foam pit. Brightly coloured graffiti on makeshift walls now complements the original iconography. While it may not involve the kind of ceremony Comte envisioned, Skaterham serves a congregation all the same.
—Gregory Furgala
East Van's mixed population turned out to be a good fit for his inclusive approach to ministry. Since the fall of 2008, Reality's Sunday congregation has grown from twenty-five to a boisterous 200, even while established Anglican and United churches across Canada struggle to keep their doors open.
Christian church builders face a particular challenge in Vancouver. In the 2001 census, more than one-third of British Columbians reported having no religion, rivalling Yukon as Canada's most secular society. And in a notoriously expensive city like Vancouver, the cost of building a large monument to God is prohibitive. Church plants can be flexible and experimental, says Robert Burkinshaw, who teaches evangelicalism in British Columbia at Trinity Western University, and, in a time-honoured, 2,000-year-old tradition, can deliver Christianity without the "bricks and stained glass."
Even a bare-bones operation like Martens', however, needs seed money. His plant has received about $80,000 in church-based funding over the past three years. Church Planting BC pays his salary through an apprenticeship planter program, and Reality gets monthly support from a larger, more established church, to help cover office costs, and to aid in "maintaining presence in our neighbourhood outside of Sunday mornings." Primarily associated with the Mennonite Brethren (which has swelled from seventeen to more than 100 congregations in BC over the past fifty years), CPBC is a multi-denominational organization dedicated to fostering local plants.
"We are still planting Mennonite Brethren churches (and are proud to do so!) but we recognize that no single denomination will be able to reach the great cities of our day," CPBC's website explains. Building bonds among evangelical church plants that serve diverse communities is "scriptural," says Gordon Fleming, CPBC's enterprising director, and it works particularly well in cities, which are by their very nature diverse. Working across denominations is also crucial to advancing the organization's mission to boost the church's profile in Canada.
In five short years, the number of CPBC plants has jumped from three to twenty-five and nearly 3,000 parishioners. The network contains plenty of niche market variety, with room for the Arabic Church and the Artisan congregation (the latter filled with Vancouver's churchgoing creative types). Dennis Wilkinson, a new planter in Vancouver's West End, is courting a neighbourhood of young singles, gay people, and retirees. "This is an area that's quite sure it doesn't need God," he says. Undaunted, he sees only challenges and opportunities.
CPBC provides planters like Martens with leadership coaching and a rigorous funding and organizational structure. Rookie planters are paid a gradually declining salary for the first three years, until their plant becomes, ideally, self-supporting. Fleming in turn drums up funds by jetting across the country and appealing to churchgoing business leaders. A former senior manager of a restaurant chain, he talks up the financial sacrifices planters must make to live in the city, and encourages would-be "investors" to chip in. CPBC's $1.8-million budget also receives contributions from larger, still-solvent suburban churches of various denominations, including the Mennonite Brethren.
Fleming also oversees a pan-Canadian church planting network called C2C, a nod to Canada's motto derived from Psalm 72:8: "He shall have dominion also from sea to sea, and from the river unto the ends of the earth." He views C2C as a national expression of CPBC's model. "We see this thing taking place in Vancouver, Edmonton, Calgary," he says. "It's because God is sending workers to the city."
In the meantime, Martens continues to baptize Reality's believers in the Pacific Ocean. His plant is not yet self-supporting, but with current growth levels he hopes to be solvent soon—though he remains all too aware that some church plants never reach that point. "If God shuts it down, that's his business. But as far as we're concerned, we're committed to the gospel, to Jesus and this city," he says. "We're here to live and die on this hill."
This appeared in the June 2012 issue.