Over the past almost two years, pretty much everyone can say they either know someone who is struggling with depression, anxiety, or another mental health condition, or they've experienced it firsthand themselves. Canadian health professionals already knew there was a burgeoning mental health crisis and not enough research or support to address it, but the pandemic has only exacerbated the issue. According to a recent poll from Mental Health Research Canada, the rate of high levels of depression doubled over the course of the pandemic—from 8 percent pre-pandemic to 16 percent in fall 2021—and the rate of high levels of anxiety nearly tripled, reaching as high as 28 percent in spring 2021.
These numbers are just the beginning, though. The pandemic has had a disproportionate impact on the mental health of young people and marginalized communities—particularly racialized and 2SLGBTQ+ folks. One Canadian study found that upwards of 70 percent of children and adolescents aged 6-18 felt at least one aspect of their mental health declined during the COVID-19 pandemic, but for those from communities with pre existing vulnerabilities, like low socioeconomic status or being racialized, the rate of deterioration was much worse.
A youth mental health crisis
None of this surprises Fae Johnstone, executive director of Wisdom2Action, a social enterprise and consulting firm specializing in diversity, equity, and inclusion, who notes that it's well understood at this point that mental health services are not where they need to be.
"We have children and young folks across this country who are struggling to access any kind of service—either chatting with a counsellor or a therapist, or trying to access more intensive support," she explains. "So I think writ large, particularly during a global pandemic, we are seeing really terrifying needs in the community, especially among young folks, and that's only going to continue."
These dire statistics are part of why Brain Canada has committed to helping scientists find solutions through its new Mental Health Research Initiative. To date, the foundation has invested more than $30 million in projects with a primary or secondary focus related to mental health research. This new Initiative will reduce the funding gap in mental health research relative to other areas of health research with its three complementary funding programs: Investing in Basic Mental Health Research, the Brain Canada Youth Mental Health Platform (powered by RBC Future Launch), and the Bell Let's Talk-Brain Canada Mental Health Research Program.
According to Brain Canada President and CEO Viviane Poupon, "One recent partnership, the Brain Canada Youth Mental Health Platform, powered by RBC Future Launch, is the first national open-science platform of its kind, collecting data from diverse stakeholders to build a better understanding of youth mental health and to work together collectively to improve health outcomes for young people in this country."
The role of diversity in mental health research
Diversity and equity are key factors that need to be addressed in all aspects of research. According to Johnstone, current best practices in mental health care are largely based on studies about white people, straight people, and middle-class kids. This begs the question: how can people from racialized communities and 2SLGBTQ+ communities benefit from research they are excluded from in the first place?
"Our understanding of depression, anxiety, and mental health is impossible to fully divorce from the realities of white supremacy, the realities of colonialism," Johnstone notes. "And so what I'm excited for with Brain Canada is the process of bringing that research together and making it more readily available, helping bring more data sets to the conversation so that we can look at different populations and understand different kinds of preventions. On top of that, they're making it open access so different clinicians and providers across the country can leverage that research."
Dr. Myrna Lashley, a professor in the Department of Psychiatry at McGill University, wants health professionals to remember that marginalization is one of the social determinants of health—whether it comes in the form of disability, gender diversity, or racial identity. "Stop asking what's wrong with [marginalized] people when you see they've got cardiovascular problems or addictions and start asking yourself what's been done to them?"
Johnstone, who is trans herself, agrees with this sentiment. The tendency to disconnect evidence and academia from community experience is rife in mental health research.
"We want objective data," she notes. "But what does that mean when scientists are just recreating their own suppositions or assumptions and how they perceive the research?"
Hopefully, increasing the diversity of data sets available to scientists, clinicians, and mental health care providers can create a sea change in how marginalized communities are treated in the medical system. Beyond that, though, bringing not just diversity but also equity and inclusion into mental health research and interventions is key.
"We tend to say equity-diversity-and-inclusion, so it's one long word," Dr. Lashley says. "But actually, there should be a semicolon between each word because they're three different subjects. We can have diversity, but that doesn't mean we have equity, and it doesn't mean we have inclusion."
On that front, there's growing interest in training mental health researchers to talk about and understand equity. In addition, it's crucial to support those with lived experience—as well as professional expertise—as they conduct research from within their communities. Brain Canada hopes to eliminate the disparities marginalized communities face in mental health research by closing the funding gap.
"I think the hope and the call here," says Johnstone, "is to really fundamentally shift how we talk about and try to address the mental health crisis."
Honouring Indigenous families
Early childhood is a critical chapter of development. The things we learn and experience during this time set the stage for later success. In Indigenous communities today, damaging past and present colonial realities have given way to disruptions in parenting and traditional child-rearing practices.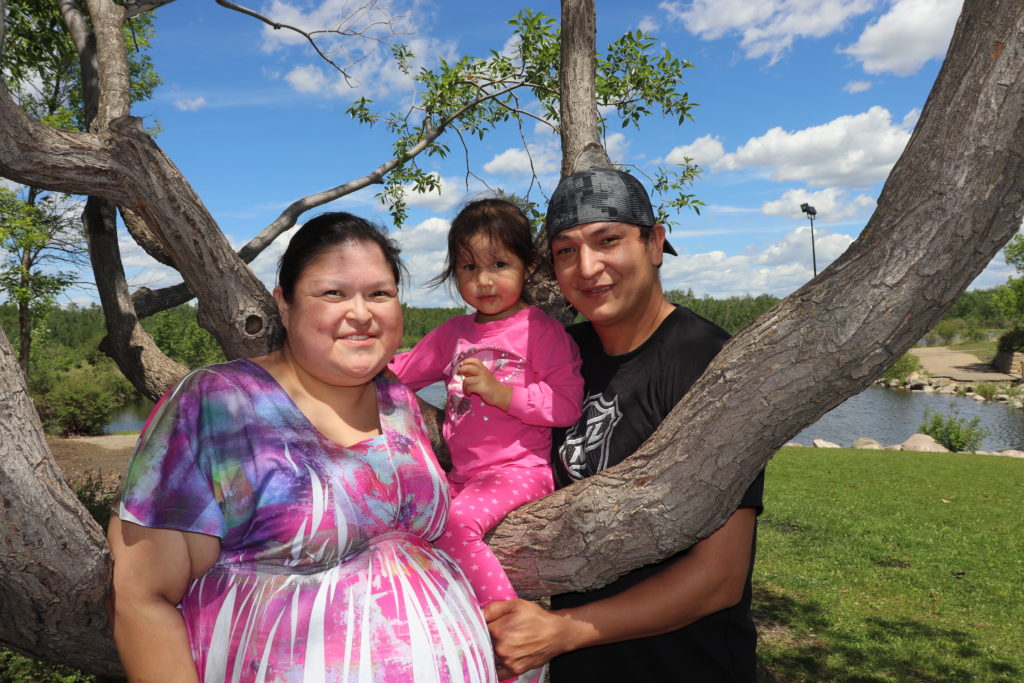 Participants in the Early Years Program
It's for this reason that Brain Canada helped fund the Martin Family Initiative's The Early Years pilot program at Ermineskin Cree Nation in Alberta. Together, MFI, Maskwacis Health Services, and the Maskwacis Education Schools Commission co-developed this prenatal-to-early-childhood intervention program.
The Early Years program was founded on the essential recognition that lifelong well-being begins at the earliest stages of life, with the relationship between a parent and their infant, and that the opportunity to form that critical bond is one that no parent or child should be denied. From prenatal to preschool, The Early Years provides Indigenous children and their families with consistent and comprehensive programming to foster healthy development and overall well-being.
Now in its fourth year, the pilot program incorporates original resources that weave together Indigenous-led community innovation and ground-breaking scientific research in early childhood development. Building upon the success of The Early Years at Ermineskin Cree Nation, the program has been expanded to serve the three other nations that make up Maskwacis.
Support Brain Canada's work in mental health research, visit www.braincanada.ca/donate
Opening image by iStock.com/studiostockart.