How a Sexual Assault Case in St. John's Exposed a Police Force's Predatory Culture
Winning a sexual assault conviction against a cop is hard. That didn't stop Jane Doe
Published 6:30, Oct. 16, 2023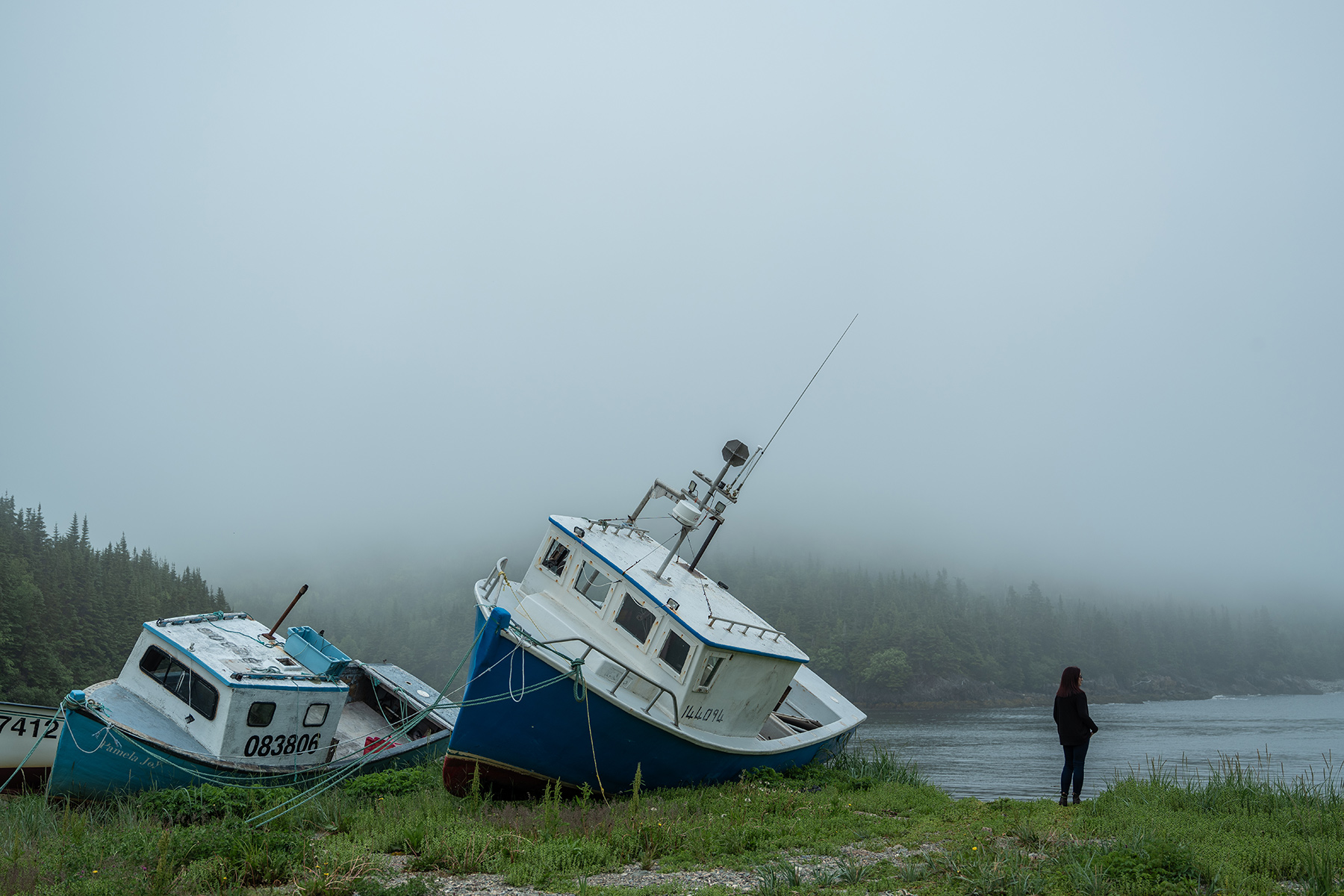 A portrait of Jane Doe on a Newfoundland beach near where she now lives
This story contains details about sexual assault that some readers may find disturbing.
It was late January 2015, after midnight, when one of the few female officers at the Royal Newfoundland Constabulary received a call on her police radio. "Unknown trouble," said the dispatcher. A woman was upset. She had been drinking, was confused by her whereabouts, and feared for her safety.
"I'll go," constable Kelsey Muise radioed back.
Muise (then using her maiden name Aboud) pulled over when she saw a young woman with dark hair and glasses standing on the side of Newfoundland Drive in St. John's. The woman, known today only as Jane Doe, asked to be taken to a friend's house. In the back seat of the patrol car, she said, "I need to tell you something." Jane Doe gulped back air and began crying hysterically. Muise pulled into a convenience store parking lot and flicked on the dome light. She turned to her passenger to better take in what she was saying.
As Jane Doe would later explain in court, she'd left a bar shortly after 3 a.m. four days before Christmas. She descended an alleyway of stairs and stepped into a downtown street. She was drunk and wanted to go home. Scanning for a taxi, she noticed a patrol car close by. She discussed a ride home with the policeman, and he unlocked the back door. A cop was safer than a cabbie, she figured, and got in.
After a few minutes, they pulled up outside her basement apartment. Jane Doe couldn't find her keys. The officer discovered an unlocked kitchen window and slid it open for her to climb through. He came to the back door to make sure she was okay, and Jane Doe let him in. The two stood talking in her living room. They kissed, and then, feeling too drunk to stand, Jane Doe sat on her brown loveseat. She passed out and came to at the sound of the police officer's voice. She was naked, and he was standing over her, penetrating her anally. He said he'd missed two call-outs and had to go. Jane Doe recalled seeing him in her bathroom, adjusting his uniform. The whole encounter, a jury would later learn, from the time the police officer parked outside the apartment to when he left, lasted about nineteen minutes.
The next morning, Jane Doe awoke in bed, confused. Her flowered crop top and purple high-waisted pants were strewn on the living room floor. There were muddy footprints on the white kitchen countertop. It hurt to go to the washroom. And there were friction burns on the inside of her thighs. She also noticed bruises on her legs.
In the back of Muise's cruiser, Jane Doe's story came tumbling out. She didn't even know the name of the police officer who had driven her home. All she knew was he had short hair, was taller than her, and looked like he was in his thirties. Over the course of the month since the assault, Jane Doe had wavered between blaming herself and wondering if she could have stopped or changed what happened. She felt too scared to go to the police. "Who's going to believe me?" she confided to a friend at the time.
After more than an hour, Muise drove Jane Doe home and hugged her goodbye. Someone would be in touch, she said. Then Muise took a deep breath. She had witnessed inappropriate and illegal sexual behaviour at the RNC before. It had always been brushed aside. But she vowed it would be different this time. She wasn't about to let this one go.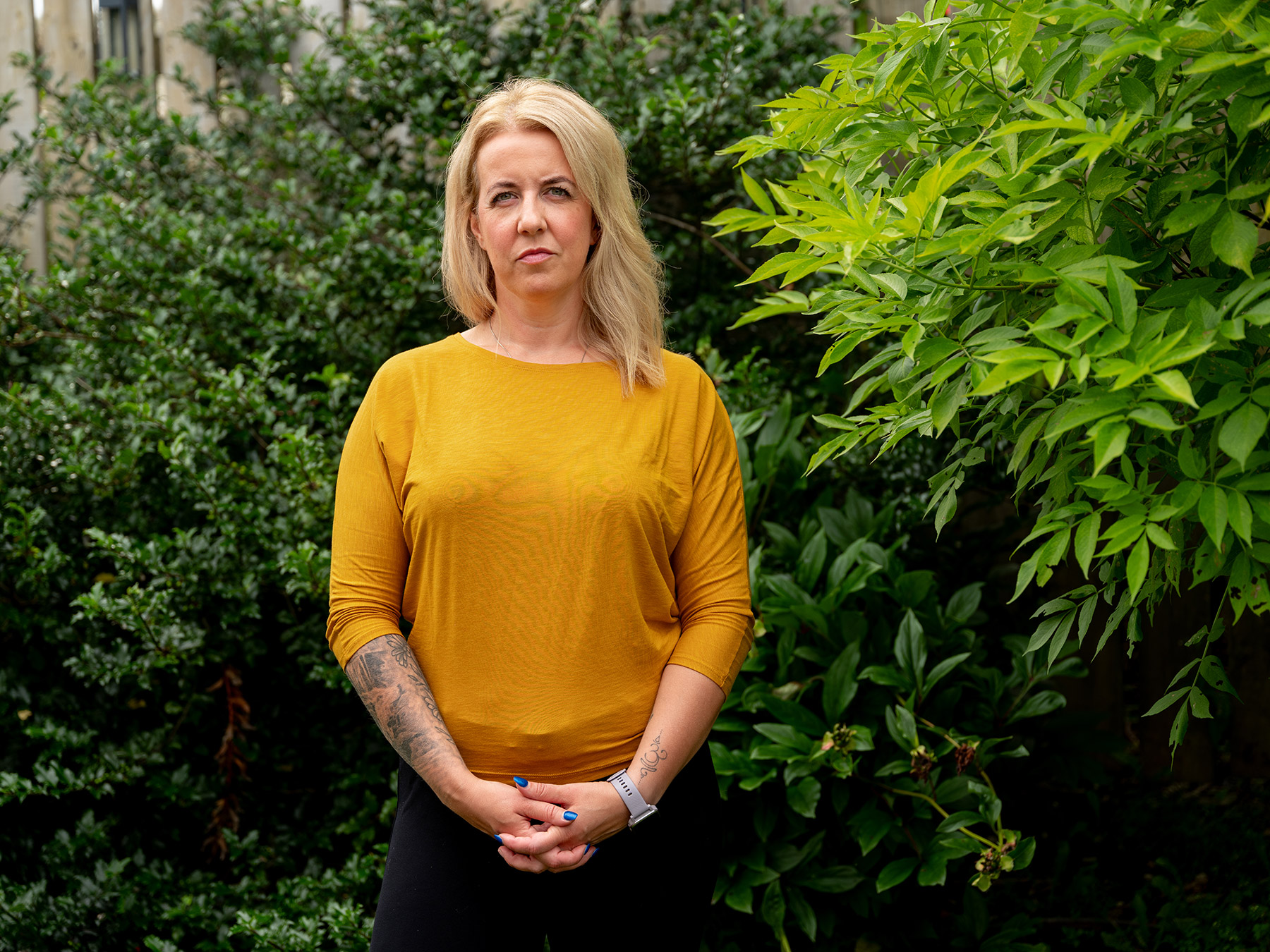 Kelsey Muise outside her Newfoundland home
The Royal Newfoundland Constabulary, one of the oldest police forces in North America, was officially founded in 1871. For more than a century prior to that, British soldiers had helped police St. John's, but when Britain decided to withdraw its garrison from the port city in 1870, Newfoundland was left to set up its own force to maintain law and order. The next year, a notice appeared in the Royal Gazette. "Wanted, a few strong active young men between 19 and 27 years of age," read the ad. "They must be well recommended for honesty, sobriety, and fidelity." The Newfoundland Constabulary moved into Fort Townshend, the former headquarters of the British garrison, where it remains today in a modern brick and glass building. About 400 officers serve the major towns and cities in the province.
The RNC swore in its first female members in 1980—six years later than the Royal Canadian Mounted Police, which also patrols rural areas in the province. Women had already been part of the constabulary for more than two decades by the time Muise arrived, at age twenty, shortly after graduating from the Atlantic Police Academy in Prince Edward Island. She was blonde with green eyes and a shy smile. She'd grown up around the police officers who visited her father's tow truck business at their home in Sydney, Nova Scotia. Those officers were kind and friendly, and as she got older, Muise realized she wanted to help people like they did. As a kid, she tried to rescue every stray cat and dog she encountered. Once, at a movie theatre with her mother, she got up and sat with an elderly man who was sitting alone.
Arriving in a new city where she had her own apartment and car felt freeing and exciting. But it wasn't long before she started to see, as a patrol officer, the harshness of the real world, one where men threw women through walls and beat their faces bloody.
She often took flak, for being so young and also a woman, from people she was arresting.
"What are you gonna do?"
"Are you even old enough to be here?"
And so she'd hit the gym, to lift weights, so that even if those around her didn't think she could handle herself, she knew she could. She was stationed in the west district where, at the time, there were a handful of female officers. The first time she remembers a colleague saying something unsettling to her was in the parking lot of the police station. "How many fucking batteries does your baton take?" a much older constable asked. Muise, taken aback, laughed stiffly. She felt she had to try to fit in.
It became obvious that some of her fellow male officers didn't see her as one of them. She recalled walking into a meeting room and glancing around for a seat. One officer tipped his head back and waggled his tongue in the air. "You can sit right here," he said as the room full of men chortled in unison. She'd grown up with an older brother and was familiar with juvenile male behaviour, but this was far worse than she had expected.
That same year, an officer brandished a furry highway patrol hat in front of his crotch. "Does your curtain match your drapes?" he asked as the room erupted in laughter. Embarrassed, Muise walked away. These were the people who were supposed to be protecting women?
After meeting Jane Doe, Muise took a moment to collect herself. She knew how rare it was for survivors to come forward in the first place. She had heard about male colleagues declaring reports of sexual violence "unfounded," or baseless. That meant no arrest, no trial, no conviction and no punishment. So, instead of filing a report in the computer system as she normally would, Muise turned in a handwritten report to the active sergeant that night—someone she trusted. The complaint moved swiftly up her chain of command and ended up with the RNC unit that deals with sexual assault cases.
Later that morning, sergeant Tim Hogan was at home when his work cellphone rang. A seasoned cop in charge of the child abuse and sexual assault unit, he was ordered to take over the investigation. Hogan arranged for Jane to be interviewed that weekend and listened as she tearfully recounted the assault. He felt certain there was enough to continue the investigation, but he had to move quickly. Careful to loop in only senior staff to stop news of the investigation from spreading, Hogan brought on the supervisor of the police communications centre. At the time, the centre used GPS to monitor the location of police vehicles. The supervisor searched those records, looking for the cars signed out on the night of the assault. They showed car number 221 had been parked outside Jane Doe's address. Communication logs revealed that dispatch had called for the officer twice around 3 a.m.
Next, Hogan and a forensic identification sergeant visited Jane Doe's apartment. She showed them where the assault had occurred, then she waited outside with her family. The sergeant shone a UV light on the middle of her brown loveseat and saw an effervescent blue glow, signalling the presence of human bodily fluid. He unzipped the cushion cover and sent it to a lab.
Hogan knew it would be difficult to keep the investigation quiet within the constabulary. There was no way they could use their own surveillance teams. His supervisor reached out to the RCMP, and Hogan asked them to help surveil the suspected officer and obtain a DNA sample.
On a drizzly day in February, the Mounties staked out an off-duty cop at a local Starbucks in St. John's. When he got up to leave, they snagged the white ceramic mug he had been drinking from and slipped it into an evidence bag. The DNA from the loveseat was a near-perfect match of the DNA from the mug. It belonged to Carl Douglas Snelgrove, a thirty-seven-year-old married street patrol cop. He had been on the force for a decade.
That summer, an officer arrested Snelgrove and read him his rights, the same words Snelgrove had said to others over the years. This time, he was one of the bad guys.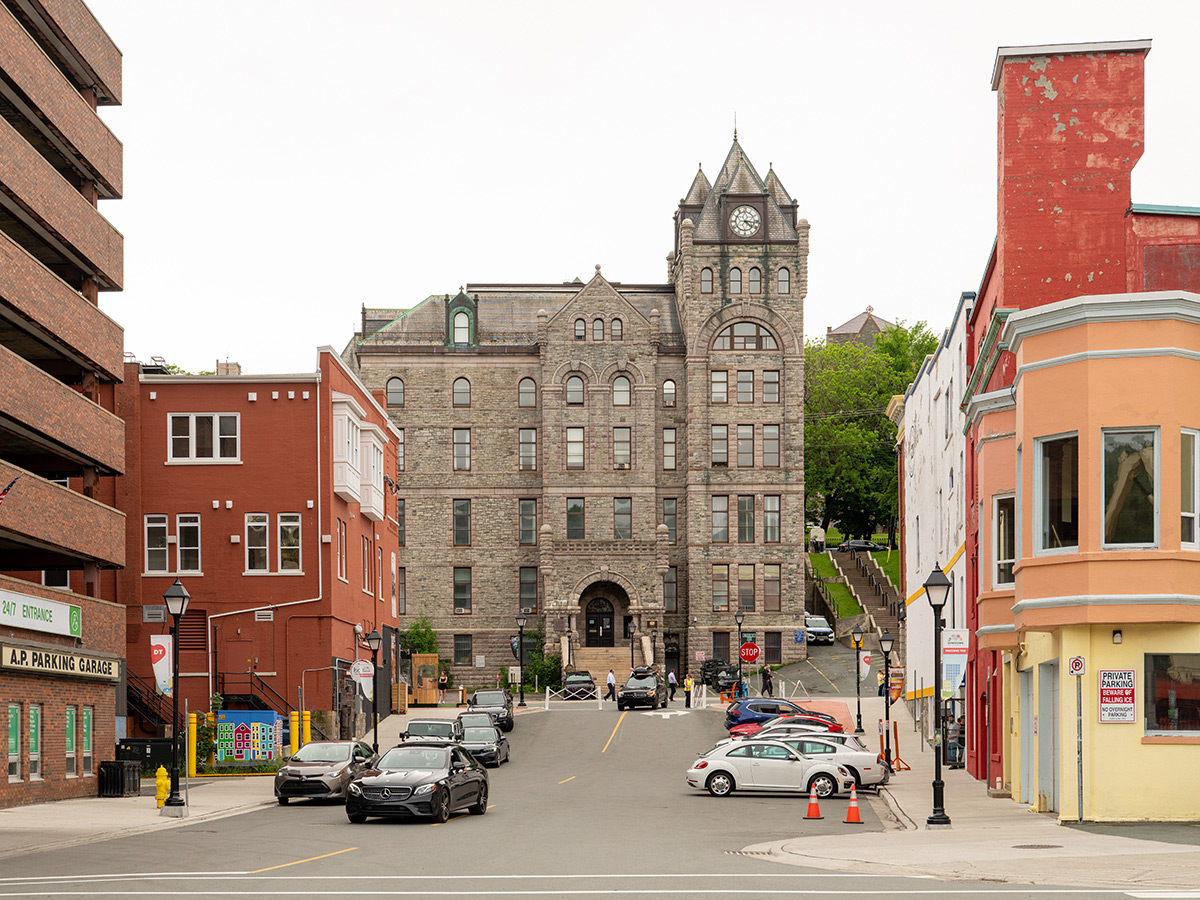 A year and a half later, in 2017, Jane Doe trudged up the stone steps of the fortress-like Supreme Court of Newfoundland and Labrador. She wore her first ever suit—a black polyester jacket and slacks carefully purchased at the mall after she googled "what to wear in court."
In the courtroom, Jane sat on a wooden bench alongside her parents, sister-in-law, an aunt, and some cousins. Her two brothers, who had always looked out for her, were absent; they couldn't face being in the same room with the cop who had violated their baby sister.
The odds were against her. Winning a sexual assault conviction against a cop is hard. A September 2022 study by Kate Puddister and Danielle McNabb, published in Women & Criminal Justice, looked at this problem in Ontario, analyzing the outcomes of 689 reports of police-involved sexual assault made to the Special Investigations Unit, a police oversight agency, between 2005 and 2020. According to the findings, only 7.4 percent of those reports resulted in criminal charges, and only 1.59 percent ended in a conviction and sentence. It's not difficult to see why the rate is so low. Cases often hang on the credibility of the complainant versus that of the accused. And here police have advantages. They enjoy built-in authority in the justice system—a system they know their way around.
This was the institutional machinery and lopsided dynamic that Jane Doe faced as she took the stand, reliving the night of the assault and describing it in detail. The job of undermining Jane Doe's story went to Randy Piercey, Snelgrove's defence lawyer at the time. Piercey maintained that all sexual activity was consensual. Throughout the trial, he tried to chip away at the claim that Jane Doe had felt coerced. He focused on her choices after leaving the bar the night of the assault.
"Why did you go alone?"
"Why not go to your friends?"
"You felt confident enough to go get a cab at that hour of the morning by yourself?"
At one point, Piercey showed the jury a photo of the basement window Jane Doe had climbed through, to argue that she wasn't as intoxicated as she said she was.
"Did you have any difficulty getting through that window?"
"No," she said.
"Even at your size, I imagine it was difficult to get in through that window?"
"No," she said. "Not for me."
The lawyer asked her to describe the counter height and whether she had any trouble getting down: "Would you agree that, even sober, that would not be an easy thing to do—climb into the window onto the countertop and down onto the floor?"
"I don't know," she said.
"OK, but you can imagine, sober—is that something you would want to be doing every day?"
"No," said Jane Doe.
"So, I would suggest to you that you would appear to be sober when you did that," said Piercey.
"OK," she whispered.
"Would you agree or disagree?"
"Well, I wasn't," she said.
"But if someone was looking at you, and saw what you were doing, would that not give them a message about your degree of intoxication?"
"I guess," she said.
Piercey seized on the fact that Jane Doe had told police she couldn't remember whether she consented or not. He argued that not only created reasonable doubt about her level of drunkenness but left open the possibility she was aware enough to make decisions—including agreeing to sexual activity. Later, when Snelgrove took the stand, he delivered his script: she didn't seem drunk, she invited him in, she took her clothes off, she wanted it. To Jane Doe, he sounded confident, cocky even. Dudley Do-Right tricked into unzipping his pants.
The case against Snelgrove rested on the definition of consent. Sexual activity in Canada is legal only when both parties agree to it, and, as the courts have interpreted it, consent must be communicated voluntarily and affirmatively, either through words or conduct. It can't be inferred from silence or passivity.
Crucially, the criminal code has a provision for situations where the accused has abused their position of trust, power, or authority to commit a sexual crime. Crown prosecutor Lloyd Strickland argued that the presiding judge, justice Valerie Marshall, needed to instruct the jury on that provision. The Crown was confident that the jury would come to see that Jane Doe could not have consented because she was either unconscious or too drunk. But even if she had said yes, the Crown maintained, this still didn't meet the legal threshold for consent: Snelgrove could have induced her into sexual activity by exploiting her feelings of trust in him.
Consent must be communicated either through words or conduct. It can't be inferred from silence or passivity.
Justice Marshall wouldn't accept that. Because Jane Doe could not recall what had happened, the judge pointed out, there wasn't enough evidence that Snelgrove had attempted to leverage his position to gain consent. It was thus unfair, she argued, to instruct the jury on this aspect of the law. And so, uninstructed, the jury never considered it.
It took two days for jurors to declare Snelgrove not guilty. Immediately after the foreperson uttered the words, Jane Doe was whisked, sobbing, out the back of the courtroom by supporters.
Outside, a protest erupted. A crowd lingered on the steps of the courthouse until nightfall, chanting, "No excuse for violent men." The next day, the courthouse door had been pelted with eggs. The downtown was defaced with graffiti: "Believe victims," someone had sprayed in white letters. "St. Johns cops believe in rape" and "Fuck u RNC."
Jane Doe, encouraged by the protest, decided to keep fighting. The Crown appealed on her behalf and won. Her lawyers argued that the jury should have been allowed to consider the power differential. In the fall of 2018, two of three appeal court judges agreed, a decision later upheld by the Supreme Court of Canada in 2019. "It would have been open to the jury to conclude," wrote Supreme Court justice Michael Moldaver, that "the accused took advantage of the complainant who was highly intoxicated and vulnerable, by using the personal feelings and confidence engendered by their relationship to secure her apparent consent to sexual activity."
The Supreme Court of Canada decision paved the way for a new trial. By then, it had been five Christmases since Jane Doe had stepped into Snelgrove's patrol car. After months of being jolted awake at night, sweaty and scared, she had started on new antidepressants and completed two programs at community college. Still, she felt stagnant, like she couldn't heal. St. John's no longer felt safe. She worried she'd run into him. So she moved to a remote cove hours away.
The retrial was set for March 2020 but took place in September due to pandemic delays. Proceedings were held in a former school in St. John's to allow for physical distancing. The case captured the attention of the island again, but things unexpectedly unravelled. About eight days in, before the verdict was delivered, the presiding judge declared a mistrial after improperly dismissing two jurors.
Jane Doe, increasingly exasperated, agreed to try again. A third trial, under a different judge, took place in the same building in May 2021. The city blossomed with support. There were signs, some hand drawn, in the windows of homes, cars, and businesses all over St. John's. "Three trials is too many," said one. "We believe survivors," said another. A woman painted rocks with messages of support and tucked them beside the hyacinth and heathers of her garden. Students hung banners in solidarity. Many updated their social media profiles with a post that said #SupportForJaneDoe.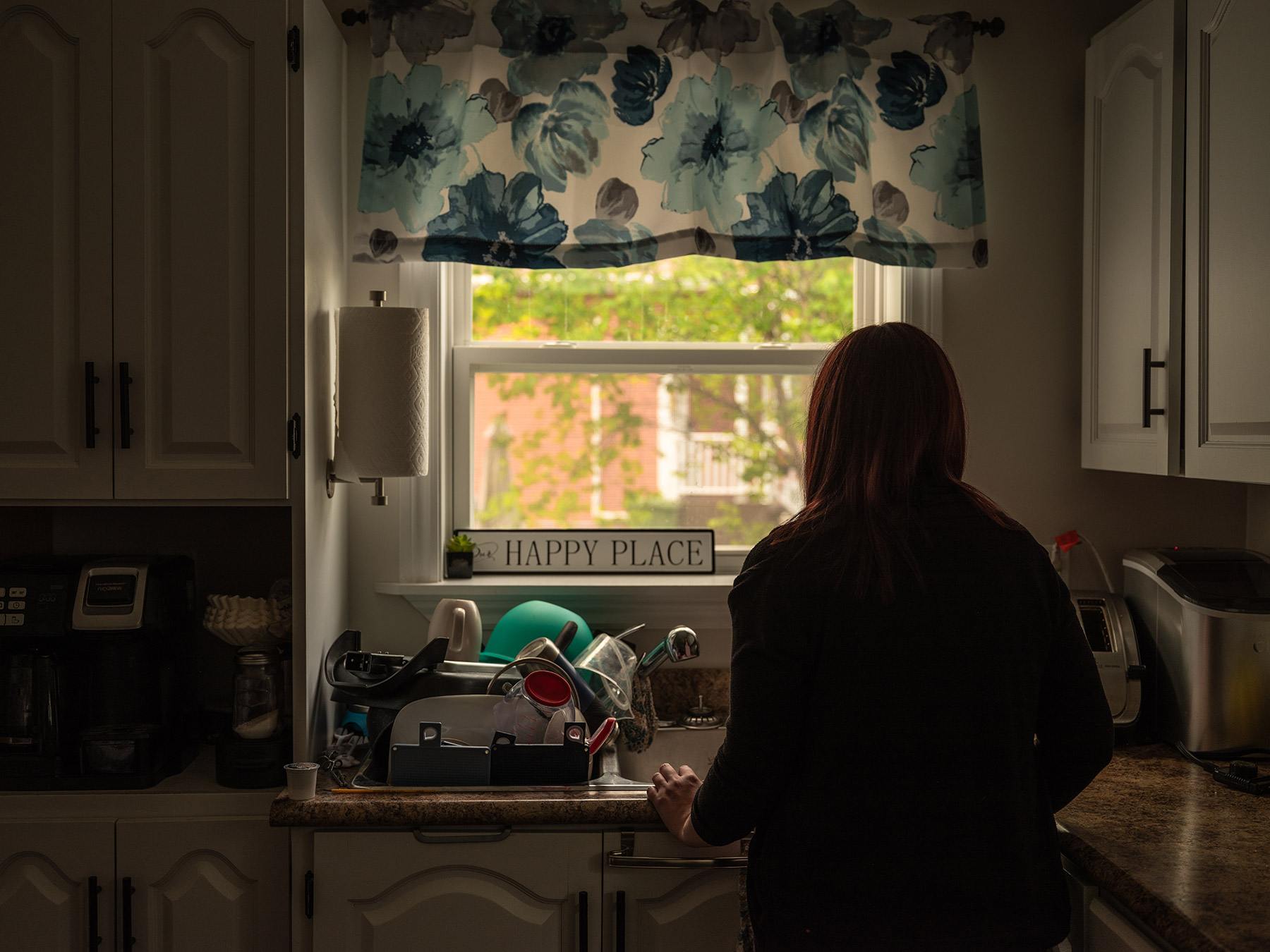 Jane Doe by her kitchen window
Jane Doe was advised to keep her composure in court. If you start to feel angry, ask for a break, she recalled being told by the Crown and victim services. On the stand, Snelgrove's lawyer pressed her about her decision to seek advice from a litigation lawyer in the early days of the police investigation. Piercey seemed to suggest what Jane Doe was really after was a cash settlement. "You wanted to find out if this jury is going to find him guilty, then you will pursue him civilly," Piercey said to her during cross-examination.
"No," Jane Doe cried. "I just want this over."
Piercey swung again. He accused Jane Doe of waiting for the outcome of the trial before going forward with a suit. He kept needling, trying to get her to say she was going to sue. "If they convict, you'll consider it?" he asked.
"It's a consideration," yelled Jane Doe. "I just don't know."
The jury deliberated for two days. Jane Doe and her family members gathered in one of the school's empty classrooms, waiting to hear the verdict on a television broadcasting from the room. At the word "guilty," her jaw dropped. She sat in disbelief. Her mother, who had taken time off from her job as a grocery store cashier to be with her daughter, felt a rush of pride. Everyone had underestimated her daughter, she thought—"that tiny scrap of a thing."
In the parking lot, Muise, the police officer who had picked Jane up that cold January night more than six years earlier, sat in her Jeep. Tears streamed down her face when she saw the verdict on Twitter (now X). She had hoped to catch Jane Doe's eye when she left the building, but instead, she spotted Snelgrove being escorted in handcuffs.
Outside, supporters cheered and hugged. Cars and trucks blew past, honking in support. Across St. John's, a dozen billboards flashed the words "Support for Jane Doe." In the small fishing town where Jane grew up, members of a women's dart tournament held a moment of silence.
In November 2021, Snelgrove was sentenced to four years in prison. He shook his head as the judge declared him a federal sex offender and stood as a sheriff clinked handcuffs on his wrists behind his back. He faced a row of mostly female supporters, who included his wife. She wore a pink sweater, her hair in a bun, and put her fingers to her mask, as if to blow him a kiss.
Lynn Moore, a litigation lawyer who had given Jane Doe advice in the early days of the police investigation, wrestled with what to do. After Snelgrove's conviction, a credible source provided details suggesting that the culture of sexual misconduct within the RNC ran deeper than anyone suspected. On July 19, 2021, Moore turned to Twitter and asked for information about other assaults by on-duty police officers. Her phone blew up. She fielded dozens of calls from women with stories disturbingly similar to Jane Doe's. Moore, who is married to a retired police officer, was apoplectic. "When you're on duty as a police officer, you're supposed to be upholding the law, not violating it, not violating people," she told me. "It's just such an abuse of power."
The Supreme Court of Canada decision about Jane Doe's case—namely, that Snelgrove at the wheel of a marked police car and wearing a uniform was enough of a potential inducement—led to a clearer, more nuanced understanding of consent law, providing better protection for victims of sex crimes. Almost a year after her tweet, Moore represented eight women who filed two separate civil suits in Newfoundland and Labrador's Supreme Court. They allege that the province, the employer of the RNC, knew or ought to have known that police officers were preying on women and took no steps to stop them.
One of Moore's clients is an RNC officer. Her lawsuit alleges she was out drinking downtown in June 2014 when an on-duty sergeant gave her a ride home in his police car. He invited himself in for a beer and raped her. The second lawsuit details allegations, from seven other women, of sexual assaults by police officers, spanning more than a decade and a half. They say they were picked up in police cars and forced into unwanted sexual acts. One incident from around 2014 was similar to the Snelgrove case. A drunk woman left a downtown bar and was driven home by an RNC officer. According to court documents, he helped her get into her home as she had lost her keys. Once inside, he raped her. (When asked for comment on the pending lawsuits, an RNC spokesperson said that the department "does not comment on matters before the court or those anticipated to be before the court.")
The RNC quietly changed its rules about transporting the public in patrol vehicles, according to a Canadian Press story from September 2021. Officers are now allowed to drive civilians only as part of a call for service. The next summer, a civilian-led police oversight agency found a "disturbing pattern" of police officers using their position "to solicit sexual favour from women in the St. John's area." The agency determined that several incidents deserved a more thorough investigation, including one reported in 2017 in which a police officer drove a woman home from downtown, put his tongue in her mouth, and tried to put his hand up her skirt. The RNC allowed the officer to resign with no further action.
The impact of Jane Doe's case on the RNC went further. An independent workplace review, published in 2022, found a significant number of police officers—as many as 45 percent—did not believe their workplace was free of offensive, degrading, and humiliating behaviour. One of the review's recommendations was to create an office for police personnel to bring allegations of misconduct.
For Jane Doe, the realization that her case encouraged other sexual assault victims to come forward was staggering. "If I hadn't spoken up, none of these people likely would've either," she told me at her kitchen table in rural Newfoundland. "I still can't believe it."
What she really wants is to start her life again. To go on vacation without worrying about being called back to court. To start a family with her partner. To move into a new house. And to tell her scared younger self that she's going to be okay, that it's finally all over. (As of this writing, Snelgrove has petitioned the Supreme Court of Canada to overturn his guilty verdict.)
Five months after picking up Jane Doe and reporting her case, Muise was diagnosed with post-traumatic stress disorder. During the years the case wound through court, she struggled. She felt targeted as officers showed up in court to support Snelgrove. She felt they looked down on her for "selling out" one of their own. Eventually, it became too much, and she took stress leave. She recalled one occasion when Snelgrove approached her outside the courtroom. He wasn't mad at her, he said, and leaned forward to give her a hug. Disgusted, Muise walked away.
Muise thought of Jane Doe often but held back from contacting her throughout the trials. Ahead of the sentencing, Jane Doe texted Muise a copy of her victim impact statement. In the four-page document, Jane Doe described how she took medication for anxiety and depression. How she felt suicidal. How she had become scared of people in positions of power. How she felt like she had lost control of her life and her body. How she still woke up from nightmares and experienced flashbacks of Snelgrove standing over her. And how she credited Muise with saving her life. "Thanks to grace, higher powers and reasons unknown to me," Jane Doe wrote, "Constable [Muise] was driving that night. She changed my life by believing in me."
Looking back, after years of therapy, Muise sees that Jane's case is part of her own story. "It changed so much in my life," said Muise, who spoke to me last October on an overcast afternoon in St. John's. Recently retired after nineteen years in service, she finally felt free to speak.
In a baseball cap and facing the front door of the cafe so she could see who walked in, Muise, then thirty-nine, described how, when she was twenty-one—the same age Jane Doe was at the time of her assault—she was out drinking downtown and was offered a ride home by a cop in his patrol car. She was drunk when the officer made unwanted sexual advances and inappropriately touched her while parked outside her home. She described another time when she was twenty-nine. Again, she was out drinking with friends downtown, and a sergeant offered her a ride home. When they got to her place, he invited himself in to use the bathroom and groped her.
Muise said she didn't report the assaults because, at the time, it seemed normal—just another instance of crude behaviour she was expected to tolerate on the job as a female police officer. Plus, she said, echoing Jane, "Who's going to believe a drunk person over a sober police officer?"