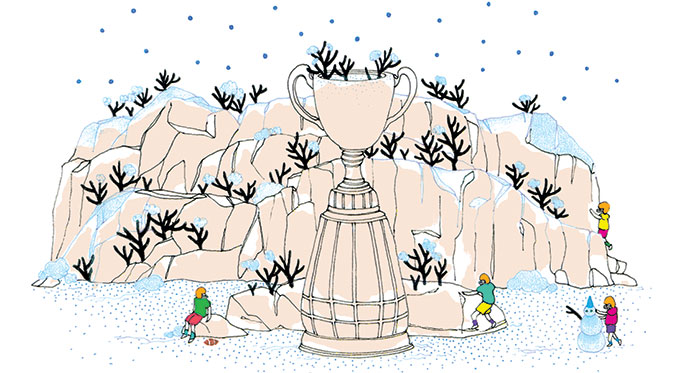 In the 1960s, my parents threw an annual Grey Cup party at our home in Banff. It seemed to me an intensely Canadian undertaking: several dozen middle-aged couples gathered around a twenty-one-inch screen on a Saturday afternoon in late fall to watch teams from eastern and western Canada compete, often in appalling weather (viz. the '62 "Fog Bowl" in Toronto), for supremacy in the Canadian Football League. Sometimes I was called upon to tend bar, and I recall that Canadian whisky (in particular Canadian Club and Crown Royal) was favoured over Scotch or bourbon and frequently mixed with Canada Dry. What I don't remember is anyone ever talking about the survival of the CFL, because in those days it was never in doubt. If America's National Football League was more robust, it also seemed far away. We knew it was there but didn't pay it much attention.
I doubt that Grey Cup parties are as popular today, thanks in part to the advent of the sports bar. But this year the CFL, celebrating the Grey Cup's 100th anniversary, is throwing a party of its own. The first Grey Cup game was played in 1909 at Rosedale Field in Toronto, where the University of Toronto Varsity defeated the Parkdale Canoe Club, 26–6. The centennial would have been 2009, but games were cancelled in 1916, 1917, and 1918 because of the war in Europe, and again the following year when a dispute over rules got in the way. So the 100th Grey Cup game will be played on November 25 in Toronto, which has hosted forty-six others over the years, including one in 1948 when hordes of Calgary Stampeders fans descended on the city, giving rise to the first Grey Cup festival. A few of the overly refreshed revellers rode their horses into the lobby of the staid Royal York Hotel. By comparison, the actual game was a relatively tame affair, with the Stampeders beating the Ottawa Rough Riders, 12–7.
This year's festivities will get under way a full ten days before the big game, with a four-day football film festival, a 220-metre-high zip line (the tallest in any North American city), concerts (K'naan, Sam Roberts, Kathleen Edwards, and Burton Cummings, among others), children's play areas, and a gala dinner on the field at the Rogers Centre. But many Canadians will remember this milestone more for the coast-to-coast tour of the Grey Cup Train, a rolling CFL museum (carrying the cup itself) that will have made 100 stops across Canada by the time it arrives in Toronto on November 17. When Earl Grey, Canada's ninth Governor General, donated his eponymous trophy to the eleven teams of the Canadian Rugby Union in 1909, there weren't 100 cities and towns in the entire country.
Now, more than a century later, the CFL serves as a metaphor for much of Canadian culture. Like the trees that take root on the granite face of the Canadian Shield, its existence seems improbable. It does not draw nourishment, as the NFL does, from the rich soil of college football, which Americans till with religious fervour. NCAA games routinely draw more than 100,000 spectators; in Canada, where hockey is the dominant faith, intercollegiate football attendance is, by comparison, small change. This raises the CFL's other disadvantage: money. NFL teams, awash in television revenues—reportedly $3.1 billion (US) a year—can afford to buy the best players, nearly all of them American. CFL teams can play twenty-two imports, but they are typically prospects the NFL has passed over. And then there is the sheer size of the American market, which enables US television networks to spend enormous sums on the telecasts themselves, employing new technologies and dozens of cameras to make NFL broadcasts an art form.
And yet the CFL persists. Why? Because, as Robert Calder reminds us in his meditation on Saskatchewan's enduring affection for its Roughriders ("What's Green and White and Loved All Over?"), it is intensely Canadian—like the Grey Cup parties of my youth. Hockey may be our religion, but the National Hockey League is headquartered in New York and run by executives who, as we have learned over the years, care more about Nashville and Phoenix than they do about Hamilton and Quebec City. Canadian football may be inferior to the American game (although many would argue the point), but at least it is ours. For most of us, rye and ginger is now a thing of the past, but the CFL carries on because—like Canada itself—we will it to.
This appeared in the December 2012 issue.