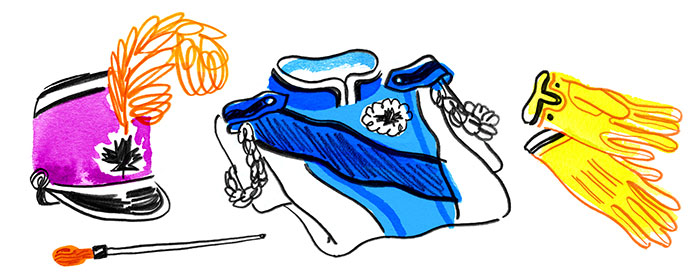 Lauren Tamaki
In his last years as prime minister, Pierre Trudeau criss-crossed the globe on a mission. Having spent much of his first twelve years in office trying to bridge the gap between the nations of the north and south, he now sought to reduce tensions between those of the east and west, fearing that they might result in nuclear war. Five years later, the Berlin Wall came down, the Soviet Union imploded, and for a time the world revelled in the "peace dividend" he had so hoped to encourage. But the north's indifference to the south continued unabated, the gulf between the developed and underdeveloped worlds grew even wider, and all the while a new and toxic distemper was emerging in the Islamic world, where the West's domination of puppet Arab governments was perceived as a violation of Muslim territories and beliefs. The rest, of course, is history: the rise of al Qaeda, 9/11, the invasions of Afghanistan and Iraq, and the Arab Awakening.
One of the architects of Trudeau's peace agenda was his foreign policy adviser Robert Fowler, a civil servant in the tradition of the dedicated men and women who made the Canadian public service the envy of the world from the late '40s to the early '60s. He began his diplomatic career in 1969, and before assuming his position as Trudeau's counsel on international affairs he held postings in Ottawa and Paris, and at the Permanent Mission of Canada to the United Nations in New York. After Trudeau retired, Fowler served as foreign policy adviser under two more prime ministers, John Turner and Brian Mulroney. He had been deputy minister of defence for six years when, in 1995, Jean Chrétien appointed him ambassador to the United Nations. In 1999 and 2000, he represented Canada on the UN Security Council at a time when the international community still deemed Canada worthy of such responsibility. When he retired in 2006, he was Canada's ambassador to Italy.
Two years later, on December 14, 2008, he was kidnapped. On a mission in Niger for UN Secretary-General Ban Ki-moon, he and his colleague Louis Guay and their driver, Soumana Moukaila, were ambushed by armed men who belonged to a branch of al Qaeda. When I read about it in the morning newspaper, I was stunned, because Fowler was someone I knew. We had met in the summer of 1984, when we canoed the Bonnet Plume River in the western Arctic with six companions (among them Craig Oliver, then CTV's Ottawa bureau chief, whose memoir, Oliver's Twist: The Life and Times of an Unapologetic Newshound, was published in October). I liked Fowler on sight, and quickly realized that he knew more about world affairs than anyone I had ever met. To be in his company on that trip, and on many occasions afterward, was like spending time one on one with the university professor whose classes you made a point of never skipping.
And now his life was in danger, although we had no idea why; little was known of his captors, their whereabouts, or what they wanted. We were certain only that there was a chance we might never see him again. It was hard not to think about Daniel Pearl, the Wall Street Journal reporter who six years earlier had been kidnapped and subsequently beheaded in Karachi, Pakistan. That Christmas, I went to Argentina on vacation. I drank wonderful Malbecs in Mendoza and fell in love for the second time with Buenos Aires. It should have been idyllic, but half a dozen times a day I'd remember that Bob Fowler, wherever he was, was in a bad place—assuming he was still alive. It was worse for his family, of course, especially his wife, Mary, who never gave up hope. Even as the weeks dragged into months, she reminded his friends that the Canadian government had dispatched some of its best people to negotiate his release.
And then, 130 days later, it was suddenly over. On April 21, 2009, after weeks of behind-the-scenes wheeling and dealing—during which Stephen Harper insisted that the Canadian government would not offer up a ransom—Fowler and Guay were set free; their driver had been released in March. Within days, they were back in Canada, physically diminished and emotionally fragile but unharmed. One of four tourists the North African terrorists had also kidnapped, a sixty-year-old Briton, was not so fortunate; he was beheaded six weeks later. But by then, Fowler was already at work on the book he had decided to write during his captivity—a book we are excerpting in this issue ("Kidnapped"), in which he recounts the harrowing details of his ordeal. It's a story that could only have unfolded in a region of failed or nearly failed states overrun by violent religious ideologues. And it's a story that would have been unimaginable in the world Trudeau and Fowler were endeavouring to create when they pursued their north-south, east-west missions in the 1980s.
This appeared in the December 2011 issue.