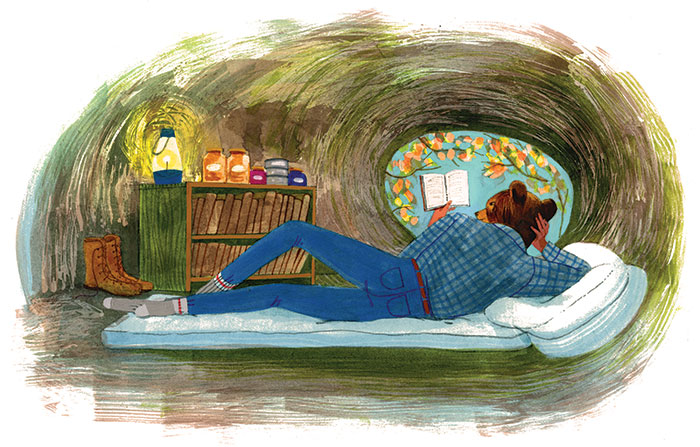 The Antagonist by Lynn Coady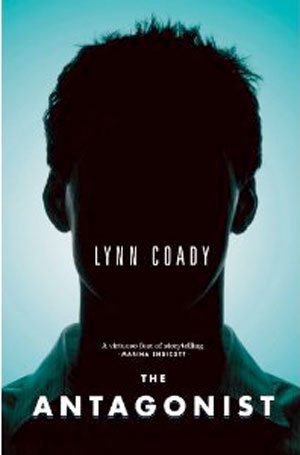 House of Anansi Press
Sentence for sentence, Lynn Coady is one of the most dynamic prose stylists in Canadian letters. While her catalogue of characters includes a teen mom (Strange Heaven), a sheepish adolescent (Saints of Big Harbour), and a boozy, pompous poet (Mean Boy), her narrative voice typically embodies a mixture of winking machismo and world-weary humour. Take this description from her newest book, The Antagonist, in which she sketches out the seamy lair of a small-town drug dealer: "A lot of red light bulbs, a lot of smoke, a lot of heavy metal odds and sods (skull candles, flying-V ashtrays—you get the picture). The guitar in the corner, the amps, the preposterous stereo system, so tweaked and extravagant it might as well have been sculpted from solid testosterone."
This brooding novel is the first-person confession of a hulking man-child named Gordon "Rank" Rankin, infamous in his youth for his violent outbursts in small-town parking lots and at minor-league hockey rinks. The adult Rank is a veritable reservoir of resentment, owing to the untimely death of his mother; the imprecations of his pigheaded father; and the hubris of his former college roommate, Adam, a budding writer who impugned Rank by depicting his troubled family in a bestselling novel. Structured as a series of emails to Adam, Rank's book-length rant is meant as a corrective to his reputation as a brainless brute.
Witnessing the man as he defends his life is thoroughly engaging; Rank evolves from a terse, somewhat reluctant diarist to an impassioned memoirist. As well as enabling him to convey his latent intelligence, committing words to paper forces him to confront some of his darker chapters. Coady's narrative energy rarely flags, but Rank's writing often feels a little too rococo, less like the work of an amateur scribe and more like the elegant musings of a literary craftsman (i.e., Coady herself). Despite these lapses in authenticity, Coady has created a troubled, wholly fascinating figure: a warrior fighting to clear his name.
—Andre Mayer
[breakline]
Stories about Storytellers: Publishing Alice Munro, Robertson Davies, Alistair MacLeod, Pierre Trudeau, and Others by Douglas Gibson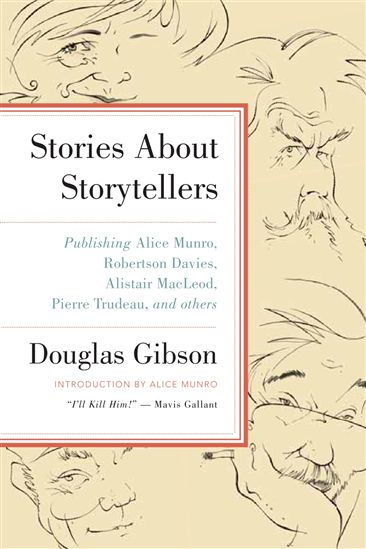 ECW

Press
Douglas Gibson is best known for his years at the helm of McClelland & Stewart (back in the good old days, when they still called themselves "the Canadian publishers") and at his eponymous imprint. He kept Alice Munro writing short stories when the world was clamouring for her to produce novels; and reclaimed Mavis Gallant for our own, decades after she disappeared to Paris. His forty years at the epicentre of Canadian publishing informs his rollicking first book, Stories about Storytellers.
Gossip, it has been said, is the oldest and most irresistible form of storytelling. Gibson is a gossip of the first order, the kind who tells all, or at least enough, about his subjects' foibles, but always in a way that delights in their eccentricities. He writes with charming exuberance about his role as midwife to the memoirs of several prime ministers—somehow staying on speaking terms with them all, though Paul Martin did say if Gibson had edited Shakespeare there would be no Shakespeare. Publishers, writes Gibson, "should be like the Red Cross—carefully neutral, available to all sides, and able to bring a degree of civility to every dispute by allowing all sides to make their case to the wider public."
Ralph Waldo Emerson once remarked that "there is properly no history; only biography." Likewise, Gibson's stories profile not just storytellers, but also the country that produced them. He remarks on how revolutionary Hugh MacLennan was to set his 1941 novel, Barometer Rising, in Canada, when most Canadians still thought of themselves as British subjects. He writes about the surprise success of Barry Broadfoot's Ten Lost Years, about survivors of the Great Depression, which breathed life into Canadian history. He also considers the perils of the "regional writer" label and the salubrious Morningside effect, noting that Peter Gzowski's CBC Radio program was influencing readers long before Oprah. Gibson recalls Gzowski addressing student literacy volunteers from across the country. "Aren't we lucky—aren't we lucky—to be able to do important work like this that we love? " he says. That sentiment sums up Gibson's book, and his career: he did it for the fun, for the sake of a good story.
—Sasha Chapman
[breakline]
Ithaca by David Davidar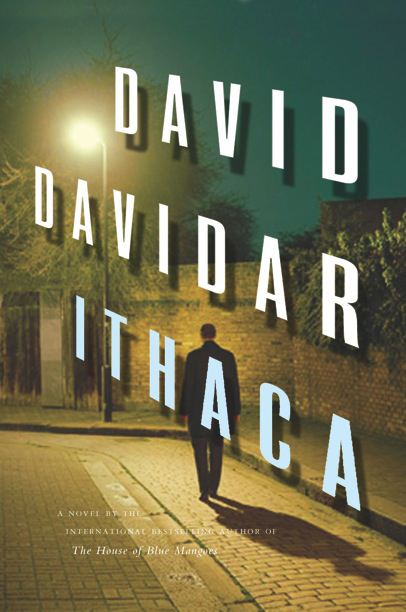 McClelland & Stewart
Books about books are tricky to pull off. Done well, they fetishize the hermeneutic experience as well as the physical object itself. A.S. Byatt's transcendent Possession and Jasper Fforde's cheeky Thursday Next series, for example, slyly reverse the literary gaze, elevating the reader and the book into subjects worthy of examination.
Unfortunately, Ithaca, the latest from David Davidar, never reaches those heights. This is an ambitious novel; Davidar's territory—the collapse of print publishing—is vast and timely, but he plays it safe. The novel feels flat and artless, a lump of unprocessed ideas expressed without subtlety or imagination.
The novel follows Zachariah Thomas, the editor-in-chief of a mid-size publishing house and an obvious stand-in for Davidar (who left his position as CEO of Penguin Canada last year after an employee accused him of sexual harassment). Zach's success hinges on a popular series of angel-themed books by Massimo Seppi, a recently deceased Sicilian writer, who might have an unpublished gem gathering dust among his papers. Zach's company, meanwhile, is on the verge of being plucked up by a corporate behemoth. The novel's first chapter, in which he recalls the circumstances through which he discovered Seppi, and the last one, in which the plot takes a somewhat predictable twist, are by far the most interesting.
Ultimately, Ithaca is a soapbox disguised as a novel. Sandwiched between those two chapters of exposition are 200 pages of Zach aimlessly drifting through ideas about the future of publishing, the corporatization of small business, the writing and reading of stories. Novels of ideas can be quite compelling when they flesh out characters and situations that bring form to the concepts. But Davidar's characters serve merely as mouthpieces for various viewpoints: a puffed-up professor prophesying the end of print; a disillusioned publisher tired of the grind; and Zach himself, a jaded but hopeful figure in the centre of an industry at a crossroads.
Ithaca is self-reflexive without being self-aware. Like most books about books, it draws attention to the art of narrative; in doing so, however, it reveals its own inherent flaws. Davidar's failure here is somewhat ironic: he is full of ideas about stories but is ultimately unable to craft one.
—Emily Landau
[breakline]
The Return by Dany Laferrière; translated by David Homel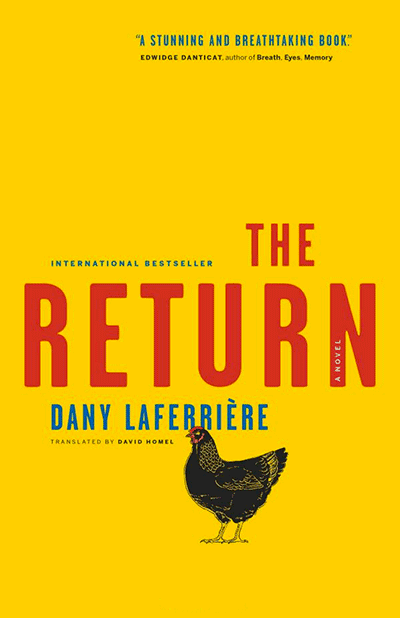 Douglas & McIntyre
Dany Laferrière was born in Port-au-Prince but fled to Montreal in the late '70s, during the oppressive regime of Baby Doc Duvalier. The experience of exile—the foreignness of an adopted land coupled with an almost obsessive attachment to the abandoned home—often sharpens a creative response to the place one has fled; Joyce had to leave Ireland before he could write Ulysses. It's perhaps unsurprising, therefore, that having reached a certain age Laferrière has written a novel about a Haitian-born, Montreal-based novelist who returns to the country of his birth following the death of his father.
A combination of poetry and prose, The Return is stylistically adventurous. However, the poetry tends to eschew syntactical virtuosity and metaphor, which can make it read like prose with line breaks, and the divisions between the formats often seem arbitrary. Despite this, the material is never less than eminently readable: Laferrière's style is straightforward and supple, at least as it appears in long-time collaborator David Homel's translation.
As for the story, Laferrière does not provide scenes per se, opting instead for a collage of sense impressions and memories to depict the roiling, sensual landscape of his homeland, in all its manifest contradictions: the rich who flee the discord of city life for refuge in the country; the art that thrives in a culture of repression; the seething discontent among friends and family members ("Most kidnappings are carried out between people who know each other well," Laferrière writes. "That's where hatred is most deep-rooted").
The title refers to the narrator's physical return to Haiti, but on another level it nods at the happy child he was before the tide of history exiled him to a land of cold and snow. Those twin distances—the physical one between Port-au-Prince and Montreal, and the emotional one between the narrator's carefree youth and his more ruminative adulthood—give the novel its conflicted heart and soul.
The book's French title is L'enigme du retour, and it's hard not to think subtlety has been lost in translation. Returning home, Laferrière suggests, implies something mysterious, a reckoning with the riddles and ambiguities of an accumulated life. Especially for someone who has lived so long in exile, coming home may be as enigmatic as the concept of home itself.
—Steven W. Beattie
[breakline]
Facing the Hunter: Reflections on a Misunderstood Pursuit by David Adams Richards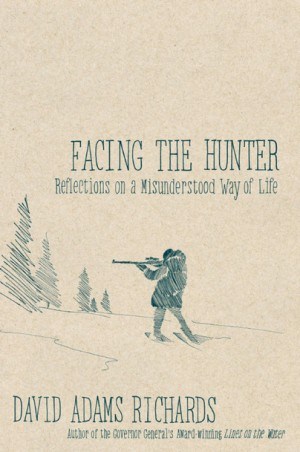 Doubleday Canada
Throughout his distinguished career as a writer-cum-hunter, David Adams Richards has encountered members of Canada's literati who deride hunting as "deplorable" and "beneath them." According to the author, too many self-satisfied urbanites who have never held a gun deny out of hand the cultural, economic, or conservational impulse to hunt. To them, it's simply a lowbrow, barbaric activity, akin to NASCAR or ultimate fighting. With Facing the Hunter, this two-time Governor General's Award winner offers a polemical response to the ambivalence many feel toward gun-toting men and women in camouflage gear and orange vests.
Centrally, he argues that "those who eat meat should, at least once in their lifetime, kill that which they eat." He admits that "hunting, or the terrible reputation it has among 'civilized' men and women, is and can be its own worst enemy," but he attempts to complicate popular perceptions through a series of circuitous, almost impressionistic anecdotes set in his native New Brunswick. Recollections about his uncles, brothers, and friends stand in contrast to those of non-resident game hunters and poachers. The former hunt as a way of life; while they enjoy the pursuit, they do not take pleasure in killing. At their core, they are unassuming stewards of the land and custodians of a threatened tradition. The other group doesn't hunt for sustenance, but rather for bragging rights and an aggrandized sense of power.
Richards's reflections make a compelling, if not entirely convincing, case that challenges "the kind of propaganda that satisfies urban sentiment" about woodsmen. Unlike Steven Rinella's 2008 American Buffalo: In Search of a Lost Icon, this book doesn't delve deeply into the ecology, biology, or anatomy of the targeted game (mostly moose, deer, and partridge). And at times, Richards goes too far in his corrective: he risks romanticizing his uncles' generation of New Brunswickers, for example, and his metaphors about yesteryear trivialize the cultural impact of European invasion on Indigenous peoples. He also fails to acknowledge that opinions about killing one's own food are already changing among city dwellers, as evidenced by a nascent DIY slaughtering and butchering movement.
Nonetheless, Facing the Hunter is a powerfully structured work that demands an intellectual and readerly patience evocative of an ethical hunter's forbearance. Richards pushes all of us—omnivores, vegetarians, and vegans alike—to nuance our thinking the next time we drive past a six-point buck in the back of a Ford four-by-four.
—Kyle Carsten Wyatt
[breakline]
The Virgin Cure by Ami McKay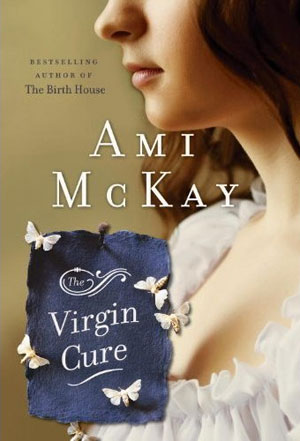 Knopf Canada
Ami McKay's second novel, The Virgin Cure, is a finely crafted and remarkably researched tale of twelve-year-old Moth, a girl born into poverty in nineteenth-century New York, deserted by her father and sold into domestic work by her mother. Moth comes to understand that beauty is her commodity, and she finds eventual escape in a brothel that delivers virginity to well-paying men. "We eat, drink and sleep like royal mistresses, and care for nobody on earth," a young woman explains to Moth, when she invites the starving, homeless girl to join her at Miss Emma Everett's house as a "gentleman's companion."
Despite experiencing manipulation and exploitation at every turn, and a life lived under the threat of disease, rape, and death, Moth is never painted as a victim; her grown-up agency to survive without support is as apparent as her hope for the kind of familial love that can protect a child. She serves her unworthy mother with fierce, blind loyalty, yet longs for The Good Mother of her invention, where she "could hardly breathe for the warmth of her embrace." All of Moth's longings are for better options than she has been given, whether stealing, begging, serving, or selling her "purity" to the highest bidder.
Most vital to McKay's narrative is the assertion that Moth is not a girl to be saved, despite the best efforts of Dr. Sadie, the female doctor who serves the brothel's inhabitants and offers piercing historical insight into the sexism and suffering of their time. The girls the doctor attends have fates like this one, used as a cautionary tale to dissuade Moth from her chosen profession: "She hid in the draperies and cried, begging him to leave her alone, but he grabbed her from where she was hiding and forced himself on her." Even after the doctor takes Moth to visit this girl, now suffering from a sexually transmitted disease, Moth remains eager to return to the brothel.
McKay is not preoccupied with Moth's mistakes nor her downfall, but rather with how she navigates a terrain of injustice—a unique achievement when our modern narrative makes victims of sex workers. While set in the past, the book informs the modern dialogue on feminism, the sex trade, and choice, summed up by the madam's refrain that "clearly the girl knows her own mind."
—Stacey May Fowles
[breakline]
The Leap: How to Survive and Thrive in the Sustainable Economy by Chris Turner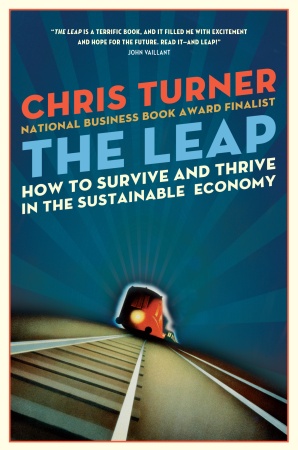 Random House Canada
The strangest thing about Chris Turner's journey from mainstream avatar of the eco-zeitgeist to voice in the wilderness is that he hasn't changed his message in the slightest. His 2007 bestseller, The Geography of Hope, found an eager audience for its hopscotching tour of places where new modes of environmentally, socially, and, yes, economically sustainable living had already taken root. "Anything that exists is possible," was his mantra.
In The Leap, he revisits the same ideas—and, indeed, some of the same locations, updating us on the carbon-neutral Danish islands of SamsÞ and ÆrÞ and the New Urbanism of Lakewood, Colorado, as well as introducing us to new exemplars like Bogotá's radically revamped bus network. But in a post–economic meltdown world that smirks at the word "hope" (or, worse, "solar panel"), he understands that the existence of these templates isn't enough if we're unable or unwilling to implement them. What distinguishes the outposts on his new tour is that they've managed to shake off the inertial grip of the fossil-fuelled status quo—to move forward not with self-defeating incrementalism, but with the bold leap of the book's title.
To help the rest of us follow suit, Turner formulates the Four Laws of Leap Mechanics. You can't measure the benefits of a new paradigm with the tools of the old, goes one of them: antiquated yardsticks like gross domestic product, for example, which treat the environment as one big externality, tell us that the Exxon Valdez spill sparked an economic boom that made the catastrophe highly beneficial to Alaska. As a result, Turner says, shifting tracks toward a sustainable future requires a battle of "ideas and values as much as economics and statistics," using the tools of behavioural economics to nudge people past their irrational biases.
As a rhetorical strategy, this seems odd at first—saying, in effect, there's no possible way of knowing what awaits us on the other side of this chasm, so let's just focus on convincing as many people as possible to leap with us. This is unlikely to win over doubters—but, improbably, that's the most liberating part of the book's message: forget the doubters. Nothing will convince them that change is needed; and anyway, the Laws of Leap Mechanics tell us that most such leaps are launched "with many minds still unconvinced and hearts unwon."
The rewards of leaping are evident in places such as Vauban, a redeveloped area of Freiburg, Germany, where the residents agreed to forgo private parking other than in a garage on its outskirts, freeing up land for parks, playgrounds, transit, and bike paths; as a result, the neighbourhood's carbon footprint has been cut to one-quarter of the German average. Turner's reprise is aimed at others whose hearts are already won, or were won in 2007 but drifted away. Step toward the ledge, he's telling us. There is no railing.
—Alex Hutchinson
This appeared in the December 2011 issue.