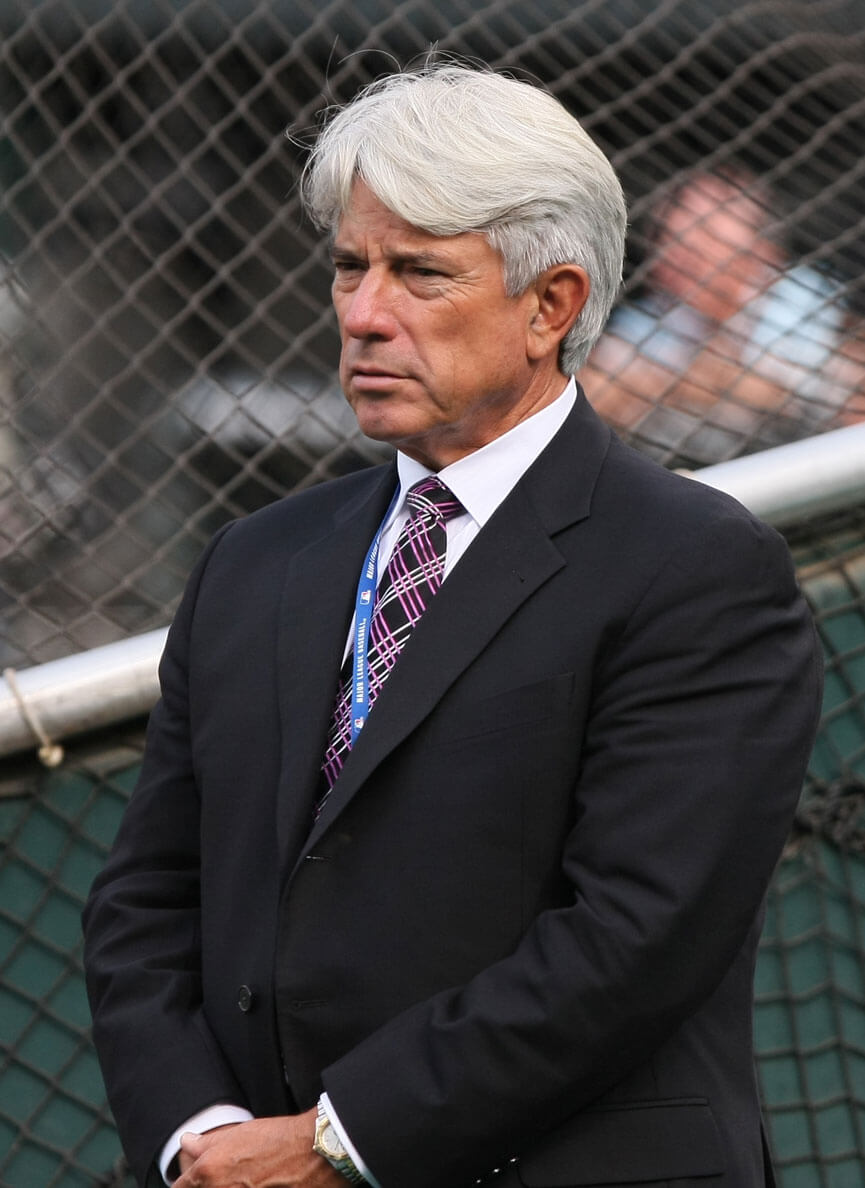 If you ever get the pleasure of being in Buck Martinez's company, ask him to tell you about the time he got shot in the face.
More specifically, the time Buck got shot in the face with buckshot while bird hunting with Doug Bird. (You can't make this stuff up.) When I ask him to expand on this anecdote, one that's briefly touched on in his new book Change Up: How to Make the Great Game of Baseball Even Better, the sixty-seven-year-old former catcher and current play-by-play announcer does so with animated vigour.
It was 1976, and the New York Yankees had just beaten the Kansas City Royals in the American League Championship Series. Martinez was an avid hunter, and Royals' pitcher and teammate Bird had been pestering Martinez to take him to Lexington, Missouri, for some quail hunting. Long, theatrical, and darkly hilarious story short, Bird was spooked by a scurrying pheasant, and accidentally shot in his friend's direction. Martinez ended up in emergency surgery at a Kansas City hospital.
"I got hit in the face," he tells me, with dramatic hand gestures, in HarperCollins' downtown Toronto offices. "The BB went in this eye, around the back, with a straight-line tear into my retina."
Unbeknownst to Martinez at the time, his wife, Arlene, had just learned she was pregnant with their son, and was intending to surprise him with a bottle of champagne tied with baby booties. Instead she picked up a rather cryptic "I've been shot" message that Martinez had left in the frantic confusion—something he admits was probably not the best idea. After some harrowing recovery time, Martinez was back in the game, but had to play the rest of his career with a contact in one eye.
All of this is to say that Martinez is a master storyteller, and talking with him is like being around a baseball campfire. He has an incredibly good memory for games, names, and on-field situations, something that not only comes in handy when he's calling a match-up for the Toronto Blue Jays, but also when he's putting together a book. In Change Up, Martinez not only details his rich personal experience as a player, manager, and broadcaster, but also his humble proposal to make the game better by looking to the past.
Bandwagoners and diehards alike will recognize Martinez as the current television voice of the Jays—in fact, the team's recent surge of playoff success means that strangers now holler at him from their cars when he's walking down the street. But his diverse and storied baseball career actually started back in the 1960s, meaning he's got a wealth of first-hand experience to draw from while he's doing his job. When I ask him how he prepares to call a game at the Rogers Centre, he readily confesses he's "a mess."
"I have shit everywhere," he says of the environment inside the booth. (Admittedly, hearing the signature, smooth voice of the Blue Jays use profanity is a bit of a jarring experience.)
When he started as a radio colour analyst for the Jays in the '80s, Martinez found the job a challenge, and would sit alone on top of the spring training stadium in Dunedin, Florida, calling plays into a tape recorder for practice. Now on game days, the long slender table between him and his analyst colleague, Pat Tabler, is covered in colour-coded, handwritten sheets of paper. Martinez tells me he's long made it a personal habit to take notes on everything, finding that if he jots things down he remembers them for future use. (His notes used to be entirely hand-written, but he's moving more and more into digital.)
Despite Martinez's veteran status, he rightly points out that Change Up isn't a stereotypical "respect the game" or "unwritten rules of baseball" rant from an old-timer. Though he never says so directly, the book expresses a desire to get back to basics and to recapture the nostalgia and romance of it all—the kind of deep feelings that connect fans to the game, and players to one another.
"I'm not just an old-school guy who says they don't know how to play," he says. "I understand they know how to play very well. But the premise of my book is we're going to try to make it even better."
It's meaningful that Martinez distinguishes himself from the usual crop of stringent baseball old schoolers. Earlier this month, Hall of Fame reliever Goose Gossage had some choice words for Jays' outfielder Jose Bautista and his famed playoff bat flip, calling the city's baseball hero a "fucking disgrace" who was "acting like a fool, like all those guys in Toronto." Gossage also threw Mets outfielder Yoenis Cespedes on the list of players he dislikes for their behaviour, and ended up taking a rather random swipe at the NFL's Cam Newton for good measure. Gossage's widely discussed critique came at the tail end of National League MVP Bryce Harper's contrasting comments that the game needs to have more fun, and let its players' personalities shine. Martinez is quick to let me know that he firmly sides with the twenty-three-year-old Washington Nationals superstar.
"Goose retired twenty years ago, and the game is so different now it's ridiculous. And it's a good different. It's a very good different," Martinez says. He adds that there was never a thought Change Up would be about this hackneyed discourse on respecting the game. "I agree with what Bryce Harper said, baseball needs to embellish its stars, not to diminish them. And we have a unique set of personalities on the Blue Jays."
Fundamentally, Change Up asserts that players are missing out on the camaraderie and chemistry of yore, two qualities Martinez believes are undervalued in today's baseball climate. He further laments our collective obsession with home-run sluggers and 100 mph-pitches, endorsing a return to baseball fundamentals and the importance of team wins. (Incidentally, he lauds lower profile pitchers like Marco Estrada and Mark Buehrle, athletes who can get batters out without throwing the faster pitches we've come to celebrate.)
Martinez believes that good teams—including the Blue Jays—have managed to capture those vital qualities despite an overall baseball environment that actively discourages them. Jays players often tell him that this is the best group they've ever been a part of, and he has consistently seen them all pulling for each other in a way that feels brand new to the franchise. They're certainly not afraid to call each other out, but they're also not afraid to cheer each other on.
Martinez largely credits the 2015 arrival of third baseman Josh Donaldson and catcher Russell Martin, two players who came from winning cultures that were more about how you perform as a team and less about personal numbers. Martinez adds that pitcher David Price (who has since signed with the Red Sox) is responsible for a lot of team "swagger" that got passed along during a season that saw positive mentorship flourish. A far cry from what he calls the "old-line Goose-Gossage style 'You can't say anything because you're a rookie.'"
The old school versus new school baseball debate, as exhausting as it can be, is actually a good sign of necessary growing pains. It means the game is becoming increasingly accessible to a whole new audience—something the MLB desperately needs when its average fan age is around fifty-five. Many have been resistant to fandom in the past because all they see are stats, and an exclusionary culture that accuses you of not knowing enough to join the conversation. Martinez further blames the baseball strike of 1994 on Canada's long-term rift with the game. He thinks fans turned away feeling betrayed, with the purity of the game sullied—but the 2015 playoffs managed to pull Canada back into the fold.
"Everybody wants to be associated with a winner," he says.
According to Martinez, the MLB should monopolize on the current popularity and likeability of their players. He points to the NBA as a great example of a pro-sport that understands that this is what fans are hungry for, and to the huge endorsement deals high-profile players land as a result. (We joke briefly about buying whatever Steph Curry is currently selling.) The Jays have incredibly broad appeal, and the proliferation of social media means we're connected to them in ways we haven't been in the past. They're human beings, after all, and the humanizing element of new media can only work in the league's favour when it comes to communicating with and welcoming much-needed new—and younger—fans.
"The young fan wants to know what (Marcus) Stroman's tweeting, what they're eating, what kind of music they're listening to, and 'Oh, he had dinner with Drake,'" Martinez says. "See, that's what Bryce Harper is talking about. 'You don't know me. I want you to know me. I don't want you to know me as a batting average or an RBI total or a home run total. I want you to know what I'm all about.'"
Throughout our conversation, I deliberately mine Martinez for insider opinions on the Blue Jays. He thinks the team's pitching and the depth of their bullpen have improved since this time last year. He thinks Jose Bautista is going to age as well as anyone who has ever played the game because he takes such great care of himself with diet and exercise. (Also, if he had been calling the Bautista bat flip game, he doesn't think he would have said anything because nothing needed to be said.) He refers to shortstop Troy Tulowitzki as "the quiet one," likening him to Cal Ripken, and tells me Josh Donaldson is a goofball who loves life. ("I mean, I walk out on the field and he'll say something like, 'Boy, your hair looks awful today.' But that's him.")
On the raging discussions around resigning Edwin Encarnacion and Jose Bautista, Martinez thinks the team should keep them on in 2017, but that it's wasted energy to be talking about it now. As much as he respects Alex Anthopolous, he points out that the former general manager had two good months in six years, and that public discussions around him leaving were dramatically overblown. Martinez also has some stern words for the current sports media environment, believing there's too many people writing and too much unnecessary information put out into the world. "Everybody is looking for a different take on the situation so they write about shit," he says.
And what about that contentious issue of the Jays' new president and general manager? "Everyone says they hate (Mark) Shapiro and (Ross) Atkins. We don't even know them yet. We don't even know what they're going to do, and everything I've seen has been nothing but positive."
Towards the end of our conversation, I ask Martinez if he has any predictions for the Jays in 2016.
"I predict they'll win the division," he offers cautiously, adding that the only team Toronto fans need to worry about is the Jays. "We need to keep them on the field. We need to keep Tulo on the field for 140 games. Donaldson has to play 150 games. Russell has to be healthy. I think Smoak and Colabello are going to do better than they did last year. Bautista has to stay healthy. And if they stay healthy, they're liable to score more runs than they did last year."
Always the professional, Martinez tells me that overall he's neutral, with no personal loyalty to the team, and when I ask him if he gets emotional about the big wins he emphatically says no. But after seeing his consistent story-telling excitement I don't believe him, and I let him know.
"People tease me about my home run calls and everything else, but yeah, sure, I get emotional in the context of it being an exciting game," he says. He warmly adds, "I'm thrilled for them, and I love them, and they're a great group of guys."
Before the interview ends, Martinez offers another enthusiastic story, this one about the team he claims to be "neutral" about. During a recent spring training rainout where the Jays were supposed to face the Phillies, instead of going home the players retreated to the batting cage and spent two and a half hours working on their swing. They faced curveball machines and fastball machines. They mentored each other and talked about their skills. They displayed the kind of chemistry and camaraderie that Martinez emphasizes is so important, and showed the level of commitment that makes them so promising.
Though Martinez says he's unemotional about their prospects, he provides me with a pretty lofty forecast: "This has the chance to be one of the best teams we've ever seen."