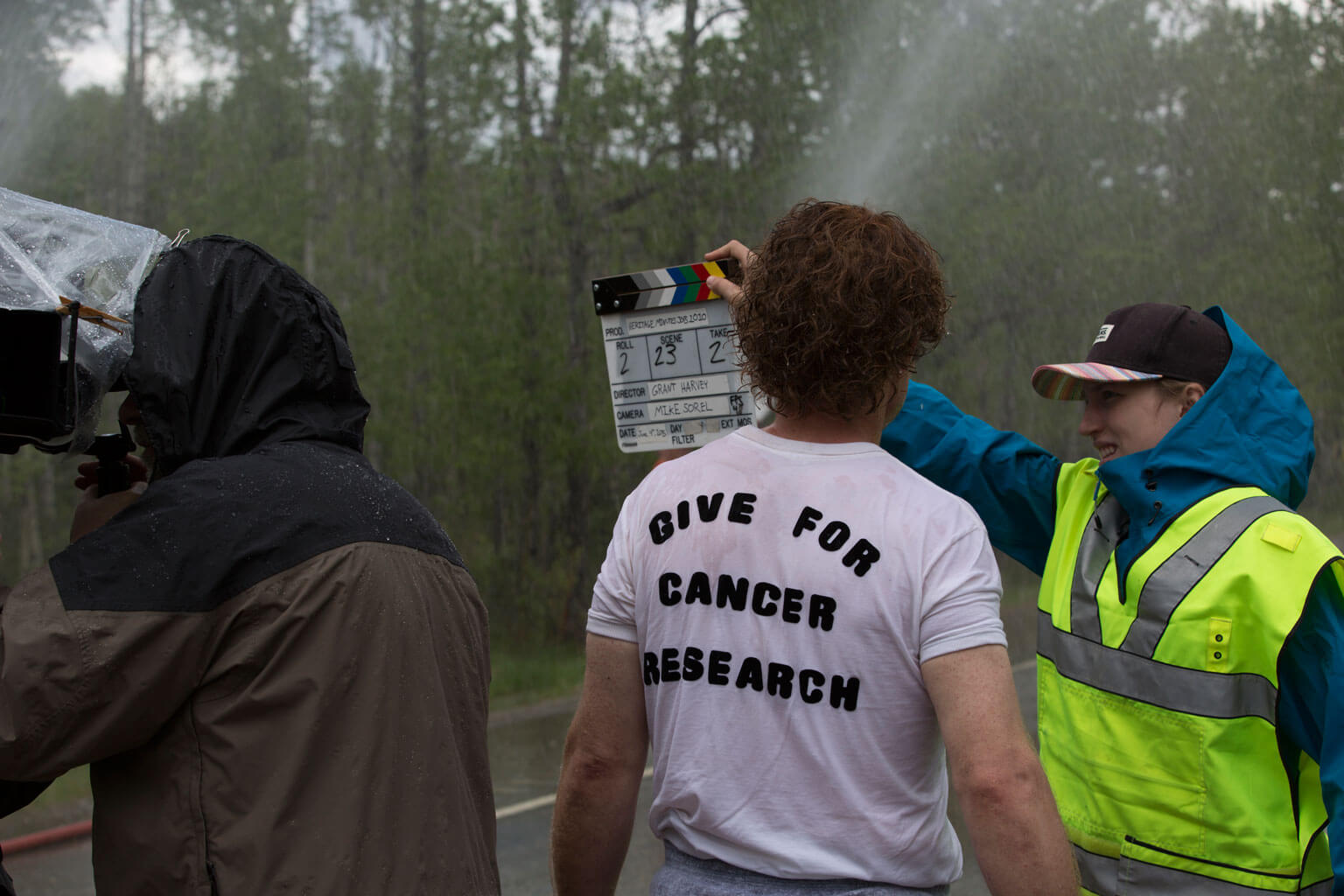 Photograph courtesy of Historica Canada
In october 2015, on Dorset Island, in Nunavut, a film crew was conducting its final shoot of the day for a Heritage Minute about the Inuit artist Kenojuak Ashevak. When two crewmembers stepped out of the production tent to get a breath of the cold night air, they noticed a wave cresting about twenty-five metres away. A few seconds later, they realized it wasn't a wave, but a polar bear headed their way. Just then, another crewmember joined them and began shouting at the approaching animal; he was followed by the artist's grandson, who burst from the tent and ran toward the bear, yelling all the while. Startled, the animal turned heel, and production resumed.
Not every Heritage Minute is made amid such local authenticity. But after twenty-five years and more than eighty videos, they have become an authentic part of our heritage. They are quintessential Canadiana (so much so that some ­stations can claim ninety seconds' worth of Canadian content for each sixty-second spot). ­Utter the phrase I smell burnt toast to most Canadians, and chances are they'll recall the image of Wilder Penfield identifying the part of the brain that causes his patient to detect that scent every time she has a ­seizure. And their popularity endures. In one month last year, they aired thousands of times, reaching millions of viewers; there's even an ­on-board Via Rail channel dedicated solely to the Minutes.
It was the philanthropist Charles Bronf­man who, in the mid-1980s, came up with the idea to produce sixty-second films that would teach young Canadians about their country's history. "No society can be of merit unless it has heroines, heroes, and myths," Bronfman wrote in an email. "In Canada, while there were many, they had not been taught." In 1991, the first Heritage Minutes were born: Valour Road, the Winnipeg street that was home to three Victoria Cross recipients; the Underground Railroad, which brought runaway slaves to freedom; and Jacques Plante's invention of the goalie mask.
In the years since, Heritage Minutes have addressed dozens of subjects—some monumental (the Halifax Explosion, for example), others more quirky (the man who went looking for the Pacific Ocean and instead found Lake Michigan). That leads many viewers to ask a ­seemingly simple question: What makes a Minute?
Historical research, polling, and instinct all go into the selection of subjects. Historica Canada (of which I am the president and CEO) is the non-­profit organization that produces the spots. It invites suggestions on social media, and polls thousands of students to find out what they want to see. Film companies submit plenty of ideas, too; the Historica staffer who oversees pitches once found herself with seventy-one in hand. Geo­graphy and diversity also come into play when ­deciding how subjects should be presented. Historic events happen just once, ­after all, but there are countless ways to interpret each one.
In 2014, a century after the start of World War I, Historica realized it had never focused on the role of women in that conflict. Its research turned up the story of two nurses and their actions during a 1918 bombing raid. Their story became one of two Minutes produced that year about the Great War. (The second told of the Winnipeg Falcons, a hockey team composed of Icelandic immigrants; they went to war and lost two teammates but later won Canada its first Olympic gold medal in ­hockey, at the 1920 games.)
The Minutes have evolved as young Canadians' attitudes toward their country have changed. Historica feels young Canadians are more overtly patriotic today than their counterparts were a quarter century ago, so the organization focuses less on chest-thumping origin stories than it once did. And scriptwriters are always looking for potential catchphrases, though it can be a baffling science. Who could have predicted the cultural reach of I smell burnt toast or I need these baskets back?
Historica abides by a few unwritten rules when it comes to making Minutes. It doesn't produce episodes on recognizable Canadians of recent vintage, for ­example. Getting an actor to play someone such as Pierre Trudeau or Brian ­Mulroney might diminish the sense of realism that Historica strives for. (An episode on Terry Fox is the exception that proves the rule: it was ­only at the end of the Minute that the runner's face was shown—via footage of the real Fox.)
The staffers who help produce the Minutes are highly trained history buffs who love to delve into details. For the Terry Fox episode, they searched widely for a man to play the lead role—someone missing the same part of the same leg as Fox. He was provided with a custom-made replica of Fox's prosthetic leg, and Historica purchased a minivan similar to the one Fox and his team used, painting it to look nearly identical. Staff relied on Fox's diaries for quotes and scoured second-hand shops to find the same felt lettering, long since out of production, that formed the words Marathon of Hope on the runner's iconic T-shirt.
More recently, in the upcoming Minute on Ashevak, the artist's grandson appears, and her sister portrays her in the scenes set in her later years. The actor who plays the younger Ashevak, Miali Buscemi, is fluent in English and Inuktitut, the language that the artist spoke almost exclusively.
The rise of online video hasn't diminished the popularity of the Minutes. The Terry Fox episode, released in September, surpassed 200,000 YouTube views in less than three months. A ­mash-up of Drake's "Started from the Bottom" and scenes from more than fifty episodes racked up 150,000 views in less than two days. There are countless online parodies. There are even academic theses that explore the lasting effect of the Minutes on the Canadian psyche.
Yet not everyone remembers classic episodes so fondly or anticipates new ones so eagerly. One early-'90s episode on Canadian peacekeepers in Cyprus even sparked protest from the Turkish ambassador in Ottawa, who complained that his country had been depicted unfairly. But the greater sin, in the eyes of the producers, was that some of the costumes used were not historically accurate. (The Minute was pulled from circulation as soon as the discovery was made, and today only a single VHS copy exists.) Some historians complain that the spots inadequately summarize complex issues. Others dislike how the stories are presented or the subjects that are chosen. Some viewers merely find the Minutes cheesy.
The critics have a point—to a point. If all you know of Canadian history is what you've been able to piece together from the Minutes, well, that's not enough. Of course Historica aims to tell stories that are accurate and engaging. But a story told in just sixty seconds cannot, by definition, be definitive.
Heritage Minutes simply reveal glimpses of the past, with signposts that show how we got to where we are, and where we're headed. Canada is a country that strives constantly to be welcoming to all who live here. That process means acknowledging the mistakes and misfortunes of our past. When you love something, you understand its faults as well as its strengths—which is the essence of the Minutes. More than anything else, they are love letters to our nation.
This appeared in the March 2016 issue.