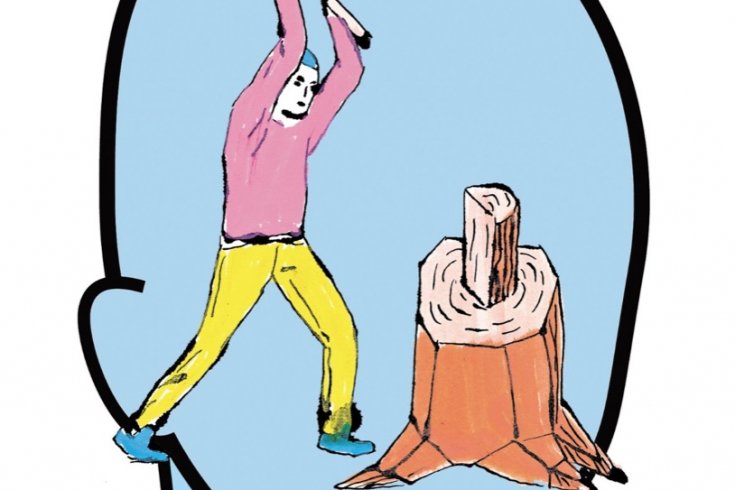 In the spring of 2000, I returned home from school, looking forward to chilling with my older brother. Instead I walked in on him and my mom having the biggest fight ever. He had been suspended from school for throwing a chair at one of his teachers. He was ranting about how the teachers were pissing him off and getting him in trouble. He said that he was ready to drop out. My mom was furious. She insisted that all of his problems at school were in his head and that he was just lazy.
He stormed out of the house and I turned to go out with him. He told me not to follow him. At ten years of age, I didn't know what was going on. I wondered where he was going, and when was he coming back. I was confused because there were never any unanswered questions between us. We shared everything. On Sundays, we would sit on the step together, sharing our anger 'cause my father was always forgetting to pick me up. My brother would sit with me all day waiting for him. Although we had different fathers and my brother wasn't coming with us he still sat and waited with me.
That night I found myself sleeping on the floor in front of the door so I would wake up when he returned. At about midnight I heard him kicking the door. I was happy until my mom said not to open it. She said that he was kicked out and I wasn't allowed to see him any more. I cried alone for days in a room that used to belong to my big brother and me.
I blamed my mother. Each time she fought with an older male in my family they disappeared. When my father left I was never told the whole story, but I know it ended in a fight with my mother. I lost my father at two and my brother at ten. I had no male role models. I had to fend for myself. I had friends, but your peers cannot be your role models. I was living in my mind. My childhood was over. At twelve years old I had to step up and be a man.
I saw my brother about a year and a half later, smoking. I didn't believe it at first. We were always getting on people who smoked around us. "Trying to kill me with your secondhand," we would say. A little while after the smoking, I saw him drinking in the lobby with a bag covering a bottle. He wasn't drunk yet, but I could see that he wasn't in full control of his own body. Years later he was blazing weed and soon after he was selling it. He got arrested at my aunt's house during a major drug bust. That didn't stop him; my mom bailed him out. He started up again, in our house this time. About a year later, he was selling crack. Once he sent me to do his dirty work because he was under house arrest. He gave me a small amount of white rocks to sell to this lady. The lady paid $100. I was so lost, but did my best to stay on track.
At sixteen years old, I am doing better than most people would probably think. I still do not have a record although I am sometimes harassed by the cops because of where I live and how I dress. I am going into grade twelve. I refuse to drop out of school no matter how much fast money I could get from doing illegal things. My goal is to become a youth mediator. This summer I worked as a recreation staff member with Toronto Community Housing. I love kids. It made me laugh when one of our smallest children walked an elderly woman across the street. That practically made my whole summer.
I joined Y.I.A. (Youth in Action), an anti-violence association, too. I facilitate workshops with kids in surrounding neighbourhoods. I go to the neighbourhoods that have gang-related problems, as well as drug problems. We don't just talk about the problems, but work on finding solutions. I also became a youth tenant representative in the same neighbourhood I'd started to hate because I felt that it had lured my brother away from me with drugs and big money. Part of the reason I became a tenant rep was because I wanted people to see my pain and sorrow. And I wanted to make sure that the top dogs heard what youth had to say.
Going from being miserable to becoming a role model for myself and hopefully for others in just a few short years was a challenge. There are and were so many roadblocks. I can't tell anyone how to change their life; I'm only sixteen. But I think a lot of it is about making choices. When you are living in the 'hood those choices are harder and fewer. Not having a lot of mentors and adults to guide us makes things very difficult, but not impossible.