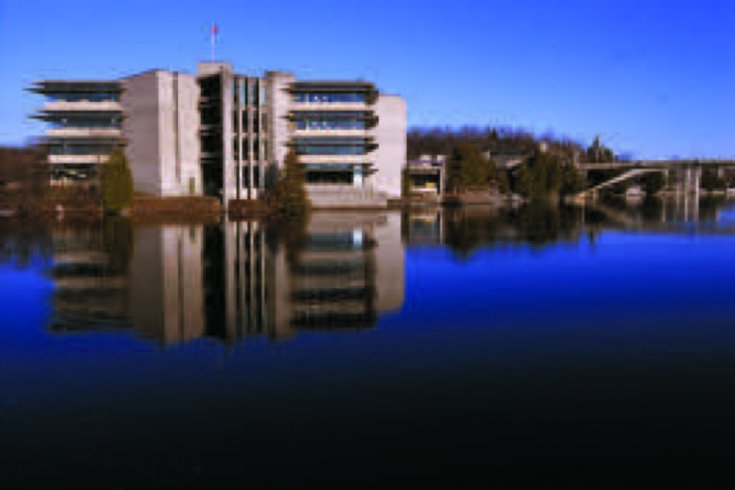 peterborough—On the Faryon Bridge, a swooping concrete parabola across the Otonabee River near Peterborough, Ontario, Trent University students have written a series of messages: punk show 8:00. No Star Wars. Look at the river! The water's clean arc is lovely on a winter afternoon, but the modernist buildings of Symons Campus, constructed in 1965, are more compelling. Their sculptural forms, in stone, glass, and concrete, rise dramatically out of the river. At the end of the bridge, a grand staircase is swept clean. Even the graffiti is respectfully drawn in chalk, smudged by snowflakes.
Architecture critic Lisa Rochon called this "the place where the soul of the Canadian Shield was revealed through architecture." Indeed, when architect Ron Thom designed the new campus in the early 1960s, he fused the rough beauty of the region's glacial landscape with the austerity of its stone farmhouses. Forty years later, students amble to class across one of the most beautiful modern campuses in the world.
In May, Trent will host the first-ever gathering of docomomo Canada, a group of architects and historians dedicated to the documentation and conservation of buildings and sites of the modern architecture movement. Most North American city centres bear the heavy footprint of modernism—impenetrable walls of social housing, high-rise office towers, windswept concrete plazas—but many of the sites are disappearing. Even Nathan Phillips Square at Toronto City Hall, Canada's grandest and most famous example of a modernist civic space, is facing the prospect of a dramatic makeover.
Tucked into a river valley outside Peterborough, the Trent campus is vulnerable as well. Spanning 4,000 feet of riverfront, with its set of low, grey forms that seem to grow out of the majestic bedrock, it was a dream commission for Thom. He laid down a series of small, intimate colleges, echoing historic campuses such as Cambridge, Oxford, and their American descendants in New England. A stone tower, though almost cubist in form, roots the campus in a collegiate past. "The attempt now is to find a method of building that will not be outdated, which will be consistent with modern technology," Thom wrote. "Ultimately, the planning should produce harmony without rigidity."
Trent has that balance in the varied textures of the concrete walls—stubbled with aggregate stone or striped with the grain of the plywood that shaped them—and in the expressive forms of the Faryon Bridge. At Lady Eaton College, weathered concrete squares suggest a route across an oval lawn. And at Champlain College, a series of courtyards weaves down to the edge of the Otonabee, where two simple steps invite you to venture out into the water.
Inside Champlain, a residence stairwell is littered with student debris: party flyers and Converse sneakers. But each floor's corner windows, like those of Frank Lloyd Wright's Fallingwater, offer raw vistas of nearby evergreen slopes. In the common room, a wall holds the winning entries in a student photo contest and most of them feature the snowy forms of Thom's buildings. At least to a few students, the campus is what its planners intended: "a place of aesthetic as well as intellectual excitement."
To the relief of docomomo, the Symons Campus is largely well-preserved, and several newer buildings were carefully crafted to respect Thom's vision. A low, steel-and-glass building designed by Toronto's Stephen Teeple, for instance, alludes to the flat planes and skewed geometry of the original buildings.
Elsewhere, however, there are signs that the work of Thom, who died in 1986, is being slowly eroded. Trent used to employ a heritage architect, but not any more. In the Bata Library, some of the custom furniture Thom chose has been carefully maintained, but the array of modern chairs he selected by icons such as Alvar Aalto and Arne Jacobsen have disappeared to garage sales, the trash, or perhaps been dragged off to student dorm rooms. And then there is Peter Gzowski College, an oblong six-storey slab clad in bright yellow stucco and spotted with irregular windows that is clearly an interloper, overshadowing the original buildings and destroying Thom's master plan for the site. Critics have called it "a travesty," and a student group is arguing half seriously for its demolition.
At the same time, there have always been those who have hated modern architecture like Thom's."There are people of a certain generation who fought modernism, as a way to preserve nineteenth- century heritage buildings," says James Ashby, a conservation architect and one of the docomomo conference organizers. "Some of these places, particularly in city centres, were seen as very aggressive — foreign and unwanted."
In Vancouver, for example, the former BC Electric Building at the corner of Burrard and Nelson streets, which Thom helped shape as an apprentice architect, is the lone success story: it's been saved as condominiums. Virtually every other major modern building in Vancouver has been knocked down or altered beyond recognition.
Ashby says many nineteenth-century buildings have been successfully rehabilitated, though often at great expense. Likewise, 1950s and 1960s buildings need updates, but the challenges are technical as well as aesthetic. Modernism was "a period of invention and experimentation, and some of these experiments have failed," Ashby says. Today, what do we do with buildings made of Zenitherm, asbestos, and Formica?
And, as Ashby points out, the biggest problem is one of perception: "When we see things that are familiar to us from our childhood, we tend not to think of them as heritage." Peering at Trent's Science Building, third-year student Carolina Santana captures a popular attitude in one dismissive phrase: "There's no beauty at all."