Listen to an audio version of this story

For more audio from The Walrus, subscribe to AMI-audio podcasts on iTunes.
At first it's unclear where these people might be. Somewhere tropical, maybe. Somewhere humid. Certainly somewhere fragrant—gardenias, pink lotion, shea butter—and carefree. There, beneath the cosmos, a face's scattered freckles rhyme neatly with the stars. The tallest woman you've ever seen looms high above a city. Huddled closely, a man and a woman pose against a sheet of mottled sky, skin twinkling like all the world's sunshine is trapped behind their faces. As the photographs accumulate, a setting crystallizes: it's a sun drenched arcadia of leisure and Black beauty, a fictional place thirty-one year-old photographer William Ukoh calls "the Willyverse." Obviously, the Willyverse doesn't appear on any map, but when asked how he might describe it, Ukoh says only that it's an imagined "midway point between Nigeria and Canada"—his place of birth and adopted homeland, respectively. Otherwise he would prefer that the viewer made up their own interpretation. Ukoh, who lives in Toronto, has been building this world since 2016. He has photographed artists and actors for GQ and beauty stories for Vogue Portugal. He has collaborated with fashion designers and exhibited in galleries across New York, Lagos, Toronto, and Amsterdam. All the while, he has refused to make a distinction between his fine art and his commercial work, preferring instead to see it all as the moving parts of one self-contained universe, a place that expands with each new image. "There's definitely a surreal element to the world," he says.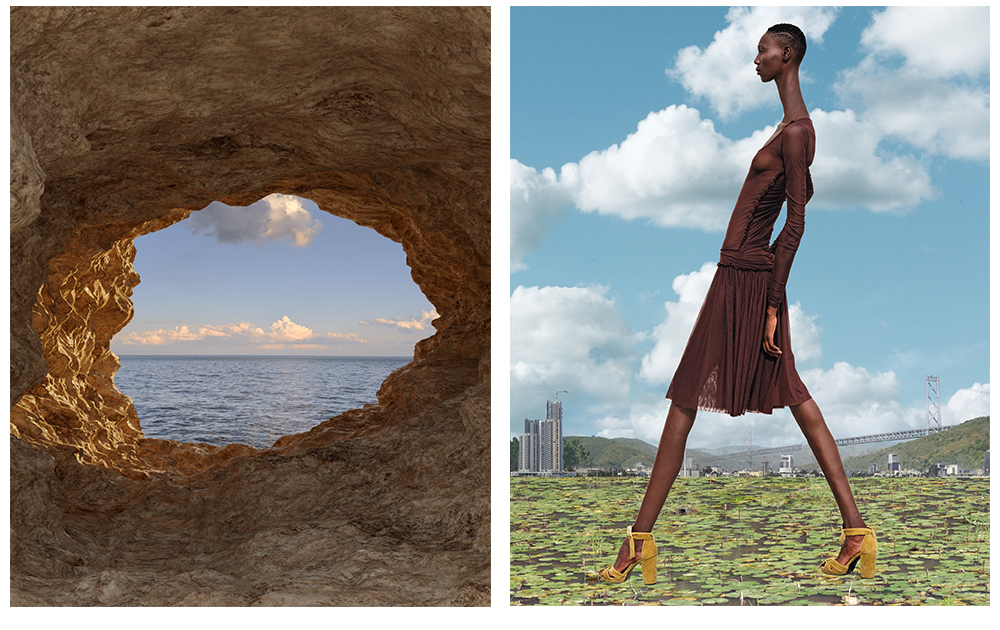 There's also a sense of ease, joy, and serenity. The colours are vivid and saturated, the weather uninterruptedly warm. Most of Ukoh's subjects are Black, which is less a radical approach to art than it is the natural ethos of a man who grew up on the mainland stretch of Nigeria's capital, surrounded by people he saw himself in. "It wasn't until recently that I started to ask myself how growing up in that environment affects how I approach my work," he says. Ukoh spent the better part of his childhood playing in his family's Lagos apartment, furnished with his mother's ever-growing collection of wooden sculptures, traditional African masks, and prints of High Renaissance paintings. He often occupied himself by watching anime and cartoons—limitless worlds, he says, where "there were zero consequences." When he wasn't watching these programs, the sound of his mother watching fashion television would fill the living room. All these fragments of childhood background noise have come to guide his practice.
Ukoh is self-taught. Photography was an accident. In 2013, he was studying computer science at McMaster University when, one day, his sister brought home a DSLR camera she had been supplied for a course. Intrigued, Ukoh took a few experimental pictures and fell in love. He bought a bulky Sony Alpha 350 and began a BFA in film—a decision made partly out of a desire to immerse himself in storytelling, partly out of the fear that, were he to pursue photography directly, the academy might spoil his natural passion for the medium.
Like many young Black photographers without connections in the art world, Ukoh forwent traditional channels by tailoring his photos for Instagram, where they gained attention. There's a sense that his images are in conversation with the work of other young artists, like Tyler Mitchell, whose photographs employ the language of suburbia to imagine an Eden for young Black Americans. But, when asked to identify his influences, Ukoh cites Richard Avedon and Nick Knight: legendary image-makers whose mastery of portrait photography—intimate and humanistic, otherworldly and narrative driven—came to define America's conception of beauty and style in the latter half of the twentieth century. This genre of fashion photography still tends to privilege a Eurocentric fantasy of beauty: pale girls, bright eyes, thin noses. But Ukoh's vision seems to reflect his own private understanding of what, and who, is beautiful.
Though he never uses the word utopia to describe his art, Ukoh has used escape. In the real world, Blackness has been perennially haunted by the threat of racist violence. But, in Ukoh's images, leisure appears to supplant the abject. He thinks freedom can be achieved only with the total annihilation of fear. Two summers ago, when I first interviewed Ukoh, he told me, "I feel like freedom is a state I'm always chasing." Today, he says, this still holds true. Using 3D-modelling software, he stitches together the real and the imaginary, blending his photographs with digitally rendered settings. "You're never really sure if this is an actual location or something that was created in post-production," he says.
Fiction tells the truth. Those with the clearest vision of the world, of its blunders and its failures, often pitch themselves into fantasy to break free from claustrophobic limitations. It's precisely this practice that lends Ukoh's images their allure and their honesty. Imagined and manipulated as they might be, his tranquil scenes offer a lucid commentary on our own material universe: a place that can be survived only by clinging to hope, that fragile thing, the only thing we have.