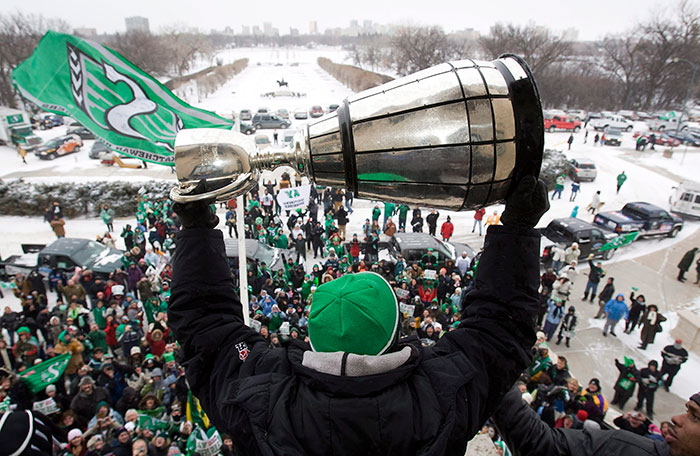 Photograph by the Canadian Press/Troy Fleece
On November 25, my wife and I, my three children, and their spouses will be at the Rogers Centre watching the Grey Cup game. For several years now, our family has held its annual get-together during Grey Cup week, Christmas being a time when we are pulled in too many other directions. My daughter may be sporting the watermelon bra she fashioned for the 2007 game, but whether our team, the Saskatchewan Roughriders, is in the game or not we will all be decked out from head to toe in green and white.
Though I am a retired English professor in my eighth decade, one who has been honoured with my university's distinguished researcher award and a Governor General's Literary Award, I will again be seen in the streets of Toronto with my beard dyed green. So much for my supposed "mature" years. But this isn't new: I have worn a Rider jersey or cap to the top of Mayan pyramids, along beaches in Bora-Bora, and through the streets of Berlin and Paris. Invariably, this elicits a shout of "Go Riders!" from someone in the crowd. We are everywhere, this band of brothers and sisters known as Rider Nation. And, no, we're not a political group: we don't seek separation from the rest of Canada; we just want to fill its stadiums and streets with green and white and the Roughrider S. And, incidentally, we want to beat the rest of the country at football.
This is what is called Rider Pride, and it is hardly new. Created as the Regina Rugby Club in 1910, the Saskatchewan Roughriders are by far the oldest continuous football club in western Canada, and second only in longevity to the Toronto Argonauts and the Hamilton Tiger-Cats. The spirit grew out of the spectacular expansion and unlimited optimism in western Canada at the beginning of the twentieth century, when success on the sports field advertised a city's promise and vitality. When a victory over Winnipeg in its third season gave Regina the western Canadian rugby championship, several thousand supporters cheered the team from the railway station to the town hall, and the game was rehashed over and over again in homes, businesses, bars, and church sermons.
Gaming System
E-sports turn professional

Shen Plum
Coach Kang Dong-hoon watches his players closely as they train for competition at their headquarters near Seoul. He monitors diet, prescribes exercise regimens, and discusses strategy while they grind out ten hours of practice a day. But the games played by Coach Kang's professional team, Incredible Miracle, are entirely virtual. As the thirteen-man team trains for StarCraft II, a real-time war strategy game that pits three imaginary races (Zerg, Terran, and Protoss) against each other, a barrage of keyboard clicks echoes from the computers in the common room. Team houses such as Incredible Miracle's high-rise apartment are growing more common as e-sports become increasingly lucrative. The squad has placed first at sixteen major tournaments since 2011, earning more than $700,000 (US) in winnings, on top of sponsorships from companies such as LG, Intel, and global tech giant Nvidia.
—Andrew Nguyen
The Roughriders were founded as a publicly owned club and remain one of the few such teams in Canada. This has always given every supporter a sense of ownership, and in many ways over the past century ordinary citizens could see their lives reflected in the club's fortunes. When two world wars took thousands of the province's young men, the team lost many of its best players, some of whom came back physically broken and others not at all. When the boom times stopped, as they did in the Depression and again in the '80s and '90s, the Roughriders, like the people of Saskatchewan, had to fight to survive. More than once, beginning in 1919, the club needed to appeal to its fans. In the worst Depression year, 1937, a headline in a local advertisement announced, "The Riders Need Help!" Decades later, the club mounted province-wide telethons to raise enough funds to continue operations. As they always have, with neighbours who have lost their crops to hail or drought, or their homes to fire or flood, the people unfailingly responded to keep the Roughriders alive. Underlying this response is the simple realization that if the team did not exist today—if it had not been formed in the early days of Canadian football—Saskatchewan would never get a franchise.
Looked at through the harsh lens of economic reality, the existence of the Roughriders has always seemed implausible: their market, the million inhabitants of Saskatchewan, is the smallest in the Canadian Football League, and the second-smallest (after the Green Bay Packers) in North America. But that judgment overlooks the unique intensity of the club's fans, diehards who regularly drive hundreds of kilometres from Meadow Lake, Carrot River, and Porcupine Plain to see their team play. And it ignores the vast Roughrider diaspora spread throughout Canada and far-flung parts of the world, those whose devotion glues them to their television sets and computers, or makes them swell attendance figures in Calgary, Edmonton, and Vancouver, and even in the cities of the east.
A healthy band of Roughrider fans watches the games in Regina's Mosaic Stadium, but a great many more have only ever experienced them through radio or television. For decades, the club benefited from their support only morally and through modest television revenues, but a shrewd marketing program initiated by the team in 2002 has changed all that. Aided by a provincial economy that surged to become one of the strongest in Canada, and by a series of winning seasons, the club began to sell a hugely expanded line of souvenirs and memorabilia. As a result, on any Roughrider game day, one can walk into a bank in La Ronge, a grocery store in Prince Albert, or a liquor store in Swift Current and be served by staff decked out in team colours.
A trip to one of the four large Rider Stores in Regina and Saskatoon devoted exclusively to the team's paraphernalia can be a surreal experience. Outsiders can understand the pennants and jerseys, but few are prepared for the Roughrider toothbrushes, dental floss, lip balm, windshield washer fluid (green, of course), men's and women's underwear, dog coats, golf tees, barbecue covers, oven mitts, and so many more improbable objects marked with the trademarked stylized S. Babies, some of whom are propped up in front of a televised game at three days of age, can be outfitted in Roughrider bibs, caps, shirts, and booties. Should the game go badly, they can share their green and white pacifiers with their distraught parents.
The Roughriders now sell an astonishing 67 percent of all CFL team merchandise, second only to the Montreal Canadiens and the Toronto Maple Leafs in sales of sports memorabilia across Canada. Like so many other Saskatchewan resources, they are a growth industry, one that has made them more affluent than at any time in their history. They are the envy of the other football clubs, and their advice is frequently sought by other sports organizations.
But replicating the Roughriders' marketing success elsewhere will prove difficult. On the surface, it would seem that the storied club has tapped into typical sports fans' desire to show allegiance to their team. In 2011, however, when the Roughriders only won five games and finished last in the league, instead of plummeting, merchandise sales rose significantly. This suggests that the fans' loyalty is grounded in something much deeper than just the team's performance. Their pride is for the province itself, a pride flaunted by the S on their jerseys, jackets, and caps as they saunter down Yonge Street or fill Nathan Phillips Square this November.
This appeared in the December 2012 issue.