A global wake-up call for Canada
The intersection of climate change and health in Canada is an urgent concern. As temperatures rise, Canada is witnessing an increase in heat-related illnesses, the proliferation of vector-borne diseases, and worsening air quality, especially in urban areas. The mental health toll from extreme weather events and climate uncertainty is also evident. Vulnerable populations, including Indigenous communities and those in northern regions, face disproportionate health risks.
At The Walrus Talks at Home: The Health and Climate Crisis, leaders from the Canadian Medical Association, Canadian Nurses Association, Lancet International, and more will address these challenges by discussing air quality, food security, nutrition, mental health, vulnerable populations, the role of adaptation and mitigation, and global responsibility.
This event will coincide with the launch of the 2023 Lancet Countdown on Health and Climate Change, an international, multidisciplinary collaboration dedicated to monitoring the evolving health profile of climate change and providing an independent assessment of the delivery of commitments made by governments worldwide under the Paris Agreement.
Join us online to learn about these leading organizations' contributions to this important report and the impact of the climate crisis on health in Canada and around the world.
---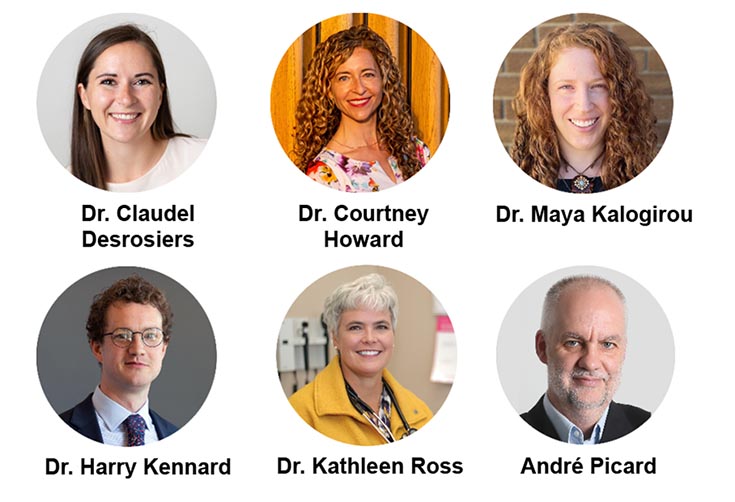 Featuring

Dr. Claudel Desrosiers, Family Doctor, Co-lead author, Lancet Countdown Canada Policy Brief
Dr. Courtney Howard, Emergency Physician, Vice-Chair Global Climate and Health Alliance
Dr. Maya Kalogirou, Registered Nurse and Representative for the Canadian Nurses Association
Dr. Harry Kennard, Senior Research Associate, Center on Global Energy Policy, Columbia University
Dr. Kathleen Ross, President, Canadian Medical Association
Moderated by André Picard, Author and Health Columnist, The Globe and Mail
Event Partners

---
2023 National Sponsors