Under fluorescent lights, a woman kneels in front of me and performs a blowjob. Her long brown hair tumbles around her thin shoulders and frames her turquoise eyes as she looks up. Behind us, men in golf shirts stream back and forth, chatting and exchanging business cards. Suddenly, her voice appears on my right, friendly and casual: "What do you think?"
The dulcet tones belong to Piper Blush, star of YourVRPorn, a small virtual reality company that began in Toronto. YourVRPorn's founder—a man named Mike, whose lower half had served as my proxy in the scene I'd just watched—started out making sensual, artistic fellatio videos and selling access to them on TheArtofBlowjob.com. But convincing people to shell out $31.99 (US) a month has become harder than ever, so the company is now focusing on getting ahead of the imminent wave of virtual reality porn. "Revenues are dropping for almost everybody," says Adrien Cutter, the company's chief technical officer and sometime cameraman. "The traditional model of making new videos every week with different models on a pay site no longer works in this day and age."
YourVRPorn occupies one of about forty spots at the Qwebec Expo, an annual business convention for the adult industry, held in Montreal's Marriott Hotel last summer. Attendees occasionally stop to take selfies with performers wearing booty shorts and tight dresses, but for the most part, no one is all that interested in talking about threesomes, double penetrations and MILFS. Here, porn's power and appeal is incidental to what really matters: how do you turn a profit selling something no one wants to pay for? From the early '90s until the middle part of the last decade, pornographers made a killing in DVD sales, subscription websites, hotel-room rentals, and paid cable TV channels. While there is a lot of debate how over much the industry was generating at its peak, the Economist in 2015 suggested it could have been as high as $50 billion a year. Trade shows like the Qwebec Expo were the site of lavish parties, sponsored by companies happy to show off their success. Today, the merrymaking is much more modest. No one can agree on how far revenues fell since the boom years, but some estimate it might have been as much as 75 percent. Yet despite the decline, porn is more ubiquitous than ever. How to explain this?
Simple: piracy. Like other media products disrupted by the digital shift, porn has been severely devalued by upstart players undermining established companies. In the mid-2000s "tube" aggregator sites—modeled after YouTube—began flooding the Internet with free footage of copulating bodies. Many of the videos were pirated, and as consumers moved en masse to those tube sites, companies watch their earnings plummet. Vivid Entertainment, once an LA-based powerhouse, lost 80 percent of its DVD sales since the onset of online porn. A report by Porn Watchers found that between 2006 and 2012, 1.2 million years' worth of porn were watched on two tube sites alone. That the adult industry struggled amidst this tremendous influx of users is possibly the best testament to the effects of piracy.
But while porn followed the same trajectory as other post-industrial media, the outcomes are starkly different. The major players in film and music ultimately recovered and secured their economic advantage. In porn, the disruptors seized control. They have a name: MindGeek.
If Qwebec Expo attendees, sequestered behind curtains in Marriott's basement, represent the remnants of the old order of adult entertainment, several kilometres across town, in a brightly lit six-storey building on Décarie Boulevard, is one of porn's epicentres. Originally called Mansef, and later Manwin, MindGeek is today an international conglomerate that controls a major portion of the smut people watch online. The company didn't invent anything. Instead, its success is due to a trait they share with major tech firms: a rapacious acquisitions strategy. Sensing the revenue-potential in the abundance of porn online, it went on to acquire and create many of the popular tube sites that ultimately brought the industry to its knees. MindGeek realized that, given the scale of global porn consumption, free porn could be monetized. By undermining competitors, buying them out and then consolidating the network under a single corporate structure, it could generate enough traffic so that if even the tiniest fraction of consumers actually subscribed, the model is still lucrative.
Wall Street agreed, and using a $362 million hedge fund investment, MindGeek gobbled up big companies such as Digital Playground, Twistys, and Reality Kings. Those acquisitions gave it control not just of more tube sites but also production houses and distribution channels. It's now hard to run a porn business that isn't dependent on this mega-company.
But MindGeek has also made it hard to run a porn business—period. Adam Grayson, chief financial officer at Evil Angel, one of the larger porn outfits in the US, estimates that one hour of content is now worth 50 percent of what it was a decade ago. And according to FilmLA Inc., the number of adult films permits issued in LA has dropped by approximately 90 percent. By building its empire on free content, MindGeek helped devalue the product, leaving companies urgently looking elsewhere for revenue. Some at the Expo were trying to reposition themselves as service providers, helping the still-remaining content producers break into emerging mobile markets or popular social media platforms. Other companies were trying to serve various aspects of porn distribution: web-hosting, payment processing, mobile platforms, analytics. All of them are doing anything they can to avoid drowning in the ocean of free.
So as I sat there, flustered, goggles in hand, Piper Blush's question struck me as optimistic but determined. With porn's lucrative days far in the past, the survivors were struggling to adapt to the current stakes. Could the new world MindGeek created make room for them?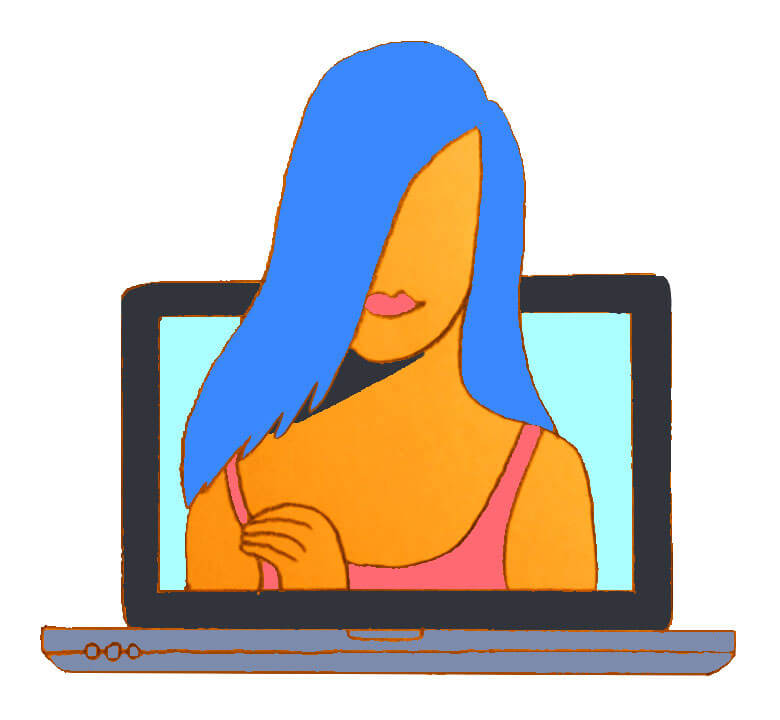 Looking across from the iconic Gibeau Orange Julep, the building that MindGeek inhabits is as nondescript as its website. Except for the logo—spelled out in light bulb filament—high up on the sixth floor, the mirrored glass surface reflects a wide sky made wider by low-lying urban sprawl. Montreal may have earned its seamy reputation from the strip clubs that line St. Catherine Street, but it's out among the fast food chains and strip malls of this cheerless corner of Côte-des-Neiges that the city has become one of the world's largest porn distribution hubs.
The dozens of brands that MindGeek owns are scattered throughout its office in teams of various sizes. Popular sites such as Brazzers or Mofos are assigned a larger number of designers, marketers, analysts, and managers, who together process and post content from more than 1,000 partners around the globe at a rate of several scenes per week. The different brands, together with the ad network MindGeek also operates, add up a single organism, through which traffic flows like blood.
Founded in 2004, MindGeek identifies itself as a company that specializes in "Internet traffic generation," a phrase that expresses porn's true function in the twenty-first century. Explicit imagery is just bait—traffic is the industry's stock and trade. The heart of MindGeek's operation is PornHub which funnels traffic to the different pay sites. The other tube sites perform the same function, but PornHub is the most front-facing brand, with nearly 88 billion videos viewed in 2015.
Before MindGeek, the online porn industry was dominated by the affiliate model, which is basically an agreement between the content owner and the affiliate site. The content owner gives other sites videos or pictures, and those other sites do what they can to get traffic—using Google SEO techniques, mainly, but also re-framing the same content for different niche markets—and take a commission on whoever clicks through and subscribes. This is a process usually described as a funnel. Pay sites would even have their own network of affiliate sites, sometimes numbering in the thousands, all of them funnelling viewers to the same few join pages. This is a common online business strategy outside of porn. Amazon has an affiliate program, and blogs and websites that have links to its products take a commission.
Very quickly, the tubes became the new funnel. Today, in an attempt to find viewers who will hopefully click on the ads that bring them to their pay site, merchants surrender content to PornHub and similar tubes for free. Although most pay site operators accept this content-sharing arrangement as a fact of life, the exchange isn't a happy one. Many believe that the company rewards sites that post full versions of their videos, so companies that try to protect the value of their product by holding some of it back don't necessarily benefit. "The tube site model has become an inhospitable place for smaller companies, but also necessary," says Sophie Delancey, the former VP of TheArtofBlowjob.com. "Either you avoid it and miss out on where the vast majority of people find their porn," says Delancey. "Or you submit to its whims and you wind up putting all your content on there, and it's buried anyway."
But many fear that what major tube site companies aren't given, they're able to take. This is largely thanks to the "safe harbour" provision by the Digital Millennium Copyright Act (DMCA). The provision ensures that a content-hoster can't be held liable if copyrighted material is uploaded onto their site. Without this protection, sites like YouTube would be constantly fending off costly lawsuits. Instead, the DMCA puts the burden on content owners to find their work and ask for it to be taken down.
Nate Glass, an anti-piracy activist and entrepreneur in Las Vegas, believes tube site companies may be exploiting this provision. "We've found tube sites where, within a few months of them existing, have 20,000 videos," he says. "You know that there wasn't a rush of people to upload videos to this site that no one had ever heard of." Indeed, adult industry forums reveal job postings for full-time tube uploaders. Large-scale content theft is a business.
In August 2015, a company called MetArt—which, like TheArtofBlowjob.com, specializes in sensual porn—sued MindGeek, alleging that it collected copyrighted works through PornHub, and then offered that content on its newly launched Pornhubpremium, a pay-only site that permits members to upload videos. The lawsuit claimed that MindGeek had approached MetArt seeking permission to display their videos on Pornhubpremium.com, but the porn company refused. MetArt then alleged that its movies appeared on the new site anyway—but before it launched and thus before any user could have put them there. As well, MetArt claimed that PornHub meta-tagged its own trademark into the pages illegally hosting MetArt videos, thereby pulling search engine traffic to Pornhub and away from the owner's site.
MetArt dropped the suit and no money was exchanged. (A MindGeek spokesperson says: "There is no room in our model for the assumption that content is pirated. Content providers are some of our most valuable partners.") But even if MindGeek had agreed to remove MetArt's content, it wouldn't have altered a thing. By enjoying a major part of the market share, MindGeek has created an ecosystem where it's very hard to get attention without using its services. Mike South is a pornographer and blogger who has researched MindGeek for years. He believes the company's dominance won't survive in the long-term. "It's running out of stuff." he says. "It's destroying its host and will fade away over time."
In the short-term, however, MindGeek is succeeding because whatever it loses in revenue, it makes up in data. Like other data giants, such Google and Facebook, it is brilliantly positioned to broker interactions between viewers, content providers, and advertisers. It takes a piece of everything that happens. It also remembers everything that happens. When users visit PornHub, videos they've previously watched re-appear in the form of targeted advertising: pop-unders, pop-up windows, banners. Indeed, the company's ad network, Traffic Junky, serves billions of ad impressions to over 60 million daily visitors and tailors content for identifiable audiences who are more likely to convert to paying customers.
This data tells stories about our sexual tastes that makes it easier to sell their product. MindGeek knows that people watch more porn when their sports team loses and that the American south likes gay porn and that—as one pay-site operator told me, with muted astonishment—"Tranny is a straight market." According to Delancey, when sensual porn emerged as a trend, MindGeek spotted it early and wasted no time launching its own themed premium sites, such as Babes.com. "They can create their own money-making ventures by having the right information," she says. "And by having money other people don't."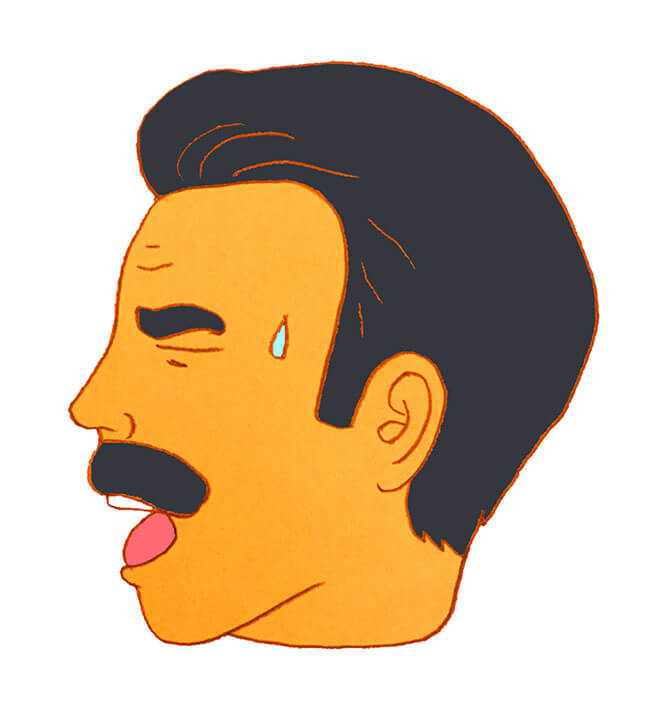 Porn stars feel the squeeze as well. The industry pushes its performers along a trajectory of glam shots to more extreme sex acts, all corresponding to a tiered payment system. The tubes drive this demand for escalating novelty because it knows some users will eventually want a better jolt or an offering that focuses more closely on their tastes, for which they'll have to pay. This accelerated rate of consumption, however, means that the industry cycles through porn stars faster. Many are used up in a little over three years. Coupled with the fact that their scenes will exist in perpetuity and that they don't get any residuals (ownership of the content is assigned to the company producing it), it's an even worse deal. Porn stars have few options, since it's difficult to maintain a career without working for MindGeek.
But for those trying to establish a more independent career, the first step is camming. Using nothing more than a webcam, perfomers can set up a peep show in their homes while strangers watch online. With thousands of cam shows available at any given time, they have become an important revenue stream for the adult industry (in 2013, the New York Times pegged profits at $1 billion a year). Apart from offering viewers a more intimate connection with performers—for which they are willing to pay handsomely—cams have several other benefits: they're difficult to pirate, and they give performers more control over their careers. Jemma Valentine is an Ontario-born porn star who left nursing school to get into the industry. After doing some mainstream modelling, she started camming. In the first year, she averaged $10,000 a month working thirty hours a week. Now she distributes her own videos on her website, sells scenes on sites like Clips4Sale.com, and also works for bigger companies like MindGeek's Brazzers and Mofos. With her flexible approach, Valentine is hoping for more longevity than most of her colleagues.
Whatever their niche, porn stars increasingly need to be personalities and not just performers. The successful launch of Miricam, a free video chat software for porn models, shows that users like interacting with performers who they believe are in control of their image. This trend is not lost on the creators of YourVRPorn.com, who created a dedicated solo-girl site for Piper Blush, their in-house oral sex star. The company is also planning on launching virtual reality camming, which Cutter warns me is "much more intense. You're literally in the same room," he says. "It starts drifting more toward cyber-sex."
Porn's increasing engagement with consumers coincides with its ongoing march toward mainstream acceptance. MindGeek has excelled at precipitating the day when porn is normalized. Take, for example, the flurry of articles in the mainstream press that compared PornHub to Netflix when the company released its new subscription service in August 2015. The analogy is absurd. Netflix licenses all its content, never gave away anything for free, and hasn't bought out the major studios. But it earned MindGeek a generous round of coverage and reinforced the idea that watching porn is as natural as watching movies.
MindGeek needs to destigmatize porn not to attract more viewers—it has no problem getting those—but to attract better advertisers. In other media, free content is supported by advertising, but it's hard to see how this could work for the adult industry, because online porn is a closed system. YouTube advertises trucks and beer and domain providers and everything else. Adult sites advertise other adult sites. In MindGeek's case, a quarter of the ads on its tube network are for companies that it also owns, which means, at the end of the day, they're still trying to convince people to type in their credit card numbers.
Still, mainstream advertisers have started to slowly turn up. Back in 2013, Relativity Media used PornHub to help promote Don Jon, a film somewhat ironically about the deleterious effects of porn on one man's sex life. The food delivery service Eat24 and, more recently, the clothing brand Diesel have also advertised on PornHub. But building a marketing campaign around the tubes means potentially sharing space with some of the most disturbing ads on the Internet (ads for incest, cartoons with Disney characters in gang bangs, masturbation machines). Even some adult sites refuse to buy placement, lest they be contaminated by association. TheArtofBlowjob.com preferred relying on social media and word of mouth. Likewise, the creators of an adult dating site called Mixxxer have also stayed away.
Porn ads are effective because the people seeing them are turned on, and arousal makes people dumber—executive functioning is decreased, judgment becomes impaired. MindGeek has always known that numbed-out viewers will go against their better judgment when clicking around PornHub videos. The aroused brain releases dopamine, an anticipatory neurochemical that helps explain porn consumers' voracious demand for novelty—new faces, more shocking content—and why the risk of clicking that sketchy banner ad feels good.
Arousal offers a unique advantage to porn advertisers. Humans release oxytocin during sex (whether someone else is present or not), and oxytocin is a pair-bonding hormone. The combination of dopamine and oxytocin puts the lusty consumer in a vulnerable state of "formation attachment." For brand awareness, it doesn't get better than an orgasm.
Despite billions of users regularly pair-bonding with MindGeek brands, popular acceptance seems like a distant goal. And for good reason: the contents of even mainstream porn are often astonishingly offensive. Aggressive misogyny is ubiquitous and racist tropes are commonplace—PornHub displays clips from a site called Blacked—not to mention the popularity of underage-themed porn. Add to that the physical and psychological damage incurred by porn performers, and it's hard to imagine online porn straying too far from the shadows.
Tech entrepreneur Cindy Gallop blames these conditions on society's discomfort around porn. "When you drive an industry underground," she says, "you make it a lot easier for bad things to happen, and a lot harder for good things to happen." To that end, Gallop launched makelovenotporn.tv, a site where "real world" people share videos of themselves that other members can rent for $5. Her mission is to drag sex out of the shadows, where its true profit potential can be unleashed. Gallop points out that Fifty Shades of Grey is one of the highest grossing books in the world. "That's the financial power of socially shareable sex," she says.
"Our business model is the exact opposite of MindGeek's," Gallop explains, referring to the fact that porn performers don't share in the dividends of their work. "I believe everybody should realize the value of what they create." Gallop envisions an online community where members can go viral, like YouTube stars, and believes that mainstream ads will eventually be embedded in real-world sex videos. "We are a gold-mine for brand partnerships," she says.
Most people don't make the leap between thinking about porn when they're horny and thinking about it when they're not. The industry's most faithful consumers—87 percent of men watch porn versus 37 percent of women—refuse to acknowledge or accept their behavior. The ideal future, for Gallop, would be one in which users become engaged consumers, the way people are with fair-trade coffee. Know where your porn comes from, how it was made. The future of sex, she argues, is likely to be social. "Our competition isn't MindGeek," says Gallop. "Our competition is Facebook and YouTube, if Facebook and YouTube allowed sexual self-identification and expression."
Gallop has a point. Just as porn's business model is no longer tenable for smaller companies, the stigma around porn may not be tenable either. Porn exists because people want it. They want to make it, they want to star in it, and they want to see it. Whatever we think about it, porn is us.
The biggest threat to the online porn industry may not be piracy or monopolization. It's kids. Chyng Sun, a media studies professor at NYU who studies the impact of porn on sexual behaviour, found that 93 percent of men were first exposed to porn online before the age of seventeen—according to some studies, exposure can come as early as ten. In the current era of porn abundance, the term "adult entertainment" is simply a misnomer.
Other research shows that the more people watch porn, the more likely they will imitate what they see, crave aggressive sex, visualize porn to maintain arousal during sex, and worry about their own sexual performance. If porn-watching shapes adult behaviour, plainly it can also have an impact on children. The emerging awareness that kids are learning about sex from hardcore tube has driven a backlash in recent years, especially in the UK, where the previous PM David Cameron stated that Internet porn is "corroding childhood."
If the porn industry doesn't do something to prevent children from accessing porn, governments will. The UK has already censored what kinds of porn can be made and displayed online, and it continues to look for ways to ensure that every visitor to a porn site is age-verified. Many conversations at the Qwebec Expo focused on this impending tide of censorship, which some worried will cascade from the UK to other countries like Canada.
The presence of children on free sites highlights the degree to which online porn is an unregulated space. "You can't walk into a licensed sex shop and buy a DVD of anal sex if you're twelve years of age. Yet a twelve-year-old can go on the Internet and watch a video of anal sex in a matter of seconds," says Steve Winyard of ICM Registry, a company that has launched a series of adult-only Top Level Domains—or TLDs—over recent years (.xxx, .sex., .porn).
Winyard has been involved in discussions by the UK government to figure out a way to age-verify users, but he isn't optimistic. "I don't think the industry will ever offer a self-regulating solution," he says. There's no question that should governments choose to banish the industry to porn-specific domains, ICM—which owns all the porn-related TLDs—will be extremely well-positioned. Ironically, MindGeek (when it was known as Manwin) sued ICM in 2011 for attempting to create a monopoly. They settled in 2013, but if porn is ghettoized on the Internet, ICM will become the new powerhouse, basically overnight.
MindGeek appears to be betting on mainstream acceptability, while Gallop thinks the revolution in social sex will look completely different than what's found on the tube sites. For the team at YourVRPorn and many other companies the future is virtual reality.
Very early in Cutter's tenure as CTO, he and Mike visited a friend who owned a prototype pair of VR goggles, and they instantly recognized the potential of the format for porn. Since the advent of gonzo porn in the nineties—which placed the viewer directly into the scene and frequently had performers addressing the camera—the goal of most porn has been immersion. VR takes immersiveness to a new level. The technology has been dubbed "the empathy machine" because of its proven power to increase one's sensitivity to the experience of others. In fact, when it comes to porn, VR is so engaging that viewers "forget" it's a simulation.
The penis I saw through my headset, for example, seemed to rise from between my legs. It wasn't an unnaturally large member, and the owner was caucasian, so it was believably my own. The model was life-size and more than life-like. It was so much like being alone in a room with another living, breathing human that my mind didn't bother to contemplate the difference. Even with the slightly fuzzy resolution of the prototype goggles, the sex act—the sucking, the kissing, the licking, the eye-contact—was intensely arousing. Did I get a hard-on? Yes.
VR won't happen quickly. Less than one percent of computers worldwide have the necessary hardware to support the technology. Even so, Deloitte predicts that 2.5 million headsets will sell in 2016, and other industry analysts project that sales will reach 200 million units annually by 2020, when the market is predicted to be worth as much as $150 billion (US).
But despite how slowly it gets here, Cutter believes the revolution is coming. Under his direction, the company has launched TrueVRPorn, a site featuring VR Porn exclusively by Piper Blush. Plans for two additional sites—VRPornCash, where porn producers can purchase camera rigs and join a network of other VR porn creators, and YourVRPorn, where consumers can watch videos from across the VR network—are in the works. If their hub becomes a destination for early adopters, they'll have repositioned themselves as gatekeepers.
A handful of companies have also caught on and are now doing VR porn, uploading their clips and trailers on PornHub's newly launched VR channel. One of most recent porn companies, HoloGirls VR, was founded in Vancouver in 2014, and has since expanded to include a team in Brazil and LA. HoloGirls VR operates through a subscription model (19.99 per month) and all memberships come with a free headset. One of their most popular videos, called "Get flix and Chill," mimics what a lot of men pinned after in college—sitting in a basement with a cute girl, watching a movie, then it turns into something more.
"When we started, "says company president Anna Lee, "we were trying to emulate 2D porn. But what everyone wants in VR is the loving, tender, girlfriend experience. When there's a fourth wall between you and what's happening, you want stuff that's a bit nastier than real life. When that forth wall is broken—which is what happens with VR—you're part of the scene in some capacity. And when that happens you want something more natural."
VR porn is still in its infancy. But since every successful porn innovation has delivered greater connection with performers, VR promises to be a lucrative shift in the evolution of digital intimacy. "It's growing faster than any other medium in the adult industry," says Lee. "This is where we're headed, this is where we're going. It's bringing back the need to pay for porn again. "
The Qwebec Expo concluded at Sharx, a bowling alley formerly on St. Catherine Street with a club-like atmosphere. Porn stars were swept into an endless series of grinning selfies and group shots. Among them, in a vinyl bodysuit, was Piper Blush. Everyone's skin glowed under the black lights. Eventually, the pornographers, tech guys and web masters drifted to the lanes.
All weekend, people kept telling me the porn industry is a family, and finally—as they divided up into teams, punched in their games and selected bowling balls—it looked like one. Many of them had thrived in the hand-over-fist era of online porn. Now, exhausted, they share ideas and strike deals as they try to rebuild their businesses on the margins of the MindGeek empire.