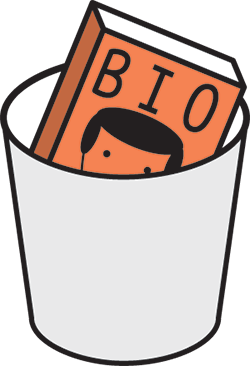 A list of the worst biographies
As posted on Amazon.com by user chud50
Tammy: Telling It My Way by Tammy Faye Messner
The Long Hard Road Out of Hell by Marilyn Manson
Angry Blonde by Eminem
Eminem: Crossing the Line by Martin Huxley
His Name Is: The Eminem Story in Words and Pictures by Scott Gigney
Nsync: The Official Book by 'N Sync
A Charge to Keep: My Journey to the White House by George W. Bush
The Prince of Tennessee: The Rise of Al Gore by David Maraniss
God, Guns, & Rock 'n' Roll by Ted Nugent
First in His Class: A Biography of Bill Clinton by David Maraniss
The Rock Says… by The Rock
1959
Born in Toronto, April 30. Dismayed by waste and overspending in publicly funded nursery. Begins collecting coins.
1966
Job delivering the Toronto Telegram in Etobicoke. Early mornings begun with oatmeal and CBC Radio. Forms lifelong hatred of media.
1975
Straight-A student at Richview Collegiate in Toronto. Hobbies include cross-country running, Reach for the Top, steadfastness, all things prickly.
1980
Devastated by National Energy Program. Attends Helix concert and experiences "contact high," complete with vision quest ending in a Canada where millions "work hard, pay taxes, and play by the rules."
1987
Rebellious phase. Helps create Reform Party. The West Wants In (creepy slogan). Vows to one day become "a leader of competence." Dabbles with signature "You-looking-at-me? " sleeveless-sweater stare.
1991–1993
Returns to Calgary to do master's in economics. Meets Laureen Teskey. Dates include designing graphics for thesis, breathless dinners over small government. "You had me at 'We're on the sort of libertarian side of the conservative spectrum.'" Married in civil ceremony.
1994–2002
Reform. Defunct. NCC. Outrage. Alliance. Forged. Day. In. Manning. Out. Stephen. In. New Conservatives. He's the boss. Becomes obsessed with cats.
2004
Election. Unveils Five Priorities: 1) Tax cuts 2) Tough on crime 3) Crime cuts 4) Tax crime 5) Tough-on-tax-crime. Loses to Martin's Liberals. Buys iPod. Play count for Blue Rodeo's "Try" soon hits 15,483.
2006
Election: The Sequel. Wins minority. Stares at portrait of Dief for three days straight. What portrait says is never revealed.
2008
Election: A New Beginning. Wins resounding minority. Budget blows. Coalition woes. Calls Crown. Keeps job. Dismayed by waste and overspending in publicly funded nursery (i.e., Canada). Continues collecting coins.