It was the middle of the night on November 25 when Barbara Carter was jolted awake by a fast knocking on her door. A small woman in her late forties, Carter lives on the eighth floor of the Regent Hotel on East Hastings Street. Even by the poor standards of Vancouver's Downtown Eastside, it's a decrepit building that can feel like there are more homeless people taking shelter in the hallways than there are tenants living in its small rooms. Carter's unit is terribly cluttered. There's barely room for her to lie down, with clothing and every sort of knickknack covering the floor, the walls, and evening hanging on strings from the ceiling.
She called through the door to ask who was there. "Somebody was overdosing on the fourth floor," she recounts during an interview in her room. "There was a young girl at the door, who said, 'I don't know what to do. You have to come do it.'" Children aren't allowed in the Regent Hotel and Carter was startled by the girl who stood in her doorway. "She looked like she was like twelve or something," Carter says.
As a long-time drug user herself, she has learned to manage her own addictions relatively safely. In her room, Carter keeps naloxone, the so-called overdose antidote that's used to reverse the effects of opioids like heroin and fentanyl. Upon entering the blood stream, naloxone seeks out opioid receptors in the brain and pushes drugs away from those connections, temporarily blocking their effects.
Carter grabbed a kit—a small pouch resembling a sunglasses case that holds three vials of naloxone, three needles, rubber gloves, and a face guard for mouth-to-mouth resuscitation—and followed the girl down four flights of stairs. In a room, Carter found a First Nations woman, no older than twenty, lying naked in a bathtub filled with cold water. "She was turning blue and I wasn't sure if it was from the water or from her drugs," Carter says. She took a syringe from her overdose-response kit, snapped the top off a vial of naloxone, filled the needle, and injected the girl in the muscle of her shoulder. A minute passed and nothing happened. Carter pulled the plug from the drain, jumped into the water, and began performing CPR. She loaded another needle with a second dose of naloxone and again injected the girl in her shoulder. Again, nothing. Another round of CPR and a third shot. Still there was no response.
"I had to get another kit," Carter says. She ran back up four flights of stairs to her room, grabbed a second naloxone kit, and sprinted back to the fourth floor. "It took six times," she says. Six injections. "It was very scary."
Finally, the girl returned to life. "She said 'Thank you,'" Carter says. To this day, she doesn't know the woman's name. "I don't ask," she explains. That was the sixth tenant at the Regent Hotel whose life Carter saved with naloxone. After the first one, in early November, she put a sign up on her door that reads, Hey you can get Narcan here, in reference to naloxone's brand name. Almost immediately tenants began showing up when someone had overdosed. "I was hearing people running through the hallways looking for Narcan kits," Carter says. "So I thought, if they have somewhere to go, maybe we could save somebody's life."
Carter is part of a shadow health-care system that has slowly developed in Vancouver since an overdose epidemic swept into British Columbia in 2011. There are others like her in many of the Downtown Eastside's hotels acting as de facto paramedics. Out on the streets, two unsanctioned supervised-injection tents operate outside the legal health care system, offering addicts a safer place to use intravenous drugs under the watchful care of volunteers trained in overdose response. Drug users have formed foot patrols and bike teams that monitor the Downtown Eastside's alleys, distributing naloxone and using it themselves when they find somebody in trouble.
It's a community response to the arrival of fentanyl, a synthetic opioid significantly more toxic than heroin. From 2000 to 2010, the number of illicit drug-overdose deaths in BC remained relatively stable, at an average of 207 per year. Then, in 2011, the annual death toll jumped to 292. It dipped slightly the following year, to 273, but then in 2013 rose again, to 330. In 2014: 370 people; and 510 in 2015. In 2016, it is projected that more than 800 people will die from illegal drugs in the province with more 60 percent of those linked to fentanyl.
Through October and November, frontline staff who work for nonprofits in the Downtown Eastside and paramedics warned that something had changed—that even after years with fentanyl existing in Vancouver, the situation was rapidly deteriorating. On December 16, Vancouver mayor Gregor Robertson convened a press conference to warn that the epidemic appears to have entered a more deadly stage. The night before, eight people had died of suspected overdoses in the Downtown Eastside alone plus one more elsewhere in Vancouver. Across all of BC, there were 13 fatal overdoses that day. "It's desperate times in Vancouver and it's hard to see any silver lining right now when we don't seem to have hit rock bottom with the number of people dying on any given day from an overdose," Robertson said. "We're not able to tread water anymore. We're losing way too many people."
Over the weekend that followed, there were another seven deaths that Vancouver police classified as suspected overdoses. In four days, sixteen people had died of drugs in Vancouver, the majority of them in the ten square blocks that constitutes the Downtown Eastside.
Something in Vancouver's drug supply has changed to cause overdose deaths to spike above where the fentanyl crisis had already taken them. Toxicology tests won't confirm an answer for two-to-three months, but officials suspect another synthetic opioid has arrived to Vancouver. Called carfentanil, it's believed to be roughly a hundred times more toxic than fentanyl. Having lived through a similar epidemic in the 1990s, residents of the Downtown Eastside have taken matters into their own hands and are rallying to care for each other in the absence of government.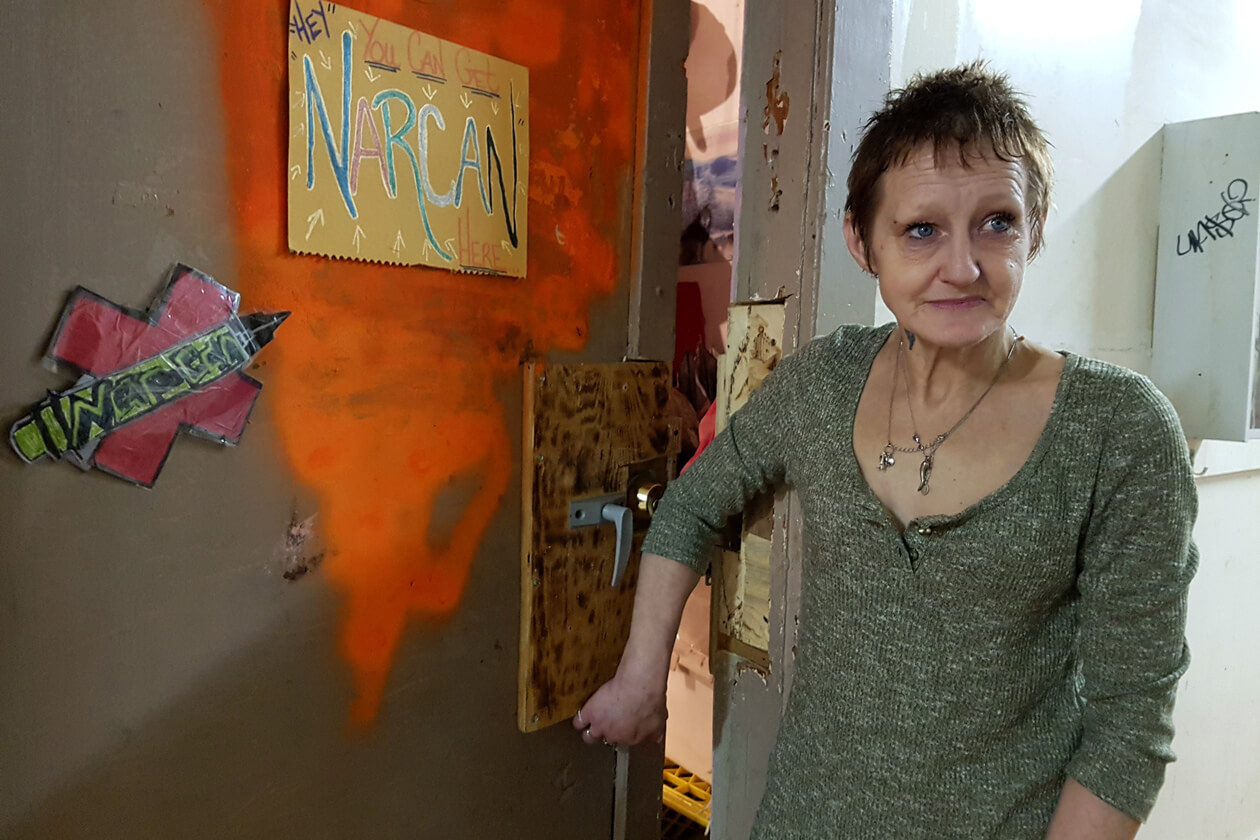 There isn't much to the supervised-injection site that Sarah Blyth established in September: a white canvas tarp draped over a steal frame. Underneath, there's a semi-circle of tables and chairs. Near the entrance, there's a stack of supplies for intravenous drug use: clean needles, a water cooler, and little dishes used to cook heroin, cocaine, or, increasingly, fentanyl. Watching over it all is a volunteer trained in overdose response and equipped with naloxone.
Blyth explains that her decision to launch an operation outside the law was one of necessity. "There were people on the street overdosing in the alley right in front of us," she says. "So we thought we would do something about it."
Three months on, authorities have reluctantly given the operation tacit approval to continue. Vancouver police say they consider the tents a health-care matter and therefore won't intervene. And while the BC Ministry of Health officially states it does not condone the tents, the minister paid a quiet visit on December 12 and thanked volunteers for their work.
Blyth guesses the government's tolerance for the tents is rooted in an acknowledgement that without them more people would die. When she started in September, there was one or two overdoses a day. "And then, all of the sudden, it was back-to-back overdoses. Or two overdoses at a time and situations that were completely chaotic," she says.
Fatal overdose statistics for BC are only specific to cities. But 911 call data for the Downtown Eastside supports the picture Blyth paints. For the one block that runs west from the intersection of Main and East Hastings, it shows that from January to August of this year, there was a relatively consistent monthly average of thirty-two overdose calls. Then, in September, that number jumped to seventy-four. In October, there were ninety-three, and then, in November, 155.
At Blyth's second tent, located in an alley off that block of East Hastings, a retired nurse named Sue Ouelette begins to explain why she chooses to donate her time, but a First Nations man using heroin drops from his chair. It's raining, and the upper half of his body has fallen in a puddle outside the tent. Oulette rushes to him and injects naloxone into the muscle of his thigh. The overdose is caught early, and there's no need to begin mouth-to-mouth resuscitation. Two minutes later, he slowly sits up.
"Hey, you've OD'd now three times," Ouelette tells him. "Fourth, you won't be lucky." Later that night, still working a long shift at the tent despite having responded to several overdoses that day, she resumes trying to explain why she's there. Ouelette recounts a week in October when a batch of heroin likely spiked with fentanyl caused fourteen overdoses in the building where she lives. She met a man named Corey Fry who was volunteering in homeless shelters, helping respond to overdoses. When his neighbours started to fall, he made sure everybody in his building knew he had naloxone in his room and was available to help. "He rescued at least seven of them himself," Ouelette says. Just when they thought the bad batch had worked its way through their building, Fry was found in his room, dead of an overdose. "It was an emotional shut down for everyone—because he was the heart of the building," Ouelette recalls, crying. "For several days, people were trying not to use drugs. But they were getting too sick from withdrawal. For me, that was when it became really apparent that we have a huge problem." She has been volunteering since. "Everybody that volunteers here has lost somebody. Everybody."
In the same alley is the Washington Needle Depot, a window that functions as what is likely the busiest needle distribution program anywhere in North America. It is operated by the Portland Hotel Society (PHS), a non-profit organization that the province contracts to run Vancouver's sanctioned supervised-injection facility, Insite, plus sixteen supportive-housing buildings in the Downtown Eastside. At the depot, Coco Culbertson, a senior program manager, emphasizes how the overdose epidemic has turned front desk staff into first responders. In the first ten months of this year, PHS reversed more than 1,000 overdoses in those sixteen hotels alone—more overdoses than occurred during the same period at Insite. "It's not just folks on the street that we're out trying to help," Culbertson says. "It's our residence as well."
At one of those buildings, the Stanley Hotel, PHS staff speak openly about how they're affected by the crisis. "I don't shake anymore, but it's still traumatic," Peter Radomski says. He has dealt with so many overdoses that the experience has become nearly routine. "But I often have dreams about the OD after," he says. "That's happened multiple times." Radomski estimates he's intervened in more than twenty overdoses since he began work at the Stanley ten months ago. His colleague, Tegan Dempsey, has been there for two-and-a-half years. "I would say in the fifties," she says. "But I've lost count."
The next morning, back at the Washington Needle Depot, a pair of PHS peers—the organization's term for past and present drug users it employs in frontline positions—sets off on bicycles. When overdoses spiked in November, Culbertson equipped teams with naloxone and fluorescent safety vests, and sent them out to patrol the neighbourhood. The program is called Spikes on Bikes. "They hand out harm-reduction supplies for folks who need them, and they also train people in the alleys on how to use intermuscular naloxone and how to respond to an overdose." Culbertson says the initiative remains in a trial phase but is recording five or six overdose interventions every day.
While PHS operates with a degree of separation from government the majority of its funding comes from the province, and Colbertson is reluctant to disparage its response to the crisis. Many frontline staff in the Downtown Eastside are in the same position, which has softened criticism of authorities. But Ann Livingston doesn't hesitate. A long-time activist who took a lead role in the community's response to Vancouver's first overdose epidemic of the 1990s, Livingston emphasizes how many people in BC died of drug overdoses since 2011: more than 2,400 people in six years, she notes. (The annual average number of people who die in traffic accidents in BC is 300, for a total of approximately 1,800 for the same period.)
"The government really needs to step up," Livingston says. "Meanwhile, you stack the bodies. It's a lot of dead people. Yet there is no sense of urgency for them."
On December 8, the response finally came. BC health minister Terry Lake enacted a ministerial order under the Health Emergency Services Act to immediately open three new supervised-injection sites in the Downtown Eastside. The unprecedented move sidestepped federal drug laws that for years prevented Canadian cities from establishing injection facilities like Insite. "We don't want to break the law, obviously, but at the same time, our major concern is saving lives," Lake said during the announcement. He also announced the government would deploy a mobile medical unit to the Downtown Eastside, establishing a field-style emergency room in a vacant lot. "With the September numbers, a lot of us were cautiously optimistic that we had turned a corner," Lake says while standing outside that facility a few days later. "When we saw sixty deaths in October, we still thought maybe we're still plateauing here," he says. "I understand the November numbers will be higher. We don't feel like we've turned a corner yet."
On December 19 the BC Coroner's Service released the November numbers, which showed an increase in fatal overdoses had indeed continued. Forty-nine across BC in August. Fifty-seven in September. Sixty-three in October.
In November: one hundred and twenty-eight.