"As the host of Drive on CBC Radio 2, Rich Terfry is known to Canadians not only for his work as a CBC broadcaster, but also for being the talented hip-hop artist known as Buck 65. In this conversation we speak about the rather unusual experiences he had growing up in small town Nova Scotia, his pursuit of baseball, his beginnings in music, and the uncertainty facing CBC Radio 2 in the wake of the cuts."—Broadcasting Canada – 19 – Rich Terfry
I'm told that within the halls of our public broadcaster, there's a loose term called a "CBC household," a shorthand phrase to describe places across the country where listening to (or watching) CBC programming is a seamless part of the daily routine, a fabric of the home.
When I first heard of the term, I halfway suspected it may have been coined because of my family. CBC Radio essentially served as the soundtrack of my childhood. It was there in the mornings—World Report on the car's dial as my dad drove me to rowing practice—and again in the evenings, with As It Happens filling the kitchen as we cleaned up after dinner. Radios were spread around the house—the garage, the bathroom, the kitchen, the bedrooms—to ensure that CBC was available in every corner.
Later on, when I left home for university and began to engage more with political and social questions, listening to interviews and conversations on
programs such as The Current and The Sunday Edition became just as important as my course studies and interactions on campus. It was while procrastinating for my exams that I clicked on videos in CBC digital archives and first learned about the history of the FLQ and the October Crisis.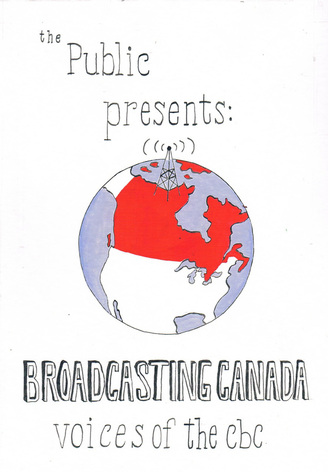 Courtney Clinton/The Public Radio
I've taken a strong interest in Canadian arts, culture, and politics ever since. Looking back, I realize that in many ways it was CBC programming that planted the seed within me: the notion of being an active citizen of this country. Not only do I have opinions on the issues confronting our society, but I also have the ability to add my voice to those conversations. After all, isn't that what Cross Country Checkup and the Talkback segment of As It Happens are all about? As with newspaper editorial pages, the idea is implicitly built in, that we as Canadians from coast to coast to coast can all share our perspectives on matters of the day.
So it has been with a very real sense of dismay and frustration that I've since watched CBC get hit by one budget cut and revenue challenge after another.To experience great programs such as Dispatches cancelled, documentaries scaled back, increased repeat programming, the introduction of ads on CBC Radio 2—in short, a wholesale watering down of the service. With the impact of each successive blow, it has felt to me as though we have decided to drain the Great Lakes, to methodically tear apart the Trans-Canada Highway.
For me, the role of CBC has always seemed so obvious, even if it hasn't always lived up to the ideal of its mandate. I can't understand why, as Canadians,we would want to give short thrift to the organization that has allowed us to celebrate our country, explore our arts and culture, and discuss the issues and ideas that shape our society.
The 2011 federal budget singled out the Mother Corp for some of the harshest cuts of the austerity era. While friends and others made jokes about the demise of the penny, I was filled with anxiety, wondering how CBC could absorb yet another reduction, after decades of being whittled away by successive governments. What this would mean for the programs I love, and for us as a country?
After that budget was introduced, I began to follow the issue with even more interest. I realized that while there was no shortage of voices in Canadian media articulating why CBC is a waste of money, there seemed to be preciously few others articulating the philosophic reasons for public broadcasting. As I followed the articles and debates further, I realized that within CBC itself, there had been an acute hesitation to make the case for support. This left a tremendous vacuum in the debate over public broadcasting, a vacuum that I felt needed to be filled.
Now I'm trying to do just that. I host a weekly radio program on CIUT, the University of Toronto's community FM station. Last spring, I began emailing some of the national broadcasters that I had listened to and enjoyed for years. I asked if I could interview them for a series about the people and programs of CBC, and the role the organization plays in Canada. To my delight, one after another of them agreed.
Several months and close to thirty interviews later, I've had the chance to speak to many of the most iconic broadcasters and figures in Canada, and learn the surprising stories behind their lives and careers: Rick Mercer, recounting how he was suspended from high school for starting an underground newspaper; Shelagh Rogers, on her first experience interviewing Peter Gzowski; Jonathan Goldstein, talking about receiving rejection after rejection early in his writing career.
It's been a fascinating journey to meet the voices and figures who bind us together as a country. And if there has been one central idea behind the series, called Broadcasting Canada, it has been this: at a time when not only CBC, but also newspapers and other avenues for public conversation are facing significant cuts, what are the ramifications for Canadian society (and our arts, culture, and democracy) if we lose these critical public forums?
To me, it's always felt like losing CBC would essentially mean giving up on an important idea of Canada, or at least the notion of a country that means anything more than a few arbitrary lines on a map, an archaic idea, and a stamp on a passport.
The Canadian Broadcasting Corporation was first established out of a moment of crisis—the crisis of American radio waves reaching Canadian ears, with hardly any Canadian voices available to counter that influx. In the present, with the combined of loss of NHL rights, budget cuts, cancelled programs and shuttered departments, we are now facing another crisis.
But of course, this is also an opportunity. We can either let CBC languish into obscurity, let it die from a thousand cuts—or we can come together and havea discussion on the role that it can and should play in our collective future. And not just for news, but for arts, culture, music, and more. As Shelagh Rogers sums up in her interview for the series, "At its essence, CBC's role is to reflect Canada to Canada, and to me that's poetic." I couldn't put it better myself.