When I was growing up in Winnipeg in the 1960s, there were essentially two places to shop: Eaton's and the Bay. Eaton's was the store my grandmother frequented, checking for bargains in its basement every week, eating lunch in the sedate Grill Room. The Bay was vaguely hipper. I remember it still had elevator operators then as well as its own library and post office, though the in-house orchestra was gone. Both stores had a kind of majesty to them, unaware they had peaked as retail ideas.
The decline of the downtown Winnipeg Bay store resembled Hemingway's description of bankruptcy—gradual, then sudden. It was the company's national flagship store until 1974, but with the advent of malls in that decade, it began to lose its currency. By 2019, the downtown core of Winnipeg had largely hollowed out, and some of the Bay floors were closing. What remained felt like a dismal Soviet-era shopping experience under gloomy lights. The store was built in 1926 at a cost of around $5 million; at the time of its closing, in November 2020, Cushman & Wakefield, a commercial real estate firm, valued the building at $0.
In April 2022, the Hudson's Bay Company announced it was gifting the iconic Winnipeg store to the Southern Chiefs' Organization, an alliance of southern First Nations communities in Manitoba. This gift was in fact a trade—two beaver pelts and two elk skins for the more than 500,000 square-foot building, a reflection of the original 1670 Hudson's Bay Company charter, which promised to pay rent of two beaver pelts and two elk skins to British monarchs whenever they entered the territory.
Richard Baker, HBC's current governor and chairman, acknowledged the company's complex heritage. "HBC's Truth and Reconciliation journey requires actions that demonstrate our commitment to moving forward together with Indigenous communities," he said in an HBC press release. The elegant beaux-arts building will be converted to a multiuse facility that includes housing, restaurants, a museum, and child care.
Once a network of ninety-two stores across the country, HBC's footprint has shrunk. Other Bay stores have also closed, and a legacy location in Calgary is reducing the retail component in its building. HBC, which was hit hard by COVID-19 lockdowns, is a company in transition. "We're not a department store chain," Baker said in a 2020 interview with the Globe and Mail. "We're a holding company that owns many billions of dollars of real estate." Millions of Canadians grew up with the Hudson's Bay Company as a place to buy towels and clothes, but land has always been at the heart of HBC. Canada's oldest company began as a land deal (at least from the European perspective) during an outbreak of the bubonic plague and may end as a real estate deal in another plague.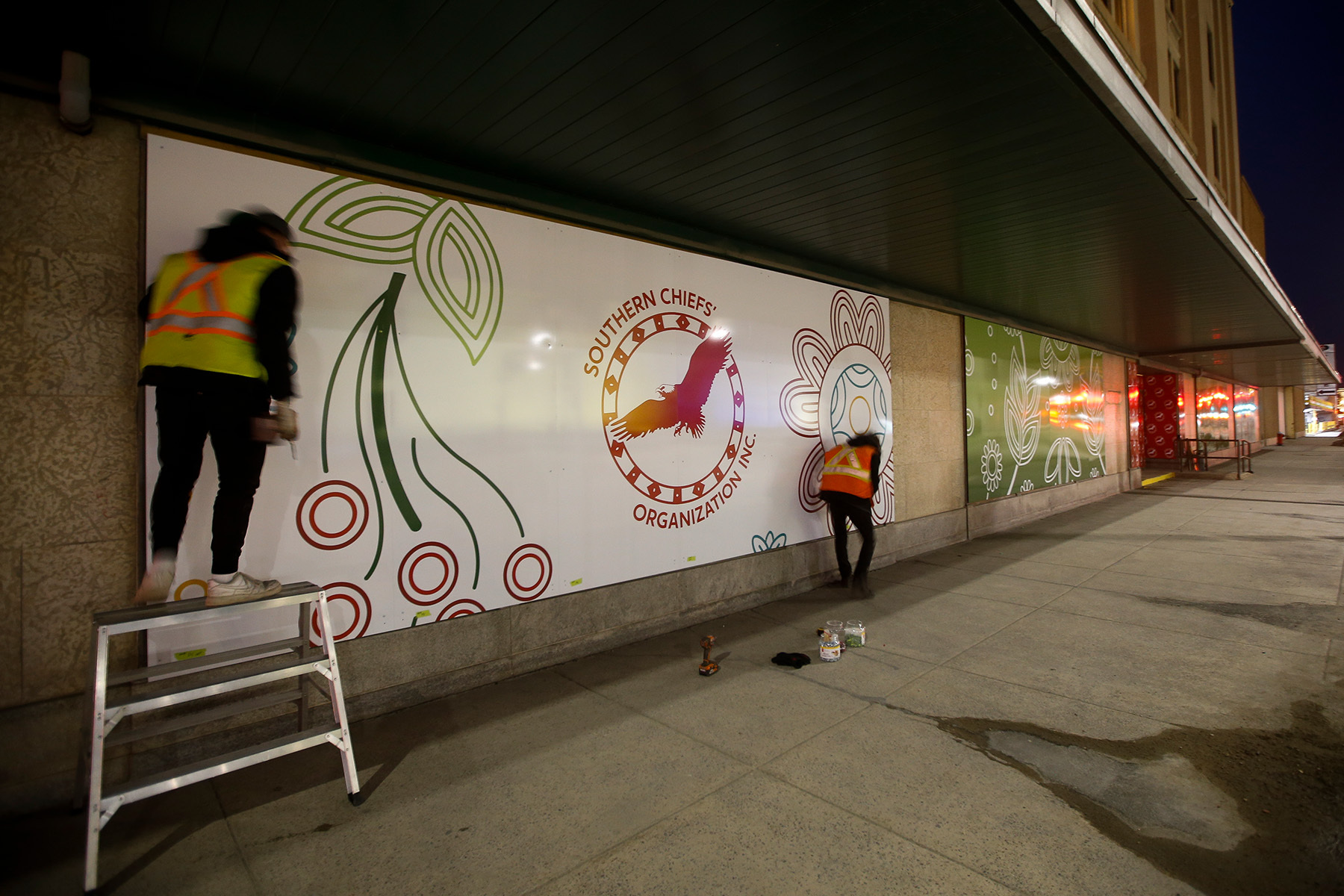 The company's roots can be traced back to 1665, the year Pierre-Esprit Radisson and his brother-in-law, Médard Chouart, Sieur des Groseilliers, journeyed to London, UK, seeking royal backing for their fur-trading enterprise in North America. This was the year of the bubonic plague in London, where up to 100,000 people—a fifth of the city's population—died. King Charles II had moved his court to Oxford, and Radisson and des Groseilliers drifted through London on the Thames River, past the stench of rotting bodies. Public gatherings had been banned, theatres closed, almost all economic activity had ceased, and quarantine orders were in place. The two adventurers got an audience with Charles, who liked the idea of a fur-trading enterprise. He hoped their work would bring in money to help his decimated city. In 1670, Charles granted the charter that started the Hudson's Bay Company, but the ownership of the land was largely an abstraction. He had no idea of its size and viewed it as a commodity.
In his 1974 book, The Fourth World: An Indian Reality, Shuswap political activist George Manuel wrote that the fundamental, irreconcilable difference between Europeans and Indigenous peoples was their "ideas of land." The European idea was that man hovered above the land, with licence to claim and sell it, while the Indigenous idea was one of kinship—man was part of the land. The imbalance of power meant that the colonizer's mercantile philosophies, as opposed to the spiritual philosophies of the colonized, were imposed on the land and became the foundation for many modern ills.
As more traders arrived, the land slowly drifted toward real estate, punctuated by the earl of Selkirk's purchase of more than 300,000 square kilometres of land from HBC. Selkirk's settlement housed displaced Scottish and Irish people. He paid ten shillings for the land in 1811, a deal that included the present-day site of Winnipeg as well as its "customs, profits, commodities, emoluments, benefits, and advantages," according to an agreement between Selkirk and the Hudson's Bay Company. This was done without consultation with the First Nations and Métis living in the area.
In 1867, the Dominion of Canada was formed, but much of the west was still controlled by HBC. That year, the Americans bought Alaska from the Russians for $7.2 million (US) and were looking to buy more land. Prime minister John A. Macdonald could see the Americans were going to make HBC an offer, so he leaned on the British government, which leaned on the Hudson's Bay Company, which reluctantly sold the land to Canada for a fraction of its market value. Rupert's Land, as it was then called, was more than twice the size of Alaska, and was more habitable and richer in natural resources. In 1869, it went for the fire-sale price of $1.5 million, a dismal deal for both HBC and the Indigenous people who were the rightful owners of the land. HBC continued to control land around its trading posts, including some surrounding Winnipeg. From the European perspective, the land had officially become real estate.
Through the first 200 years of its existence, HBC's governors, beginning with Prince Rupert of the Rhine (Charles II's cousin), were situated a world away, with no first-hand knowledge of the fur trade or the territory. HBC thrived as a monopoly, but in An Account of Six Years Residence in Hudson's Bay: From 1733 to 1736 and 1744 to 1747, author Joseph Robson accused the company of having "for eighty years slept at the edge of the frozen sea, they have shown no curiosity to penetrate farther themselves, and have exerted all their art and power to crush that spirit in others." This allowed rival North West Company, established in 1779, to gain footing in the fur trade despite its inferior supply lines.
The current governor of HBC, Richard Baker, is a New York real estate investor who has also been accused of being asleep by the frozen sea—at least when it came to the retail aspect of the business. Baker had limited retail experience when he bought HBC in 2008. In 2012, he took the company public and acquired the upscale department store Saks for $2.9 billion (US), with plans to expand the US luxury chain into Canada. The expansion involved vertically separating the Bay's downtown Toronto flagship into two "half" stores, a Hudson's Bay and a Saks. Other retail ventures were sold: Lord & Taylor (which Baker already owned) and European businesses, including the department store chain Galeria Kaufhof. According to HBC fiscal reports, sales in 2016 totalled $14.5 billion; two years later, they stood at $9.4 billion. Baker faced criticism for HBC stock dropping in value and for not better utilizing its real estate.
In March 2020, when COVID-19 was starting to spread through the world, Baker won his bid to take the company private once more, with support from a consortium of shareholders, including, at one point, WeWork (a co­working space company) and private-equity Rhone Capital LLC, according to the Globe and Mail. By this point, department stores were viewed as anachronisms. In Canada, the last of the big homegrown department stores (Simpson's, Eaton's, Sears, and Zellers) were all gone. In the US, Macy's was closing stores; Neiman Marcus, Barneys, JCPenney had all filed for bankruptcy; and Lord & Taylor was liquidating its stores in preparation for bankruptcy. As retail analyst Eric Matusiak told the Globe and Mail, department stores were already "dinosaurs that were dying out," and COVID-19 was simply the asteroid that would finish them off. HBC sales had plummeted, but as Baker said, they weren't a department store chain—they were a real estate company.
Baker had already sold some valuable HBC properties. In 2014, he sold the iconic Bay store in Toronto, at the corner of Queen and Yonge Streets, to developer Cadillac Fairview for $650 million, then rented the space for the Bay and Saks stores. In 2017, he sold the Lord & Taylor Fifth Avenue store in New York for $850 million (US). In Canada, HBC owns or ground leases (ground leases are long leases of fifty to 100 years) fourteen of its eighty-six stores. The rest operate on shorter leases, many of them in malls. In the US, HBC owns or ground leases fifty-eight retail properties, either solely or in partnership with others.
If HBC is a real estate company, what is that real estate worth? In June 2020, the Globe and Mail reported that CBRE, a commercial real estate company, had valued HBC's stores at $5.1 billion (US), with $3.5 billion in mortgages. But the value of real estate is tied to its use. Retail was already going through a transformation before COVID-19, an online shopping–driven trend that has accelerated in the past two years and ­affected the value of retail buildings. In 2014, the Saks Fifth Avenue store was valued at $3.7 billion (US); five years later, it was valued at $1.6 billion (US). The $2.1 billion discount, HBC told Bloomberg in 2019, was due in part to changes in market rents and the retail landscape, among other things. And the building's landmark status limits possible renovations and hampers redevelopment. Even without a heritage designation, remodelling HBC's other elegant legacy stores, including Bay stores in Vancouver and Montreal, has proven to be a massive—and expensive—undertaking. And the Winnipeg HBC store is the poster child for this paradox, its value pegged at zero. A decade before it was given to the Southern Chiefs' Organization, the store was offered to the University of Winnipeg for free, though the institution turned it down because it couldn't afford the "acquisition, redevelopment, and operation" of the building. (In its 2019 appraisal, Cushman & Wakefield estimated that it would take $111 million just to bring it up to code.)
Saks has teamed up with WeWork to provide office space in the flagship Fifth Avenue building, and there are ambitious plans to expand both the Vancouver and Montreal Saks stores into multiuse facilities that will include office towers. But the office vacancy rate in Montreal was 16.5 percent in 2021, a record. In 2021, New York was at 18.3 percent, the highest in thirty years. Vancouver alone has escaped the carnage, with a relatively modest vacancy rate of 7.2 percent. Forbes questioned "whether offering ­office space in what is one of the worst commercial real estate markets in recent U.S. history is the best use of that space."
What is the value of commercial real estate in a post-COVID world, should there be one? There may not be a fast recovery in the office market. Many companies are moving to a hybrid model and, as a result, don't need as much office space. There is a flight to quality in some major cities, where space in new, technologically sophisticated buildings is still prized, and this trend would benefit HBC's plans for office towers in Montreal and Vancouver that cater to tech-sector tenants.
When it was given to the Southern Chiefs' Organization in the spring of 2022, the downtown Winnipeg store was essentially derelict. The store is a heritage building, making it very difficult to raze and meaning the facade must remain intact. There is asbestos embedded in the floors—a complicated, expensive fix. The estimated $130 million renovation will create a museum, living space, and restaurants—including an atrium featuring skylights to bring in more natural light—partly funded by the federal and provincial governments. Baker opposed the heritage designation when it arrived in 2019 as it makes the building more difficult to develop, and that year, he was saddled with a $302,298 (according to CTV News) property tax bill for a building that wasn't producing revenue. It was a costly asset, and passing it on to the Southern Chiefs' Organization provided HBC with some financial relief as well as valuable PR. The prime minister himself spoke at the handover ceremony in Winnipeg on April 22, calling it "an inspired act of reclamation." But, as a symbol of economic reconciliation, the Winnipeg store is a complicated gift and has been termed a "regifting"—essentially a royal fruitcake making the rounds over the centuries.
The project was publicly welcomed by the Southern Chiefs' Organization. The working title is "Wehwehneh Bahgahkinahgohn," Anishinaabemowin for "it is visible." It is a beautiful building and a great architectural opportunity to do something extraordinary on a high-profile site. Some see it as a way to preserve the architectural heritage and the beginning of an optimistic ­chapter in Canada–Indigenous relations. But an episode of Media Indigena, a podcast broadcast from Winnipeg by journalist Rick Harp, titled "Looking HBC's ill-gotten gift horse in the mouth," offered another perspective. A guest, Kenneth Williams, an assistant professor with the University of Alberta's department of drama, suggested that, as reparations, it wasn't enough. HBC exploited Indigenous people for centuries (it didn't get out of the fur trade until the 1990s), with trappers, some of whom were Indigenous, making as little as $280 a year in the 1950s—less than the markup on most fur coats at the time. And the Winnipeg store was ground zero for this trade, with the largest fur storage facility in western Canada, a vault that could hold 12,000 furs. Williams suggested "the inspired act of reclamation" was merely HBC getting rid of a toxic asset.
The transfer of the Winnipeg store feels like another link removed from a gradually diminishing chain. In 2021, Baker spun off the e-commerce arms of Saks Fifth Avenue and its discount cousin Saks Off 5th as separate entities, with a venture capital firm, Insight Partners, investing $500 million in the e-commerce operation. This, too, was viewed by some as a real estate play.
"I believe this Saks split-up veils the true Baker strategy of unlocking value by somehow linking it all to real estate deals," wrote Robin Lewis, a former vice president at Goldman Sachs, in his blog.
The splitting of the entities was seen by industry observers as counter­intuitive at a time when most retailers were aiming for seamless integration of their online and brick-and-mortar operations. Mark Cohen, director of retail studies at Columbia University and a former CEO of Sears Canada, saw it as a thinly veiled strategy to strip the assets of HBC so only the real estate remained. "It's a ­financial play," he said, "which gives him the ability to manipulate the real estate assets of Hudson's Bay, both in Canada and the US. They've come up with all sorts of gobbledygook about how well it's working. This is going to be a disaster at some point, but at the end of the day, it created a bundle of cash for Baker."
It's possible the HBC stores many of us grew up with, in those beautiful heritage buildings, will all disappear quietly. "Baker will liquidate the Bay," Cohen predicted. "He will liquidate." If he does—its Bay Days sales and Stanfield underwear finally gone—all that will be left will be the land. Currently, it is controlled by deeds, leaseholds, and leases that are shared by Baker, venture capitalists, equity partners, and, now, Indigenous nations—its use in flux, the buildings both protected and vulnerable. This version of the land echoes that of the seventeenth century: its ownership shared, complex, somewhat ethereal, and profiting someone in another country as a plague winds down.