Few scenes from Greek mythology are as well known as Orpheus's descent into the underworld. After the death of his wife, Eurydice, the hero plays music so beautiful it moves the gods, and they permit him to enter the shadowy realm and retrieve his late love. At an empty theatre at the Banff Centre for Arts and Creativity last July, nine musicians attempted to conjure the moment when Orpheus enters the hellscape. But their sound was weak—hardly the eardrum-rattling sensation such a scene demands. Topher Mokrzewski, music director and founding member of the Toronto opera company Against the Grain, paced the auditorium shaking his head. "We need the intensity of a rock concert, but we're sounding like Tafelmusik," he said, referencing the genre of light orchestral work typically played at dinner parties.
The show he was rehearsing, Orphée+, is a coproduction by Against the Grain and the Ohio-based Opera Columbus. It is based on Hector Berlioz's nineteenth-century French opera Orphée et Eurydice, which was itself adapted from an earlier work by Christoph Willibald Gluck. At Banff, the production was due to open in six days, and two of Mokrzewski's players had yet to arrive. But even when the band reached its full size of eleven, it would be nowhere near the forty-odd-person orchestra for which Berlioz wrote his score.
Against the Grain, which was created in 2010 by artistic director Joel Ivany along with Mokrewski and artistic advisor and soprano Miriam Khalil, is not a traditional opera company. It uses small casts and a range of atypical strategies—which can include amplification, electrification, and pre-recorded tracks—as a means of scaling big operas down into lean, economical productions. For Orphée+, Mokrzewski hired sound designer John Gzowski, who created a suite of abrasive effects, with names such as "stabs" and "hell gurgles," to compensate for the lack of orchestral firepower. In traditional opera, the use of electronic sounds is akin to heresy, but even with these irregular elements, the musicians weren't producing enough noise.
On a whim, Mokrzewski asked the players to clear out so stage hands could bring the orchestra pit closer to floor level, making the sound seem fuller. He'd raise the pit again in the days to come, and his sound technician ensured that the synthesizer and electric guitar—two nonoperatic instruments that composer Lauren Spavelko included in the score—were suitably audible in the mix. The tweaks worked: by opening night, at last, hell sounded sufficiently hellish.
Opera is generally known as a grandiose genre that is performed without amplification in large halls that can seat thousands. To create the necessary volume, producers need vast resources: fifty or sixty musicians, forty-person choruses, and a small army of stage hands and technicians. The immensity of the art form is also its albatross, as putting on a full production is incredibly expensive. (The Canadian Opera Company in Toronto—the country's biggest producer—spent $17.8 million on shows in its 2016-17 season.) In the past two decades, changing cultural tastes and dwindling audiences have left many North American companies in dire financial straits.
"When you're a classical musician," says Mokrzewski, "it's instilled in you early on that you're not meant to fuck with the culture. You're the defender of a tradition." He contends, however, that in the current arts economy, bucking centuries-old conventions may be the best way to keep opera alive, particularly in markets where the genre is most imperilled. Against the Grain's founders want their work to be imposing where necessary—a descent into hell must sound like a descent into hell—but they contend that opera is still opera, even when it's small.
When the first major operas were staged in Venice in the early 1600s, tickets were a hot commodity. In the centuries that followed, the art was virtually unmatched in cultural prestige across Europe. Giacomo Meyerbeer's Les Huguenots, a five-act historical epic, premiered at the Paris Opera in 1836 and has been staged more than 1,000 times. In nineteenth-century Germany, composer Richard Wagner became so rich and powerful that he built a theatre devoted entirely to his own work. Even in postwar North America, opera had serious cachet: many small and midsize centres, such as Orange County and Baltimore, had their own opera houses, and telegenic celebrities like New York conductor Leonard Bernstein gave the genre pride of place in the popular culture.
Those days are over. According to the New York Times, as recently as the 1990s, the Metropolitan Opera in New York—the largest company in North America—typically sold 90 percent of its available seats. In 2017, that number dropped to 67 percent, making it the Met's second-worst year on record. (The worst was 2016.) In 2010, David Gockley, general director of the San Francisco Opera, declared that the company had a "major cash problem" and an unsustainable donor model—half the budget came from a mere twelve families.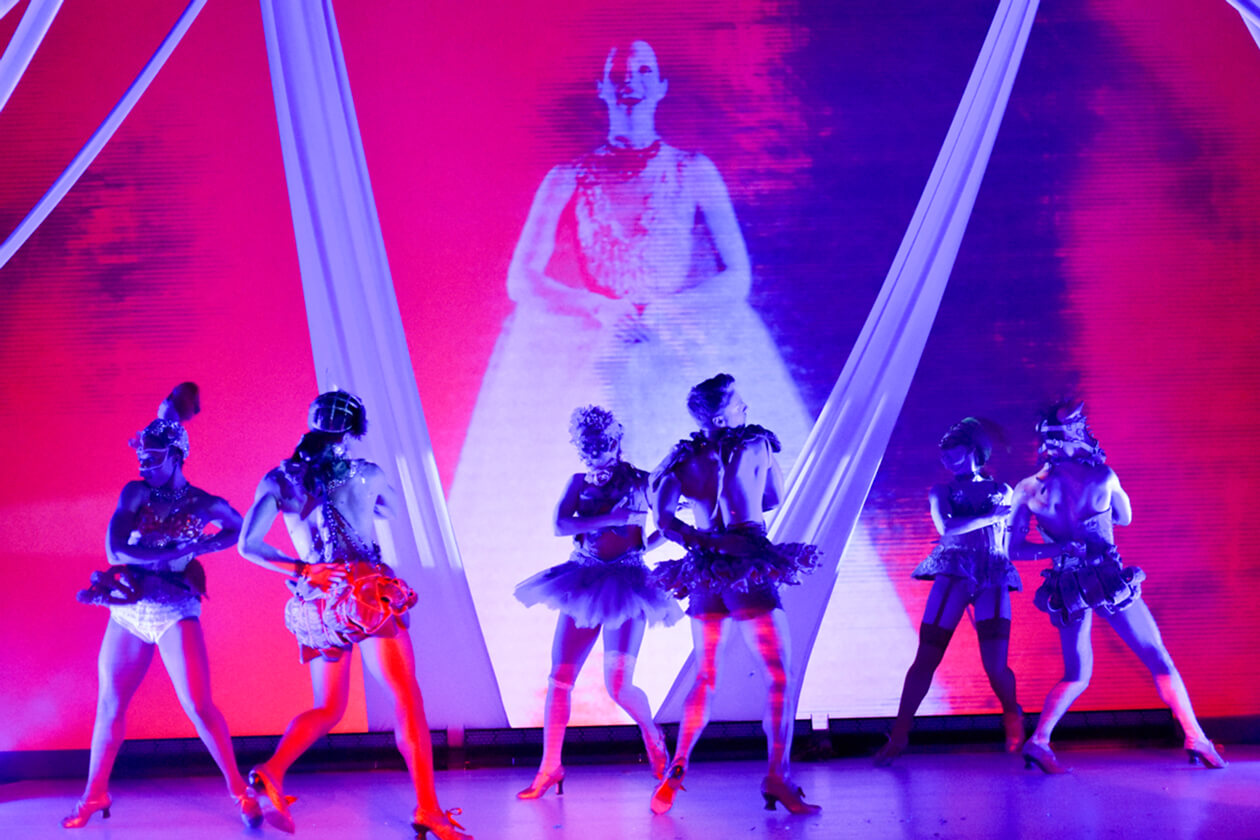 The difficulties that these top-tier houses face are hardly anomalies. Across the continent, older patrons are dying, and younger audience members aren't taking their places. In 2017, the Vancouver Opera replaced its annual fall-to-spring season with a three-week festival, imitating a strategy used by houses in Fort Worth, Texas, and Saint Louis, Missouri. Since 2000, companies in Hamilton and Ottawa have shut down completely. And while the Canadian Opera Company in Toronto remains in the black thanks to increased donations and fundraising, it, too, has seen declining box-office revenue over the past three seasons.
Against the Grain's three founding members still work contracts for mainstream opera houses, but they argue that the traditional model can no longer sustain the art. Their company is one of several upstarts in North America practising "indie opera": experimental, thrifty productions, centred on novel premises. Other indie producers include New York's Beth Morrison Projects, which has done works based on old horror movies and imagery from the Hubble Space Telescope, and Oakland's West Edge Opera, which mounted Alban Berg's expressionist masterpiece Lulu in an abandoned train station.
Against the Grain started by accident. After graduating with a diploma in opera directing from the University of Toronto, Joel Ivany struggled to find consistent work. His relatively slim resumé made it difficult to get jobs, and it was impossible to bolster his CV when nobody would hire him. "I felt like I needed a quote in a review—'Ivany was good at X'—just to get myself a directing gig," he says. So, in 2011, the Against the Grain collective decided to stage a show of its own. The members scrounged up $15,000 and performed a bare-bones version of Giacomo Puccini's La Bohème at the Tranzac Club, an alleyway bar in downtown Toronto. The production featured seven singers, plus a chorus of twelve students, who were accompanied by Mokrzewski on piano.
Ivany isn't sure why the four-night run sold out, but he speculates that people came out of curiosity: What might high romanticism look like in a tavern? The setting, he argues, suited the subject matter. Bohème, a story about starving artists in Paris, can seem out of place on the gilded prosceniums where it's typically staged. "Tranzac is a dirty bar," says Ivany. "The light switches have fingerprints on them. We didn't have to do anything to make the space feel grimy."
Buoyed by the success of Bohème, Against the Grain continued to put on site-specific work, often seeking out unique venues for the operas it was staging. The company did Claude Debussy's lush, erotically charged fantasia Pelléas et Mélisande in a courtyard overgrown with vines and Benjamin Britten's The Turn of the Screw, based on the Henry James ghost story, in a dimly lit Victorian attic.
For its 2016 production A Little Too Cozy—adapted from Così fan tutte, Mozart's comic opera about partner swapping—the team transformed a TV studio into a theatre and wrote an English-language libretto modelled on dating shows like Temptation Island and Blind Date. Characters in shiny suits and trashy pumps sang lines about pubic hair, cleavage, and blow jobs. (If such a crass undertaking seems disrespectful to Mozart's legacy, read a biography of the man.)
The response from critics has been effusive. The Globe and Mail praised the group's 2015 production Death and Desire for breaking "about 100 classical-music rules all at once," and following the company's adaptation of Mozart's Don Giovanni, a Maclean's reviewer opined that "there's hope yet for opera." Almost all Against the Grain shows sell out, sometimes well in advance of opening night, and the group has never lost money on a season. Its operating budget—which relies on grants, donations, and ticket sales—jumped from $210,000 in 2017 to a projected $410,000 in 2019. Perhaps the most important metric of the company's success can be found within the audience, where the under-forty set—the demographic that mainstream opera producers are desperate to court—is fully represented.
Despite such accomplishments, it's hard to imagine a singer or musician making a living through indie opera work alone. Against the Grain pays its players standard union rates, though contracts may be as short as two weeks. And while the founders hope to grow their annual seasons, they currently mount only two mainstage productions each year and don't have permanent musicians on staff. They do, however, draw star performers who are between big-ticket projects, including Krisztina Szabó, who has sung at the Royal Opera House in London, and Etienne Dupuis, who made his Met debut this past September.
While it's tempting to think of Against the Grain as a young upstart poised to topple the staid establishment, Ivany argues that indie opera should aim to supplement rather than supplant the mainstream opera industry. He imagines a future in which big companies continue, albeit precariously, in cities where the population and donor bases are hefty enough to sustain them. Their need to recoup their large costs, though, will likely discourage experimental programming in favour of tried-and-true classics. Indie companies, Ivany says, can bring opera to smaller cities, offer work to musicians between gigs, and take creative chances—the kind that are as likely to fail as to move the art forward.
Against the Grain is currently the Canadian Opera Company's first company in residence, and it's now workshopping a new production using COC rehearsal space. This gesture of generosity from a big producer to a small one suggests a mutual understanding: in today's arts economy, it makes more sense to have collaborators than competitors.
Orphée+ is Against the Grain's most ambitious undertaking to date, with a $170,000 budget and twenty-four-person assembly. It's still miniscule compared to anything audiences would see in a mainstream opera venue, but it's giant relative to the company's earlier work. Orphée+ features a video artist, who floods the stage in washes of colour to evoke scene changes; two choruses (one live and one pre-recorded); a crew of six burlesque dancers who are at times dressed as demons, spirits, and funeral mourners; and an aerialist, who sings the part of Amour—the goddess who entices Orpheus to rescue Eurydice—while doing somersaults above the set.
Ivany says that this mosaic approach isn't as unconventional as it seems. When Gluck's version of Orphée et Eurydice first moved from Parma in 1774 to prerevolutionary France, it was amended, as a concession to decadent Parisian tastes, to include extended dance sequences, some of them borrowed from Gluck's earlier productions. "Back then, opera wasn't just opera," says Ivany, "it was a full night out"—a variety show with a little something for everybody.
These novel elements aren't merely playful; today, they're necessary to finding new audiences who have no previous experience with opera. While compelling Canadian productions have been written in the past—stories about Louis Riel and Chinese migrants in Confederation-era British Columbia—opera is not in this country's cultural vocabulary. "It isn't taught here in the same way that it is in, say, Germany," says Mokrzewski, "where it's part of the fabric of a child's education." When asked if he worries about the future of the genre in Canada, Mokrzewski does not hesitate: "I absolutely do."
But he argues that, despite the career difficulties that musicians now face, opera is still an essential art form because it connects audiences with their profoundest feelings: grief, love, terror, and longing. "Opera tells human stories with a heightened emotional dimension," says Mokrzewski. "It helps us access deeper parts of our consciousness."
Five days before the opening night of Orphée+, Miriam Khalil, who was playing the role of Eurydice, practised in a tiny room alongside Jennifer Szeto, the principal coach for the production. Szeto played the piano while Khalil sang with a level of intensity that was, at times, overwhelming in the small space.
When the Olympians permit Orpheus to rescue Eurydice from Hades, they make one stipulation: he mustn't look at her as they travel together back to earth. He keeps this pledge for most of the trip, only to break it in a moment of weakness near the end of the journey, consigning his wife to a second, final death. Khalil and Szeto were rehearsing a scene where Eurydice implores Orpheus to glance her way. The music is alternately plaintive and aggressive, as if the heroine, unsure whether to seduce or berate her lover, has resolved to do both. "Pace yourself," Szeto told Khalil. "Hold back, then choose the right moment to let everything go."
Khalil often sings in large houses, where "holding back" isn't an option. "When you're in a big production, you're always thinking, 'This part needs to be heard at the back of the theatre,'" she says. In a smaller venue, the pressure to project isn't as strong. "I can play with colours and volumes. I can go to my quietest, most intimate place. And I can act. The audience can notice me just fluttering my eyes."
The day after Khalil's rehearsal with Szeto, I watched her sing for the first time with her co-lead, Siman Chung, a counter-tenor with a crystalline voice. They practised one scene over and over: the moment when Orpheus finds Eurydice and, without looking at her, extends his hand her way. For an instant, Eurydice almost remembers who Orpheus is. His touch rushes through her, and she stares at him with longing and confusion and vague recognition. Khalil's and Chung's gestures and expressions were so subtle that they wouldn't be noticed in a massive venue; to appreciate the artistry, viewers must sit close. By reducing the scale of opera, companies like Against the Grain are changing how the art works. A genre known for grandiosity here derives its power from nuance.
Indie companies are unlikely to bring opera back to its former cultural or financial glory. The founders of Against the Grain hope, rather, to keep the art going—to ensure the music still exists on stages in North America (or, barring that, in grimy alleyway bars). Theirs is a romantic vision, and these thoughts were on my mind as I watched Khalil and Chung rehearse the reunion scene, which felt simultaneously triumphant and precarious. Orpheus has grasped the love he thought was gone forever, but he knows that he can lose it again.