ENERGY AND ECONOMIC RECONCILIATION
First-of-their-kind agreements are providing Indigenous communities financial benefits from and environmental stewardship over the natural resources on their traditional lands

BY CHAD SAPIEHA
As the vital, delicate work of reconciliation moves forward in Canada, financial recompense—known as economic reconciliation—involving partnerships between Canadian businesses and Indigenous communities is beginning to take shape, and it's set to alter the landscape of Canada's energy sector.
In Alberta, an agreement between 23 First Nation and Métis communities and Enbridge Inc. has led to a $1.12 billion investment in seven key pipelines moving resources within the province. The deal is a big step towards the communities' long-term financial sovereignty, providing a source of stable revenue that can be further grown with the future investment opportunities that it will make possible.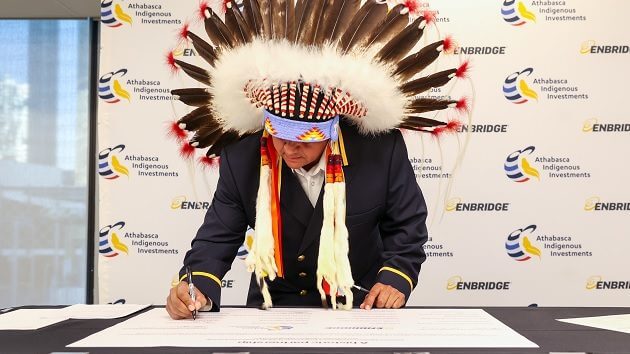 "The investment provides the Indigenous peoples who are most impacted by these assets a direct stake," said Justin Bourque, president of Athabasca Indigenous Investments (Aii), an organization created specifically to manage the deal.
"It also creates accountability for environmental stewardship," he added. "It positions these communities for long-term success by providing significant economic impact now and for future generations."
Further west, the new Woodfibre Liquified Natural Gas (LNG) project, which will be powered using hydroelectric energy and expects to achieve net zero emissions by day one, is being designed with input and stewardship from local Indigenous communities including Sḵwx̱wú7mesh Úxwumixw (the Squamish Nation).
Enbridge holds a 30 per cent stake in the Pacific Energy-led project and was interested in investing the project in part because of the Squamish Nation's involvement. Kim Brenneis, Enbridge's director of community Indigenous engagement in Canada, explained the role of the Squamish Nation.
"The Squamish Nation is an environmental regulator on the project," he said. "It's a role that was established through the first indigenous-led environmental assessment in Canada. Woodfibre LNG also has an Impact Benefit Agreement with the Squamish Nation, which creates opportunities in procurement, employment and training, and other economic benefits."
Sharleen Gale, Chief of the Fort Nelson First Nation in Northeastern British Columbia and chair of the First Nations Major Projects Coalition (FNMPC), has long advocated for Indigenous groups rights and ownership. She believes companies like Enbridge are truly beginning to understand what Indigenous economic reconciliation means in practical terms.
"These companies know that major projects on Indigenous lands—which is all of Canada— must meet the new bar that has been set," said Chief Gale. According to her, this new bar involves First Nations being consulted at the very outset of new projects, offered advisory and board positions, provided capacity support to level the playing field for negotiation and engagement of member nations, and given opportunity for equity ownership and partnership.
"What better measure of First Nations consent is there than First Nations owning the project?" said Chief Gale.
To that end, the government also has a part to play in these partnerships. The Alberta Indigenous Opportunities Corporation (AIOC) is a Crown Corporation created by the province's government to provide Indigenous groups with lower-cost access to capital in economic development projects. It has the capacity to provide up to $1 billion in loan guarantees for Indigenous investment opportunities, helping Indigenous groups achieve meaningful equity.
"What better measure of First Nations consent is there than First Nations owning the project?"
"More and more corporations are unlocking the value of Indigenous partnerships," said Chana Martineau, AIOC's chief executive officer. "It allows energy companies to tangibly demonstrate their commitment to economic reconciliation and position themselves as top employers through the creation of a diverse and purpose-driven workplace. These long-term partnerships also provide financial freedom for Indigenous groups to reinvest back into their communities to help bridge the gap in resources seen and experienced every day by Indigenous people across the country."
Chief Gale believes such programs should be available on a national level. The FNMPC is pushing for the federal government to implement a national Indigenous loan guarantee program while also investing in support mechanisms that will aid First Nations in training and education on clean energy opportunities as well as the capacity to operationalize informed decision-making to ensure free, prior, and informed consent on any projects initiated on their lands.
"Supporting Indigenous equity partnerships and economic reconciliation means that systemic changes need to be put in place," said Chief Gale.
The Athabasca pipelines deal stands as an exemplar of what can happen within Indigenous communities when all of these pieces come together. Bourque and Brenneis recounted stories of encouraging conversations they've had with Indigenous leaders associated with the project. One group noted they plan to use cash flows created by the Athabasca deal to hire teachers and improve education. Other communities intend to buy land and critical infrastructure for further economic growth, and another is interested in improving living standards for community elders.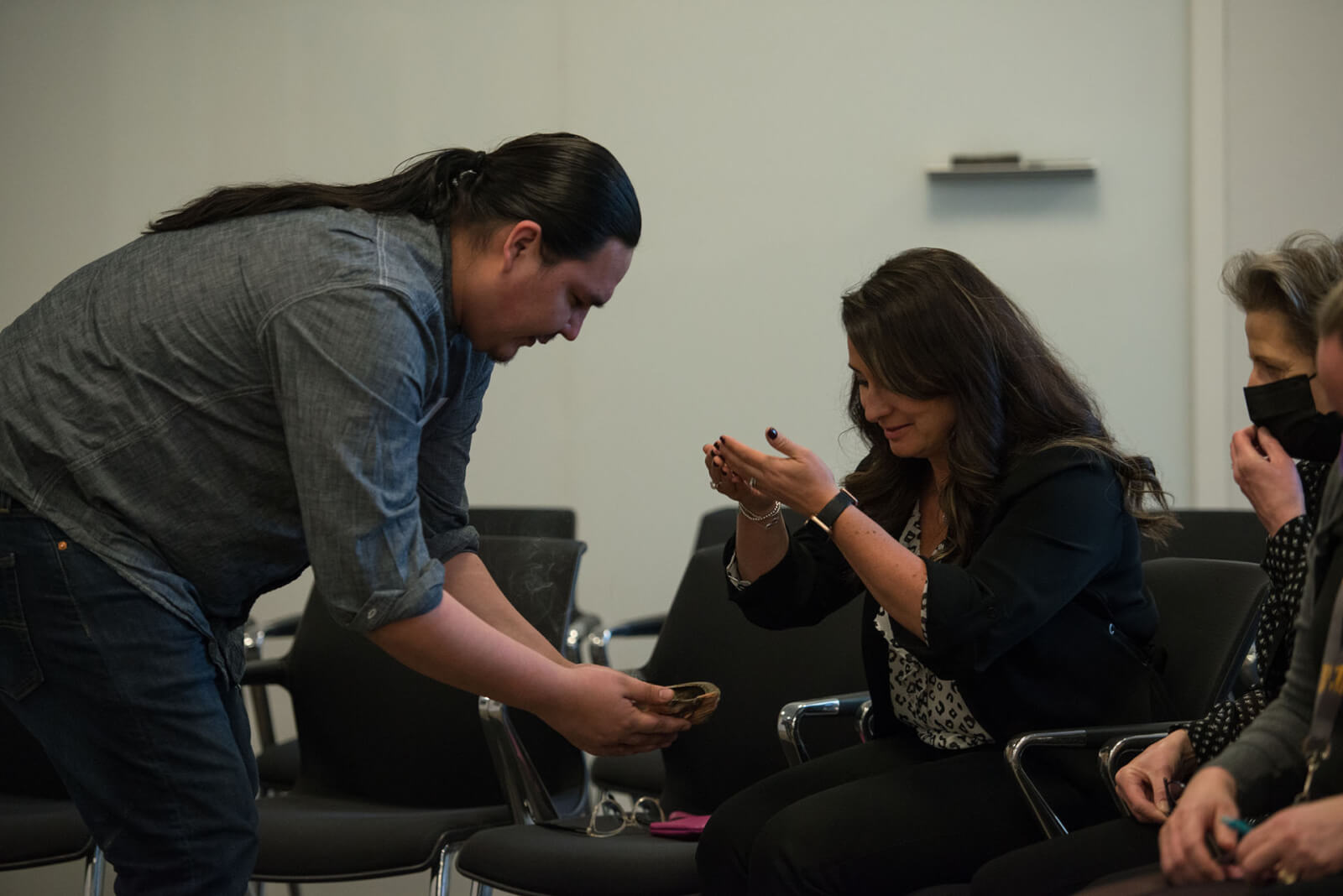 It's helping create a sense of unity, too. "We've shared our traditional territories for generations," said Bourque. "Communities that are geographically separated are now quite literally connected by the physical pipes in the ground that intersect our communities' traditional lands."
These communities have found a committed partner in Enbridge. The Calgary-based energy giant, which owns and operates nearly 40,000 kilometres of pipelines in Canada and the U.S., has long shown interest in working and partnering with Indigenous communities, and the stars are aligning for meaningful movement.
"You need the right conditions for these types of partnerships, starting with an alignment of interests," said Brenneis, explaining that Indigenous communities, private enterprise, and government agencies need to have shared interests as well as respect and trust each other. The Athabasca pipelines deal is a concrete example of what can happen when everything comes together.
Indeed, Bourque noted that he's felt "a strong desire within the Enbridge organization to have Indigenous inclusion." This is a key development in the journey toward true economic reconciliation. He said that both the industry and Indigenous communities need to move past historical issues toward mutual respect and trust, as per the Truth and Reconciliation Commission's Call to Action #92, which calls for a commitment to "meaningful consultation, building respectful relationships, and obtaining the free, prior, and informed consent of Indigenous peoples before proceeding with economic development projects."
This evolution of perspective was a turning point for Bourque. "We were building this trust, shifting from the uncertainty of whether or not we could do it to both sides really starting to believe and trust each other that this was achievable."
Brenneis is proud of the leadership role his company has taken on the path to economic reconciliation. "Enbridge has embraced equity partnerships," he said. "There's a palpable pride. It's good business, but it's also the right thing to do. This partnership is part of our journey towards reconciliation, and there's energy here to do much more."
Deals such as the Athabasca pipelines and Woodfibre LNG projects are changing the shape of the energy industry in Canada. Bourque notes that he has been contacted by other organizations interested in using Aii's pipeline investment as a kind of blueprint for equity partnerships of their own. What's more, such partnerships are bound to be beneficial to the country as a whole, making the industry stronger via responsible environmental stewardship and the growth of local economies.
"It's important to highlight that equity partnerships are not just about the value they create for indigenous people," said Bourque. "It's also about the value they create for Canadians. It might mean that we do things that are a little bit unorthodox. But how we get there is really important."
Martineau echoes this sentiment. "These partnerships demonstrate how corporations and Indigenous groups can work together," she said. "Not only in stewarding the environment but also in owning and operating critical energy infrastructure. Partnering with Indigenous communities is rapidly becoming the preferred economic model. You can see a future where this is a table-stakes requirement."
Enbridge is proud to share its Indigenous Reconciliation Action Plan. As a North American company, it is important to foster meaningful reconciliation within communities where we live and work. For more information, click here.