Calgary's strip of the Rockies is known for its quiet majesty, but once a year, a juggernaut rolls through the foothills. In just nine short years, the Shaw Charity Classic—Canada's only PGA TOUR Champions stop, hosted at Canyon Meadows Golf & Country Club—has raised the bar for charitable fundraising initiatives coast-to-coast, though it may yet be off the radar to those outside the confines of Western Canada.
Within Alberta, however, the tournament's impact has been undeniable: Since 2013, a staggering $76 million has been channeled into upwards of 230 charitable organizations supporting the province's children and youth.
So, what explains the runaway success of the Classic, now on par with established, country-wide fundraisers like the Canadian Cancer Society CIBC Run for the Cure and the Enbridge Ride to Conquer Cancer? In short, a deeply rooted sense of community.
In 2013, the province was experiencing an economic slump and was in need of a bright light. According to Brad Shaw, Executive Chair & CEO of Shaw Communications, a phone call from business mogul Clay Riddell to his father and company founder, J.R. Shaw, asking his father to join Riddell and a small group of other like-minded business leaders in creating an event that would impact the lives of thousands of kids and youth across the province cemented the company's investment in what would eventually morph into a world-class draw. "The opportunity to bring this to life was one that we knew as a family, and as a company, that we could not pass up," says Shaw from his headquarters in Calgary. "Philanthropy and supporting our community has always been a part of our core values, and Shaw's corporate giving has been largely focused on youth and kids charities, so this was a platform we absolutely had to be a part of."
Stephen Ames, a four-time PGA TOUR winner and Calgary resident for more than twenty-five years, is no stranger to the Shaw Charity Classic. As a founding member of the tournament's Patrons Group—which includes Calgary business titans Jim Riddell, Allan Markin, Gary Peddle, Guy Turcotte, Mike Culbert, and Keith MacPhail—Ames recalls the early, shared desire to bring his beloved game to the city. "I knew the area was starving for something big," he says. "It's a part of the world that your typical American probably wouldn't ever have been to—Banff Springs is just an hour away—and after hosting the 1988 Olympics, [Calgary] was looking for something that massive again."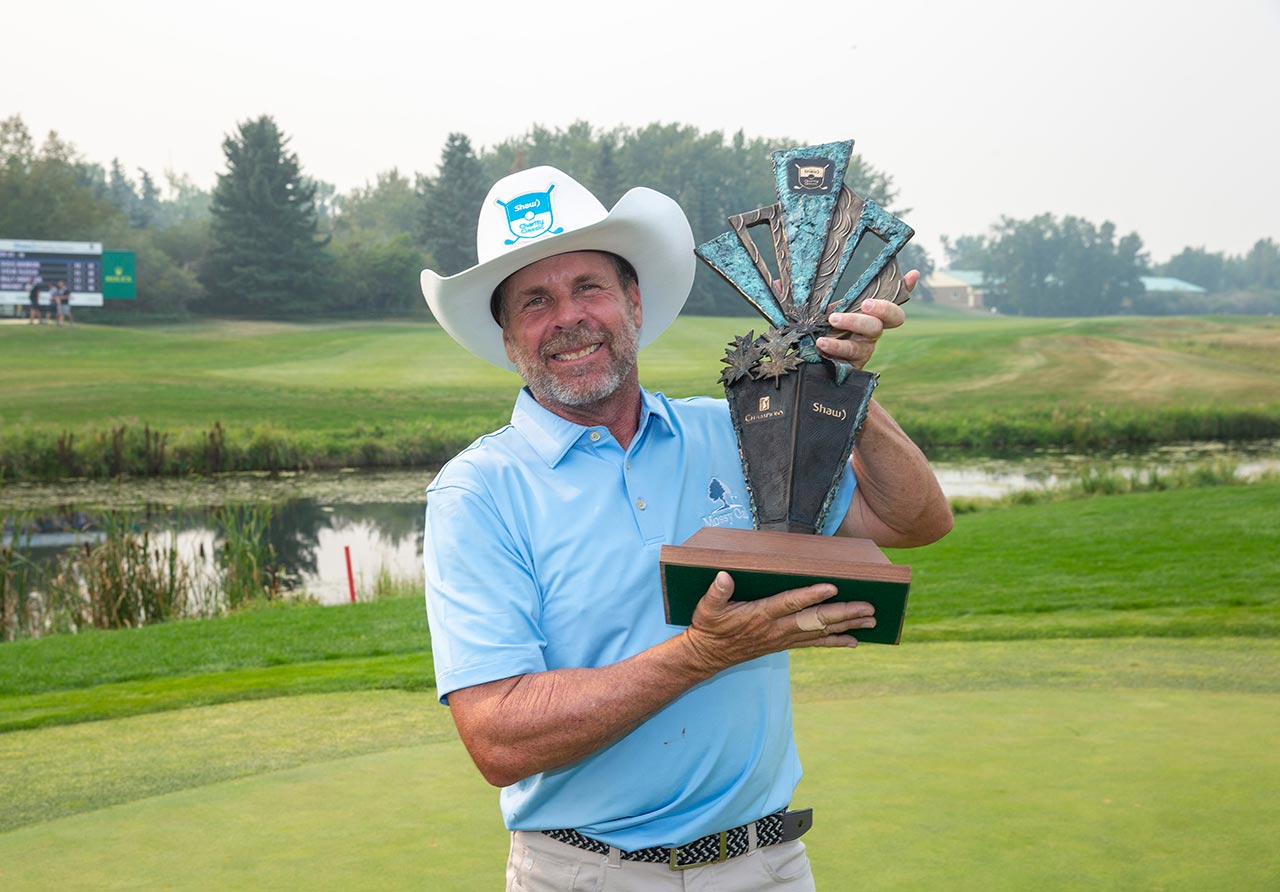 With thirty-four years of experience and thirteen wins under his belt, Ames is one of Canada's most accomplished professional golfers. Having played around the world, Ames knows what makes for a solid tournament—qualities he says the Shaw Charity Classic has in spades. "Even though we've only got seventy-eight players in the event, they're all legends," Ames says, revealing that the tournament is something of a family affair, too: his youngest son, who still lives in the Calgary area, often caddies for him during that week. "We've got the Hall of Famers, but all the volunteers put on a hell of a show, too. Everybody talks about how it's one of the events you just don't want to miss."
With the onset of the pandemic, the need for community support—and a big boost of morale—has never been more vital. Despite the cancellation of the Classic's 2020 in-person event, the team still banded together to raise more than $12 million for local charities. "We were very lucky to have the event go off this year," says Sean Van Kesteren, the tournament's long-time executive director. "We were the only PGA TOUR event in Canada to actually be played, and we were able to do that because of the will of our ownership group, Shaw, and all of our supporters."
Van Kesteren has worked in Canada's golf industry for more than twenty years, and to hear him talk about the fanfare around the Charity Classic, you'd think it was his first go-around. "This is something I've never seen before, in terms of the energy and the appreciation that's come out of having this event here," he says.
For all the support (and lush scenery) of Canyon Meadows, most golf events have a hard time sourcing volunteers. "Not the Classic," Van Kesteren laughs. The event's 1,200 volunteer army has a waitlist to join six months out. For his part, Shaw can attest that the uniquely special atmosphere is created in large part by the generosity of Calgarians: "It's the way they embrace charity—and the notion of making their neighbourhoods better, and lives better for families and kids," he says.
Naheed Nenshi, Calgary's outgoing mayor, has had the distinct pleasure of presenting the city's famed white hat to each of the tournament's winners. He chalks up the event's stunning impact to Shaw's focus on organizations that make a "direct intervention" on the surrounding community. "There are a few ways that the founders could have gone with this event," says Nenshi. "They could have made it an incredibly exclusive thing for clients and friends to meet famous golfers, or an event to make money, or a crazy party. But from the very beginning, the Shaw family really said, 'We actually want to do this in a way that benefits the community.' And the community responded."
Any Alberta charity that supports children's outreach is eligible to have their donations matched by up to 50 percent thanks to Shaw's Birdies for Kids program. The impact, says Brad Shaw, is "undeniable": Thanks to donations raised in 2021 alone, 7,000 children will receive backpacks filled with clothing and necessities; 12,000 lunches will be distributed to kids in need through the organization
Brown Bagging for Calgary's Kids; and 36,000 children will receive literacy programming through the Educational Partnership Foundation. Another benefactor is the Calgary Police Youth Foundation, a non-profit which receives the sum total of its funding from donors. Its mission is to keep children and youth aged five to eighteen safe from crime and victimization and orient them towards education, and, simply put—says Susan Cron, the Foundation's Executive Director—the funding "changes lives."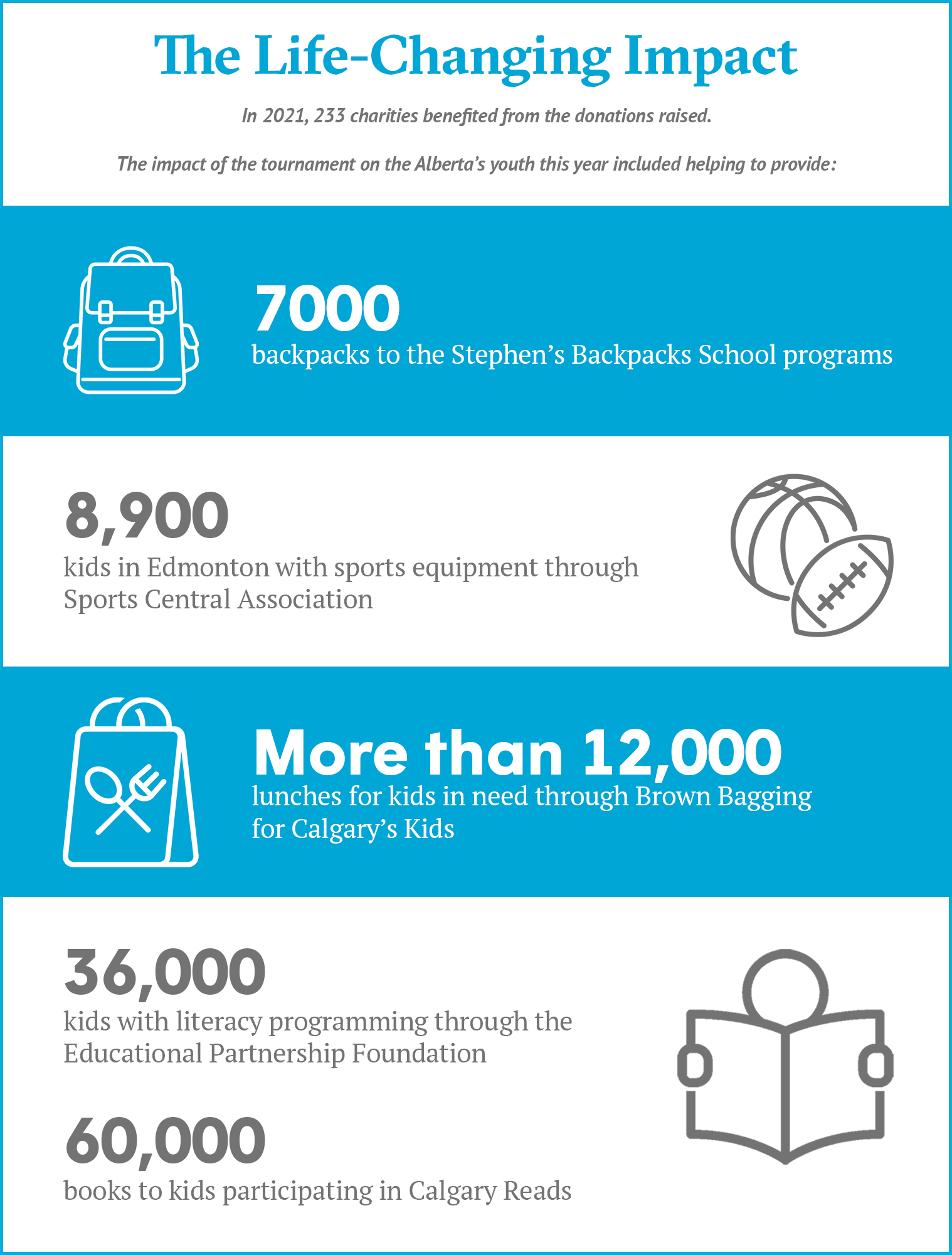 "Our mandate is [that] we have a duty and a purpose to keep children and youth safe, and we aren't funded by the government, so all of [our money] comes from generous donors," Cron says. "The funding we've received from the Charity Classic has enabled us to continue to deliver programs that allow children to have positive interactions with police officers. As a result, they can have a safe, trusted adult to interact with, and parents express a genuine belief that if it weren't for the program, their children would be on a very different path."
The impact of the Shaw Charity Classic is so significant that earlier this spring when Rogers and Shaw announced their intent to join forces, it was also announced that support for the Shaw Charity Classic will be extended for up to ten years.
Van Kesteren waxes nostalgic about witnessing the charities receive their donations in-person: Each year, prior to COVID-19, the tournament's organizers and benefactors would gather for a "reveal party," at which the fundraising purse would be announced. "It's good to have real facetime with these folks," he says. "We don't look at being a donor as just cutting a cheque at the end of the year. We provide the charities with media kits and ways to help them raise even more money through programs and events. It's kind of like a one-stop shop to help them grow—and we like to think we have some tricks up our sleeve."
Even as the Shaw Charity Classic continues to expand its reach, Brad Shaw can't help but think back to its humble beginnings. "We had a sense that this would be successful, but it was a new event to the city, and we wanted to make a difference—and make sure it was worth the effort," he says. "But what we've done since 2013? It is nothing short of extraordinary."