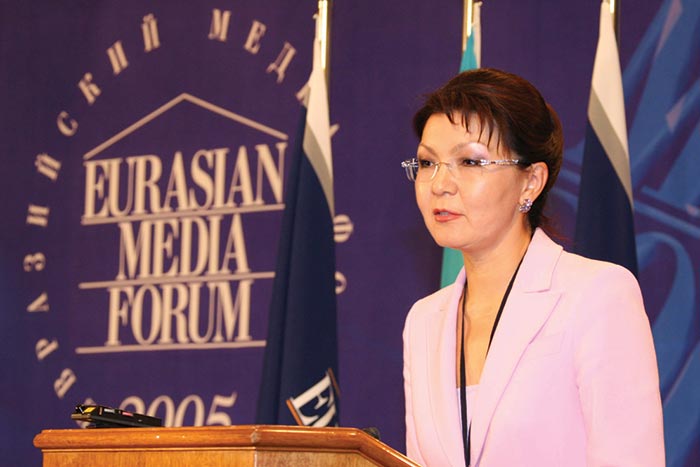 The sleek, glistening airport terminal that greets you in Almaty, Kazakhstan's largest city, is far more inviting than most of the grim, grey buildings in Russia and Central Asia. On the ride downtown, you pass Peugeot dealerships and a shopping mall with a tacky electric Eiffel Tower. Kazakhstan is one of the few former Soviet republics that has found prosperity, thanks to its oil.
But not all is as it should be. The first sign is the Muzak in the five-star hotel: Christmas carols, in springtime. Kazakhstan isn't quite a Potemkin village; more like a country trying to hit the right note but ending up jarringly off-key.
I've come to speak at the Eurasian Media Forum, an annual gathering of journalists mainly from Central Asia, Russia, and other former Soviet republics. With democratic revolutions sweeping Ukraine, Georgia, and Kyrgyzstan this past year, the region's dictatorial strongmen are feeling nervous, and journalists are being caught in the squeeze. No riots or revolts yet in Kazakhstan, but last fall's parliamentary election, which saw only one opposition member elected, was widely condemned as rigged.
There is more than a little tension when Dr. Dariga Nazarbayeva, the head of Kazakhstan's Congress of Journalists, gives the welcoming speech at the conference. Far from rallying the troops, she seems intent on restraining them, warning about the "fragility and vulnerability of our civilization" and the "political turbulence which sometimes takes quite dangerous forms." Dariga, as she is popularly known, speaks four languages and, as an accomplished opera singer, sings beautifully in a couple of them. She is a member of the country's parliament and the leader of a small centrist party. The "Dr." comes courtesy of a doctorate she earned in political science.
She also happens to be the daughter of the president of Kazakhstan, Nursultan Nazarbayeva.
What she is not is a journalist, despite her position. Rather, she's a homegrown media baroness. With her entrepreneur husband, Dariga runs several of the country's TV channels, as well as four radio stations and two newspapers. The forty-two-year-old looks every inch the confident, modern media mogul she is, though she bristles at that description. "It's another stereotype around my image which was built up by my opponents," she insists. "I'm not controlling the whole media."
But Rozlana Taukina, of the local Journalists in Danger foundation, sees an insurmountable conflict of interest at work: "She is one of the main protectors of the regime." A regime, according to the US State Department, Human Rights Watch, and every reputable media-monitoring group, that is cracking down on Kazakhstan's ostensibly free media. Taukina says that of the 2,000-plus publications circulating in the country, only eight are opposition newspapers. "There is an attempt to eliminate even this small number," she warns, noting that most of the independent papers are being sued by politicians or businessmen, or are on the eve of bankruptcy.
Over a fine meal of Kazakh mutton, Oleg Katsiev recalls with fondness the all-too-brief bubble of outspokenness that flourished in the reformist turmoil of the Gorbachev era. Katsiev, the director of Internews Kazakhstan, an ngo that promotes the development of independent media, says the mood today reminds him of the repressive years under the Soviets. "You see corruption everywhere," he says. "But everything is closed, secret."
Kazakhstan's resource wealth and its staunchly pro-Western tilt has muted much of the criticism from abroad. The US military has been granted access to Kazakhstan's airspace and airfields, and President Bush warmly praised the tightly controlled republic as a "bulwark against regional instability" when Dariga's father visited Washington in 2001. Former Prime Minister Jean Chrétien, too, has ties there. He travelled to Almaty in 2004 as a "special adviser" to PetroKazakhstan, a Canadian firm that is one of the largest foreign oil producers here.
While some of Kazakhstan's oil riches are trickling down to the general population, many of the country's elites have been accused of siphoning money off the top. The New York-based Committee to Protect Journalists reports that the government has "methodically stifled reporting on official corruption," especially news that American prosecutors are investigating the president and his allies for accepting tens of millions of dollars in bribes from US oil companies. I showed several Internet sites about the controversy as part of a conference presentation on investigative journalism and democracy, and the audience gasped: journalists are not allowed to discuss the scandal.
So when I ask the president's daughter about this climate of repression, she is testy. But I am also surprised at how gracious, funny, and introspective she is. "I think it's much easier and much better than it was," she insists when I prod her about the state of press freedoms in her father's land. Reading the skeptical look on my face, she adds: "What's happening to the media here is also very painful for me."
I push her on the stranglehold she has on much of the media, a disturbing convenience for her powerful father. She laughs and recounts meeting a member of France's parliament who told her that if he became president and his daughter had such good control of the media, he would be happy.
"So is your father happy? " I ask, but she ignores the question.
"Are you conflicted that you're both a journalist and the president's daughter? " I continue. Her press assistant shoots me a disapproving glare, as though I had just spilled caviar on her boss's dress. Dariga reflects for a moment, then nods. "Yes, there is a conflict. Sometimes. Absolutely." But she says that, as with all fathers and daughters, there are tensions, even stormy discussions sometimes.
The more they argue, Kazakhs might say, the better. When Tolstoy wrote that all happy families are alike, but every unhappy family is unhappy in its own way, he may not have had ruling families in mind. But in Kazakhstan, one powerful family's squabbles could give journalists some breathing space, and make its citizens much happier indeed.