Washes, Prays by Noor Naga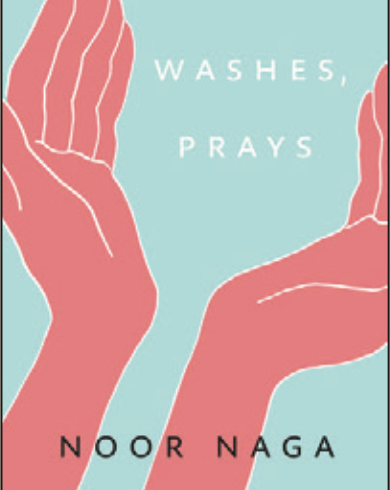 Noor Naga's verse novel, Washes, Prays, follows Coocoo, a young woman newly arrived in Toronto, as she pursues a tumultuous relationship with her lover, the married Mohammad, and seeks respite with her best friend, Nouf. Naga articulates the contradictory and addictive cycle of desire and anguish as Coocoo questions the intimacies in her life—sexual, platonic, and religious—over three sublime sections. The book is, at times, a bummer, but it will also make you cackle. Naga has the ability to capture a universe within a few lines:

"rain like glass needles so sharp I hear them slice the air clatter excitedly off the hoods of cars / nouf turns her face to the sky like a happy pincushion." Holy and profane at once, Washes, Prays tells old stories in new language.
—Adnan Khan is the author of There Has to Be a Knife.
The Eyelid by S.D. Chrostowska
The Eyelid imagines a future in which wakefulness is a pharmaceutically powered state imperative to keep people productive and compliant. At odds with this arrangement is an unnamed narrator. Unemployed and ground down, he finds the potential of a new life after meeting Chevauchet, a charismatic activist-ambassador of a mysterious country called Onirica that promotes liberty, fraternity, and egality through sleeping and dreaming. Together, the narrator and the ambassador aid and abet nocturnal imaginations across Paris (now part of the globe-spanning Greater America). These revolutionary acts reveal other lives, stories, and possibilities for people living in a waking nightmare of totalitarian, market-driven, pill-popping, screen-surfing drudgery. S. D. Chrostowska's dystopian fiction, learned and lithe in its storytelling, holds up a cracked mirror to our time and place, daring us to take an honest look—and dream.
—Randy Boyagoda is a novelist and professor of English at the University of Toronto. His most recent novel is Original Prin.
This Red Line Goes Straight to Your Heart by Madhur Anand
A family history crosses rivers, borders, seas, and cultures within the split structure of this memoir. In the first part, Madhur Anand recreates first-person accounts of how each of her parents' lives was upended by the 1947 partition of Punjab. She writes an intimate record of the haunting losses and forced new beginnings—all results of government bureaucrats drawing lines on a map—with lyrical prose that left me awestruck. Anand's own story appears in part two, stitched together with poetry and vignettes, and examines how the actions of one generation ripple through the next. I search for books that create openings within me and found one such portal here.
—Helen Knott is the author of the memoir In My Own Moccasins, which was longlisted for the 2020 RBC Taylor Prize and shortlisted for a BC and Yukon Book Prize.
An Alphabet for Joanna: A Portrait of My Mother in 26 Fragments by Damian Rogers
Damian Rogers's new book ingeniously complicates the age-old structure of the abecedarian, borrowing its title from a long-out-of-print children's book whose addressee, Joanna, bears the same name as Rogers's mother, now ten years into a diagnosis of frontal lobe dementia and all but robbed of language altogether. Like the memories of Rogers's subject, however, these letters have been scrambled. An Alphabet for Joanna begins with the letter E, and not until page fifty-seven do we arrive at A, which stands for Art, and is followed by M for Magic. Part spell, part scrapbook, part elegy, part detective story, in its essence, this enthralling and heartbreaking memoir is a tribute to art's unique power to conjure the ineffable—be it memory, identity, or history itself—and to fix it into forms that endure. Rogers is an accomplished poet, and it shows in her luminous and beautifully cadenced prose.
—Suzanne Buffam is the author of three collections of poetry, most recently A Pillow Book, which was named one of the ten best poetry books of 2016 by the New York Times. Born and raised in Canada, she teaches creative writing at the University of Chicago.
Some People's Children by Bridget Canning
Some People's Children follows teenager Imogene Tubbs as she uncovers the story of her own parentage in a maze of small-town gossip and family secrets. Bridget Canning captures a generation of Newfoundlanders maturing in the shadow of gruelling economic and cultural collapse, acutely depicting the urgent desire to escape disaster while remaining tethered to notions of home. Canning deftly explores how evolving identities are hampered by the toxic masculinity still prevalent throughout much of the island. She does so while infusing the narrative with tenderness, authenticity, and complexity the likes of which could be rendered only by an author fully immersed in the contradiction of struggling to be whole during times of great fracture. Not since Joel Thomas Hynes's Down to the Dirt has a Newfoundland coming-of-age novel so relentlessly depicted the taxing challenge of surviving adolescence in rural outports. This darkly comedic novel is one of indignities, epiphanies, and hope.
—Megan Gail Coles's debut novel, Small Game Hunting at the Local Coward Gun Club, was a finalist for the Scotiabank Giller Prize and CBC's Canada Reads and won the BMO Winterset Award. Her debut poetry collection is forthcoming in fall 2021.
Traveling Detours and U-Turns by d. n. simmers
The now sadly late poet d. n. (Neil) simmers, deceased this past July, leaves us a final book, Traveling Detours and U-Turns, that evinces his undying affinity for Black Mountaineering Beats. He pursues E. E. Cummings–style clarity but also traces the Black Mountain school's BC offshoot, Tish, in exploring autobiographical anecdotes in sensual, succinct, vivid, and personable language: "Night puked down, every day / the roofs / tinkered beats / on every bunkhouse." In making wry social observations, simmers's tone is appealingly off the cuff: "The water below calls / and is answered by the jumpers. / They come out when the moon is full / and markets have crashed." Though there are shout-outs to Canadian poets Anne Carson and Patrick Lane, simmers is closest, I think, to American Richard Brautigan: both know that the only entree to the state of nirvana is via the state of nature.
—George Elliott Clarke is a former poet laureate of Toronto and parliamentary poet laureate. His recognitions include the Pierre Elliott Trudeau Foundation Fellowship, a gold for poetry from the National Magazine Awards, the Governor General's Award for Poetry, and the Dr. Martin Luther King Jr. Achievement Award.
You Will Love What You Have Killed by Kevin Lambert and La morte by Mathieu Arsenault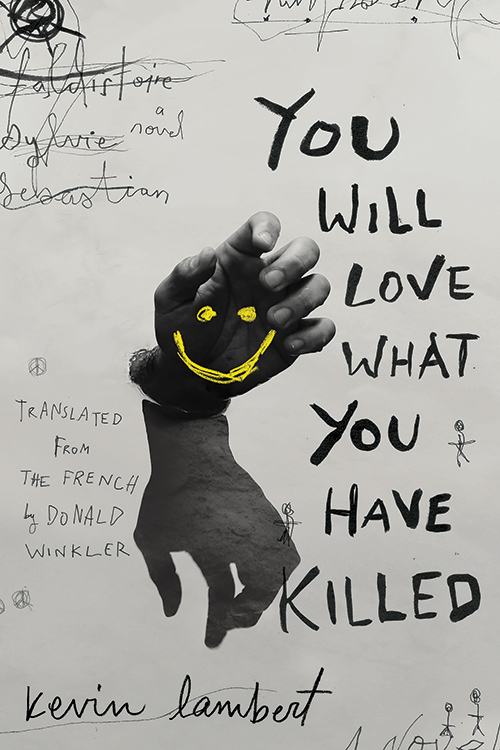 Kevin Lambert's debut novel, You Will Love What You Have Killed (newly translated into English by Donald Winkler), unspools a tale in which a pack of ghostly teenagers continuously return from the dead to take revenge on the amoral elders in the small, tight-knit community of Chicoutimi, Quebec. Lambert's is a dark yet poetic vision of a place, ruled by hate and revenge, in which the kids definitely aren't all right. But his youth in revolt provide a welcome punch to the gut.
For readers of French, Mathieu Arsenault's La morte offers a contemplation on the death of Arsenault's friend, the writer Vickie Gendreau. (Two of her books, Testament and Drama Queens, are now available in English thanks to translator Aimee Wall.) La morte is an intimate examination of dying that questions how we deal with grief in a time when traditional mourning rituals have slowly lost their meanings. It is a touching and brilliant account of the connections we keep with those who have gone.
—Stéphane Larue's first novel, The Dishwasher, won the 2020 Amazon Canada First Novel Award, France's Prix Senghor, and the Prix des libraires du Québec.
This Is Not the End of Me: Lessons on Living from a Dying Man by Dakshana Bascaramurty
Dakshana Bascaramurty, a reporter with the Globe and Mail (who is both my colleague and friend), first met thirty-year-old Layton Reid when she hired him to photograph her 2012 wedding. One year later, Reid reappeared in her inbox with an unorthodox request: he was dying of cancer and wanted advice on how to write down his legacy for his pregnant wife and soon-to-be-born son. Bascaramurty took on Reid's challenge, and This Is Not the End of Me is a portrait of Reid's final years, told with the curiosity of a journalist and the quiet generosity of a confidante. Reid's story—and Bascaramurty's telling—includes all of the messy, mundane, and, yes, funny moments that come with dying. It's a book that left me with big questions about the kind of friend, partner, and parent I want to be. As Reid shows, there's a lot of life to be lived, even while dying.
—Ann Hui is a reporter with the Globe and Mail and the author of Chop Suey Nation: The Legion Cafe and Other Stories from Canada's Chinese Restaurants.
The Abortion Caravan: When Women Shut Down Government in the Battle for the Right to Choose by Karin Wells
The struggle to guarantee the right to abortion was long, and it is not yet over. In Canada, access remains patchy; in the United States, the right itself is now under threat with the Republican takeover of the Supreme Court well underway. The Abortion Caravan, then, describes a history that is still unfolding today. Karin Wells, a former CBC Radio documentary maker, tells the story of an era when tens of thousands of backstreet abortions were performed in Canada each year, causing infertility and death for many women. She follows the 1970 cross-country crusade in support of legalized abortion with eye-catching detail, tracking the protesters as they drove from Vancouver, picking up supporters en route, to storm Parliament Hill and dump a black coffin on prime minister Pierre Trudeau's doorstep. It would take eighteen more years before laws here were changed and abortion access was substantially improved in most provinces. Wells's descriptions of political action in the days before social media and #MeToo are at times witty and always fascinating.
—Charlotte Gray is the author of eleven nonfiction bestsellers, including The Promise of Canada: People and Ideas that Have Shaped Our Country.