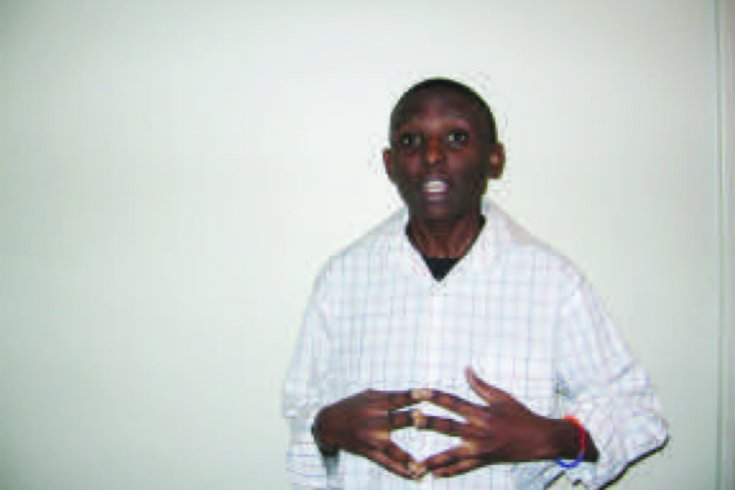 kampala— "eat me: Top city lesbian tricked, falls in love," read the front page of the Ugandan tabloid Red Pepper in January 2004. The story read like a diary, beginning with an undercover reporter's first meeting with Juliet Victor Mukasa, a lesbian. "She grinned, and obviously, because she perhaps thought she had gotten a recruit," the journalist wrote. Their encounter progressed to an awkward scene: "I whispered sweet nothings in her ears and tried to pull off her shirt but she refused. We had an argument and she went like she can't show me her boobs."
Ugandans were shocked to find out that homosexuality was prevalent in Kampala, the country's capital city, especially at a time when vigilance was at a high. Since 1999, when President Yoweri Museveni heard a rumour about a gay wedding and ordered the arrest of all homosexuals, homophobic displays in Uganda have been widespread and passionate. For example, in 2003 heterosexual lawyer Sylvia Tamale was voted worst woman of the year by government-owned daily the New Vision after she lobbied the country's equality commission on behalf of homosexuals. And last year, Uganda became the first country in Africa to constitutionally ban gay marriage. (Nigeria has since followed suit.) When I told a Ugandan journalist that I was writing about homosexuality in his country, he responded, "Are you writing that they should all be killed?"
Given this climate, it's no wonder that Mukasa, Uganda's most prominent gay activist, requests that we meet at Amnesty International's office building rather than a more public location. When I arrive, after catching a ride through Kampala on a moped with "I love Jesus" written on the backrest, Mukasa is waiting in a white-walled, fluorescent-lit office. She is wearing her trademark outfit: a black Guinness hat, a denim jacket, and baggy black pants. She has just returned from a human-rights conference in Ireland and it seems to have invigorated her. "We need to remind the government that we are citizens of this country!" she says, tapping the table with her index finger.
The thirty-one-year-old Mukasa recently approached Uganda's Human Rights Commission to complain about the exclusion of homosexuals from its aids policy. The country's abc (Abstain, Be faithful, or use a Condom) strategy, acclaimed internationally for reducing the hiv infection rate from 15 to 5 percent, has been hijacked in recent years by evangelical anti-condom crusaders like Uganda's first lady, Janet Museveni. "They don't care if gays get aids," Mukasa says. "But gay people have sex with straight people and we've told them!" Her broad shoulders sway as she speaks, and her husky voice spikes in exasperation. Mukasa has gone to the commission about other issues as well; at one point, a female employee tried to set the activist up with her son. "She actually said, 'Maybe you haven't found a good man!'"
Ugandans' anti-gay attitudes are based in part on the country's poverty, according to aid worker Mohammed Yahya. "We have a welfare state here in Africa, which is the extended family," he says. "Anything that endangers that system is a threat." The boom in evangelical Christianity, too, has influenced Uganda's stance. "The rest of the world needs these "backward Africans' to come out and tell them marriage is between a man and a woman!" railed Ugandan pastor Martin Ssempa to his congregants during a sermon I attended last year.
Mukasa first publicly counterattacked Ugandan homophobia on the radio, in December 2003. Her motivation was the death of Paula Rwomushana, an eighteen-year-old student who committed suicide shortly after being caned in front of her classmates. Rwomushana had been caught with love letters sent to her by other females. Mukasa's radio appearance led to the story in Red Pepper a month later. The piece ran alongside a photo, displaying her distinctive pouty lips, curly eyelashes, and buzzed head. Now thoroughly outed, Mukasa decided to become a professional activist. "I thought 'Okay, I'm exposed. What have I got to lose?'" she says.
Plenty, as it turned out. She was kicked out of a friend's house and found herself unwelcome in family members' homes. ("What if we have a gay child?!" her brother-in-law yelled at his wife.) Mukasa, who comes from a prominent Kampala family, moved from place to place, at one point spending two nights in a pit latrine. She met with other homosexuals and became the first elected chair of Sexual Minorities Uganda, a coalition of groups that lobbied the government and the media about the discrimination gays face. Mukasa would "beg around" for money, telling people she needed it for bus fare and lunch, then use it to pay for letters and press releases she typed up at Internet cafés.
These efforts culminated in a raid on her house last July. A local council official wanted to apprehend her, she believes, but she was away at the time, so he stole documents relating to her organization and had a visiting lesbian friend arrested for being "idle and disorderly." According to Mukasa, the official produced a witness who complained about drinking, drugs, and noise—and that the women who hung out there "wear shoes that are for men."
"People say, 'You have freedom in your bedrooms, isn't that enough?'" Mukasa muses. "But it's not about sex. It's about being able to put your arm around the one you love in public. Why should we tell lies when things are truly in our hearts?"