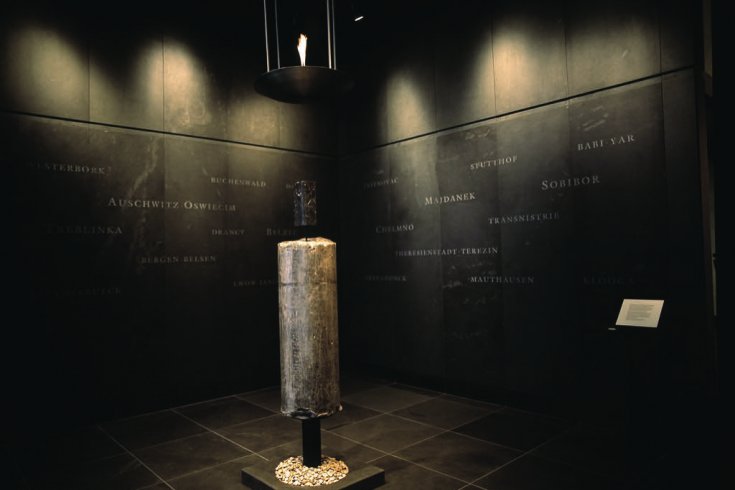 montreal — Three years ago, on a day in October, Ann Ungar reported for her first day of work as the newly appointed executive director of the Montreal Holocaust Memorial Centre. Ungar has spent most of her working life – about fourteen years – employed by prominent Jewish organizations in the city, but on that day, she stumbled upon what she calls the community's "best-kept secret." On her staff at the centre were three interns from Austria, helping out with everything from cataloguing the museum's six-thousand-plus artifacts to translating German documents. For Ungar, the child of Holocaust survivors, their presence was entirely unexpected. The reason for it was even more surprising. The young men, all in their early twenties, were in Montreal on an Austrian government program: they'd chosen fourteen months of service at a Holocaust institution abroad over eight months of mandatory military service at home.
Gedenkdienst, as the program is known, literally translates to mean commemorative service, but the Holocaust is implicit in the definition; this is memory mixed with atonement. The term was coined twelve years ago by Andreas Maislinger, a forty-nine-year-old political scientist based in Innsbruck, who adapted the idea from a German program founded in the late 1950s, called Aktion Suhnezeichen, or Action Reconciliation. Although born in Austria, Maislinger had elected to participate in the German program in his youth, serving an internship at the Auschwitz-Birkenau Museum in 1980. The experience inspired him to propose a similar program in his own country, where it would serve as an option for eighteen-year-old male draftees. Social and civil service already existed as alternatives to joining the Austrian army, but Maislinger recognized a special need for service related to the Holocaust.
"The Holocaust was never mentioned during my childhood," he explained in an email. "Talking about the murder of the Jews . . . was out of the question in the Fifties and Sixties." The silence was political, according to Maislinger, and so was his response, which was "to make the Republic of Austria realize that it, too, is responsible for the Holocaust."
It took Maislinger more than a decade of lobbying to get the Gedenkdienst program accepted by the government. Rudolf Kirchschlager, the Austrian president at the time, told Maislinger Austrians had nothing to atone for in Auschwitz. But in 1992, the government passed legislation recognizing the Gedenkdienst program as an alternative to military service. (In 1995, Kirchschlager, retired by then, admitted to Maislinger that he'd been mistaken in his view.)
There are currently forty-one Gedenkdieners serving around the world in Holocaust-related institutions, from Yad Vashem in Jerusalem to a Holocaust centre in Reno, Nevada. Since 1998 – the year the Austrian government began keeping statistics on Holocaust service – there have been 273 Gedenkdieners.
Montreal's Holocaust Memorial Centre has participated in the program since 1995, welcoming thirteen interns – though, in the beginning, "welcome" wasn't exactly the right word. Resistance to the program in Austria stemmed from a desire to ignore the past; in Montreal, there was a reluctance to relive it.
Established in 1979, the centre exists due to the efforts of one of the world's most prominent Holocaust-survivor communities. (It is the third largest, after Israel's and New York's.) These days, even with the $5.5-million makeover that created the memorial museum and the involvement of community professionals such as Ungar, survivors still volunteer as guides and lecturers and think of the place as their own. When the first Gedenkdieners arrived, many felt resentful that such an emotionally charged decision had been made without them. "We all were suspicious," explained Renata Zajdman, a survivor of the Warsaw Ghetto, who has lectured at Montreal high schools on behalf of the museum. "They were Germans, let's face it; German, Austrian – I just didn't feel comfortable." The comment some Gedenkdieners heard early on was, "You're sixty years too late."
Even when there wasn't outright hostility, there was a minefield of sensitivities to navigate. Recounting his experience as a Gedenkdiener in an article published four years ago, Lothar Bodingbauer, an Austrian journalist, described how carefully he had to avoid words such as "selection" in the company of survivors, or the colour yellow on the museum's Web site, since it was the colour with which "Jews were stigmatized in the Third Reich." He recalled being in a cafeteria filled with Jewish senior citizens once and exclaiming, "Jahwol!" upon being offered applesauce for dessert. "I could feel the room go silent."
Eventually, though, the survivors were touched by the sincerity and empathy of the Gedenkdieners. "How can I blame them for what happened?" Renata Zajdman said. The change in attitude was evident at a farewell party organized two years ago by an Auschwitz survivor named Avrum Feigenbaum for Georg Primas, a Gedenkdiener. "Everyone was fine until Avrum started to make a speech," Ungar recalled. "He said, 'You say I taught you a lot, but you taught me, too. You taught me to have hope again.' That's when Georg – when every-one – started bawling."
Not all Gedenkdieners arrive solely with atonement in mind. The museum's most recent Gedenkdieners, Rainer Steindler, who completed his internship last spring, and his replacement, Christian Ruepp, were also interested in visiting North America and curious to learn about Montreal's Jewish community. According to Ruepp, there's nothing like it in Austria or anywhere else in Europe. On a recent trip home, Steindler was asked, "'You work for Jews – how is it?'" But Steindler, like Maislinger, now sees being a Gedenkdiener as a political, even patriotic act. "It took until the late Eighties for Austrians to stop saying we were the first victims of the Nazis and to say we were also involved in killing millions," Steindler said. "This has always been an issue."
A soft-spoken young man with just a trace of an accent, Steindler was accepted from the start in Montreal, though his job hasn't always been easy. One day a woman came in with letters written by her grandparents in Germany to her father in Canada, circa 1942. Steindler helped translate most of the letters, but it's the last one he can't forget. "That was tough. The parents were about to be deported and they were telling their son not to forget them," he said.
Ungar used that translation in a speech she made last November, commemorating Kristallnacht. She also decided two years ago, when the Austrian government cut funding to her museum for the Gedenkdienst program – so far nobody has explained why to her satisfaction – to keep it going herself. "The concept of it, the spirit is indispensable," she said later. "It made me realize we've come a long way. And I don't just mean this museum, I mean humanity."