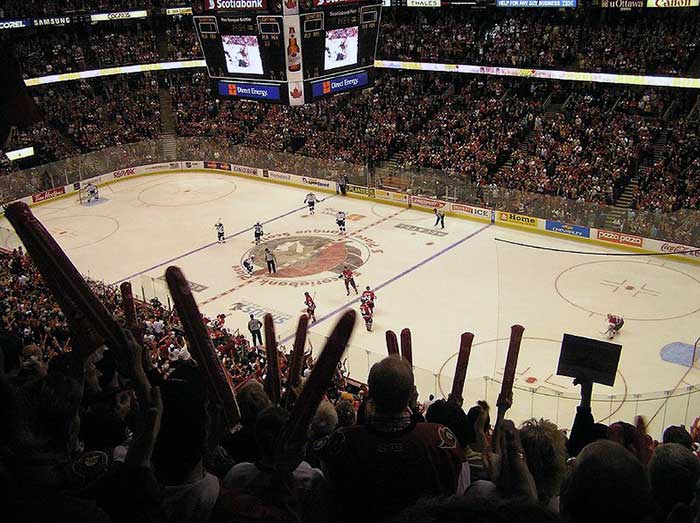 leoniewise
As the first, belated week of the 2012-13 NHL regular season comes to a close, is there anything left to say about hockey's return and what the game means to this country? Yes, the 113-day lockout was a "stupid, useless waste of time." Yes, despite threats of abandonment—of empty arenas and meagre TV numbers—Canadians everywhere celebrated the good news of January 6 and came back, smiling beatifically. And, yes, the parties responsible for yet another costly labour dispute should be "grateful as hell to anybody who still loves them."
Writing about hockey in Canada is a daunting task. For one, the game and country are so inextricably intertwined, so much a part of each other, that any sort of disentangling work is fraught with peril. For another, these things have been examined and studied as closely as any other subject in our country's history. The literature is exhaustive; there is very little ice left for the rookie to skate on.
To many, hockey is simply the "national religion" or "dominant faith," and rinks are places of worship where the flock congregates. To others, it's something more like the national distraction—what helps you get through the day, and makes living a bit easier. In her 2010 online piece for The Walrus, "Ice Houses of the Holy," American blogger Ellen Etchingham took another view:
"For Canadians, hockey just is. It's there on your ponds and television sets, in your parks and old family photos; it's sitting in the garage; it's laughing on your driveway. Hockey is your culture. It's who you are."
In last weekend's Globe, Roy MacGregor quoted Bruce Kidd and (Walrus editor) John Macfarlane on the relationship between the game and the country's geography. "In a land so inescapably and inhospitably cold," they wrote in 1972, the same year Paul Henderson beat Soviet goaltender Vladislav Tretiak to win the Canada-USSR Summit Series, "hockey is the dance of life, an affirmation that despite the deathly chill of winter we are alive."
All this is true, but to my mind, there's something more to be said on this last point. In a harsh climate and sparsely populated landscape, where the physical distances between people are greater than in most other countries, hockey is the thing that we gather around, that unites our solitudes. To be clear, the sport never went away. During the lockout, kids were playing shinny in Baie-Saint-Paul, on the shore of the St. Lawrence, and in Christie Pits Park in downtown Toronto; Canada won the Spengler Cup and fell apart at the World Juniors; TSN played (one imagines in desperation) highlights from Russia's Kontinental Hockey League. But without the NHL, the game's most visible permutation and great unifier, conversations waned, sentences went unfinished. And, importantly, the talks we usually have about hockey were replaced with darker ones about money and greed and naked self-interest. You were reminded less that if a five-foot-eight-inch, undrafted forward from Laval can go on to win the Cup, Art Ross, Pearson, and Hart all in the same year, then christ de tabarnac, you better get back to work. You were reminded more that you were naive to ever believe that the game you play after work is fundamentally similar to the one you watch at the bar.
This past Monday night, I was at Scotiabank Place in Ottawa for the Senators' home opener, sitting the closest I ever have to the ice. The staff greeted the fans with warm welcome backs. Young children, holding their parents' hands, walked around wide-eyed. Teenage girls giggled as Erik Karlsson skated around during warm-ups, helmet off, hair swept back. Within minutes, I was lost yet again in the game, in its beauty and electricity, and high-fiving the drunks in the next row over when Ottawa scored. At home in the city I grew up in, lost in the dream all over again.