The thing about raccoons, and maybe especially raccoons in big cities like Toronto, is that there's nothing simple about them. They are part of our streets and communities, yet we treat them as though they don't belong. They hang out not just in trees but also on our porches and in our garages. We think they're adorable until they expertly pry open our green bins. We chase them out of our yards but only after we snap a photo for Instagram.
As a fiction author who has written several books on the experience of being an outsider, including one starring a raccoon, I recognized Vivek Shraya's protagonists in Revenge of the Raccoons as kindred spirits right away. The children's book, published in October, captures Shraya's fascination for the creatures as well as their complicated relationship with humans. Set in Toronto, it's a story about neighbours, outsiders, and fences, about who belongs and who was here first.
"I think some people will genuinely read this book and think it's a cute book about raccoons, and I don't think that that's a bad thing," Shraya told me in a phone conversation in October. But "some of the social issues might get lost."
A seven-time Lambda Literary Award finalist, Shraya is known for her ground-breaking work as an artist, musician, and author who brings awareness to social issues. Her 2017 album, Part-Time Woman, performed with the Queer Songbook Orchestra, deals with questions around what defines femininity. Her 2018 bestselling book, I'm Afraid of Men, reflects her experience as a trans femme.
Given our shared backgrounds, I was interested not only in Shraya's latest work but also its backstory. Shraya and I are both South Asian and are both from Alberta, and she lived in Toronto for fifteen years before joining my alma mater, the University of Calgary, as an assistant professor in 2018. Like me, Shraya's first run-ins with raccoons were in Toronto, the city I've called home for more than twenty years.
Raccoon sightings are the city's version of cat memes, she says, recalling one popular video of a raccoon reaching for a doughnut from the ceiling of a coffee shop. When she set out to write about them, Shraya initially conceived of a dystopic young adult story about raccoons taking over the city. But that direction felt more serious than she intended, so she pivoted to a picture book instead.
"The format of children's books actually really excites me," she says, "because it's kind of like poetry and it really forces you to be so selective about your word choice." It's no secret that writing for children through the lens of nonhuman characters frees grown-up writers to get playful. But it can also (sneakily) get us to open up our minds.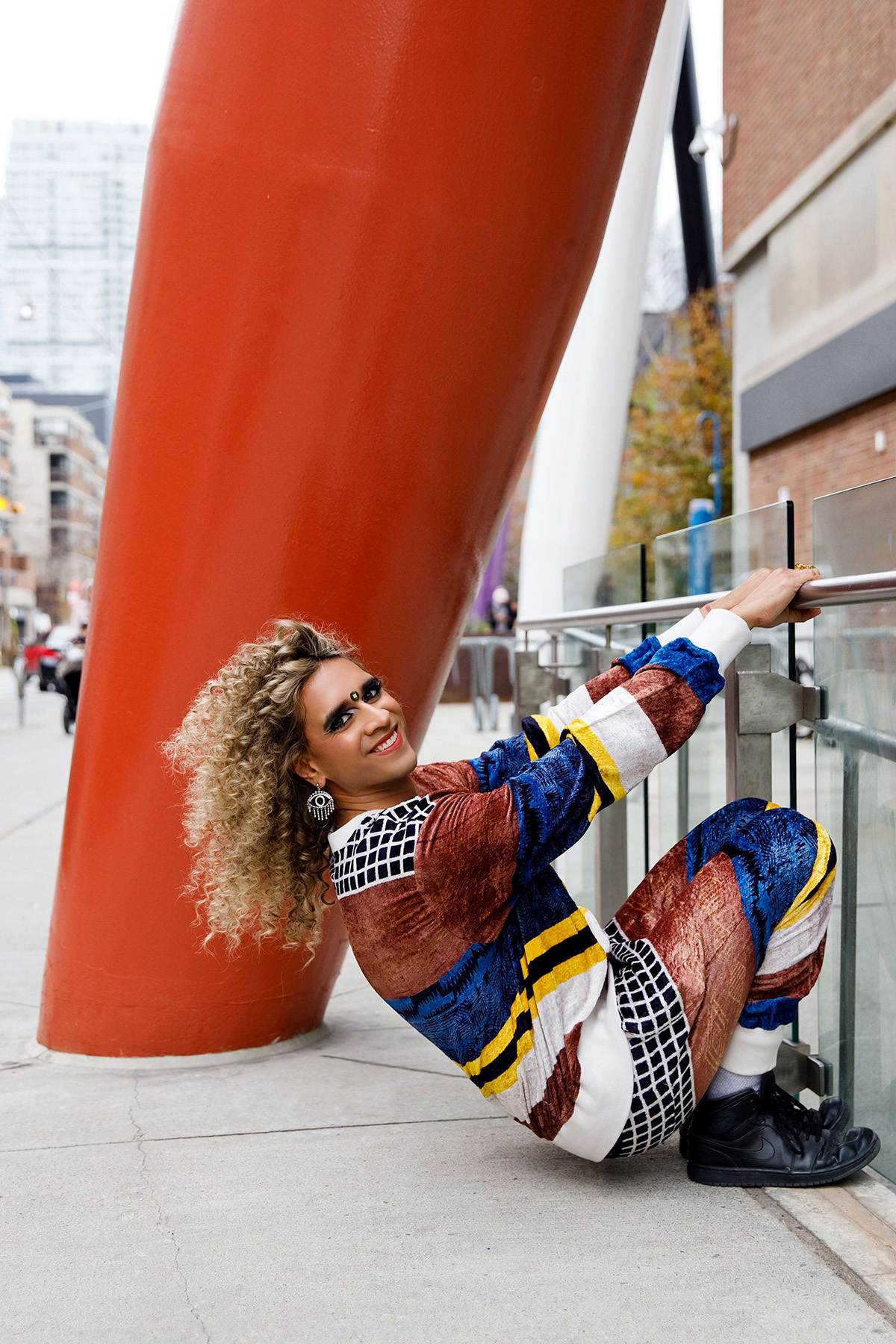 Revenge of the Raccoons opens with silhouettes of raccoons preparing to descend on a doughnut shop in the dead of night. Over the following pages, the stripe-tailed characters rollick about the city, causing havoc, disrupting everything from the bank to the drugstore. (I can attest that none of these incidents seems out of character for the raccoons I have met in real life.)
Illustrator Juliana Neufeld plants intricate details on every page, from a sour key being hurled out into the night to the stained red seats that seem to blur against the speed of the raccoon who scampers through the subway car. Though seemingly small, these details play an important role in the young reader's experience. I have seen how, when children can't quite recognize letters and words themselves yet, they love being able to identify something in a storybook—especially fun details parents might have missed. They give children a feeling of pride in the practice of reading that has nothing to do with the sometimes-rote process of learning to decipher words.
Neufeld uses visual cues to guide the young reader through the story's moods: a dramatic and dark colour scheme on the opening pages evokes how "we often feel fearful of something that we don't know," she says. But, as the story proceeds from darkness to daytime, "I wanted there to be that transition of you starting to see that these characters are actually a lot funnier and not that different from us."
Halfway through the story, Shraya flips the script. Having followed the raccoons through their nightly foraging routines, her story shifts to the responsibility their human neighbours must bear for displacing the animals through urbanization. It is here that the only quotation marks appear in the book, placed strategically around a phrase I've used myself to refer to raccoons. "You call us 'trash pandas.' You call the police," the raccoons say; on the page, three of them tease and mock two police officers by snatching one of their hats and dodging behind a trash bin.
"There's something about that that's kind of derogatory," Shraya says of the moniker. "What does it mean to call living beings trash?" To her, the word evokes a growing culture of disposability, in which "certain bodies and certain beings in our world are treated as more disposable and therefore more penalized."
Shraya insists that she doesn't want to draw any direct racial comparisons between raccoons and humans, but, she says, "I know what it's like to be a being in the world that is feared and to be feared irrationally. And so, in some ways, I almost felt a social responsibility to interrogate my own fear of these beings. It felt important to remind myself: Who is the real outsider here? "
"It was YOU who came for US, and built houses everywhere," the raccoons in the story lament as a few of them watch workers in trucks tearing down trees that could have been their home for generations. Raccoons may be outsiders now but they didn't become outsiders by accident. "Thinking about my place, thinking about land in relation to being a settler," says Shraya, is one thread in the story. "What does it mean to have a negative relationship with other beings who you share space with? And feel entitled to that space . . . despite the fact that you weren't actually there 'first'?"
Neufeld points to the children in her illustrations whom she drew such that they look more at ease with their raccoon neighbours. "It's more of the adults who are having a hard time," she says, "which I think speaks to how we learn and interpret difference."
In my experience, it's not usually kids you see chasing raccoons out of the backyard; they're more likely to crowd around and call their friends over to look. It's why I've written children's books about a human zombie apocalypse and the cats, raccoons, and hamsters who save us from the end of the world: I know that these oft-underestimated characters will find a way into a kid's heart. It is theorized that discrimination and prejudice are learned behaviours, and they originate out of a combination of factors that include noticing differences, something adults are so much more practised at than kids. When I tell a kid that someone they've known as a man is now identifying as a woman, they barely blink. When I tell an adult, their reaction is less guaranteed and more likely to be judgmental.
This is Shraya's second book for kids; her first, The Boy and the Bindi, was published in 2016. In some ways, writing for younger readers is not a departure from her usual work but a continuation of it. "I do think the book is still imbued with one of the ways that I work as an artist, that I'm passionate about—trying to get readers to think beyond ourselves about the world at large and how to coexist with others," she says.
This year marks Shraya's twentieth anniversary of working as a professional artist. She laughs a little self-consciously as she tells me about the milestone; part of her, she says, feels silly making a big deal out of this particular work anniversary. But she also points out that there's that extra layer of persevering as a Brown, queer artist that she is especially proud of, both in herself and in others.
It's why she founded the award-winning VS. Books, an imprint of Arsenal Pulp Press, in 2017, and has since helped guide authors, including Téa Mutonji and Cicely Belle Blain, through the publishing process in a way that isn't commonly available to BIPOC writers.
The way she tells it, Shraya struggled to convince editors and publishers to take on this project. "I started pitching this book in 2018," she says. It "went through a lot of hands to get to the physical state."
"Maybe this is just my experience, but when I get through the door, whatever that door is, they never invite me to stay. I often have to prove myself with every single project," she says. "I have [to] knock on the door, push down the door, ask for an invitation, whatever it is."
It's not just her experience, of course. I'm well past my sixth book for kids, and I still struggle to find publishing homes for my writing. Not only are many editors looking for stereotypical stories from me that pull from the Indian diaspora but also the message I get is that every new story is a new risk for publishers and they know they can sell the stereotype. Every story that breaks the mould, like Cherie Dimaline's incredibly popular YA book The Marrow Thieves (proving that good science fiction isn't just created by or for white males), gives me hope that my characters will find a home as well, but that door still exists in a way I know it doesn't for everyone.
And yet I also know, as does Shraya, that we have an appreciative audience. "I actually just had the opportunity to record a little performance video of a grade five class here in Calgary—all dressed up as raccoons and actually reciting the text," she says. "It was so joyful. Even now it kind of gives me chills."
Having spent her career talking about oppression, Shraya says, she intended for the book to be joyful. "As I age, the more the question of 'Are you having fun?' feels just as important."