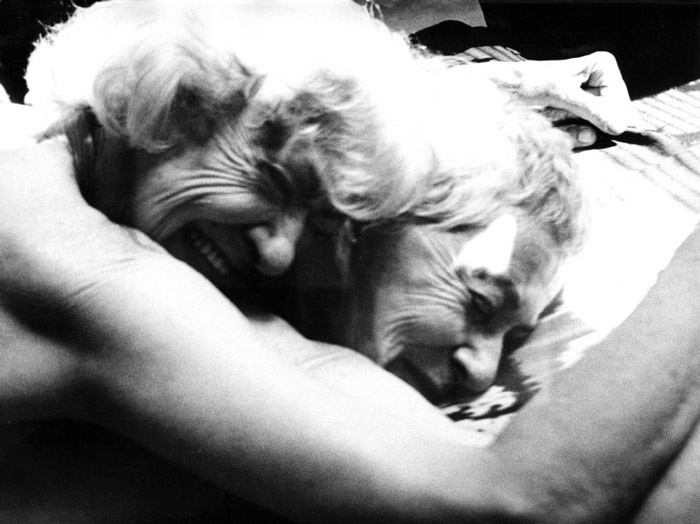 In 1979, American experimental filmmaker Barbara Hammer came to a feminist film conference in southern Ontario, hoping to screen her seven-minute film, Multiple Orgasm. Had things gone as planned, her audience would have watched eight female orgasms through close-up shots of women's faces and vulvas. Instead, a woman representing the Ontario Censor Board marched up to Hammer and threatened to confiscate the film if she tried to show it. Hammer took the stage in response, then spent her allotted time recounting in detail the erotic stories she had masturbated to while making the documentary. The censor board couldn't take her spirit—a spirit that Toronto's TIFF Bell Lightbox attempted to present last weekend, in "Brave New World," a retrospective of selections from Hammer's eighty films.
As she writes in her 2010 autobiography, Hammer! Making movies out of sex and life, nudity, sexuality, and bodily exploration have always been important subjects to Hammer. Nearly forty years ago in Oakland, California, at her first screening of a set of Super 8 films in a pop-up lesbian café, she watched woefully as nearly all her audience members walked out in disdain. It wasn't the frolicking nude bodies with antler headdresses that offended them, nor the fact that her subjects were co-opting a Catholic ritual and baptizing themselves—after all, this was the '70s, a decade after hippies across North America had abandoned societal restraints like monogamy and organized religion. The problem was that some of the films included images of men, and the separatist feminists in the crowd were simply uninterested in watching them. The one couple that remained till the end of the final film told Hammer they'd stayed because they had boy children.
The director adapted. Hammer dropped men and focused on women—more precisely, on lesbian women. At the time, she had ended her (heterosexual) marriage and was discovering a new sexuality. "By making love with a woman who had a body similar to my own," she recalls, in a telephone interview from her New York residence, "I reinforced my sense of touch." Hammer went on to become an icon for queer filmmakers across the United States and Canada; she is one of the few women who are taken seriously in avant-garde cinema circles. Her 1998 film Tender Fictions was nominated for a Grand Jury Prize at the Sundance Film Festival; last year, London's Tate Modern held a month-long Hammer retrospective titled, "The Fearless Frame."
As the first lesbian director to make films about lesbians, Hammer had no role models to follow. Her subjects were both of and ahead of her time. She made films about and starring herself—her own sensation of skin on skin—textural essays depicting entangled hands and feet, wet vaginas, and climaxing women. For a four-minute film called Dyketactics (1974), Hammer directed her cameraperson to "stroke" her with the camera, as if it were sharing in a scripted lovemaking scene. To depict the "interior sensation of touch," she placed the camera up close, filming herself and her co-actor as they ran their hands from their bellies to their breasts.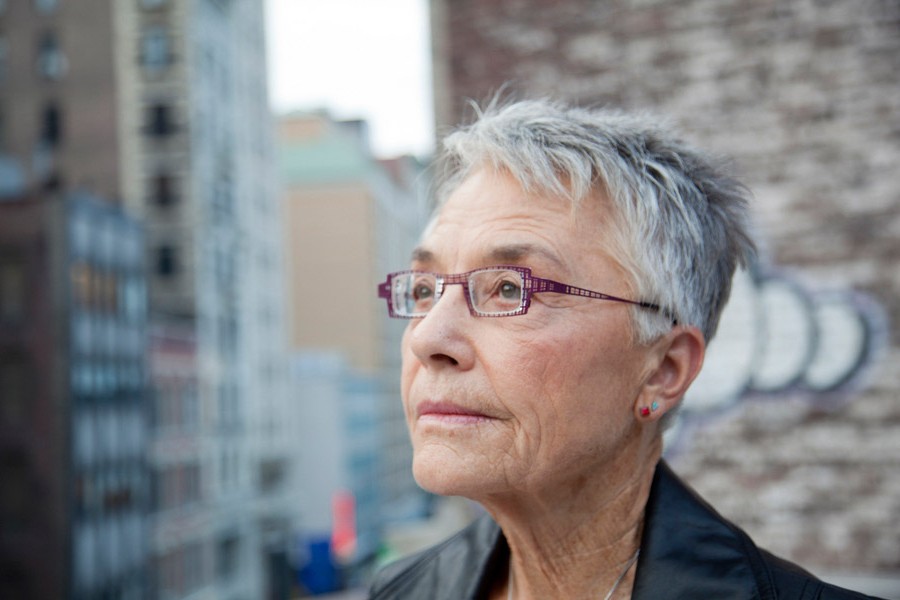 It is Hammer's willingness to be vulnerable, to expose herself through her work that has endeared her to Toronto-based filmmaker Deirdre Logue. "Barbara represents the permission to be fully present in a work—physically visible, politically visible, and sexually explicit, without putting much pretext between the artist and the audience," says Logue, whose own films are often hand-processed self-portraits that she describes as personal, emotional, and political works.
This "personal is political" attitude first emerged among feminist thinkers in the '60s, when women at consciousness-raising groups began to see that their personal problems stemmed from living within a society tailored to men's convenience. The most basic freedoms like workplace rights and reproductive rights had to be wrested from the control of men (and women who agreed with men).
In the next few years, identity politics become dominant in the art world. People of colour, of disability, of age—others who had been left off the screen and banished from popular culture—caught Hammer's focus. In 1992 she made her first feature-length film, Nitrate Kisses, which asks, "Who has been left out of history?" The film asked a more pointed question of her gay community: "What are we guilty of suppressing?" Nitrate Kisses features four couples: its stars are elderly, interracial, sadomasochistic, and body-modified.
Over time, Hammer has moved on from constructions of sexual representation. "Who cares anymore?" she asks me, as we discuss the evolution of her work. Evidently, nobody in her East Coast artist community does. Not since, she says, Judith Butler published her 1990 essay, Gender Trouble: Feminism and the Subversion of Identity, laying down the foundation for queer theory. Butler's essay is critical of feminist theory for its restrictive (and exclusive) definition of "woman." It suggests that gender fluidity could replace gender binaries, and describes the "performative," socially constructed nature of gender and sexual identity.
"You don't have to be gay to be queer," Hammer tells me, and so her more recent films have explored her newer concerns. Resisting Paradise (2003) is a film of inquiry, where she questions the practice of art during war, documenting the lives of artists Henri Matisse and Pierre Bonnard in Cassis, France, during World War II. In A Horse is Not a Metaphor(2008), Hammer records her own experience as an ovarian cancer "thriver rather than survivor." She is currently researching her next project: an experimental documentary about the American poet Elizabeth Bishop, told from her subject's adopted home in Great Village, Nova Scotia.
Indeed, Hammer thrives: she does so despite accusations that her work is pornographic, despite years of criticism from women who wrote to her asking why her films are so daunting, and despite stigma against her subjects—lesbians—who she says have been targeted: silenced, denied, negated, and made to feel ashamed of themselves. "If we are brave enough," she writes in Hammer!, "we break taboos, we challenge fear by the projection of our images, and we help ourselves grow."