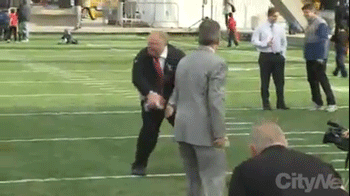 Municipal
This week: Marty was (temporarily) blocked from entering Toronto's Royal York Hotel, because Marty is a horse. Calgary's Grey Cup committee chairman, Fletcher Armstrong, had wanted to ride a horse into the hotel's lobby to repeat an infamous stunt from the 1948 Grey Cup. Management initially denied the request, citing safety concerns for staff and guests, but eventually yielded to pressure from the media (see below) and Stampeders fans. The Stamps and the Toronto Argonauts will battle for the 100th Grey Cup this Sunday at Toronto's Rogers Centre.
Next week: Toronto's mayor, football enthusiast Rob Ford, may be forced to resign and banned from competing in future elections when the verdict comes down on his conflict of interest hearing. The mayor has been accused of soliciting donations for his football foundation using the city's letterhead. Justice Charles Hackland is expected to deliver his decision Monday morning.
Provincial
In northern British Columbia, Wet'suwet'en Nation members have asserted their right to make decisions about their traditional territories. The Unis'tot'en clan has evicted natural gas pipeline surveyors from its land, seized their equipment, and blocked their reentry. The Globe and Mail reported that the clan has been against plans for numerous pipelines that would cross their territories, including the Pacific Trails Pipeline and Enbridge's Northern Gateway.
Federal
CTV's Don Martin logged a complaint about Canada's political leaders. He made public a video showing Minister of State Maxime Bernier being spoon-fed answers as he prepared for an interview on infrastructure funding. Martin called it a sad state of affairs when experienced ministers agree to be coached on simple topics, allowing their aides to "ram fibs as facts" down their throats, and enabling "mind control from the centre."
A Liberal leadership candidate, however, may have benefitted from some coaching a couple years ago. In 2010, while being interviewed by French-language television network Tele-Quebec, Justin Trudeau commented that Canada wasn't doing well because "it's Albertans who control our community and socio-democratic agenda." Those comments were rebroadcast by Sun Media News yesterday afternoon. Trudeau apologized from Vancouver earlier today, saying he should have clarified that when he said Albertans, he meant Stephen Harper.
International
Egypt's president brokered peace for the Middle East. Mohamed Morsi, in liaison with US Secretary of State Hilary Clinton and officials from Turkey and Qatar, negotiated a ceasefire in the latest round of fighting between Israel and Palestine. The agreement arrived too late for at least 105 dead and 850 wounded Palestinians, and five dead and over sixty wounded Israelis.
But the truce holds, even as another Palestinian man was killed today for approaching the Gaza-Israel border: an echo of an earlier shooting, from over two weeks ago, that may have triggered the violence.
Meanwhile, a Postmedia report speculates that Canada's involvement in the mediation could have been undermined by our unflinching "pro-Israel stand and abandonment of previous Middle East peace initiatives." Against the background of peace talks, Foreign Affairs Minister John Baird attended a fundraiser in Ottawa, where he told the guests that a "litany of hatred" would not affect Canada's support for Israel. The Conservative government had earlier refused to call for an immediate ceasefire, choosing instead to support Israel's right to defend itself.