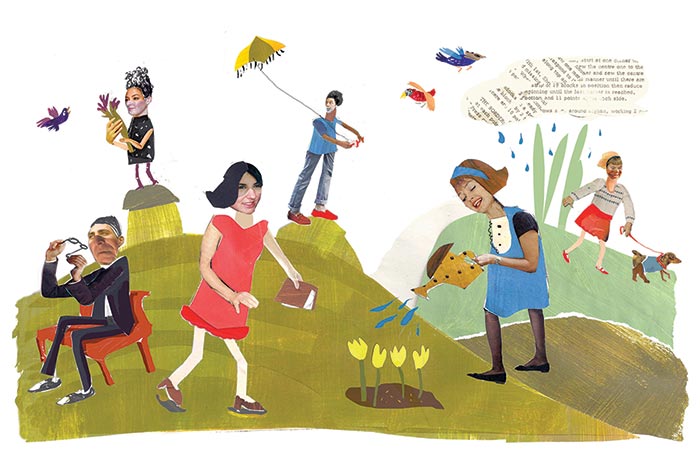 Methodist Hatchet by Ken Babstock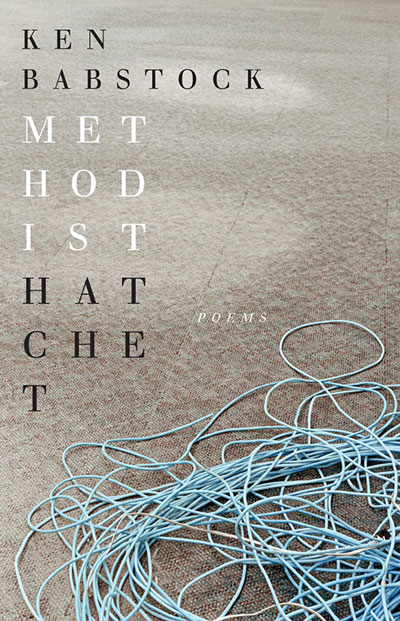 House of Anansi Press
Poets write mostly for other poets. I accept that—I really do. Forget that mostly only poets read poetry. Forget the pragmatics of publishing, of prizes, of reviews and relationships, of the poet who sleeps with the poet who reviews the poet who published the poet. Who teaches the poems, in my case. Remember what matters: that poets write with the knowledge of dead poets. That poets write from and for communities of living poets, people who share magazines, presses, aesthetics. That a poem today is mostly a conversation with other poems.
Like the athlete who improves with better competition, poets in our time have consequently become very, very skilled. The quality of poetry in Canada has never been better than it is today; tomorrow, it will be better still. Since his debut in 1999, Ken Babstock (small-town Newfoundland by way of small-town Ontario) has ranked among the very best poets of this exceptional time. Time called his first book "one of the best things to happen to poetry in Canada"; the Globe and Mail said his last book was "perhaps the most important poetry book yet from any Canadian born in the 1970s or beyond." With his new book, it's time to forgo the qualifiers and just call him what he is: the best Canadian poet of his generation.
Methodist Hatchet reads like a dropped glove to poets here and everywhere: catch me if you can. Babstock doesn't so much write words as spar with them, challenging the language to forty-three rounds between sound and sense. He's a master of the clanging consonant, the jagged rhythm, the line break that knocks you off the path, and the quiet rhyme that brings you back. Content-wise, some of the book's affections are familiar Babstock turf: wild animals and indie music, loneliness and death, remembering Avalon, dealing with Toronto. It's a less philosophical book than Airstream Land Yacht, meaner than Mean, more satirical. You don't have to watch Property Virgins to catch the sting of "Corian slab in the calibrated / cubism of the kitchen." Props, too, for surely the briefest critique of the reborn Royal Ontario Museum to date: "Shiny, shiny Libeskind."
Naturally, inevitably, Methodist Hatchet is full of conversations with other poets. Some are named, like John Clare and Dan Bejar, Dante and Morrissey, John Ashbery, Ovid, Peter Gizzi. Others are private, professional conversations, some of which I can hear, like those with British poet Simon Armitage and Canadian label mate Karen Solie, others, I'm sure I can't. But the conversation I miss is the conversation with me, the reader who doesn't write, poetry's public, such as we are. Several poems in this book speak with a clarity that matches their skill, notably the tremendously powerful "Caledonia." But most are built from enigmatic fragments that achieve at best what one poem calls a "brief coherence," what another simply admits to mentioning "in the spirit / of 'shit that occurs to me.'" The result, for me, is the unshakeable sense that instead of listening, I'm listening in, eavesdropping on a conversation of which the reader is no longer a part.
The Globe titled its review of Babstock's last book "A Canadian Auden for the Under-40s? " I'm not sure the comparison works, but this much I know: what we remember of Auden isn't the shit that occurred to him; it's the shit he turned into diamonds for the rest of us, poetry's public, such as we are.
—Nick Mount
[breakline]
On the Outside Looking Indian by Rupinder Gill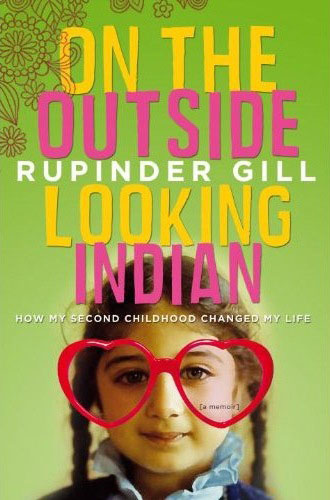 McClelland & Stewart
Like so many contemporary memoirs, On the Outside Looking Indian begins with a high-concept gimmick. The daughter of strict Indian parents in small-town Ontario, Rupinder Gill grew up watching television in her basement, never being allowed to experience supposed childhood milestones like slumber parties and karate classes. Now, having reached the doddering, wizened age of thirty, she plans to relive her lost youth. She compiles a list of goals—learning to swim, visiting Disney World, going to summer camp—and embarks on a second childhood: a madcap mission from which, of course, she will emerge stronger and smarter.
But this shallow, trite, and unbearably whiny memoir is based on a glaring fallacy. Gill seems to think there is some Platonic ideal of a normal childhood, and is outraged that her parents—who, although stern and traditional, were loving and engaged—deprived her of this Elysian adolescence. The irony, of course, is that this is a construct shaped by her years in front of the hypnotic television; every time she mentions an experience she missed, she uses an example from television to illustrate her point. Unfortunately, she lacks the self-awareness to recognize the flaws in her own world view.
Her prose is competent enough, but it relies too often on clichés (many pairs of birds are killed with single stones), vague platitudes, and failed attempts at self-deprecating humour. The text itself is as punny as the title. As she ambles through her adolescent to-do list, her account takes on an uneven, meandering tone. A stint as a camp counsellor for kids with cancer—rendered with saccharine, Chicken Soup–style earnestness—is followed up with a sojourn to New York, featuring all the tired, cheeky tropes one might expect to see in a single-girl-takes-Manhattan narrative from 1999. Always present, however, are notes of self-indulgent petulance and alarming disrespect toward both her culture and her parents.
The experience of a traditional Indian upbringing in a North American context offers rich territory for reflection, and certain moments, like Gill's visit to India, or the jarring differences between the ironclad rule under which she was raised and her younger brother's more lenient upbringing, beg for deeper insight. Instead, the cultural analysis is limited to broad strokes and crass generalizations. "Indian parents have a deathly fear of sexuality," she gripes, in between calling her Punjabi "gibberish" and rolling her eyes at her mother's traditional cooking. Her parents, meanwhile, are reduced to stock sitcom villains who have the gall to clothe her in non–brand name jeans. In attempting to illustrate the restraints imposed by her culture, Gill's memoir only manages to expose her own narrow-mindedness.
—Emily Landau
[breakline]
A Gentleman of Pleasure: One Life of John Glassco. Poet, Memoirist, Translator, and Pornographer by Brian Busby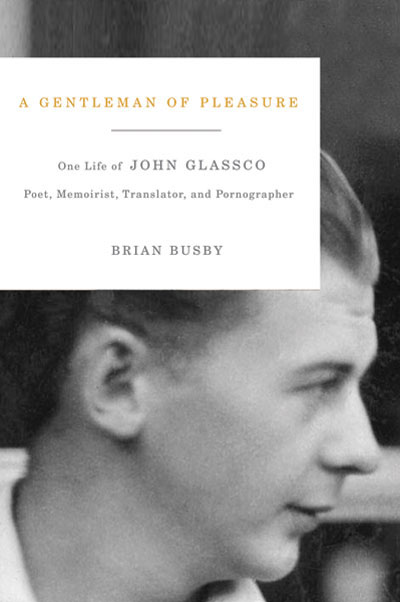 McGill-Queen's University Press
Memoirs of artistic life in Paris thrive on embellishment. Henry Miller exaggerated his sexual conquests; Ernest Hemingway romanticized the experience; Kay Boyle and Robert McAlmon, in their co-authored Being Geniuses Together, each tailored reality to promote personal mythmaking; even Morley Callaghan, in That Summer in Paris, has been caught out in a fib or two. The greatest fabricator of all was John Glassco. The dissolute son of a wealthy Montreal family, he arrived in Paris in 1928, at the age of eighteen, in the company of his lover, Graeme Taylor. For nearly three years, Glassco was too busy enjoying life amid the last days of the lost generation to do much writing. He and Taylor explored the cafés, clubs, and brothels of Montparnasse, eavesdropped on the famous, and seduced both women and men to form the ménages à trois in which they were most comfortable. Despite their disregard for artistic self-discipline, both young men published in the legendary literary journals of the day, where their work appeared alongside that of James Joyce and Gertrude Stein. Callaghan, in turn, wrote a short story satirizing the couple.
Glassco poured his experiences into Memoirs of Montparnasse, the most high-spirited and readable of the lost generation autobiographies. Published in 1970, the book was presented as having been written during the winter of 1932–33 in a Montreal hospital where the author was being treated for tuberculosis. It later emerged that Glassco penned most of Memoirs of Montparnasse in the 1960s, and that he invented many of his sparkling conversations with famous writers. Brian Busby's new biography, the culmination of years of research, draws on archives as far away as Estonia to separate fact from fiction in the life of a man who disdained truth in favour of a good story. By following Glassco's career through his later years as a writer, local politician, and gentleman farmer in Quebec's Eastern Townships, Busby asks implicit questions about the creation of literary reputations in Canada.
Glassco was a prolific author of elegant, sadomasochistic pornography; his internationally bestselling whipping classic, Harriet Marwood, Governess, is stylistically superior to many revered creations of CanLit. Yet in contrast to the reception received by the work of Henry Miller or Charles Bukowski, Glassco's naughty books never attracted an underground following in his own country. Even Memoirs of Montparnasse, praised everywhere, fell into neglect after accusations that it caught the spirit rather than the letter of the lost generation. It took an American publisher, New York Review Books, to bring the memoirs back into print in 2007. As principal translator of the groundbreaking Poetry of French Canada in Translation (1970), Glassco is also a pioneer of Canadian literary translation. A prestigious annual prize bears his name, and his own verse won the Governor General's Award for poetry in 1972. Regardless of these successes, this scrupulous and often amusing biography suggests that the best of Glassco's work, like much of the truth of his life, remained hidden from the public eye.
—Stephen Henighan
[breakline]
Paying for It by Chester Brown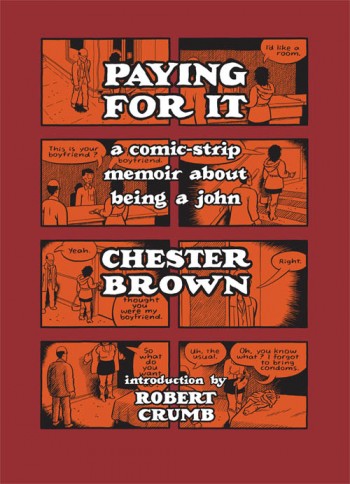 Drawn & Quarterly
Readers only familiar with Chester Brown's work from Louis Riel, his landmark graphic novel about the Metis leader, may well balk at the cartoonist's follow-up project. Paying for It arrives billed as "a comic-strip memoir about being a john," and documents the author's assignations with more than twenty Toronto sex workers—about as far removed from the nation's grade eight history classrooms as possible. But this is no underground comix–style tell-all, lewdly depicting one conquest after another. In fact, Paying for It levels the same distanced gaze on love and sex that Louis Riel directed toward rebellion and madness, refusing sensationalism in favour of steady, measured analysis.
The book begins with a record of Brown's slow disillusionment with the concept of romantic love, then follows his carefully planned and budgeted forays into the world of being a john. In the ensuing encounters, we see the neophyte client pondering niceties of etiquette and jargon—should I use my real name? he wonders; or, what the hell is "digging for gold"? Likewise, we hear his dates weighing in on the benefits of working afternoons (no drunks), or the drawbacks of rub-and-tug drudgery (sore hands).
Despite the documentary impulse that transcribes such knowing details, however, Brown's real concerns lie beyond mere observation. Throughout, he uses his own experiences to make the case for decriminalizing prostitution. In boldly direct style, his character expounds on his reading material, inquires after his friends' stance on the morality of sex work, and, in one sequence, simply sits around in his underwear thinking.
It is a testament to Brown's accomplishment as a cartoonist that such heady stuff remains compelling reading, each thought progressing mathematically to the next. And while he sets out logically to convince us of his argument, this isn't exactly tract literature either: credit him with making room for doubt, too. A cast of quippy, incredulous confidantes serve as stand-ins for readers unswayed by Brown's line of reasoning, and debate with him in lengthy Socratic passages.
Here, though, as with the scenes of professional liaisons, the cartoonist portrays the action using frail, tiny figures, preventing our involvement with the bodies depicted on the page. Word balloons obscure the women's faces, while Brown himself appears behind blank and affectless glasses. In insisting on this remove, Brown's story becomes not so much about people, but rather about the larger mechanics of their relationships, and the thorny sorting out of individual rights that results when sex and commerce collide. As a result, Paying for It registers less as a memoir than as a thoughtful, if contentious, treatise.
—Sean Rogers
[breakline]
Up Up Up by Julie Booker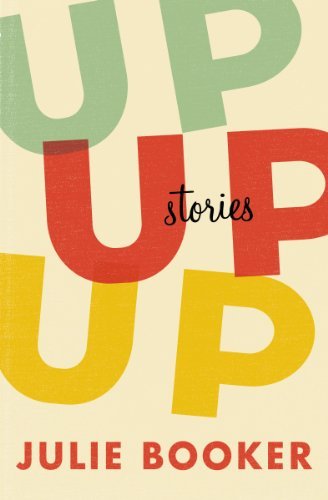 House of Anansi Press
The easiest way to sum up Julie Booker's debut collection of short stories lies not in the book itself, but in her bio: "She sees the world in pithy arcs, nicely contained." Up Up Up is bursting with such arcs; tiny, beautifully constructed narratives that contain unselfconscious multitudes. The stories are diverse, original, and novel, presented to the reader in simple language that contradicts the gravity of the subject matter.
The first words of "Speculators" are powerful in their scarcity: "That summer we learn about rape. A Girl Guide from our unit goes into the valley one late afternoon and comes out different." The theme of girlhood cruelty is also referenced in "Levitate," a story that is a mere two pages long yet stands as one of the strongest in the collection. Booker shows us the first understandings of trust by artfully contrasting a children's sleepover game with the sudden, monumental betrayal of a prank, laying bare our earliest inclinations to manipulate and hurt as a means of feeling whole.
Booker continues this inventiveness in "Texas," capturing the loneliness and invisibility of an aging single woman via her parents' one-bedroom trailer, a jigsaw puzzle, and the absurdity of an aquafit class. "Sacrifice" flourishes via foreign and familiar objects, while the title story explores the heady contradictions and hungers that lie between sexuality and motherhood. The collection's twenty pieces overflow with all of life's most vital themes, as Booker effortlessly documents seemingly inconsequential moments in ways that relay their most important lessons.
In the end, these stories are most concerned with the small conversations and moments that shift everything, that alter our perspective on the world and our feelings about ourselves and others. Up Up Up is a stunning, fresh debut collection from an author who is worth watching.
—Stacey May Fowles
[breakline]
The Chimps of Fauna Sanctuary: A True Story of Resilience and Recovery by Andrew Westoll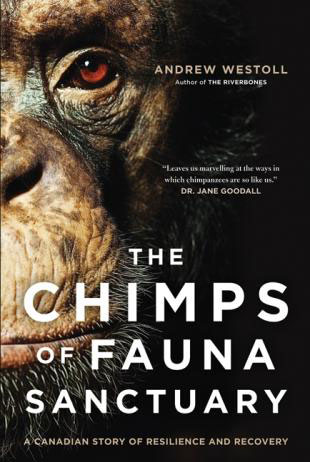 HarperCollins
The Quebec countryside countryside is an unlikely place to find a bunch of apes, but there's a special group of them who have inhabited the area for more than a decade. They're the denizens of Fauna Sanctuary—described by author Andrew Westoll as a 100-hectare retirement home for traumatized chimpanzees. Located southeast of Montreal, the facility houses thirteen survivors of biomedical testing, who owe their lives to the efforts of Gloria Grow and Richard Allan, a pair of Canadian animal rights activists who rescued them from American laboratories in the late 1990s.
A few years ago, Westoll, a former primatologist, went to live with Grow and her charges—an experience that transformed him and produced this generous and deeply affecting book. The Chimps of Fauna Sanctuary is many things: a tribute to an often-misunderstood creature; a study of a gutsy woman determined to protect the species; and a keen inquiry into man's ambivalent relationship with his nearest relative in the animal kingdom.
Westoll became enamoured of Fauna's chimps, who include a neurotic female named Rachel and a surprisingly exuberant male named Binky. The most haunting figure in this drama, however, is Tom: caught in the wilds of central Africa at the age of three, this magnificent animal spent more than thirty years as a test subject for the beauty and biomedical industries, during which time he endured nearly 400 exploratory surgeries and was injected with strains of HIV. Though noticeably damaged, Tom conducts himself like Fauna's elder statesman, and it's not long before he starts to occupy Westoll's dreams, like some spiritual messenger. For Westoll, Tom and the rest of the Fauna family provide humbling reminders of the incredible emotional range of chimpanzees—from their sadistic rages to their gentle inquisitiveness to their disarming compassion.
Their backstory, on the other hand, underlines humanity's often cruel self-interest. A book such as this could easily be an exercise in finger wagging, but Westoll largely resists the urge. Those who have exploited these creatures are not total villains—many are animal lovers who were seduced by the promise of scientific enlightenment. Grow is similarly conflicted; for all her good intentions, she knows Fauna Sanctuary is also a prison of sorts. Her advocacy on behalf of chimpanzees is tireless. In Washington, DC, she and other activists brief a congressional committee on the Great Ape Protection Act, which strives to eliminate the use of chimps in invasive research. Relating Tom's harrowing experiences, Grow mesmerizes the room—but what brings the group to tears is video evidence of the great chimp's resilience. Through Westoll's narrative, Grow emerges not as a hero, but as a do-gooder striving to do better.
—Andre Mayer
[breakline]
The Blue Light Project by Timothy Taylor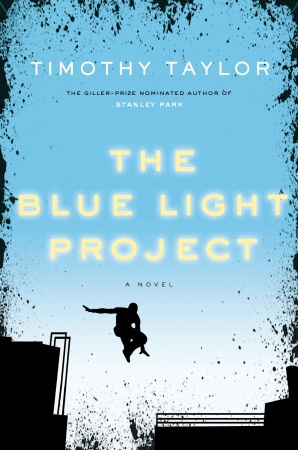 Knopf Canada
Timothy taylor's third novel, which revolves around a hostage crisis in an unnamed city, unfolds over three days at the end of October 2013. Although the year is not specified, the reader is alerted to the fact that the events take place on the eleventh anniversary of the Moscow Theatre Crisis, during which armed Chechen rebels took more than 850 theatregoers and staff hostage, in an attempt to force the withdrawal of Russian troops from Chechnya. In Taylor's novel, the hostage taker—who calls himself Mov, after Movsar Barayev, one of the leaders of the Moscow terrorists—is an erstwhile black ops soldier who specialized in breaking down prisoners in advance of interrogations. Mov, who clearly suffers from a kind of PTSD, commandeers a television studio where a reality talent show called KiddieFame is shot. As the situation (which comes to be known as the Meme Media Crisis) develops, crowds and riot police gather outside the studio, and the city threatens to erupt into chaos.
All of this serves as background for Taylor's real concern, which is to tell the interlocking stories of three people whose lives are caught up in the crisis. Rabbit is a practitioner of a Parkour-like extreme sport called Freesteal, which involves infiltrating public spaces—rooftops, railway tunnels—and leaving behind subversive posters or other works of street art. Eve is an Olympic biathlon medallist desperately searching for her missing brother, Ali. And Thom Pegg is a disgraced journalist who was stripped of his Pulitzer when it became clear that he had invented a source for one of his stories.
These three characters form the creative counterpoint to Mov's destructive impulses, and serve as the vehicles for Taylor's examination of art's potential to overcome fear and harm. This is rich thematic material, and Taylor takes care not to create simple binary oppositions, but also to illustrate how the various forces in the novel operate on a continuum. Pegg, for example, is the only person Mov will talk to; as their conversation proceeds, the reader becomes aware that unacknowledged philosophical similarities exist between the two.
Unfortunately, by foregrounding the relationship between Rabbit and Eve, which is essentially personal and not intimately connected with the hostage crisis per se, Taylor denudes the novel of much of its tension. The story of the hostage taking unfolds like a thriller, but the novel moves in fits and starts, its more action-oriented elements often forced to stand still while Rabbit and Eve engage in extended passages of personal rumination. The narrative fails to work up a sufficient head of steam, and consequently the riot it builds toward comes off as somewhat anticlimactic—a frustrating end to a novel in which there is plenty to admire.
—Steven W. Beattie
[breakline]
Irma Voth: a Novel by Miriam Toews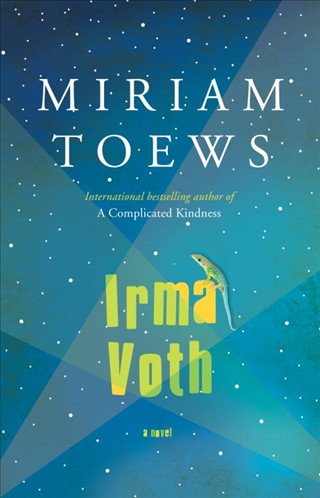 Knopf Canada
"Well," says Irma Voth, the young woman who gives her name to Miriam Toews's new novel, "sometimes the only way I know I'm alive is when I feel the pain in my chest." It's a familiar sentiment in Toews's fiction, which, at its best, offers a crystalline vision of the pain implicit in the very notion of family, of the inevitable loss that accompanies loving another person. And Irma Voth is unmistakably Toews at her best, an understated yet overwhelmingly moving book of grace and wisdom. It's also a welcome change after Toews's previous novel, 2008's The Flying Troutmans, which withered under the weight of its own quirkiness. Part of the reason Irma Voth succeeds where Troutmans failed comes from Toews's return to the fertile narrative territory of the Mennonite communities she so heartbreakingly explored in A Complicated Kindness. But beyond that common ground, Voth is simply a more stark, beautiful, and mature work, one entirely comfortable within itself, its scope, and its sadness.
As the action commences, Irma Voth, a young Canadian Mennonite whose family has relocated to Mexico, is drawn into the production of a film about Mexican Mennonites—it must be mentioned, I suppose, that Toews here draws on her own experience starring in Carlos Reygadas's 2007 film, Stellet Licht—just as her own life is thrown into turmoil by the departure of her husband, Jorge. Irma eventually becomes responsible for her two younger sisters. When the Voth girls relocate to Mexico City, they must learn to live as people apart from the cloistered reality in which they were raised, a process further complicated by the revelation of a family secret that forever changes the way Irma understands her relationship to the world.
Put like that, the novel's broad strokes sound almost silly. But it is a testament to Toews's gifts of storytelling and characterization that she can take a narrative with such familiar contours into a place of newness and clarity. Tropes that would be laughable clichés in the hands of lesser writers—the painful family betrayal revealed, for instance—here transform into moments of remarkable, chilling power. In Mexico City, one of Irma's friends suggests that maybe "every trauma presents a choice: paralysis or the psychic energy to move forward." What's remarkable about Irma Voth is that it posits for the reader a world in which both options coexist: a nuanced place where we can stall in the difficulty and sadness of a moment and then burst through, alongside these beautiful characters, to acceptance and grace.
—Jared Bland
This appeared in the May 2011 issue.