The Toss of a Lemon by Padma Viswanathan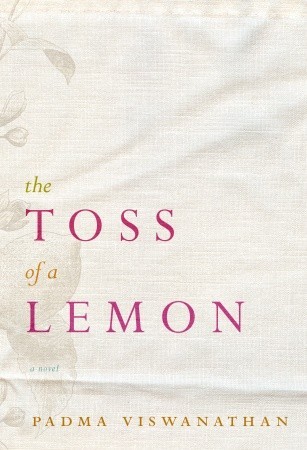 Random House Canada
In the introduction to her stunning first novel, Padma Viswanathan describes her grandmother's faltering attempts to recount their family history. "This time, she started farther back," she writes of one occasion, "with a story I'd never heard: of her own grandmother, married as a child and widowed before she was out of her teens; of that grandmother's son, childless and embittered; and her daughter, my grandmother's mother, victimized by her marriage." After trips to India, enormous amounts of research, and not a little invention, the result is The Toss of a Lemon.
Set within the Brahmin caste in southeastern India, the book opens in 1892 with a marriage proposal between Hanumarathnam, a young man "blessed with the ability to heal," and ten-year-old Sivakami, a girl who looks "capable of bearing great burdens." The proposal is accompanied by elaborate astrological calculations, after which Hanumarathnam tells his prospective in-laws he may die in the tenth year of his marriage.
When Hanumarathnam dies after the birth of his first son, Sivakami is left to the cruel yoke of a Brahmin widow. Stripped of her jewellery and dressed in a white sari, she is forced to have her head shaved and is forbidden to touch anyone between dawn and dark. Thus begins an epic family drama that extends into the 1950s and traces the conflicts between the traditional India and the modern, secular one.
The brilliance of The Toss of a Lemon rests not so much in its intricate plotting as in the compressed, poetic precision with which Viswanathan depicts a lost world. "On the riverbank, in a ceremony as old as men and women, her brother tears Sivakami's blouse at the back, and she is made to remove it," the author writes of the young widow's mourning ceremony. "She unties the saffron thread of the thirumangalyam and drops it into the pot of milk her son holds for her… She will never see those gold medals of wifehood again."
—Daniel Baird
[breakline]
Blackouts by Craig Boyko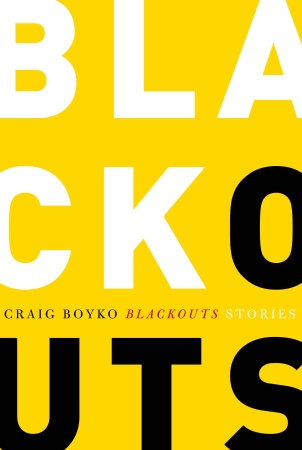 McClelland & Stewart
"Mr. Bearden does not have a wife," notes the thirteen-year-old girl who narrates "The Mean," a dramatic monologue of sorts that is at the centre of Craig Boyko's first collection of stories. "He is probably over thirty years old and he has never been married and possibly has never even had a girlfriend. I think this is kind of sad."
Good debuts are often celebrated for their surety of voice, but Blackouts transcends such simple praise, because each of these stories—roughly half in the first person, half in the third—is relayed in a manner as nuanced and distinct as the girl at the centre of "The Mean." It's rare enough for a young writer to have found his own voice; to have created eleven others this convincing is nothing short of astonishing.
Blackouts is an act of literary ventriloquism note-worthy not only for its ambition but its scope. Boyko conjures Stalinist Russia and wartime London with the same vivid ease with which he resurrects a long summer in a small British Columbia town. And within each of his varied settings, his purview expands even further as his gifts for characterization and dialogue compress whole relationships—whole lives, even—into tight narrative packages. Like one of his characters, a computer programmer who works on codecs, Boyko is "intrigued by the possibility of shrinking data, making something large small."
Thematically, the stories take the title at its word, focusing on characters whose figurative and literal self-erasure finds them changing as they efface and rewrite their lives. What results is refreshing—a collection more concerned with what it is to be a human being than what it is to be a Canadian. In other words, Boyko has already moved beyond the insecurities of his identity-obsessed literary history; he's not interested in exploring the contours of the same old garrison. And why should he be, when there's so much else to see and he's such a gifted guide?
—Jared Bland
[breakline]
Orphic Politics by Tim Lilburn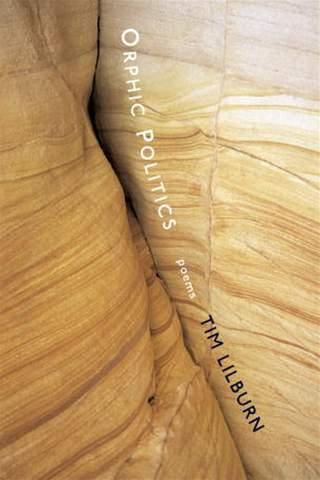 McClelland & Stewart
It can be very comforting to talk to the dead, and in his eighth book of poems Tim Lilburn seeks wisdom and guidance from dozens of figures such as Socrates, Iamblichus, Adam and Eve, Suhrawardi, Oedipus, Carl Brewer, and, of course, Orpheus to help make sense of the body's descent into illness.
The poet's strategy for dealing with mortality, the hidden and incomprehensible reasons for our bodily existence and how this affects our spiritual existence, is to probe everything around him. Orphic Politics draws its metaphorical terrain from the natural landscape, ancient texts, warfare, sports, and the flesh, and includes such compelling titles as "Against Imperial Angelisms: Pre-Surgical Instructions" and "Orphic Disgorgement, Anti-Colonial Disgorgement." The range of references is impressive, as is Lilburn's willingness to explore the possibilities of diverse arenas.
Yet many of the poems do not live up to their provocative titles, nor to the book's title. One might expect exciting fluctuations between mourning and protest, vitality and elegy, sensuality and shame, and to have one's preconceptions about the lyrical and the political radically redefined. But the music is often flat, the poems' energies unfocused, and, notwithstanding the metaphorical and metaphysical excess, the results frequently banal. There is little variation in form, tone, or technique, and one has the sense that the author is desperately throwing imagery at the reader in hope that something will stick.
There are sparkling lines scattered throughout, and solid individual poems ("This, Then" and "Cognitio Matatunia" are notable), yet the overall effect of this dialogue with the dead, and the self and its mysterious surroundings, is ultimately uninspiring. Lilburn quotes from Plato's Phaedrus, a famous section comparing a charioteer's team of horses to the soul; galloping along, it "sees some real things and misses others." I just wish, on this particular poetic journey, this important Canadian poet didn't miss so much.
—Priscila Uppal
[breakline]
Nikolski by Nicolas Dickner, translated by Lazer Lederhendler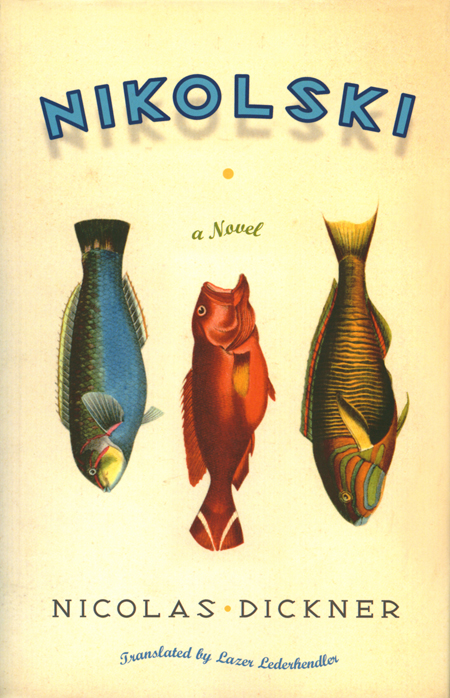 Knopf Canada
Nicolas Dickner's remarkable debut novel doesn't come right out and blame parents for the existential crisis facing its three young protagonists, but largely unexplained choices made by their begetters contribute greatly to the desperate sense of drift that fuels Nikolski. An unnamed narrator sorts through his late mother's belongings, finds an out-of-whack compass left by his vagabond father, Jonas Doucet, and notebooks she kept during their brief time together. Painfully opaque clues hardly feed his lonely soul, but the threads are picked up by Noah, the son Doucet fathered by an itinerant Chipewyan woman in Manitoba, and motherless Joyce, who flees a village on Quebec's lower north shore in search of her pirate forebears, including Doucet, her uncle, who disappeared at age fourteen.
Chock full of arcane detail about the sea, fish lore, antique books, travel, and archaeology, Nikolski is the product of an eccentric mind propelled by an exuberant spirit. With the breathless rhythm of a fairy tale, the story covers an eventful decade, at one point dropping onto a remote island near Venezuela before returning to the narrator's Montreal bookstore and a family reunion—of sorts. The rendezvous serves the novel's themes more completely than it does any of the characters, but their search for meaning and connection is compelling. In a world that, like the Nikolski compass, is decidedly off kilter, Dickner's Quebec is no small pond cut off from the tides by history. It's part of a vast American ocean, and Montreal is a port of call for various strange, roaming spirits.
Lazer Lederhendler's translation from the French proceeds faithfully, but doesn't quite recreate the original's feeling of a great yarn whose raconteur cackles as he types. Yet once the narrative picks up speed, that almost doesn't matter.
—Marianne Ackerman