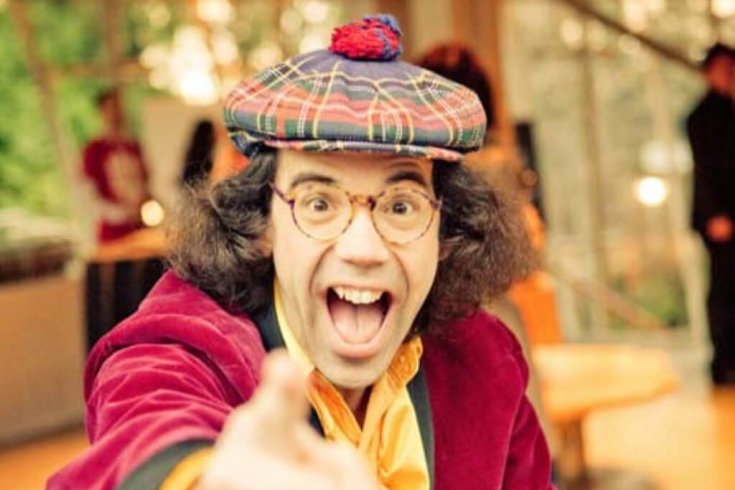 Nardwuar the Human Serviette, as photographed last November. / Photograph by Kris Krug
Canadian rap superstar Aubrey "Drake" Graham is giggling with schoolboy enthusiasm, manhandling a set of early-'90s Rap Pack trading cards. He's practically beside himself with joy, and it's a wonderful sight; he usually projects a cool aloofness, a dapper Romeo persona. But right now, he's caught off guard by his interviewer, Nardwuar the Human Serviette. In addition to the trading cards, Nardwuar has a stack of records he keeps shuffling Drake's way. One of these is the soundtrack to a blaxploitation flick with Pam Grier on the cover. "This is going to sound so weird," Drake says, "but when I first discovered what masturbation was I used to jerk off to Pam Grier."
Nardwuar, his microphone edged right under Drake's nose, doesn't miss a beat. He keeps asking questions, and bombarding the rapper with pop culture detritus, some of it personal (an Al Green record produced by Drake's uncle, for example). The nine-minute video, posted on YouTube last July, has had almost 400,000 views. At one point, Drake breathlessly exclaims, "This is the best interview I've ever done, by the way—in my entire life."
Drake is not the first to say this. Over more than a quarter century of interviews, Nardwuar has charmed and disarmed celebrities by the boatload. Appearance-wise, he's instantly recognizable: trademark Scottish tam, topped with pompom; oversize '70s-style suit jacket (sometimes clashing, à la Don Cherry); round-rimmed glasses, slightly askew. And then there's that voice—high pitched, nasal, lispy—like someone's severe impression of a nerd. He's fast talking, knowledgeable, and relentless. If you try to divert him, he'll regroup and keep going. Every interview ends with him saying, "Doot doola doot-doo—" to which the interviewee is pressured into responding, "Doot-doo!"
Fault Line
China's most outrageous TV personality is both loudmouth and provocateur
Chris Kuzma
Li Yong, the former host of China Central Television's game show Lucky 52, is the Communist Party's most flamboyant member. He sports shoulder-length hair with copper highlights, faux gator skin boots, white nail polish, and suits bedecked with sequins. But his most outrageous feature is his mouth. "I don't talk in slogans," he told the New York Times. "I don't distinguish the stage from life. My habits and flaws come out on the stage." In a country where even game show banter is carefully scripted, the spontaneous Yong has sometimes run afoul of both the ccp and his audience. He peppers his speech with Hong Kong and Taiwanese slang, and once outraged 30 million viewers from Shaanxi Province when he filled an awkward pause with a joke that mocked their climate, work ethic, and fondness for opera. Nevertheless, Yong—who is worth more than $60 million—remains one of China's biggest celebrities. Whether or not his gaffes are intentional, Western observers have praised him for challenging China's censorship laws.
—Tavish McGregor
Nardwuar's big break came back in MuchMusic's '90s heyday, when host Terry David Mulligan featured him on the network's new MuchWest show, where he would go on to obtain a regular interview spot. Operating on a shoestring meant much of it was filmed outdoors, on the fly; Nard, as his friends call him, had been doing this on his own for years. MuchWest's purpose was to represent the left coast's particular culture—weirder, wilder, and more makeshift than the corporate media metropolis that is Toronto—to a wider Canadian audience. If anyone represented the weirdness of the West, it was he. "I'd get a call from Toronto, like, 'Who the hell was that guy? '" says Mulligan. " 'You're not going to have him back again, are you? ' To which I said, 'Yeah, man, he's an institution. That dude got an interview with Nirvana when nobody else did.'" In 1991, on his weekly college radio show, Nardwuar angered Courtney Love to the point of hysterics; he later impressed her so much with his extensive music knowledge that she snuck him backstage at Nirvana's Vancouver concert. Mulligan knew what Toronto did not: strange approach, great results.
MuchMusic, for its part, left Mulligan and company to their own bizarre devices. This odd choice both astonishes the American media and speaks to Much's guerrilla-style early years. "There would definitely be focus groups [here] that would not like him, and thus he would never make it on TV," says Kyle Anderson, an American music writer who works for MTV and first discovered Nardwuar in 2006. "The idea that he's allowed to be freewheeling requires a nation that's a little more lax."
The current iteration of MuchMusic, it should be said, more closely resembles Anderson's workplace. It's unlikely that the bottom line would allow for a Nardwuar, a reality backed up by the end of MuchWest, and Nardwuar's tenure at the station, in 2008. In the years since, he's kept doing his radio show, now in its twenty-fourth year, and he continues to interview celebrities whenever they're in Vancouver. YouTube has been a boon for him, as the Drake interview attests.
While his clips display madness, there is method in it. "He'll show up with twenty pages of research for a ten-minute interview," says Jason Margolis, a friend of Nardwuar's and a filmmaker who's making a documentary about him. "He assaults them with information about themselves and hopes some of it sticks." It's a well-plotted sleight of hand: there he is, in the clothes, with the voice. He sidles up, gets uncomfortably close, and plies you with your high school yearbook. Once your shields are down, he gets the real answers.
So it's not just his Nard-ness that sets him apart, but also an unexpected level of professionalism. "Ninety percent of culture journalism is really lazy," says Anderson, who has also worked for Spin magazine and Rolling Stone. "It's about what you know you can get, as opposed to trying to discover something." Nardwuar defies this. "He's a good journalist," Anderson says. "It's kind of a weird thing to consider."
Margolis agrees: "He's a litmus test. A really cool artist will groove to him and become a great interview." Although most interviewees, like Drake, end up being willing, excited participants, there have been a few who didn't buy in: Sebastian Bach, from the heavy metal band Skid Row, stole Nardwuar's hat and the interview tape; Sonic Youth berated and tormented him before breaking a rare seven-inch record. Those who do groove to him, however, tell their friends. "It's like a rite of passage [now]," says Margolis. "You get interviewed by Nardwuar, and you're cool."
Despite his many celebrity reveals, the man himself remains mostly a mystery. There are biographical facts: he was born John Ruskin in Vancouver, in 1968. He is his mother's son: Olga Ruskin was a journalist who hosted a public access show about the city's history. In 1987, as an undergrad at the University of British Columbia, he changed his name to reflect a punk rock sensibility, like James Osterberg becoming Iggy Pop. In 1999, he suffered a near-fatal brain hemorrhage. It slowed him down, but only for a while. "The real person is toned down, a few degrees less," says Margolis, "but what you see is what you get."
So I go right to the source. I ask Nardwuar what he considers true happiness. "My ultimate goal is to be poolside with Heather Locklear," he says. I redirect, slightly, as he would. Is he a happy person? "Oh yeah, every minute that I can breathe I'm happy. Touch wood." This is something—a hint, perhaps, at his health issues, or his mother's recent passing, last January. He did, after all, take care of her, helping her set up her own YouTube channel.
Would she be proud of him? "I think she was happy," he says, "but to explain to your friends that your son is Nardwuar the Human Serviette is a bit hard." He drops his gaze for a millisecond, then looks me right in the eye: "I think she would have been happier if I was poolside with Heather Locklear." I pause to consider my next angle. What would Nardwuar do? I used to watch all this on TV, inspired by his ability to crack the celebrity shell.
And yet I back off.
This appeared in the March 2011 issue.