If you're a baseball fan, you yearn for moments like the top of the eighth inning in the sixth game of the American League Championship Series last Friday. You wait out whole seasons—multiple seasons, decades, twenty-two largely desultory years in the case of the Toronto Blue Jays—and then the baseball gods in their inscrutable wisdom hand you a gift so pure and joyous it reminds you there is an entire range of human emotion that only ever explodes from you when that gift arrives.
I'll come shortly to the towering heroics of José Bautista, the preposterous improbability of Chris Colabello, the lifelong grind of the game and the way it reminds you why you do the things you love, why you chase dreams and follow passions and keep at some damn thing—a job, a building project, a novel you never should have told people you were working on a few years back (and here I'm pivoting from the universal to the specific because damn baseball has me all off balance).
But before all that, let's be clear: This gift, this thing baseball does, this pressure-cooker intensity through an arc-lit October night? The final result doesn't matter. Not in the long run. The moment is pure and perfect and indelible. The memory remains and becomes sweeter, even when it's steeped in bitter defeat. Maybe becomes sweeter still in the wake of loss, because baseball is fundamentally about the enticing, elusive possibility of perfection in the midst of grinding daily failure. It's a game that, as the common saying goes, involves the very best players in the game failing at their primary task seven times out of ten.
That was a lot of preamble. Baseball is a lot of preamble.
Let's get down to it. Late innings in a playoff ball game. Season on the line. Spring training and early-season struggles and giddy riveting late-season dominance and three wins out of five in the previous series and everything else that ever happened to a team and a franchise and a city all stacked over the moment like a low-pressure system bearing down on a Midwestern ballpark , promising a biblical downpour. Guys wait whole careers to step to the plate in such moments.
This was how it was for the Toronto Blue Jays in the top of the eighth as big bad José Bautista stepped to the plate with one out and Ben Revere at first after legging out an infield single. And then José Bautista did what José Bautista does, which is wait for a pitcher to forget that's José Bautista there at the plate and serve up a fastball high in the strike zone. And then he hit one of those José Bautista drives much like the one that gave rise and proper occasion to The Flip, a ball that everyone in the stadium knows is gone before his bat has even come all the way around. This one rose up and out and appeared to clear the left-field bleachers and land somewhere in southeastern Nebraska.
I don't normally watch baseball games of this intensity at home with my family but on this night I was. When that ball jumped off Bautista's bat I leaped off the couch and punched the air and whooped with such sudden force that my six-year-old, seated next to me, watched in gap-jawed shock for a moment and then started crying. Safe to say he'd literally never witnessed any part of the crazed emotional range of delight and angry joy and some kind of instant-nostalgic teary ache I was now exhibiting.
A tie game. Everything was now possible. All of it could be taken away a moment later.
This is what baseball does in its perfect moments. José Bautista hits a two-run home run to tie the game and renews the entire season's sense of possibility in a single deafening crack of the bat. And even if the 2016 Jays take the World Series and even if they wash out and it's another twenty-two years before they get this close again, that moment will remain. It was perfect, and I was happy to have waited for it.
But this story isn't even primarily about José Bautista. Baseball is a lot of preamble.
The next batter after Bautista was Edwin Encarnacion, and he walked. He walked—and if you're a baseball fan, you know what a crazy tilt in momentum feels like, the way it is when an opponent starts to unravel. The Royals knew it too, which is why their really quite good relief pitcher, Ryan Madson, who never should have grooved that fastball to José, surrendered the mound to Wade Davis, who over the inning or so he usually pitches at a time is possibly the best pitcher in baseball this season. The Jays needed to score one more run, which meant they needed to bring home Encarnacion from first against Wade Freaking Davis. If they did so, it would be the second inherited base runner Davis allowed to score in all of 2015.
The Jays had two outs to do it with. On deck was star shortstop Troy Tulowitzki. At the plate was first baseman Chris Colabello. An even better moment, in its way. Because there was nothing more wonderful or preposterous in this crazy delight of a Blue Jays season than Chris Colabello stepping to the plate against Wade Freaking Davis in the top of the eighth in an American League Championship Series with Encarnacion on first and Tulowitzki on deck.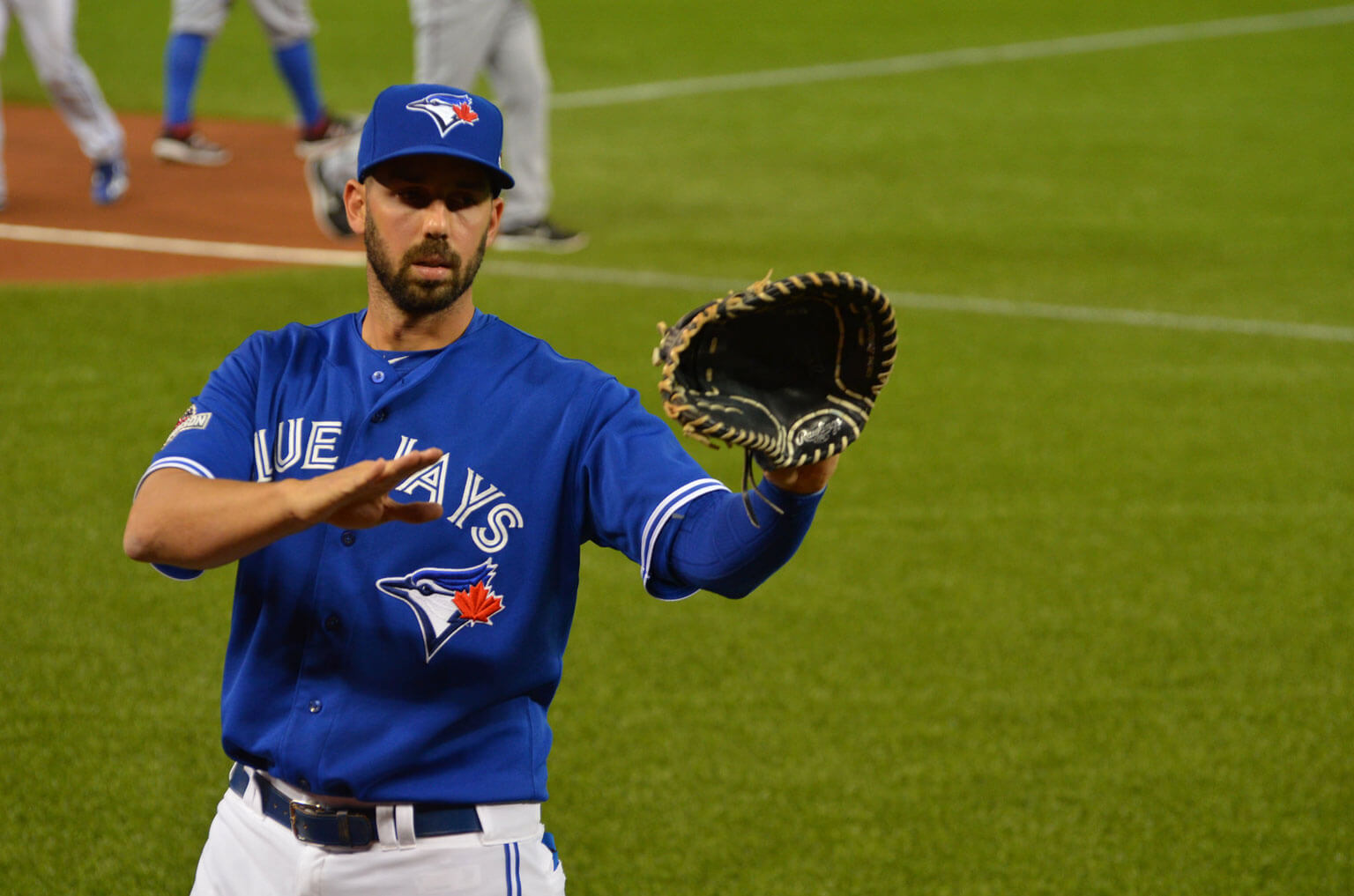 jgsprenger / CC BY-NC-ND 2.0
Baseball is a lot of preamble, but now we have to go even further back.
Spring 2011. Edwin Encarnacion, Troy Tulowitzki, and Chris Colabello are all roughly the same age (twenty-eight, twenty-six, and twenty-seven, respectively); all became pro ballplayers in 2005. Edwin Encarnacion is about to start his first season as an everyday player for the Blue Jays, beginning to demonstrate the form that will see him club forty-two home runs in 2012 and become one of the game's elite sluggers. Troy Tulowitzki is the face of the Colorado Rockies franchise, coming off an all-star season and starting another, widely considered the best shortstop in baseball. And Chris Colabello is starting his seventh season for the Worcester Tornadoes, a Boston-area team in the independent Canadian-American Association.
If you don't know baseball, it might not be immediately clear what it means to play a seventh season in one of the independent leagues. If you've seen Bull Durham, imagine Kevin Costner's wise old perpetual minor leaguer Crash Davis. Now imagine a full, massive rung below the league the Durham Bulls play in. Imagine, if you can, that the rung below is so far below that in some ways it's not even really part of the same ladder.
In the film, the Durham Bulls were an A-ball team, the lowest minor league affiliate of a Major League Baseball team. (In real life, the Bulls are the AAA affiliate of the Tampa Bay Rays.) The very best players in the independent leagues are hoping against a mountain of evidence to the contrary that some weird old scout will be there and like enough about them to give them an outside shot at making an A-ball team. In independent ball, teams and whole leagues vanish without a trace over the off-season. The Worcester Tornadoes played their final season in 2012. In 2011, with Chris Colabello as their seasoned veteran infielder, the Tornadoes played games against such storied franchises as the Quebec Capitales and Trois-Rivieres Aigles (neither of which, I'll confess, I had the slightest clue even existed until just now).
So imagine Chris Colabello as he dons the Tornadoes uniform at the start of that 2011 season. His dad was a journeyman pro ballplayer, mostly in the Italian league. Colabello himself had been a college star until a freak collision with a fellow player put him briefly in a coma and sidelined him for most of a season. He'd recovered, trained hard, expected to be drafted by a major league team the same year Tulowitzki was Colorado's number-one pick. On draft day, surrounded by friends and family waiting to launch a celebration, the culmination of a life lived waiting for this moment—nothing.
Colabello was devastated. But he didn't quit. On the Blue Jays bench years later, he'd introduce a hollered mantra—"Keep winning"—which he used when a teammate fouled off a tough pitch. For Colabello, a foul ball was a win, because it meant you stayed alive for at least one more pitch.
So, no, Chris Colabello didn't quit. Found his way instead to the Worcester Tornadoes. Seven hundred and fifty bucks a month to play ball for a short season, not even four months long.
One season becomes three becomes more. And in 2011, there's Chris Colabello taking the field for the Worcester Tornadoes on opening day for the seventh straight year. It's been five years since he's had even a sniff from a major league scout. Imagine him trotting out to take the field that first game. Imagine how much of his known universe is telling him to quit. Everyone in the independent leagues is waiting on the shot they deserve so life will return to the script they've been rehearsing since boyhood. No one does seven years in the independent leagues. Chris Colabello does. There is no clear path from that spot to the American League Championship Series. Chris Colabello finds one.
Ahead of the 2011 season, Colabello worked with a former Tornadoes teammate, an obsessive student of batting stances and swings named Bobby Tewksbary. (Tewksbary would later work with a promising but struggling young Oakland A's catcher-turned-third-baseman by the name of Josh Donaldson, the Blue Jay who will very likely be named the 2015 American League MVP.) His swing reconstructed, Colabello hit .348, which is impressive even for the independent leagues.
In 2012, his agent sent emails to all thirty major league clubs, including a rave of a scouting report from his Worcester manager, the dogged former Red Sox catcher Rich Gedman. Twenty-nine teams said no. But the farm director for the Minnesota Twins has a reputation for carefully reading every email he's sent.
Colabello started the 2012 season for the Twins' AA affiliate. He proved he was ready immediately, hitting for both average and power. He batted clean-up for the Italian team at the 2013 World Baseball Classic and hit a three-run home run in a second-round game against the Dominican Republic, the tournament's eventual champion. Then he started the 2013 season with AAA Rochester. He played well enough there to get the call up to the Show. Eight years after everyone wrote him off, Chris Colabello was a Major League ballplayer.
He struggled hard that first year in fifty-five games for the Twins but still earned a spot on the 2014 roster. He exploded out of the gate that season before losing the plot. He finished the season back in Rochester with a gimpy thumb. Over the winter, the Toronto Blue Jays claimed Colabello on waivers—baseball's way of saying "for peanuts"—with the notion that he might be useful as a backup infielder. Or not. You probably don't think too hard about journeyman infielders you claim on waivers.
There are few freak accidents freakier than the one Michael Saunders, presumed to be the 2015 Blue Jays' starting centrefielder, suffered in spring training. He tripped on a sprinkler. Gone for the season. Kevin Pillar—still a question mark himself—moved from left to centre (where he became a living breathing highlight reel), and Colabello wound up playing left field. He was a shocking treat at the plate, hitting over .300 seemingly from his first start as a Jay and never looking back. His approach to playing left field—let's call it "unschooled"—was a daily adventure, though, and eventually the Jays found a more natural spot for him at first base, platooning with Justin Smoak.
If you were following along as the Jays hit the all-star break in early July treading water with a .500 record, Colabello was one of those wobbly parts you weren't too sure about. The team was all promise, not enough execution, and Colabello was this weird statistical outlier you couldn't quite count on. Blue Jays blogger Andrew Stoeten nicknamed him "ColaBABIP," after an obscure advanced stat—"batting average on balls in play." BABIP measures the likelihood that a ball hit in fair territory will wind up as a hit. A high BABIP means you're getting pretty lucky—your bloops are dropping into holes in shallow right, your routine groundballs are somehow sneaking past short.
The major league leader in BABIP for 2015 was Odubal Herrera of the Philadelphia Phillies, at .387. Because Chris Colabello didn't play every day, he didn't officially make the leaderboard, but in the 101 games he did play, his BABIP was .411. On top of everything else, he was the Ted Williams of BABIP.
This is a cold statistical way of saying that after the coma and the missed draft and seven years in the desert of the independent leagues, Colabello's luck had flipped. Right to the top of the chart. You could even measure it in BABIP, if you were inclined that way. Or you could accept, in the hoary old terminology of the pre-Moneyball age, that Colabello had finally found a groove. He'd paid all his dues and more. He had endured a career's worth of failure, and worked through it, and transformed into a kinetic sculpture dedicated to the timeless value of perseverence.
Baseball is a lot of preamable.
Chris Colabello finished 2015 as the verging-on-full-time starting first baseman for a team many considered to be the best in baseball down the stretch. He played four of five games in the division series, BABIPing his way to a solid six-for-sixteen with two doubles and a home run. He would play all six games in the ALCS. He was the starting first baseman on a team four wins away from the World Series.
Had he ever doubted himself? Surely there had to be long dark nights howling at the baseball gods. What was it drunken Crash Davis said in Bull Durham? I bet Colabello knows it by heart. It's one of the best things anyone's ever said about the excruciatingly arbitrary nature of baseball success.
Know what the difference between hitting .250 and .300 is? It's twenty-five hits—twenty-five hits in 500 at-bats is fifty points, okay? There's six months in a season, that's about twenty-five weeks. That means if you get just one extra flare a week, just one, a gork, you get a ground ball—a ground ball with eyes—you get a dying quail. Just one more dying quail a week, and you're in Yankee Stadium.
Chris Colabello, grandmaster of the dying quail, batting fifth for the Blue Jays in the ALCS. Hallelujah.
Blue Jays fans will spend a long winter wondering what might have been and how it was supposed to go. They will analyze data and pick apart moments. They will make much of the fact that the Jays—the best offence in baseball—hit very poorly with runners in scoring position in the ALCS. They probably won't make enough of the fact that they did so against one of the best pitching staffs in baseball.
Anyway, even the grandmaster of the dying quail struggled. Colabello went five-for-twenty-three. But still, in game five, in the wake of the worst drubbing in Blue Jays postseason history, with his team badly needing a spark, Colabello stepped up in the second inning and delivered his story's Hollywood ending.
On the mound for the Royals was Edinson Volquez, a right-handed Dominican who'd magically added several miles per hour and eye-popping breaks to his pitches in the postseason. When Colabello hit his three-run home run for Italy in the 2013 World Baseball Classic—roughly the launch point for the batting groove that would carry him to this ALCS—the pitcher who surrendered it was Edinson Volquez of the Dominican Republic.
Colabello fell behind in the count, 0–2, and then Volquez dealt one of those sinking curves and Colabello scooped it up from his knees and sent it soaring over the Rogers Centre wall in left-centre. A sold-out crowd roared and waved white rally towels, literally shook the building, and the undrafted seven-year veteran of the independent leagues trotted around the bases in triumph, after hitting the catalytic home run in the only game in the ALCS where the Jays truly looked as dominant as they had been in the regular season.
Isn't that a great baseball story? Sure. But this isn't Hollywood, and so that's still preamble. Say it with me: Baseball is a lot of preamble. But it's finally done.
Back to game six. Tied 3–3. Wade Freaking Davis on the mound now, Colabello at the plate. Take a good look at him. Sort of a long face, hangdog, bearded and creviced, every lonely Worcester at-bat carved on it. Sunken wary eyes, a flat concentrated grimace. José Bautista looks like a Greek sculpture of Victory at the plate. Chris Colabello looks like the supporting actor in a Second World War movie who you know isn't going to make it home.
What I'm trying to say is that none of us, if we're being honest, can imagine being José Bautista. All of us can see a little of ourselves in Chris Colabello.
What happened next was Colabello didn't get a hit off Wade Davis, because almost nobody does. He popped out gently to second base. And Tulowitzki didn't get a hit off Wade Davis, either, because almost nobody does. And then after the requisite biblical downpour delayed the game almost an hour, Lorenzo Cain scored from first on a frickin' single in the bottom of the eighth because that's the sort of thing the Kansas City Royals have done to land themselves in the World Series two years in a row. And the Toronto Blue Jays are left to wonder at how close they came.
Two wins away from the World Series, one Chris Colabello dying quail away from a tying the ALCS at three games apiece. Same deal the next inning with otherworldly Josh Donaldson at the plate. Donaldson studied the pitch he hit for the Blue Jays' final out of 2015—a routine ground ball to short—after the game. The pitch was perfect. He had to swing at it but it was almost impossible to hit well. Nothing else he could have done. Wade Freaking Davis.
Still, that isn't failure. That's baseball. That's life.
Many of the game's best stories and most powerful lessons aren't about winning it all. Not counting the New York Yankees, because you never count the Yankees in baseball's hard lessons, the daily grinding reality of baseball is a story of falling short. You follow your team for years of meaningless Augusts and Septembers (and meaningless Mays, some seasons). Players spend whole careers as superstar victory gods on teams that never even come close to winning it all. (Ted Williams, possibly the greatest hitter in the history of the game, played in the World Series once. And lost. Because Red Sox.)
The 2015 Toronto Blue Jays are the best baseball story I've ever followed line by line, inning by inning, each win and loss for 173 games. Josh Donaldson was their irrepressible regular-season soul, and José Bautista was their postseason victory deity. But Chris Colabello was their final face. They kept winning, fighting off tough pitches to swing the bat one more time, often playing their best when collapse seemed imminent, until they couldn't anymore. Just six wins short of winning it all. Goddamn baseball.
Decades from now, I suppose I'll remember The Flip, and David Price's late summer dominance, and that Troy Tulowitzki home run in the third game of the division series that seemed to exorcise twenty-two years of demons. And I'll certainly talk about that August game when Toronto first came fully awake to the fact that the city was home to a World Series contender, the one where Edwin Encarnacion hit so many home runs the crowd spontaneously littered the field with ballcaps, which was the only game this year I attended in person.
But if someone wants to hear a great story about the 2015 Blue Jays? A story about how baseball and life exist on opposite sides of a mirror that sometimes goes liquid so you can step right through and explain your life to yourself inside the game? I'll tell them about Chris Colabello, who was the last guy who should have been there, and who taught us all we ever need to know about persevering.
The story starts like this:
Baseball is a lot of preamble . . .