"The Beast" was where it all started. On May 1, 2016, the historic Fort McMurray wildfire began burning in Alberta, eventually destroying nearly 1.5 million acres of boreal forest, homes, and industrial work camps. Watching in horror as the blaze grew to unheard-of proportions, earning its ferocious moniker, a small group of Canadian military veterans saw an opportunity to do their part on a grand scale.
By May 26, 2016, the group had set up Team Rubicon Canada, a disaster-response organization that now boasts a membership of 2,000-plus "Canadian veterans, first responders, and kick-ass civilians." It then deployed a volunteer team for its first mission, Operation Pay Dirt, to the Fort McMurray frontlines.
"Team Rubicon serves communities by mobilizing veterans to continue their service, leveraging their skills and experience to help people prepare for, respond to, and recover from disasters and humanitarian crises," says Ashley Pardy-Serre, director of development for Team Rubicon Canada. Known as Greyshirts, for their uniform, volunteers from across the country donate their time and specialized skills, domestically and overseas, in an effort to create what she calls "the most trusted, agile, and adaptive disaster-response organization in Canada."
The group's recruiting ethos may sound tongue in cheek—"Team Rubicon Canada looks for volunteers who are foolish enough to think they can change the world and smart enough to have a chance"—but its members take missions seriously. In five years, they have served thousands of people in eight countries around the globe.
Greyshirts
in Action

Number of countries to which Team Rubicon veterans have deployed, with an initial response time of 24 hours or less
---

Number of missions Team Rubicon has completed, rebuilding communities affected by disasters, including hurricanes, tornadoes, floods, and earthquakes
---

Number of days Team Rubicon members were deployed on operations, from January to August 2021
---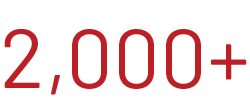 Number of Canadian Team Rubicon volunteers enlisted to serve in times of need
---
Number of volunteer hours served by Team Rubicon members since the beginning of the pandemic, equalling more than $1 million in impact for communities
---

Number of COVID-19 vaccinations facilitated by Team Rubicon in the first half of 2021
In 2020, the ongoing COVID-19 pandemic offered fresh opportunities for Team Rubicon to extend a helping hand to Canadians—and a surprisingly eager pool of new recruits. "When many organizations were struggling to maintain their volunteer force, Team Rubicon Canada was growing ours," says Pardy-Serre. "This was due in large part to our capacity to continue safely serving communities…and our ability to pivot our services to meet the vulnerabilities and challenges we saw emerge."
In spring 2021, Team Rubicon Canada formed a partnership with the Labatt Breweries of Canada's Disaster Relief Program, which also deploys volunteer teams to disaster zones to deliver clean, safe drinking water to residents and frontline rescue workers. The partners' first mobilization came in August when teams reported for duty in and around the wildfire-ravaged community of Lytton, BC. From debris removal to personal effects recovery, Greyshirts helped residents recover what was left of their homes and clean the slate in preparation for rebuilding.
Meanwhile, Labatt employee volunteers hit the ground in Lytton with a first delivery of nearly 26,000 cans of emergency drinking water for residents and first responders around the 156-square-kilometre blaze. "Our employees are known for their generosity and spirit of community support," says Jeff Ryan, Labatt's vice-president of legal and corporate affairs. "Through this deployment, we and our Team Rubicon partners can stand shoulder-to-shoulder and really make a difference to the communities we serve."
Until this year, the Labatt Disaster Relief Program had focused solely on canning, transporting, and distributing clean drinking water in the aftermath of wildfires, floods, environmental disasters, and extreme weather. But in 2020, it retooled a bottling line in its London, Ont., brewery and began producing hand sanitizer—100,000 bottles of it—destined for use by Food Banks Canada, partners in the bar-and-restaurant sector, and its own frontline employees.
Meanwhile, Team Rubicon launched the nationwide Neighbours Helping Neighbours Initiative within a week of the first Canadian COVID-19 lockdown. It encouraged safe, physically distanced acts of kindness by Greyshirts in vulnerable communities. The program also offered logistical support for COVID-19 mobile testing and vaccination sites, and delivered food to community residents, while continuing to coordinate natural-disaster response missions.
The two groups had worked in parallel before—giving on-the-ground support to communities and first responders during the brutal BC wildfires in 2018—but they see this new collaboration as the perfect opportunity to take action on shared goals and ideals. "For Labatt, it's a natural extension of its support for Canadian servicepeople and veterans, which began in the mid-nineteenth century," says Ryan.
The 2021 wildfire season in Western Canada was a severe one. But the partnership "has huge potential," according to Pardy-Serre, when it comes to getting help where it needs to go. With support from Labatt, Team Rubicon volunteers can focus more of their time on delivering water and providing front-line support to those who need it most, rather than fundraising. "Volunteers are excited," she adds. "They can feel proud to bring essential resources to communities that need them."
---
Labatt Disaster Relief Program Deployments
Since 2012, the Labatt Disaster Relief Program has deployed from coast to coast, offering assistance during natural disasters and public health emergencies. Its volunteer teams have delivered more than 709,000 cans of safe drinking water to communities in crisis, and, during the COVID-19 pandemic, produced and distributed 100,000 bottles of hand sanitizer to Food Banks Canada, frontline employees, and partners in the food and beverage industry.

---
To learn more about Team Rubicon Canada, visit team-rubicon.ca or follow @TeamRubiconCAN on social media.