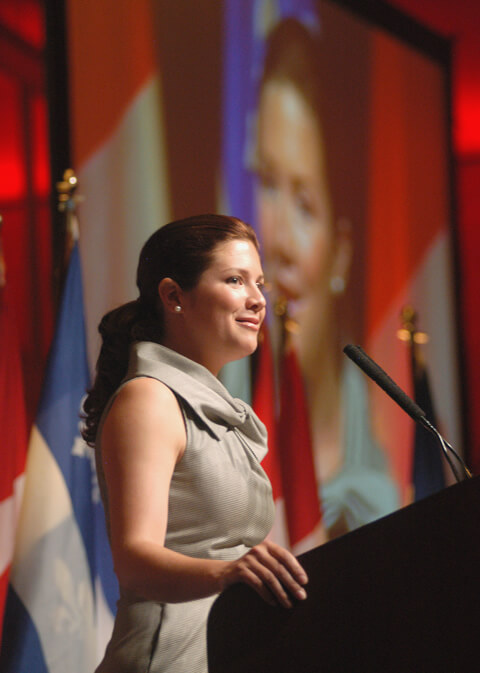 NDP MP Niki Ashton called Justin Trudeau's elbowing of her caucus mate Ruth Ellen Brosseau on Wednesday the "furthest thing from a feminist act." Conservative MP Lisa Raitt went further—indirectly comparing Trudeau's actions to those of Jian Ghomeshi. Left and right apparently are now in agreement that female Canadian parliamentarians need protection from our prime minister.
One sad irony of this outburst of politically weaponized feminism: the country has completely dropped an important issue of real, practical significance to the prime minister's own wife, Sophie Grégoire-Trudeau.
After the federal election last October, Grégoire-Trudeau found herself the spouse of a world leader—a position that, in Canada, comes with no clearly defined responsibilities. Her predecessor, Laureen Harper, had taken a low-key approach, maintaining a relatively modest public profile while focusing on select interests, such as animal welfare. But in the case of Grégoire-Trudeau, the people of Canada, the Liberal party—and, to some degree, the rest of the free world—have come to expect much more.
Without some officially designated position, prime ministerial spouses will always be vulnerable to petty political attacks.
She has obliged, but the effort apparently has taken its toll. There are few Canadian women who could sit for Vogue, and act as spokesperson for various philanthropic organizations promoting health care, the environment, education and the arts, all the while serving the many protocol functions associated with her husband's role in public life, without a little bit of professional assistance. With just one dedicated staff member, Grégoire-Trudeau found herself in the awkward position of crying out for more help last week during an interview with Quebec City's Le Soleil newspaper.
If Grégoire-Trudeau had found herself running a new branch of a growing company within the private sector, this staffing issue would be straightforward. The HR department might hire a consultant to perform an analysis of comparable positions, identifying an industry-standard support structure for the job in question—all based on the incumbent's deliverables and work experience. So consider that Michelle Obama has a staff reported to be as large as forty-three. Among Duchess Catherine Middleton's and Prince William's permanent staff of eight is one full-time nanny (a sometime contentious issue in regard to the Trudeau household).
Last week, Niki Ashton—the same NDP MP who is concerned that Justin's elbow has set back the cause of feminism—accused Grégoire-Trudeau of being insensitive to "the feeling that Canadian women face on a daily basis of being overwhelmed." But one of feminism's founding precepts, surely, is that "Canadian women" must be judged on their qualifications. Grégoire-Trudeau—bilingual, telegenic, a trained media personality, and working mother—is arguably the most qualified "first consort" in Canadian history. Indeed, she would stack up well against international competitors. By comparison, consider how much value America might get out of, say, Donald Trump's wife Melania, a former model whose primary interests, broadcast on social media, were summarized by the New York Times as "beauty rituals, private jet rides and [her own] bikini body."
Whereas the first lady of the United States has an official position (complete with her own officially designated mandate and budget), the traditional role of the Canadian prime minister's spouse has varied with time, political party, and individual personality. The records show that we, and they, have always complained. "After morning service, I dressed for my 'day' & belonged to the Public until six o'clock," wrote Lady Agnes Macdonald in February 1868. Mila Mulroney—perhaps most comparable to Grégoire-Trudeau in terms of her public and philanthropic profile—had to defend her use of the public purse. In 1983, she told the Globe and Mail's Stevie Cameron that she received 500 letters per month. "After her son Nicholas was born on Sept. 4, 1985, she received more than 6,000 letters and answered all of them." Her staff numbered three—two secretaries, and one personal assistant. On loan from the PMO, they floated when not required; in response to the media storm following Grégoire-Trudeau's statement last week, the PMO issued a release to the effect that a similar policy is in place.
The problem is not necessarily a lack of bodies; it is a lack of mandate. Without some officially designated position, prime ministerial spouses will always be vulnerable to petty political attacks when they try to assemble the resources necessary to apply their skills and stature in a meaningful way.
What should be the role of the prime minister's wife in 2016? A look around the world yields some common factors: philanthropy, public appearances, support for their husband's causes. But unfortunately, many of the primary duties are increasingly image-based. Upon Kate Middleton's marriage to Prince William in 2011 she emerged as a kind of sample size model for a job that she continues to play to perfection. Carla Bruni's marriage to former French president Nicolas Sarkozy also helped to glamourize the profession, if we may call it that. Even Michelle Obama (who has arguably done more to professionalize the role of the first lady than anyone in recent history) is not immune. At the state dinner in March, where the Obamas welcomed the Trudeaus to Washington, she and her daughters wore embroidered designer gowns that made headlines, as much for their $10,000 price tags as for their fashion cred. Thanks to what might be called the democratization of celebrity culture, female political spouses are expected to act as you-go-girl role models for a nation's entire female tribe—providing visibility to locally produced designer labels.
The elephant in the room here is gender. When did the world paparazzi last catch Prince Phillip attending the opening of a nursery school or a tea party without the queen? On the Obamas' April visit to London, he did drive them 400 meters to lunch. (Bizarrely, both men sat in the front of the vehicle, per bourgeois convention, while the women—one of whom happens to be her husband's sovereign leader—sat in back.) More typically, what we ask of a female political spouse is to be something of a diplomatic Barbie—smiling and perfectly coiffed (which in itself takes a lot of time—more than most men think—and more hands). British prime minister David Cameron's wife, Samantha, has a "special advisor" whose duties include wardrobe styling.
Dolling yourself up for newscasts in the high-definition age requires professional help. Ask anyone who rises at 5:00 a.m. for hair and makeup before morning TV, followed by a full day of activities that includes everything from a ribbon cutting to an evening dinner, whether it "takes a village." If that is the function we see a woman such as Grégoire-Trudeau playing—effectively, the star of a seven-day-a-week reality show representing the best of contemporary Canadian life—then surely she deserves the infrastructure necessary to pull it off in a competitive and professional way.
But more wisely, what we could all do is allow her to write her own job description. As was noted in the Toronto Star, "Grégoire Trudeau is not asking for another employee to lessen her workload, but to increase it." The Trudeaus have taken abuse for being (as some in the foreign press have called them) the "world's hottest couple." But many of us, if we are being honest, will admit pride in this country being seen as we have always wanted to be seen: dynamic, modern, conscientious (though perhaps temporarily less so after #Elbowgate), and, yes, glamorous.
Some may call Grégoire-Trudeau a tall poppy. But if so, she is perfectly on brand for the Canada of 2016. Perhaps once we have all finished talking about the husband's elbow, we can address the wife's workload.